Articles & Features
Female Iconoclasts: Barbara Kruger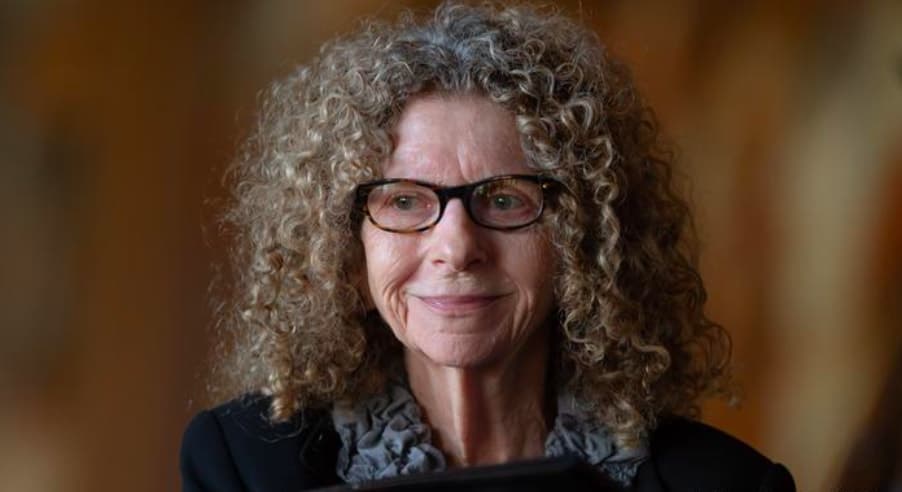 By Naomi Martin
"I work with pictures and words because I think they have the ability to tell us and remind us where we've come from and where we're going. They have powers and pleasures and desires and disgusts."

Barbara Kruger
In our Female Iconoclasts series, we celebrate women artists who are among the most innovative creators of our time – women who sometimes defied prevailing social conventions to pursue their passion, and contribute their unique vision to society. This week, we feature American Conceptual artist Barbara Kruger, renowned for her directive slogans, informed by feminism. Kruger's distinctive and graphic artworks often suggest commentaries on topics such as consumerism, sexuality, politics and the intricate relationship between power and society.
Early Life and Career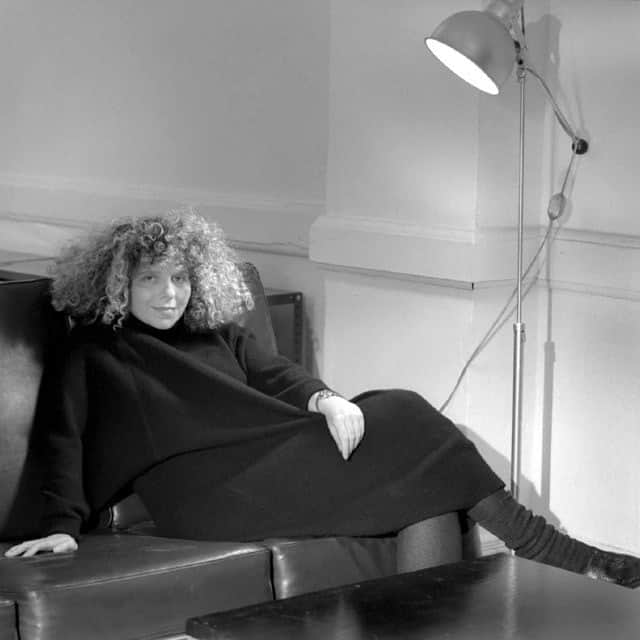 Barbara Kruger was born in 1945 in Newark, New Jersey. In 1964, she enrolled at Syracuse University, where she developed a profound interest in graphic design, as well as poetry and writing. Following Syracuse, Kruger moved to New York City in 1965 and attended Parsons School of Design for a semester. During her time at Parsons, Kruger studied with fellow artists Diane Arbus and Marvin Israel, who introduced her to the magazine and fashion sub-culture of the city. After one semester, Kruger left Parsons for a job at Condé Nast Publications, as an entry-level designer in the department of Mademoiselle magazine; a year later, she was promoted to head designer. In the following years, Kruger continued to work as a graphic designer, art director and freelance picture editor for various publications, including House & Garden and Aperture.
Kruger's earliest artworks materialised around 1969, and were highly influenced by the feminist reappropriation of crafts of the late 60s and early 70s. The artworks mainly consisted of large woven walls including yarns, beads, feathers, ribbons and sequins – but despite a few solo exhibitions in New York City, Kruger was dissatisfied with her work which she considered to be too detached from her own growing social concerns. In 1976, she abandoned her art and moved to Berkeley, California, where she fostered her inspiration for writing, and taught for four years at the University of California.
Kruger returned to making art around 1977, at which point she took up architectural photography. In 1979, she self-published the book Picture/Readings, pairing black and white photographs of architectural exteriors, juxtaposed with her own writings, narrating the imagined lives of the inhabitants of the buildings.
The Cut-and-Paste Method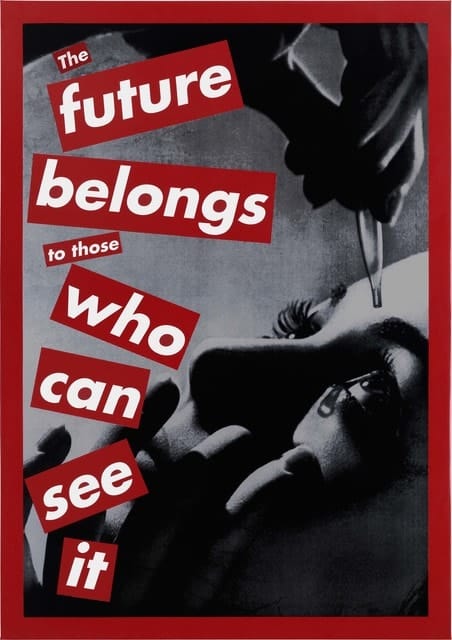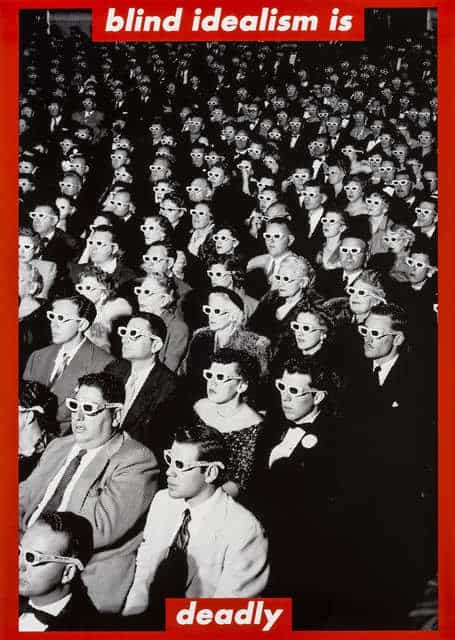 Kruger's background in design is clearly palpable in her work as an artist, and today, her style is instantly recognisable. In the early 1980s, Kruger stopped photography, and started to develop her illustrious collage method, using techniques she had refined during her years spent working as a graphic designer. Kruger began to use images derived from popular culture and other print-media sources, directly collaging words and slogans onto them. These early endeavours allowed Kruger to delve deeper into her concerns regarding politics, commentaries on sex and racial stereotypes, consumerism, greed and power.
Kruger perfected her signature style throughout the 1980s, juxtaposing black and white glossy photographic images with aphoristic, ironic and sometimes hard-hitting slogans, printed in Futura Bold against deep red, white or black text bars. Kruger was a pioneer in setting new standards in postmodernism art, as well as exploring behaviourism and psychological themes in her work.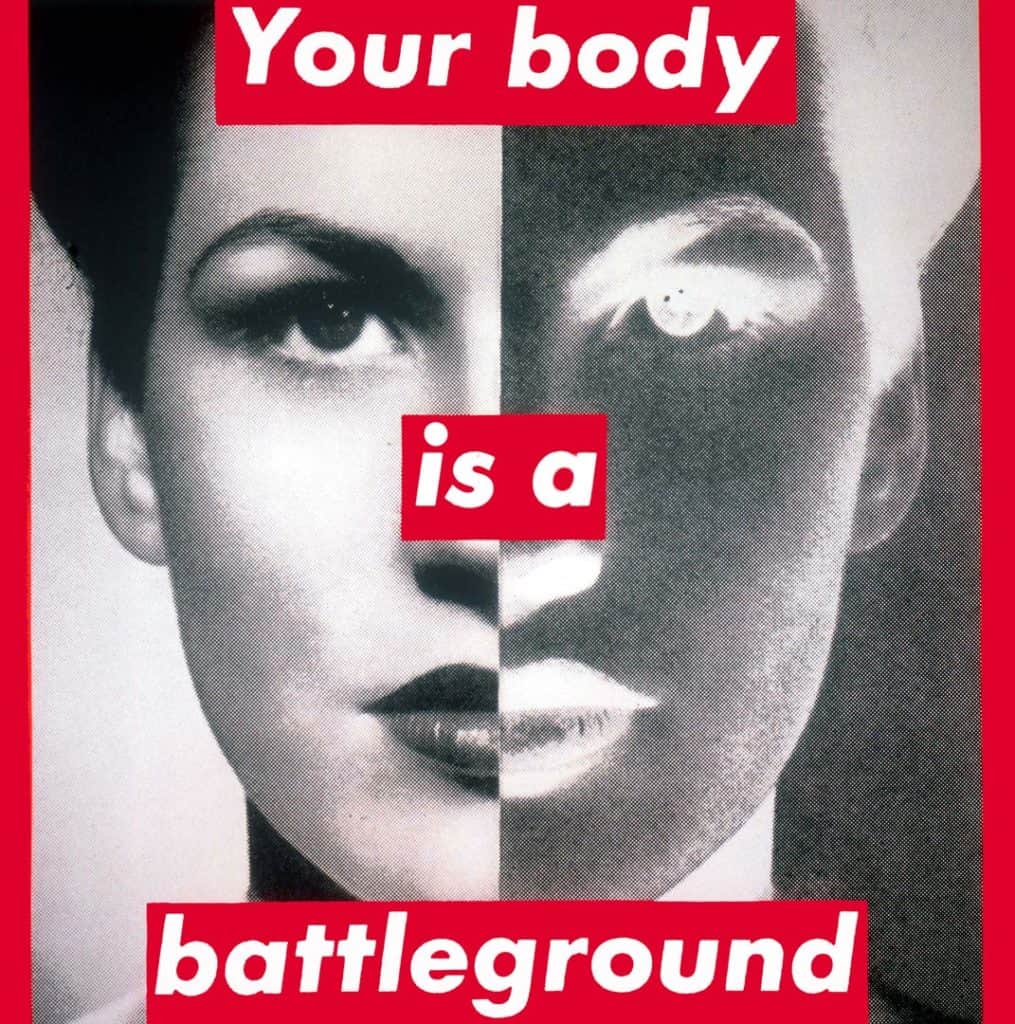 Using idioms and phrases, Kruger addressed cultural constructions, disturbed the representation of reality and the very essence of how members of society 'pose' as themselves. Consumerism became one of Kruger's main fascinations, but it is her feminist imagery that has had the most poignant and lasting impact, divulged around the globe. The artist realised she had the power the raise highly pertinent issues, particularly concerning oppression and violence against women. Reducing her colour palette to red, black and white was also a choice, which would give her work a striking immediacy, necessary when dealing with such issues. (Untitled) Your Body is a Battleground, is one of Kruger's most striking feminist pieces, created in response to the Women's March on Washington of 1989, following a string of anti-abortion laws. Its message still resonates today.
By mastering the familiar and commercial design sphere of advertising, Kruger's work became widely accessible, its provocative message echoed on billboards, or in magazines. The artist always cleverly supervised the rather wide distribution of her work – tote bags, postcards, T-shirts and so on – blurring the boundaries between art and commerciality, but by doing so, continuing to call attention to greater issues. Kruger's work always essentially attempted to question and challenge our notions of identity, and the sources of power we are confronted with. Later on in her career, Kruger continued to unfold these theoretical concepts in her more conceptual work.
"I never really thought I could be an artist in the 'art world' sense of it. (…) But my job as a designer pretty quickly morphed into my work as an artist."

Barbara Kruger
Later Works, Digitalisation and Queries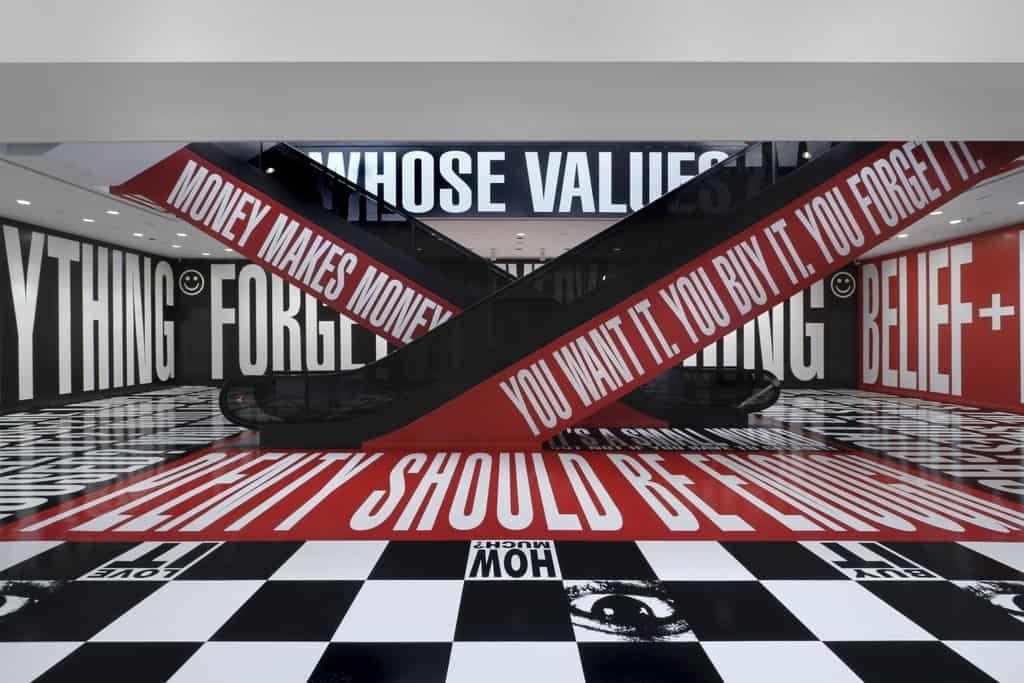 Throughout the 1990s, Kruger art evolved, and her collage method was gradually replaced by digital technology with electronically built installations, nonetheless still built around her core politically biting slogans. Existing in an age of constant digitalisation and cultural changes, Kruger became captivated by reality television shows and almost addicted to news feed, inspiring her to introduce and explore the notion of doubt in her art, reacting to the complex networks of power defining social relations.
In the following decades, Kruger started to create environments that would submerge the viewer in language, at times through sound video projections and sound, or, like at the Hirshhorn Museum, through vinyl installations enclosing a whole space with slogans and questions. Her large-scale, site-specific installations were mounted throughout the globe – at the Los Angeles County Museum of Art, the Schirn Kunsthalle in Frankfurt, as well as the Stedelijk Museum in Amsterdam.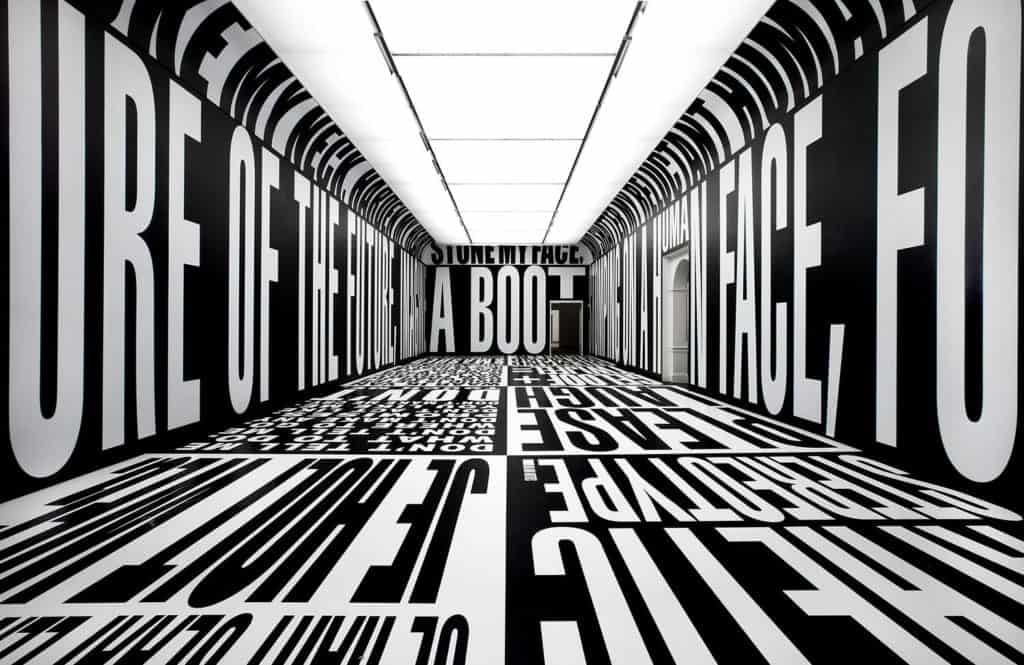 In the early millennium, as part of the Schirn Kunsthalle's exhibition 'Shopping: A Century of Art and Consumer Culture', Kruger covered a department store façade in Frankfurt which read, in German, 'You want it. You buy it. You forget it'. In 2005, the artist was awarded the Golden Lion for Lifetime Achievement at the 51st Venice Biennale, where she covered the Italian pavilion with messages, including 'Admit nothing blame everyone'. Kruger's messages aimed to draw attention to current events, and critique structures of power while introducing existential reflections.
Starting in 1990, Kruger created her ongoing public art project Untitled (Questions), plastering queries throughout Los Angeles. For the 2020 edition of Frieze L.A, the artist presented a series of 20 questions aimed to provoke civil discourse displayed across civil landmarks, street banners and public spaces across the city, including messages such as 'Who do you think you are?', 'Who dies first? Who laughs last?'. Today, Barbara Kruger is regarded as one of the most influential and accomplished artists of our time, working across disciplines and using the power of words to challenge the basis of all social, political and cultural constructs.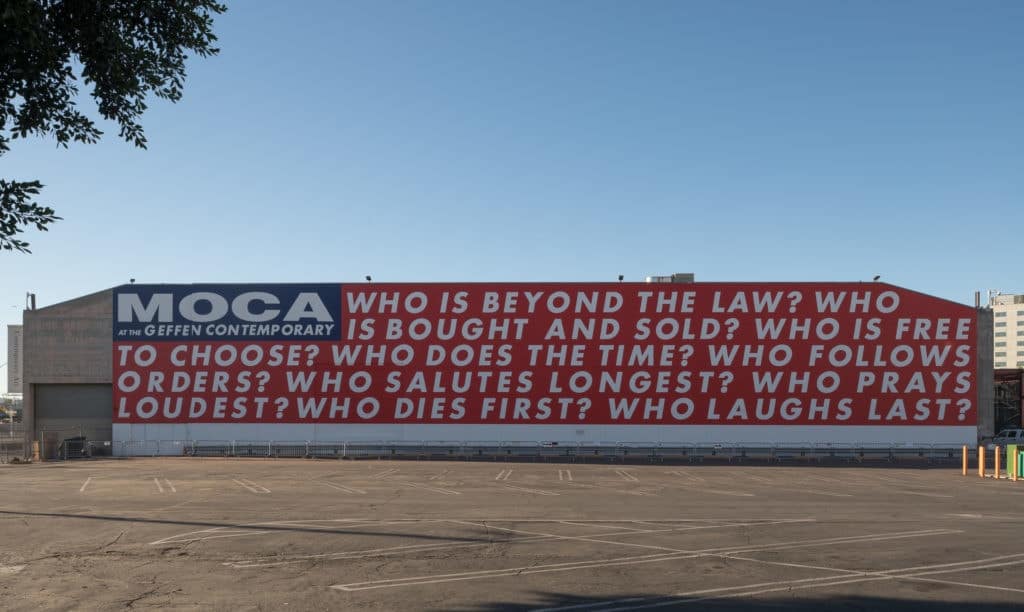 Relevant sources to learn more
Female Iconoclasts Series:
Beverly Pepper
Yayoi Kusama
Louise Bourgeois