Articles and Features
Feminist Art: 10 Artists Whose Work Calls to Action
"How can you really tell the story of a culture when you don't include all the voices within the culture?"

Guerilla Girls
Looking through most art history textbooks, you'll be hard-pressed to find many references to female artists. Yet, since the mid 20th century, this has been changing. Today we're going to explore the realms of feminist art history, as well as discover ten feminist artists who paved the way for one of the most powerful art movements throughout history, one that would challenge the status quo and reshape the production and reception of contemporary art.
What is Feminism?
Before we go any further, let's consider what feminism actually is. Broadly speaking, feminism encompasses a range of ideologies that seek to establish the equality of the sexes. Beginning with first-wave feminism in the late 19th century, it became the first real political movement for women, famously focusing on women's right to vote.
The 1960s and 70s saw the so-called 'second wave' of feminism: whilst building on the first wave, the movement went one step further. Its followers aimed to question traditional family roles, women's place in institutions, and fight against the oppression of women around the world. Thanks to the institutional success of the movement, women reaped the benefits of increasingly gaining more rights and power going into the 1990s.
With third-wave feminism, women wanted to choose how they lived, identified, presented themselves, and experienced full individuality. It was a new era for women and gave them a chance to reclaim themselves and their lives moving forward.
Feminist art history
A relatively new concept in the field of art history, feminist art as a movement only came into fruition in the 1960s and 1970s. Many women who saw themselves as feminists, set out to build a body of work that challenged the patriarchal status quo in the art world.
So, how did artists of the 1960s and 1970s expand on the idea of feminist art? Whilst many great female painters had come before, the feminist art movement of this era was born out of this massive cultural upheaval of the time. Not only were there civil rights, anti-war and feminist movements, but there was also sexual liberation, political assassinations, and a new wave of music. Furthermore, the American art historian, Linda's Nochlin's essay 'Why Have There Been No Great Women Artists?' (1971) encouraged a fundamental shift, highlighting and criticizing the circumstances that prohibited women from achieving the same status as their male counterparts.
These social movements, the political climate, and academic writings all helped to set the scene for a new artistic movement, which fought to express the feminine experience freely.
10 Feminist artists to know
Who are some of the great feminist artists who helped to build and shape this artistic movement? Let's explore.
1. Georgia O'Keeffe
Recognized as the "Mother of American modernism", and the foremother of the feminist art movement, Georgia O'Keeffe (1887-1986) was an American modernist artist. She is known primarily for her paintings of enlarged flowers, New York skyscrapers, and New Mexico landscapes. She littered her work with references to the female form. For example, her flower paintings became famous for their curves, folds, interiors, layers, and darknesses – which O'Keeffe painted to allude to female genitalia. She stood up for female artists in the early 20th century, paving the way for the feminist artists of the 1960s and 70s.
2. Frida Kahlo
Mexican artist Frida Kahlo (1907-1954) is celebrated for her many portraits, self-portraits, and works inspired by nature and objects native to Mexico. Considered by many as one of the most revolutionary female artists of all time, she broke with many social conventions. Rather than appearing like a typical woman, she assumed a more masculine appearance through her clothing choices, wild hair, and unplucked eyebrows. She presented this female defiance in many of her self-portraits. Not only this, but her paintings explored many female issues such as abortion, miscarriage, birth, breastfeeding, and more.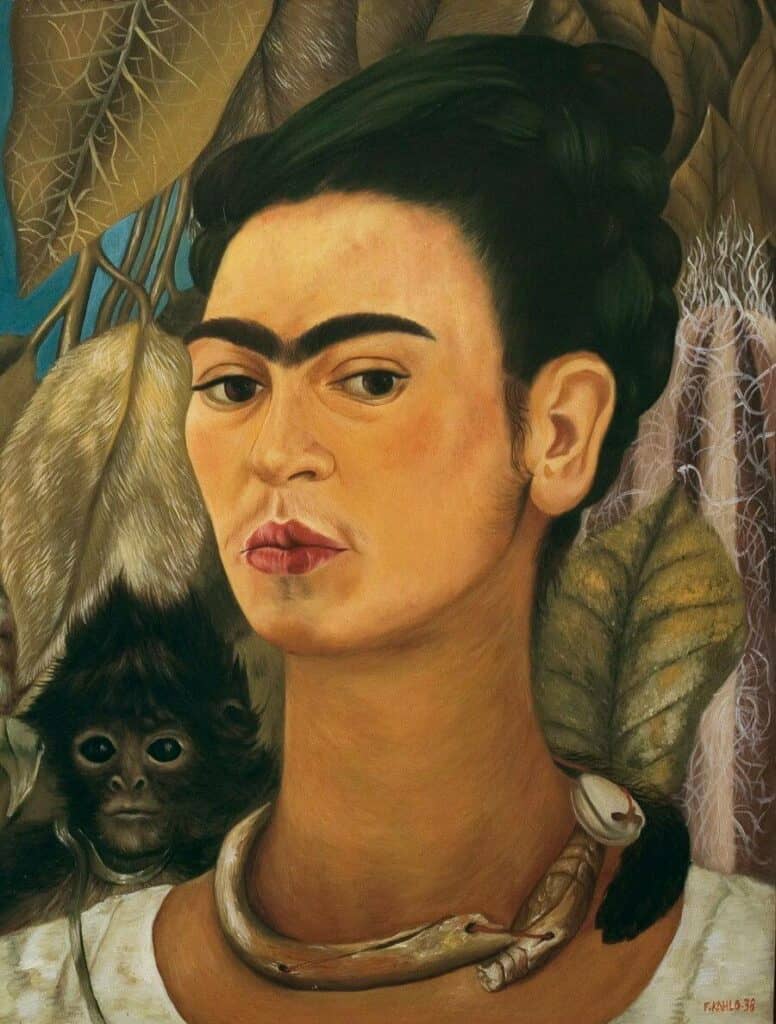 3. Louise Bourgeois
French-American artist Louise Joséphine Bourgeois (b. 1911-2010) was heavily influential within feminist art with a career spanning eight decades. Aside from working with large-scale sculpture and installation art, she was also a painter and printmaker. Bourgeois covered a variety of feminist ideas in her artwork including domesticity and the family, sexuality and the body, the fallen woman, and the theme of running away.
4. Teresa Burga
Peruvian multimedia artist María Teresa Burga Ruiz (b. 1935) was a major contributor to feminist art in the 1970s. Her conceptual artworks during the time were ground-breaking for South American feminist movements. She sought to question and redefine stereotypical notions of femininity. Most notably, she focused on this aspect in relation to the mass media and domestic labor. Many of her works present domestic scenes filled with the colors and symbols of 1960s pop culture.
5. Barbara Kruger
One of the most recognized feminist artists, Barbara Kruger (b. 1945) is an American conceptual artist and collagist. Kruger is known for her collage style that consists of black-and-white photographs, with declarative captions laid on top. Her captions often include pronouns such as "you", "your", "I", "we", and "they", which seek to address cultural constructions of power, identity, and sexuality. Influenced by feminism, her pieces critique consumerism and desire and have become something of a feminist symbol.
6. Carrie Mae Weems
The American artist Carrie Mae Weems (b.1953) has worked with text, fabric, audio, digital images, installation video, and photography. While her work aims to explore women's place in the world, she is also an advocate for black women's rights and freedom. Weems has been one of the major contributors to black feminist art over the years and has influenced the work of many including LaToya Ruby Frazier and Laurie Simmons.
7. Kiki Smith
German-born American artist, Kiki Smith (b. 1954) is best known for her representations of mortality and sexuality. The multidisciplinary artist has experimented with tattooing, drawing, sculpture, printmaking, textiles, and photography, to engage with themes relating to the human condition. An advocate of the feminist art movement, she has devoted much of her work to exploring the female human figure and its role within society.
8. Guerrilla Girls
No list of feminist artists can be complete without mentioning the Guerilla Girls. Founded in New York City in 1985, Guerilla Girls is an anonymous group of feminist, female artists who use monkey masks to disguise themselves. Their central objective is to devote themselves to fighting sexism and racism within the art world. They have produced a number of works – typically posters – which they have subsequently displayed in places they're not allowed, such as next to museums and outside galleries. To highlight discrimination in the art world, they use real facts and figures, as well as humor in their posts.

9. Sarah Lucas
English artist, Sarah Lucas (b. 1962) gained her reputation as a Young British Artist during the 1990s. She uses visual puns and humor by incorporating photography, collage, and found objects to create her artworks. Coinciding with third-wave feminism, her art satirizes gender stereotypes and deconstructs femininity and masculinity. She refers to the concept of the 'male gaze' in her work as a photographer to encourage the viewer to reconsider how women are presented in the media and beyond.
10. Alexandra Gallagher
English multidisciplinary artist Alexandra Gallagher (b. 1980) explores notions of feminism, sexuality, and identity in her work. Her surreal portraits of fairytale graphics take the form of collages, paintings, and prints. They usually present seductive images of women in imaginative, spiritual worlds. Building on the second and third-wave feminist artists, she aims to liberate women from male stereotypes through her art.
Discover & Buy Contemporary Art