Articles and Features
Artland Spotlight On: Black UK Artists Reshaping the British Contemporary Art Scene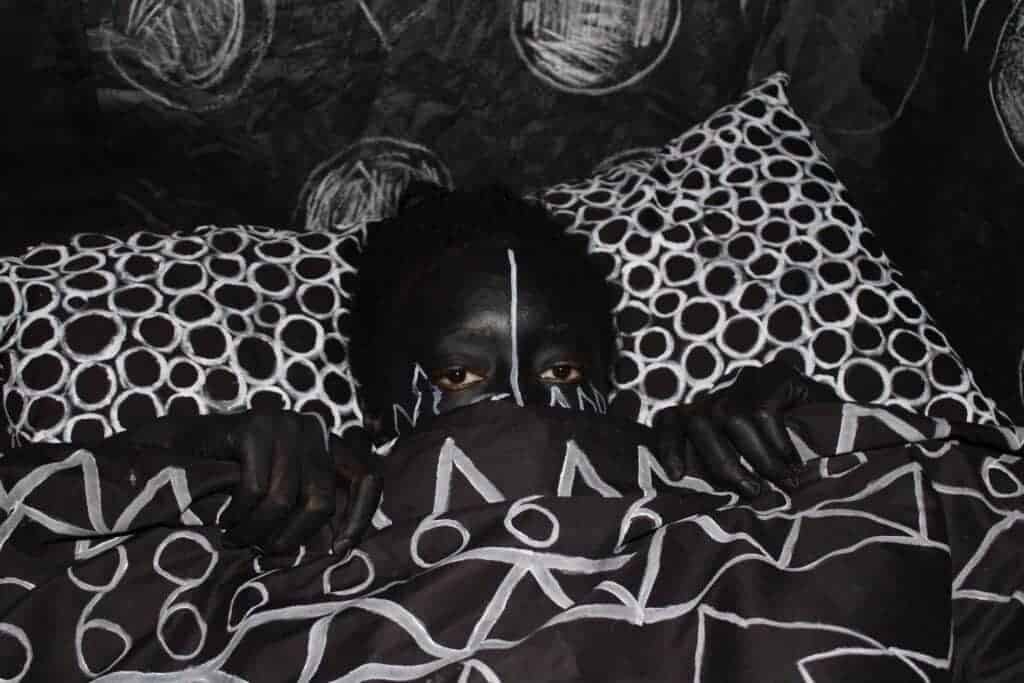 By Shira Wolfe
"I find liminality a crucial aspect of my practice. Patterns, balloons, windows and hands often appear in my work, as they can bask in the comfort of being loosely defined; painterly; abstract, whilst also having a recognisable, definable place in the 'real' world."

Lee Simmonds
'Artland Spotlight On' is a series highlighting a selection of artists who have grabbed our attention, from emerging players in the art scene, through well-established names, to icons of contemporary art. This week's edition is dedicated to Black British Artists. We present a selection of 3three Black UK artists whose work powerful creative voices and work reflecting on identity, the uncanny, and the languages of colonial and post-colonial power are gaining international attention and enriching the British art scene.
British Black Arts Movement
In 1988, curator and historian Eddie Chambers said that the function of Black British art "was to confront the white establishment for its racism, as much as to address the Black community in its struggle for human equality." Today, this still holds true, as Black British artists create their art to help examine and forge their identity, as well as to navigate the unstable and multifaceted experience of being "British".
The Caribbean Artists Movement
In 1966, the Caribbean Artists Movement (CAM) was founded by writers John La Rose, Kamau Brathwaite and Andrew Salkey, a movement that promoted the work of postwar migrants from British colonies. This paved the way for a new Caribbean aesthetic in the arts, and in 1982, the First National Black Art Convention was held, accompanied by an exhibition about the form, function and future of black art. This was facilitated by a group of Black art students known as the Wolverhampton Young Black Artists. Artists associated with this group included Lubaina Himid, Keith Piper, Sonia Boyce, Maud Sulter, Chambers, Marlene Smith, Donald Rodney, Claudette Johnson, Andrew Hazel, Ian Palmer and Dominic Dawes. They became some of the key players in the 1980s Black Artist Movement (BAM) in the UK.
Frank Bowling and Chris Ofili
Other groundbreaking Black British artists include Frank Bowling and Chris Ofili. Bowling fought for his place in the art world with his turn to abstract paintings, finding freedom from constraining expectations in the British art scene by moving to New York, and later returning to London. His abstract art approached the topics of identity, anti-racism and human equality in ways that were more difficult to comprehend for the public due to the Abstract Expressionist style. As such, he was a true trailblazer in art, defying all expectations and simplistic approaches. Chris Ofili, a British painter of Nigerian descent, also took an interesting path in art, becoming one of the Young British Artists at a young age and winning the prestigious Turner Prize in 1998 at the age of 30. He was the first Black artist to win this prize. Ofili is famous for his paintings incorporating elephant dung, earning him the title of 'punk artist'.
The Rise of Black Lives Matter
Though Black British artists did gain more and more visibility over the years, it was still always harder for most of them to keep a strong relationship with the mainstream art world and often had to exhibit their work in alternative spaces. More recently, with the powerful fight against racism embodied in the Black Lives Matter movement, which has spread all over the world, the art world has been doing a lot of important catching up. Exhibitions such as Soul of a Nation: Art in the Age of Black Power (2017), The Place is Here (2017), and Get Up, Stand Up Now: Generations of Black Creative Pioneers (2019), have contributed to cementing the place of Black artists in the mainstream art world, generating widespread interest in their art and spurring a much-needed rewriting of old art historical narratives.
"The refugee crisis, the climate emergency and colonialism are, to a certain extent, eternal themes."

Hew Locke
Three Trailblazing Black UK Artists of Today
Today, we highlight three among the Black UK artists whose work is contributing to rich narratives of today's British art scene.
1. Abi Ola
Abi Ola graduated from the Slade School of Fine Art UCL with a Master of Fine Arts in 2021. Her art practice consists of screen printing, oil, acrylic, fabric collage and photography, and often overwhelms the viewer with patterns and kaleidoscopic depictions. Ola is interested in getting the viewer to personally interpret the shapes and symbols, understanding how different people's interpretations of the same image can be. She explores the influence of various cultures on her identity, moving between her West African heritage and her life in the UK. As such, she takes inspiration from traditional African and Oceanic art and British textiles, among others. Ola often paints faceless family portraits to create a free-associative space for people to connect with these family constellations and to imagine themselves and their loved ones as part of the paintings.
2. Lee Simmonds
Lee Simmonds received his BFA from The Ruskin School of Art, Oxford in 2019. His work explores the boundaries between abstraction and narrative; between the personal and the macrocosmic. He uses magical realism to convey everyday experiences seen through uncanny and mysterious layers. Simmonds is a theatre practitioner as well as a visual artist, often seeking ways in which the two practices can overlap and come together. Simmonds is the recipient of several awards, including the Christchurch A4 Prize (2019), and was also selected as one of 31 students among Saatchi's Rising Art Stars.
3. Hew Locke
Hew Locke was born in Edinburgh and spent his formative years in newly independent Guyana. His personal identity and experiences led to his deep investment in deciphering and repurposing the iconography of the British Crown, by using metal assemblages and textiles.
On March 21st 2022, Tate Britain unveiled Locke's Britain Commission in the Duveen Galleries, the first public gallery in England designed specifically for the display of sculpture. Locke's bright, multicoloured figures paraded from one end of Tate Britain to the other, part of his new installation of 150 life-size figures addressing urgent contemporary issues including the climate crisis, Black Lives Matter, and the invasion of Ukraine.
"The refugee crisis, the climate emergency and colonialism are, to a certain extent, eternal themes," Locke said in an interview with the Guardian. "These concerns are concerns I've had for a very long time. And it seems that tragically they'll always be with us. We have a current situation we're looking at in the news every day, and it's traumatic."
Relevant sources to learn more
Read other edition of the 'Artland's Spotlight on' series:
Black and White Street Photography
Letters and Words. Celebrated Artists Exploring the Power of Language
Korean Artists
Wondering where to start?