Articles and Features
Between Abstraction, Calligraphy and Graffiti.
Cy Twombly's Gestural Vocabulary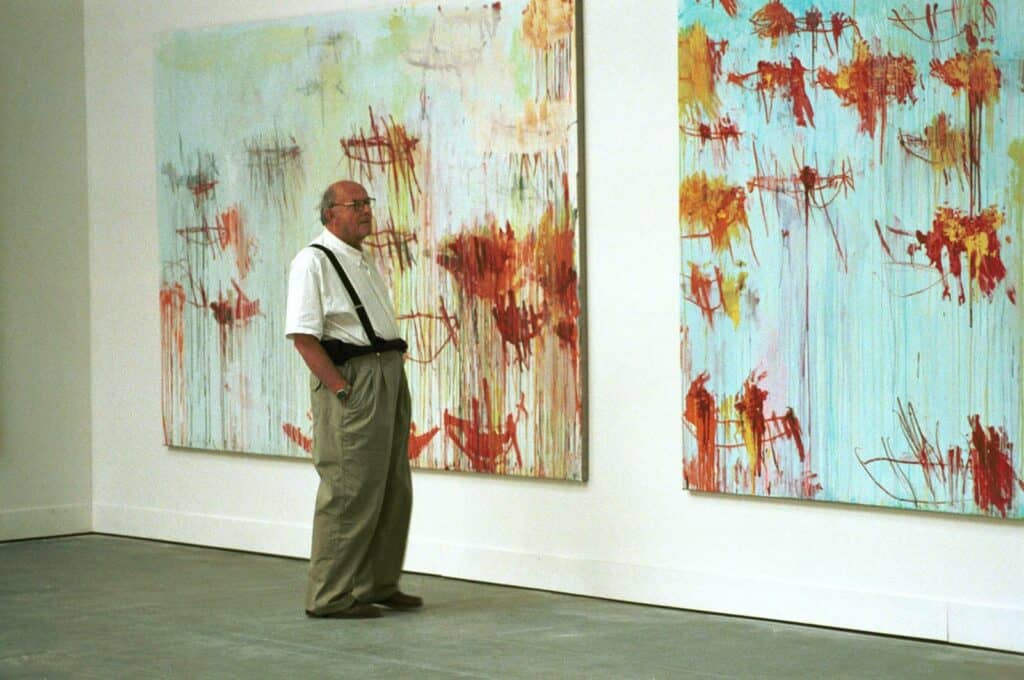 By Shira Wolfe
"I think that if you look at any Cy Twombly painting, if you really start to see it, you can imagine what those scribbles and what those words mean, and make them speak to you and translate to yourself. I think that's part of the enjoyment of Cy Twombly's work."

John Waters
Cy Twombly (1928-2011) was one of the greats of 20th century art. He is remembered for his signature energetic scribbles, his simultaneously wild and spare canvases, and his bold digression from the general tendencies of American postwar abstraction.
Though a contemporary and close friend of Robert Rauschenberg and Jasper Johns, Twombly was less in the spotlight, and his art harder to digest for most people. He spent most of his life living and working in Italy, inspired by the history, the landscape and the culture. His exciting and always surprising vocabulary makes him the favourite artist of legendary filmmaker John Waters, who said: "I think that if you look at any Cy Twombly painting, if you really start to see it, you can imagine what those scribbles and what those words mean, and make them speak to you and translate to yourself. I think that's part of the enjoyment of his work." Ten years after his death, we remember the ingenious artist.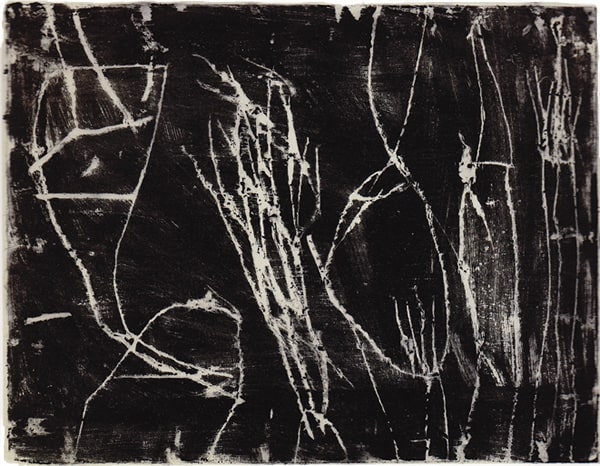 Cy Twombly Emerges on the Scene
Twombly was born in 1928 in Lexington, Virginia, and studied art in Boston and New York, where he became friends with Jasper Johns and Robert Rauschenberg and started developing his artistic style. In the early 1950s, he studied at Black Mountain College in North Carolina, after which he travelled extensively throughout Europe and North Africa with Rauschenberg, emerging on the art scene as a prominent figure in the mid-1950s. His works in this period were both personal and mythological, with narrative, language and inner visions shining through his abstract gestures. The past was a great source of inspiration for Twombly, and he studied 'primitive art', archaeology and ancient artefacts during his travels in the '50s. At a time when the prevailing tendencies such as Pop art sought to abandon historical narratives, he went in the opposite direction, seeking inspiration in ancient, classical and modern poetic traditions instead.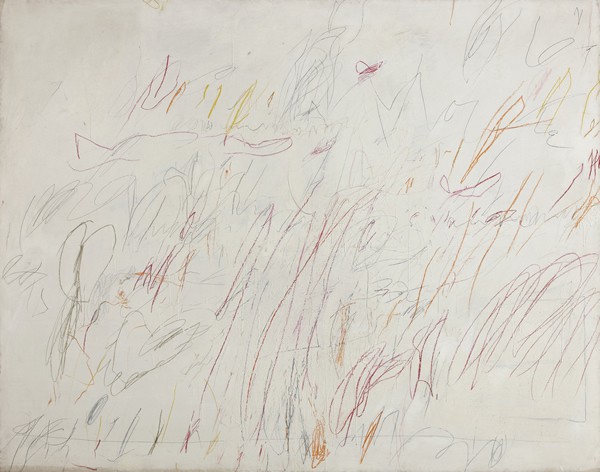 Move to Italy in the Late 1950s
Fitting with Twombly's obsession with the past, he fell in love with Italy and its rich ancient classical culture, Renaissance and Baroque heritage that intersected there with contemporary life. In 1957, he moved to Rome, where he felt the freedom he needed to break with the stifling influence of the New York art scene.
After his move to Italy, Twombly started introducing colour to his work, creating energetic artworks inspired by Roman and Italian mythology, history, and art. Soon, his bright colours gave way to greys and blues in his "blackboard" paintings. In these paintings, he created white scrawls and loops all over the canvas reminiscent of the powdery chalk on a blackboard.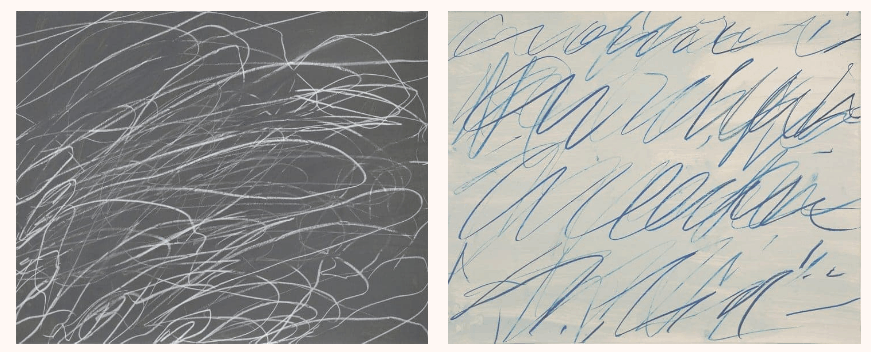 "Each line is now the actual experience with its own innate history. It does not illustrate – it is the sensation of its own realization."

Cy Twombly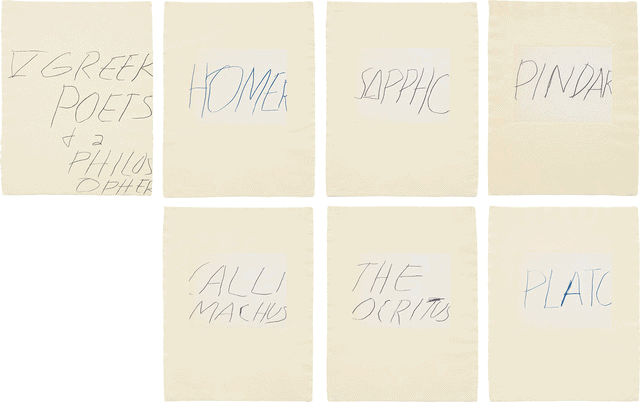 The Gestural Vocabulary of Cy Twombly
Twombly developed a gestural vocabulary in which every single line and colour is infused with vibrant energy, spirituality, and meaning, and in which the poetic and the rational live side by side, challenging and enhancing each other. His wild scribbles are at times like calligraphy, at other times more like graffiti. The artist often added recognisable words to his works, quoting poets such as Stéphane Mallarmé, Rainer Maria Rilke and John Keats or simply scribbling names, such as in his Apollo and The Artist (1975), his Virgil series (1963), and Five Greek Poets and a Philosopher (1978), which consists of a set of lithographs with the words Homer, Sappho, Pindar, Callimachus, Theocritus and Plato inscribed on each piece of paper.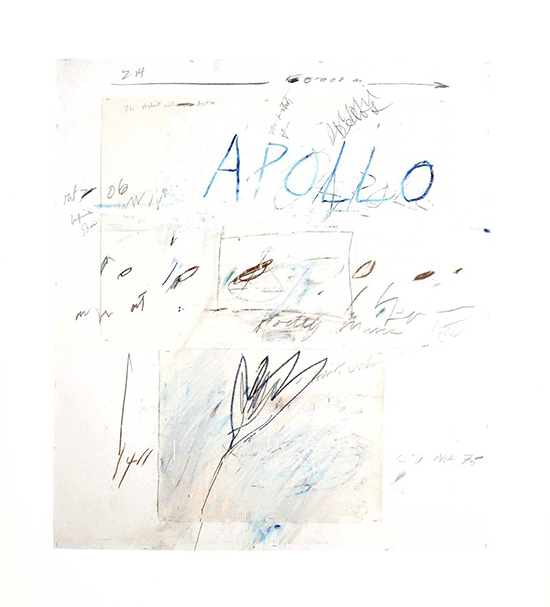 Twombly used the visual information he absorbed from his everyday life (postcards, reproductions of paintings, sketches, scientific illustrations, etc.) in his work, exploring structure and meaning. He worked with collage throughout various periods of his life, as a way to combine all the things that influenced him. Photography was also an important aspect of his artistic practice – from early on, he made a habit of capturing his daily life in photographs, often focusing on details of buildings and objects close-up. In the early 1990s, he started using special copy machines to enlarge his Polaroid images on matte paper, which resulted in beautiful subtle distortions in these images that he held so dear.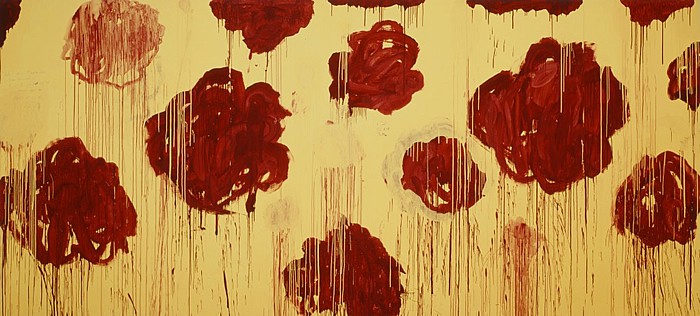 Cy Twombly's Late Work
In later years, Twombly's use of colour became bolder and bolder. A fresh surge of creativity started around 2003, when he was 75 years old, bringing new energy into his painting. Monumental and flamboyant, these works are often large-format, filled with broad, sweeping motions. He continued to work with historical and mythological themes, and also found inspiration in nature, which can be seen in his 2000s flower series.
Like in his earlier work, the pieces always resist any easy interpretation and offer multiple layers of meaning.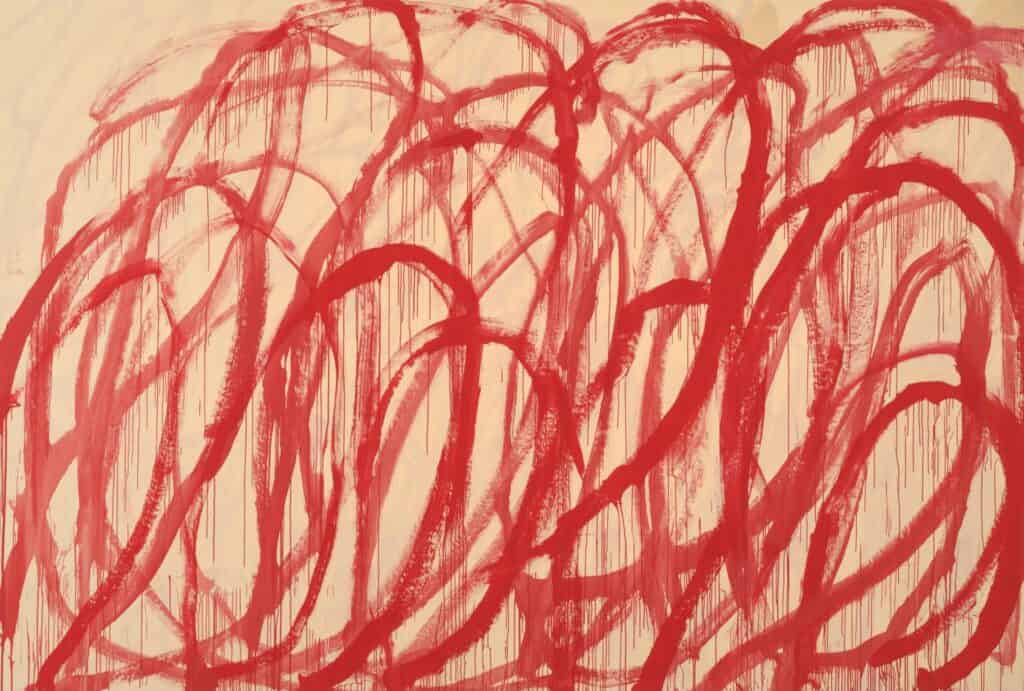 A few months before his death in 2011, he painted the striking series know as The Last Paintings, eight large-scale untitled works from 2011 with intense circular mark making and bright oranges, yellows and reds on a neon green background.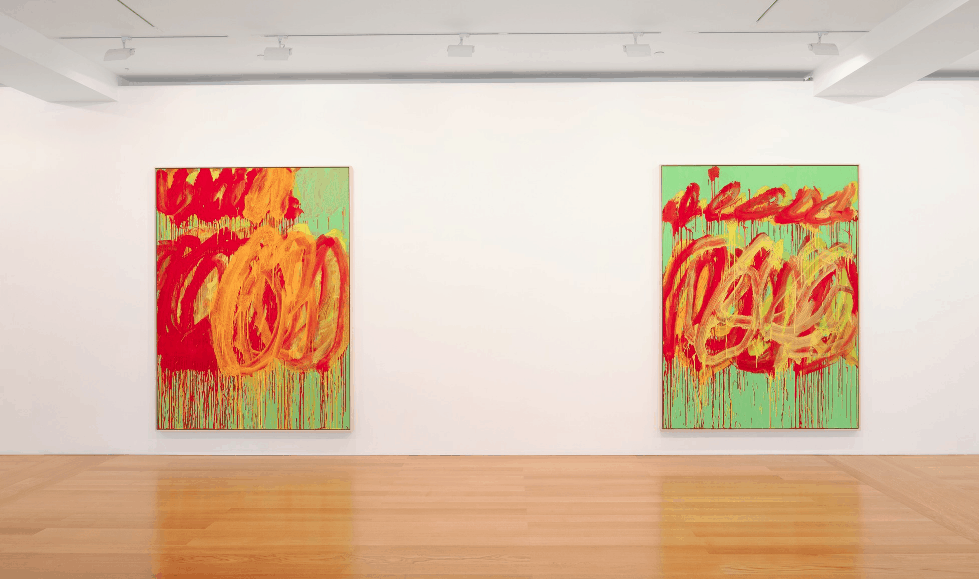 The Cy Twombly Gallery opened in 1995 across the street from the Menil Collection in Houston, Texas. The gallery serves as a permanent home for many important works made between 1953-2004. In 2010, the artist was asked to install a permanent work at the Louvre. He created a painted ceiling for the Salle des Bronzes, which spans 3750 square feet and pays homage to some of the greatest Hellenistic sculptors. In true Twombly fashion, their names are inscribed on a backdrop of an immense blue sky with cosmic orbs. Whether he was painting a ceiling of the Louvre, a bright large-scale canvas, or scribbling words on paper, Cy Twombly was always surprising and always daring, up until the very end.
Relevant sources to learn more
Explore Cy Twombly's sculptural practice and take a 3D tour of the artist's retrospective at Gagosian | Grosvenor Hill, London.
Take a look at Cy Twombly's Polaroid photography.

Cy Twombly Foundation