Articles and Features · By Shira Wolfe
Female Iconoclasts: Meret Oppenheim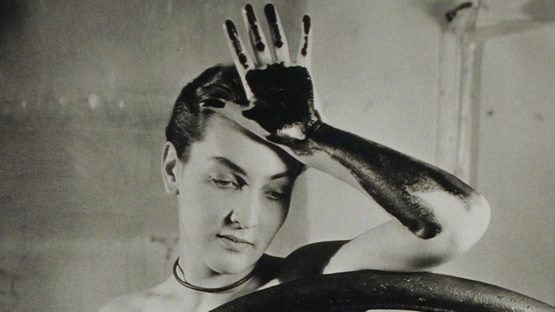 "Freedom is not something you are given, but something you have to take." – Meret Oppenheim
By Shira Wolfe
In our new article series, we will discuss some of the most boundary-breaking female iconoclasts of our time; women who defied social conventions in order to pursue their passion and contribute their unique vision to society. In our first edition, we covered the life and work of the late Zaha Hadid. This week, we will learn more about Meret Oppenheim, the first female member of the Surrealist circle in Paris who was close with André Breton, Max Ernst, Man Ray and Marcel Duchamp. While her art was associated with the Surrealist movement and Dada, she is an artist who is celebrated for always following her own vision.
An Eclectic, Surrealist Mind
When she was just 17 years old, Meret Oppenheim collaged the equation X=Hase (X=Rabbit) in her mathematics exercise book. If mathematical equations had roots, then where were the rabbits? Oppenheim wondered. Years later, when she met Surrealist artist Andre Breton, he loved this so much that he published her entire notebook. Born in Berlin in 1913, Oppenheim's family relocated to Switzerland during the First World War, where she grew up in a progressive, intellectual environment. Her father was close friends with the great psychoanalyst Carl Jung, and his thinking about the psyche and the importance of the subconscious inspired her to consider the different layers of the human mind and to explore the unconscious collective structures of the soul. Oppenheim's entire body of work was driven by a resistance to logic and to social norms, instead exploring the unconscious and the unexpected. For most of her life, she kept a dream journal and used her dreams as inspiration for her art.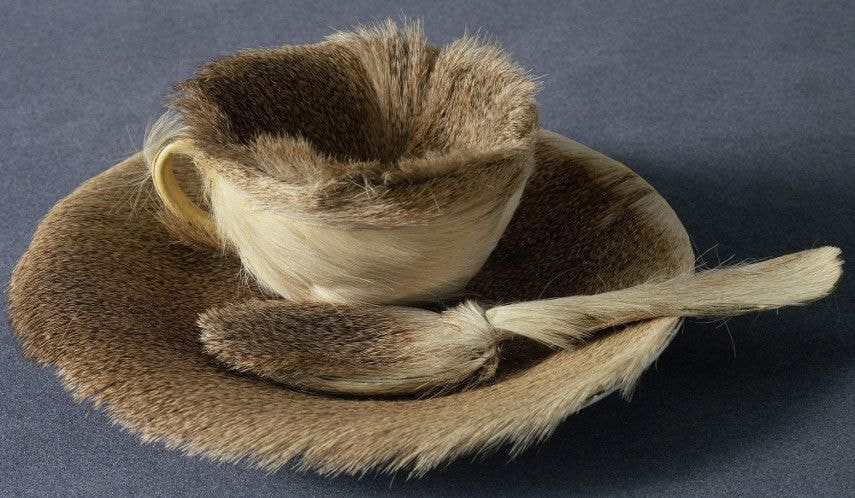 Meret Oppenheim and the Surrealists
At the age of 18, Oppenheim moved to Paris, where she quickly fell in with the Surrealists. Though women had previously not been allowed to join the Surrealist circle, Oppenheim soon became close with the Surrealists, attending meetings and exhibiting with them at the Salon des Surindépendents. In 1933, she exhibited her first sculptural piece, the bronze Giacometti's Ear. She also became a model and muse to many of the Surrealists. In 1933, Man Ray photographed Oppenheim for his Erotique Voilée, which really propelled her onto the art scene as both artist and muse.
Undoubtedly her most famous work of art is her Objet (Le Déjeuner en fourrure), from 1936. For this piece, Oppenheim covered a teacup, saucer and spoon in the fur of a Chinese gazelle. These whimsical and bold everyday objects dealt with topics of female sexuality and female exploitation and repression by the opposite sex. In the 1930's, Oppenheim also started a collaboration with fashion designer Elsa Schiaparelli, producing iconic works like her Fur Gloves (1936) and making a bridge between avant-garde art and fashion.
Despite her strong connection to the Surrealist movement, she broke with them after three years, feeling a strong need to stay true to herself and to explore other avenues. She always refused to be restricted to any identity, style or medium, wanting constantly to reinvent herself and to move forward. As soon as she developed an idea, she felt compelled to start on a new one immediately.
For Oppenheim, metamorphosis was a central strategy. She continuously explored dichotomies between nature and culture, masculinity and femininity, spaces, structures and genres, finding ways to allow them to morph into one another.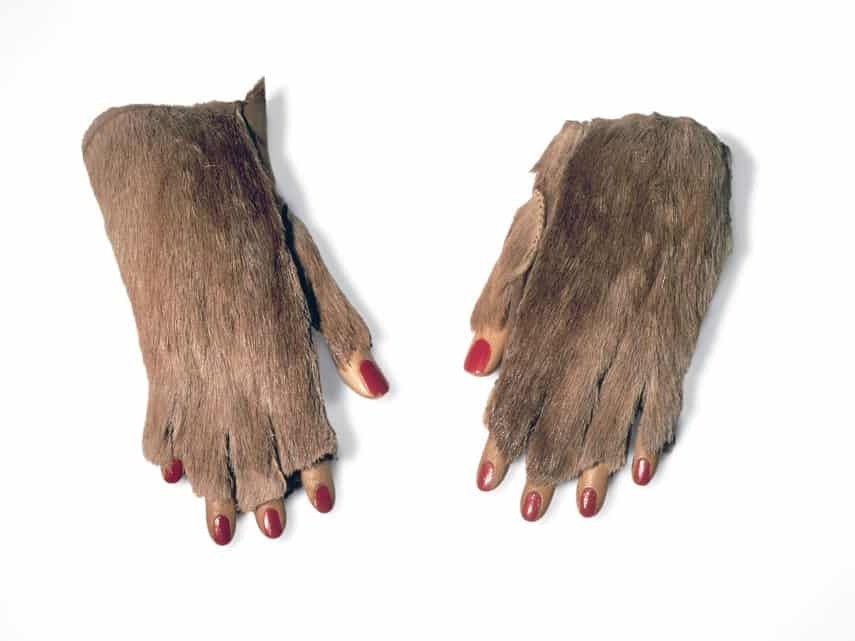 Artistic Block and the Next Phase
In 1937, Oppenheim ended an intense affair with Max Ernst, leaving him in deep distress. But Oppenheim had realised that this relationship would endanger her own career. At the time, she was quite famous as an artist but had also been categorised as a muse, which began to put stress on her creative expression. She started suffering from insecurity and depression and returned to Switzerland, where her depression and artistic block prevented her from producing work for about a year and a half. When she did start producing work again, she rarely exhibited, instead experimenting privately with sculptures, paintings and fashion. Works at the time include Stone Woman (1938), the body of a woman turning to stone, half submerged in water. Then there is the famed Table with Bird Legs (1939), which was exhibited at the Exhibition of Fantastic Furniture. Her fashion related experiments included slashed open lingerie.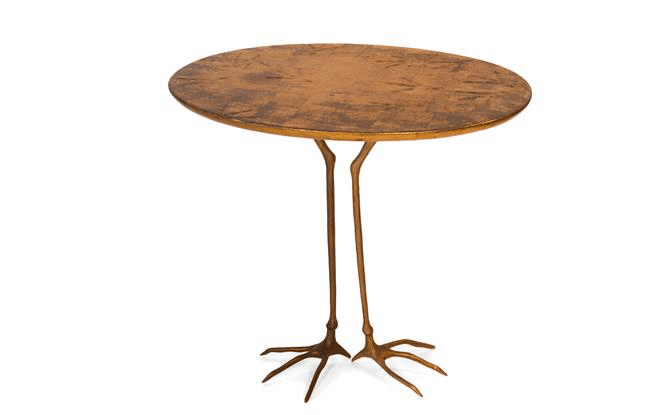 It was in the 1950s, surrounded by like-minded artists including Daniel Spoerri and Dieter Roth in the creative climate of Bern, that Oppenheim truly came into her own again. She developed a thesis about human androgyny – the feminine and the masculine spirit underlying every artistic creation. She continued to work across genres and styles, refusing to be pinned down to one specific area. In 1956, she did the costume and set design for Picasso's play Le Désir attrapé par la queue, and in 1959, she organised the notorious private performance Spring Banquet, in which she had the guests feast on a naked woman's body to celebrate fertility and nature.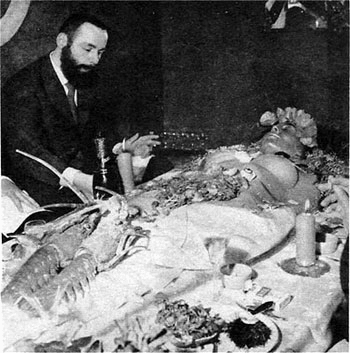 Paintings, Drawings and Sculptures
Oppenheim's paintings and drawings consist of experiments with geometric forms, abstract landscapes and imaginative constructs. Ideas and tangible forms, interior and exterior spaces come together here.
Oppenheim's later works include some powerful sculptural pieces. One of her most famous works from her mature period is The Spiral Column (1983), also known as the Meret Oppenheim Fountain. The piece is a tall column made of concrete and aluminium, with a garland of grass wrapped around it. A small water stream trickles down the side, causing the sculpture to change with the seasons – in winter, icicles form while in spring, small flowers bloom on top of it and in summer, the concrete is covered in moss. The sculpture can be found on the Waisenhausplatz in Bern.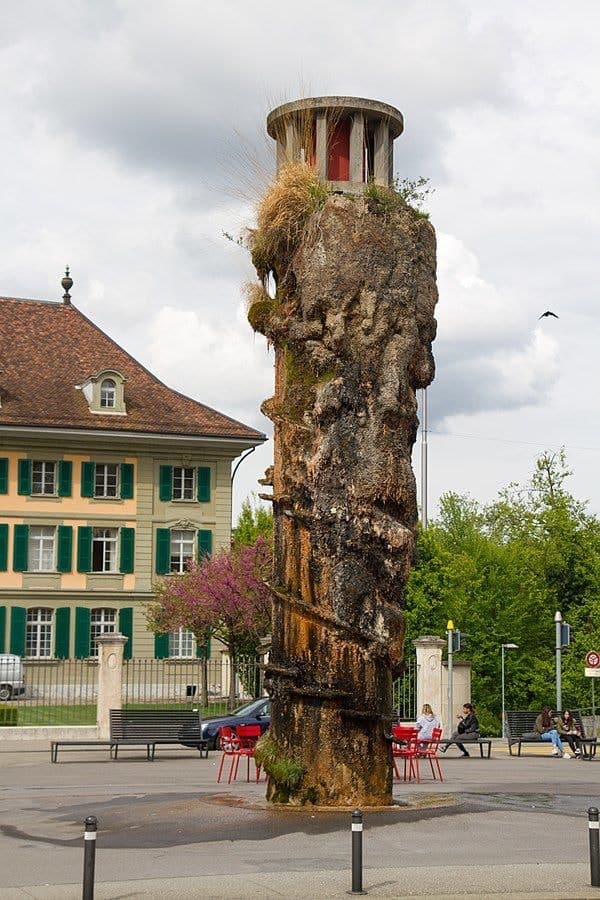 Current Exposure
Today, Meret Oppenheim is hailed as one of the trailblazing female artists of the 20th century. The alexander levy gallery in Berlin is currently honouring Oppenheim's eclectic oeuvre with the solo exhibition X=Rabbit from November 2 to December 20, 2019. You can take a virtual tour of this exhibition below. In 2021 – 2022, a comprehensive retrospective will trace Oppenheim's artistic work, starting at the Kunstmuseum Bern, then moving to the Menil Collection in Houston, and finally ending at the MoMA in New York.
Relevant sources to learn more
Read more about Meret Oppenheim on the websites of alexander levy gallery and MoMA: