Articles and features
What is Generative Art?
From Seminal Experiences to New Frontiers
By Adam Hencz
Defined as art that was made entirely or partially using an autonomous system, generative art may take different forms, including music, literature, and computer visuals.
Any algorithm, whether mathematical, mechanical, or biological, can describe this system. Nowadays, the autonomous system is usually a machine and algorithm that generates AI art. However, the term in a broader historical sense refers to any non-human entity that is capable of independently choosing aspects of a piece of art that would normally require a direct choice from the artist.
The artist or creator may frequently assert that the whole generative system embodies their original artistic concept. However, there are instances where the machine completely steps into the role of the artist or creator. Besides being a visual medium, generative art has also found applications in other fields such as music (John Cage, Brian Eno) and architecture (Michael Hansmeyer).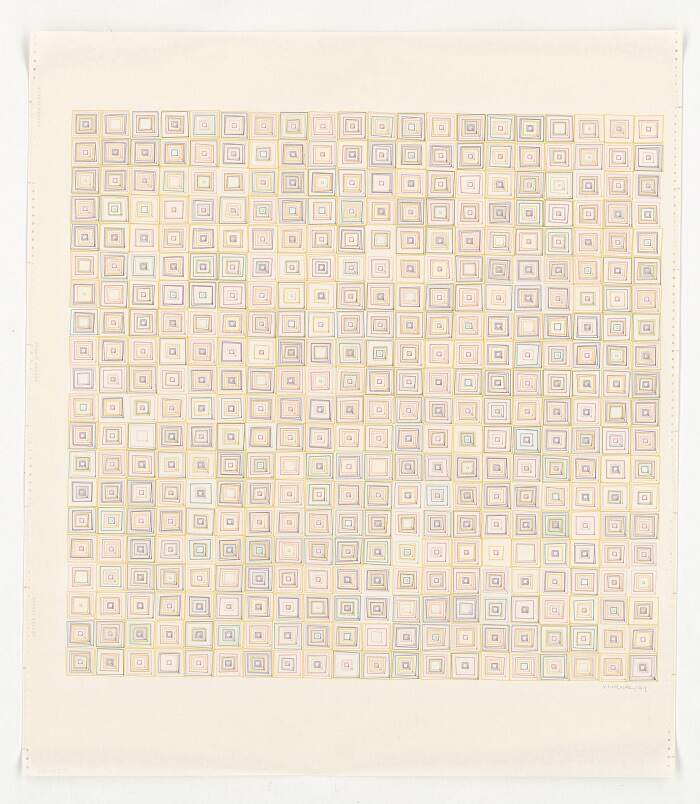 The early history of generative art
As a movement, generative art evolved after modern art avant-guarde experiences praising the chaos and unpredictability, from Dadaism to Surrealism. Designers and artists began to experiment with analog devices and mechanical systems already in the 1950s. They were the forerunners to the works of digital art pioneers who would come after in the 1960s. Surprisingly, these early pioneers were scientists and engineers working at university laboratory facilities, as they had access to sophisticated and powerful computing resources there.
In the 1970s, generative art started to evolve beyond the walls of computer labs and spilled over to the greater art world. The phrase quickly came to refer to geometric abstract art in which simple components were repeated and altered to create more intricate patterns.
Frieder Nake
Frieder Nake is a mathematician and computer scientist who is internationally recognized for his contributions to the first manifestations of generative computer art, making its first public appearances with three exhibitions in the 1960s.
Harold Cohen
Harold Cohen, a British-born artist, is best known as the designer of AARON, a computer software meant to make art independently. His work at the crossroads of artificial intelligence and art received international attention, resulting in exhibits at several museums, including the Tate Gallery in London, and acquisitions by a variety of other institutions. His collaborative work with AARON symbolized a one-of-a-kind human-machine partnership, which became attractive as a research topic among scientists as well.
Herbert Franke
Pioneer of generative art, Herbert Franke used algorithms and computer programs to visualize mathematics in the form of art. His early works revolved around generative photography, and analog computers. He also used the first mainframe computers in the 1950s and 1960s to produce abstract algorithmic art. The Venice Biennale included a screen print from his SQUARE series in 1970. He was the co-founder of Ars Electronica, the largest festival of new media art in the world, in Linz in 1979. With the emergence of NFTs, his writings and artworks have never been more significant.
Vera Molnár
Though scientists constituted the majority of early generative artists, this was not always the case. Vera Molnár received classical art training at the Budapest College of Fine Arts. As early as the 1940s, she committed herself to research infinite variations of geometrical shapes and lines. Throughout her career, she called the Machine Imaginaire into play, envisioning herself as a drawing machine. Molnár began learning Fortran and Basic, two early programming languages, in the 1960s and acquired access to a computer at a research center in Paris, where she created computer graphics with a plotter.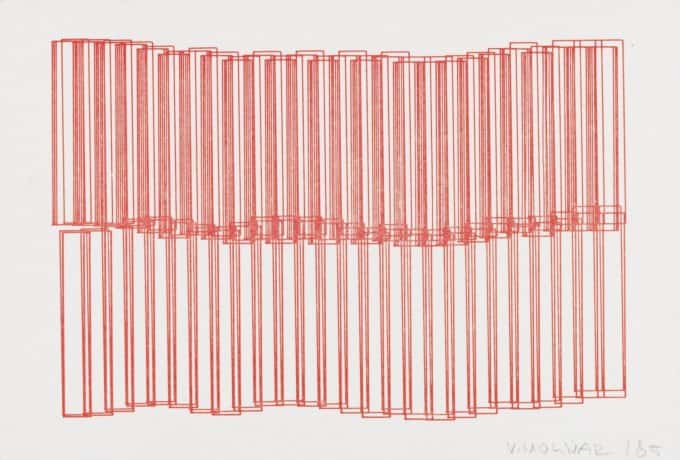 Manfred Mohr
Another forerunner of digital art with a background in fine art was Manfred Mohr. The abstract expressionist action painter Mohr, a graduate of the École des Beaux Arts, started experimenting with generative art and algorithmic painting in 1969. His early computer compositions were largely influenced by his archival drawings, emphasizing rhythm and repetition.
Sol Lewitt
Significant art movements, such as conceptualism, minimalism, and generative art are associated with Sol Lewitt. He is most famous for his Wall Drawings, a series of works that highlighted the idea that the concept behind the art is just as essential as the actual artwork itself. A group of drafters accurately captured LeWitt's vision by following the directions he set for the making of each wall drawing. In essence, LeWitt has created an algorithm that may be used to produce an endless number of variants on the same piece of art. The key difference is that, unlike today's interconnected computers, LeWitt's Wall Drawings are created by a team of gallery staff and written in plain English rather than in code.
Famous generative artists today
Earlier this summer, Phillips presented Ex-Machina: A History of Generative Art, the first-ever auction dedicated to generative art, bringing the art world's attention to the medium and raising questions on how generative art is curated. Read on to discover a selection of artists of today working in the medium.
Vickie Vainionpää
Vickie Vainionpää's practice considers the impact of technology on the process of painting and investigates the relationship between natural forces and digital processes. In her ongoing series Soft Body Dynamics, twisting, tubular forms are systematically created using generative 3D modeling software. The software randomly generates a set number of splines per day, from which the artist selects to create final compositions which are painted by hand using oil on linen. By embracing new digital means of reading space and content, the works draw attention to the ever-changing relationship between the human body and digital technology.
Rafael Lozano-Hemmer
Rafael Lozano-Hemmer is considered one of the most relevant electronic artists of our time. He creates interactive art installations that mediate between spectators' bodies and technological devices. He seeks to raise a certain degree of dependence between both parts to convey the work's content. Recurrent topics are the use of light to create trompe l'oeil, the effects of hyper-surveillance and generative animations connected to science and philosophy. He creates platforms for public participation using technologies such as robotic lights, digital fountains, computerized surveillance, media walls, and telematic networks. Inspired by phantasmagoria, carnival, and animatronics, his light and shadow works have been defined as "antimonuments for alien agency".
Artificial Intelligence & Generative Art
Artificial intelligence is now primed to disrupt the realm of visual art. AI art generators will also challenge artists to reconsider their relationship with art. It is not the matter of competition, but embracing new technologies and collaborating with machines. The combination of human ingenuity and the possibilities provided by AI will result in perhaps the most unique artworks we have yet to witness.
Generative art NFTs
Artists began uploading creative programs to blockchains to produce generative art NFTs only in 2021. Simply referred to as g generative art NFTs, these digital artworks are produced by smart contracts and kept on the blockchain. To create generative art NFT artists often write code and run an algorithm with a certain set of rules to generate images. Artists often include a series of images to feed the aesthetics of the generated work. The computer then builds the final piece of work by randomly combining the pictures or patterns according to the artist's criteria.
Dmitri Cherniak
Dmitri Cherniak is a well-known generative NFT artist, creator of projects like The Eternal Pump. On Twitter, he claims that automation is his medium and art is his code. His generative artworks typically fetch six and often seven figures at NFT auctions. Cherniak is also known for his piece The Ringers, released on the curation platform Art Blocks.
Matt Kane
What makes Matt Kane an essential figure in the realm of generative NFT art is the fact that he fights for the artist's rights long after the first sale, ensuring that the smart contracts that control the NFT artwork pay royalties to the creator with each secondary sale. Kane's latest collection, Gazers, is a series of 100 NFTs based on lunar cycles:; every 24 hours, the smart contract of each NFT sends new instructions on how that NFT should appear or move that day, constantly changing, just like the moon itself.
How to make generative art online?
If you want to experiment with accessible online tools to create generative art, there are several tools accessible on the internet for you to use free of charge. Click on the links below to take a look at the best free automated tools to make generative art online.
Wondering where to start?