Articles and Features
Kim Tschang-Yeul: The Artist Who Painted Water Drops
By Adam Hencz
"By returning anger, anxiety, fear and everything else to emptiness, we experience peace and contentment. While some seek the enhancement of the ego, I aim toward the extinction of the ego and look for the method of expressing it."

Kim Tschang-Yeul
A central figure among the generation of artists at the vanguard of postwar Korean modernism, a painter who spent the past five decades focusing on his iconic depictions of water drops, Kim Tschang-Yeul passed away in early January 2021, at the age of 91. Kim Tschang-Yeul is considered one of the preeminent figures in the establishment of contemporary Korean art on the international scene, alongside Nam June Paik and Lee Ufan. After living in Pyongyang, Seoul, New York and eventually Paris, the water drop became the starting point for a singular and iconic body of work, which stands at the confluence of lyrical abstraction, Pop Art and Chinese calligraphy. His minimalistic and limpid œuvre subtly fuses Taoist wisdom, modern conceptual irony and the tragedy of war.
Early years in Korea
Born in Maengsan in modern-day North Korea in 1929, Kim began studying calligraphy with his grandfather at the age of four. During his formative years, he moved to the South, where he first studied painting under Master Lee Que-de. In 1948 he entered the art school of Seoul National University but was prevented from continuing his studies after he was excluded for having learnt from Lee Que-de, who defected to North Korea.
His childhood and early years coincided with major events in Korea's turbulent modern history – from the Japanese colonial rule and independence to the sudden outbreak of the Korean War in 1950, which he witnessed from close range as a soldier.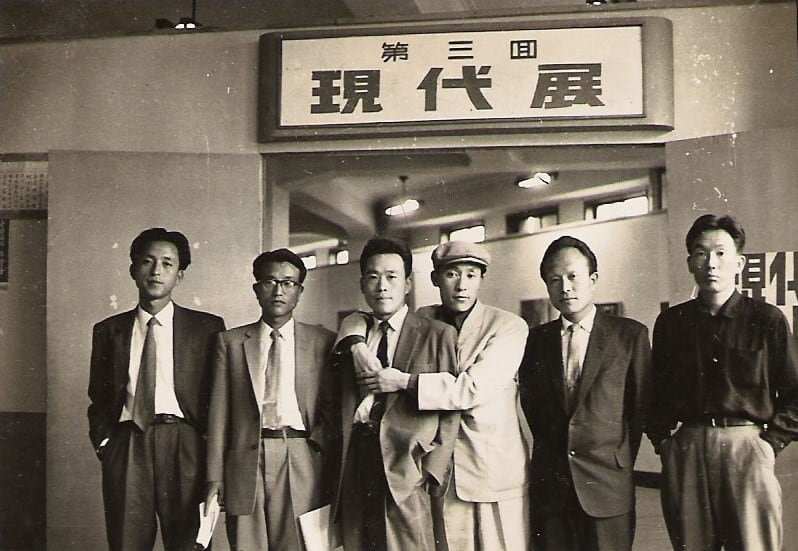 Following the war, Kim helped found the mid-1950s and early 1960s Korean Informel movement. Kim and his peers, such as Park Seobo, Suh Se Ok and Ha Chong Hyun were, at the time, embracing abstraction and turned away from traditional artistic norms, parallel to the movement's European counterpart and American Abstract Expressionism. Informel is generally considered the first radical artistic experiment in postwar Korea, not only because it abandoned representational art in favour of complete abstraction, but also because it initiated a collective rebellion against the government-sponsored National Art Exhibition (gukjeon) system. In those decades, South Korea existed under a military dictatorship that offered its citizens very little exposure to what was happening culturally in the Western world; Kim's work of this time, however, earned him spots in both the Paris Biennale of 1961 and the Bienal de São Paulo of 1965.
From New York to Paris
Kim Tschang-Yeul was part of a Korean artist generation that travelled outside East Asia in order to develop a more universal approach to painting. In most cases, artists who travelled outside Korea would eventually return as political and economic conditions slowly improved in the 1970s, but Tschang-Yeul was one of a handful of notable exceptions. In 1965, he received a grant from the Rockefeller Foundation which enabled him to move to New York City in order to study at the Art Students' League of New York from 1966 to 1968. Kim's years spent in New York City allowed him to interact with the overwhelming visibility of Pop Art and Minimalist sculpture, which impeded the artist's pursuit of an idiosyncratic style.
Eventually settling in Paris after participating in the Avant-Garde Festival with help from Nam June Paik, Kim Tschang-Yeul began painting water, building upon the fluid shapes he was already experimenting with. It was in Paris, in fact, that the artist first embarked on his monumental water drop painting titled Événement de la Nuit (1972), where a single oversized water drop hangs, its shadow projected against the dark ground; within the droplet, a reflection of the window of the artist's studio. Ever since, for fifty years, he continued to present works featuring water droplets that would transform into his trademark.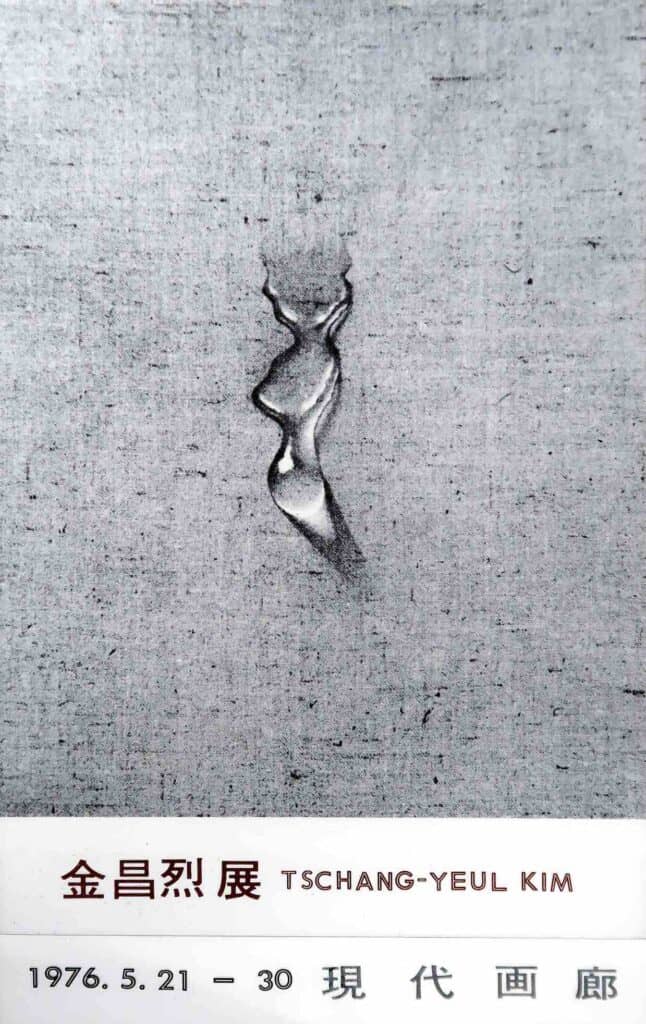 Water Drops and Calligraphy
The water drop motif straddles the space between the real and the abstract. The water drops often appear in front of textured backgrounds and—as The New York Times art critic Jason Farago wrote—"effect a strange melding of hyperrealism and abstraction, always trying but never succeeding to come to terms with the past."
Although the artist has been quoted that "the meaning is meaningless" behind the water drop, water's nature of being transparent while simultaneously having substance has been interpreted as a metaphor of emptiness or peace. The notion of meditation and healing has been a recurrent theme in the analysis of Kim's works and resonates with verses in Zen Buddhism and Taoism.
"The act of painting water drops is to dissolve all things within the water drops, to be returned to a transparent state of nothingness. By returning anger, anxiety, fear and everything else to emptiness, we experience peace and contentment. While some seek the enhancement of the ego, I aim toward the extinction of the ego and look for the method of expressing it," Kim once explained.
In the late 1980s, for his Recurrence series, Kim started to merge the water drop motif with the traditional practice of calligraphy. "I learned the Thousand-Character Classic from my grandfather before entering primary school. When I was around 60, I started to paint with the theme of Recurrence, which means going back. First, it means going back to childhood, and second, going back to the East," Kim said. Recurrence is also interpreted as a significant aesthetic ground bridging image and text, process and form, content and concept, East and West, abstract and figurative. The artist's last exhibition, The Path, held at Gallery Hyundai in 2020, concentrated in fact on the subject of 'text' as a common thread in Kim's artistic oeuvre.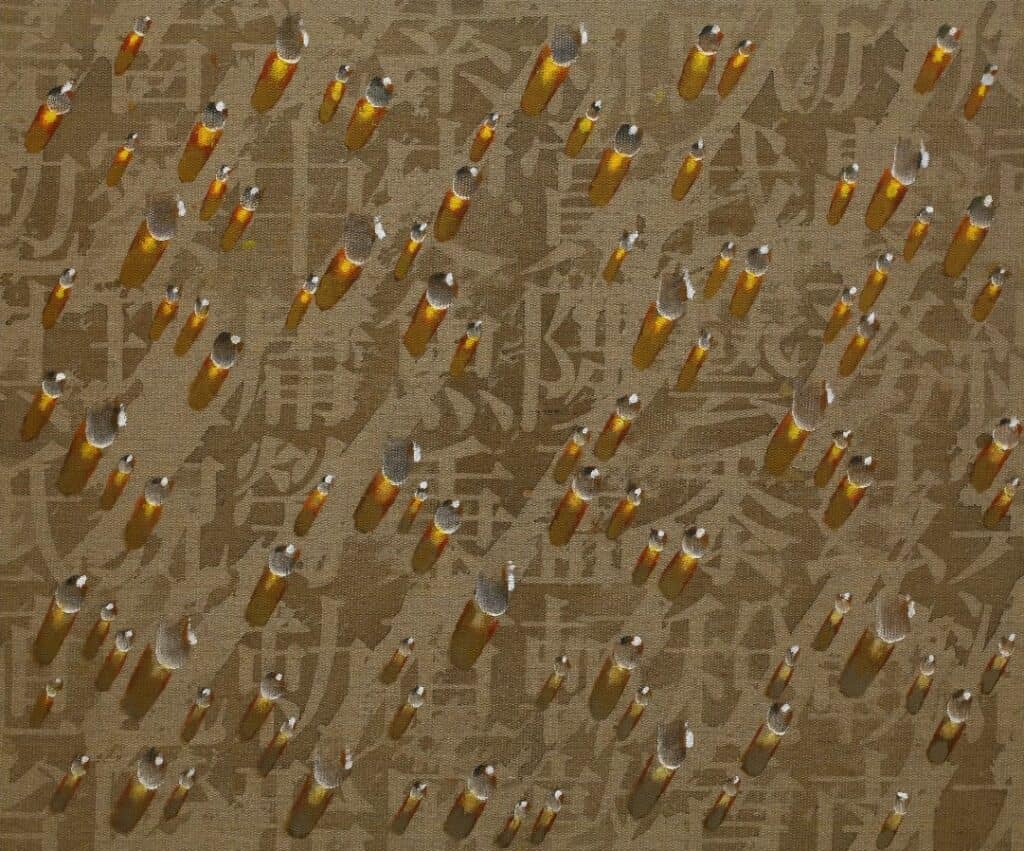 Kim Tschang-Yeul's work has been shown around the world for more than fifty years, recently culminating in several important retrospectives at the Gwangju Museum of Art, Korea, 2014; Taiwan National Museum of Fine Art, Taichung, 2012; Busan Museum of Art, Korea, 2009; National Art Museum of China, Beijing, 2006; and Jeu de Paume National Gallery, Paris, 2004. Kim donated 220 works of art to Jeju Island, where the Kim Tschang-Yeul Art Museum dedicated to the artist was established in 2016.
Gallery Almine Rech in London will present Water Drops, the first posthumous exhibition of the artist, opening on March 4, 2021. The exhibition will span Kim Tschang-Yeul's career and is conceived to celebrate the full scope of his artistic legacy.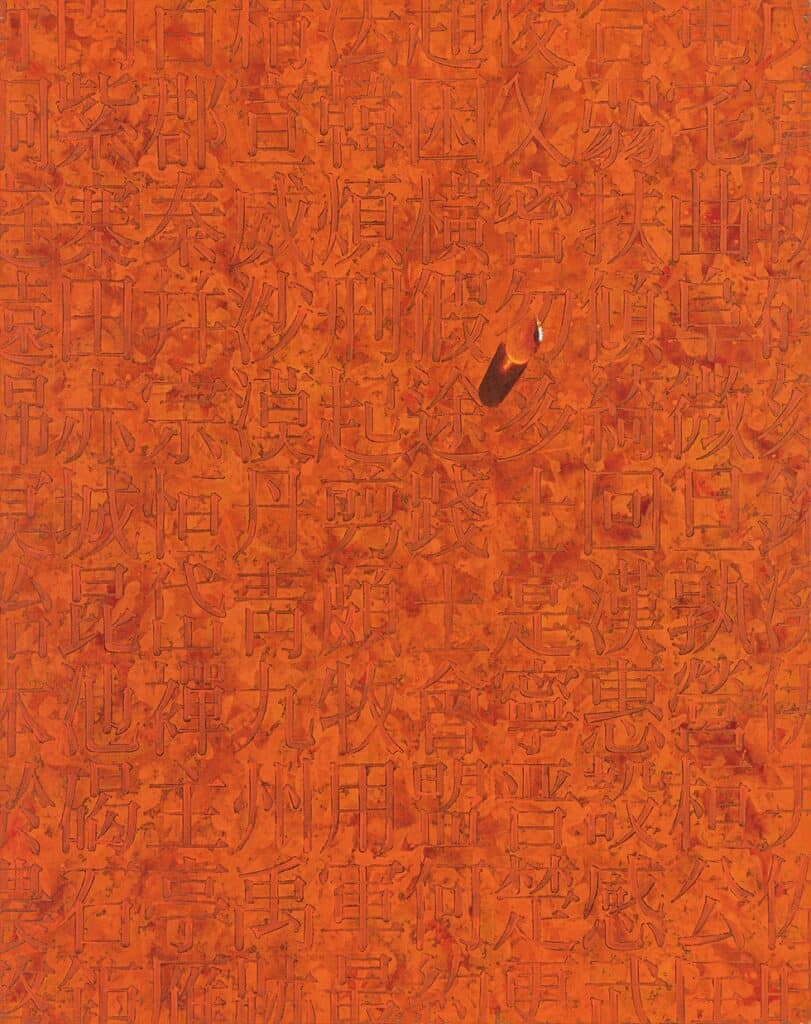 Relevant sources to learn more
Take a 3D tour at The Eastern Gesture – Five Voices from the Korean Avant-garde exhibition on Artland
The Visual Poetry of Suh Se Ok: Between Tradition and Modernism
Read about Dansaekhwa: The Meditative Korean Art of Monochrome Painting
Gallery Hyundai
Almine Rech press release