Articles & Features
Lost (and Found) Artist Series: Phyllida Barlow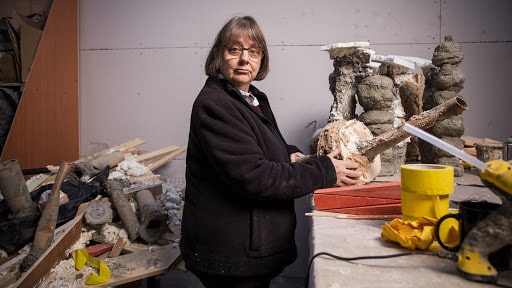 By: Tori Campbell
"There's something about walking around sculpture that has the possibility of being reflective, like walking through a landscape…the largeness of sculpture has that infinite possibility to make one engage beyond just the object itself and into other realms of experience."

Phyllida Barlow
Artland's Lost (and Found) Artist Series features artists who were originally omitted from the mainstream art canon or largely invisible for most of their careers. In the past, we have focused on the life and work of artists such as Miriam Cahn, Alma Thomas, Carolee Schneemann, and Hilma af Klint. This week we delve into the work of Phyllida Barlow, a British sculptor best-known for using unusual materials such as cardboard, cement, and plaster to bring a sense of play to her works. After a career out of the spotlight as an art professor, she ended up representing Great Britain at the 2017 Venice Biennale at the age of 73.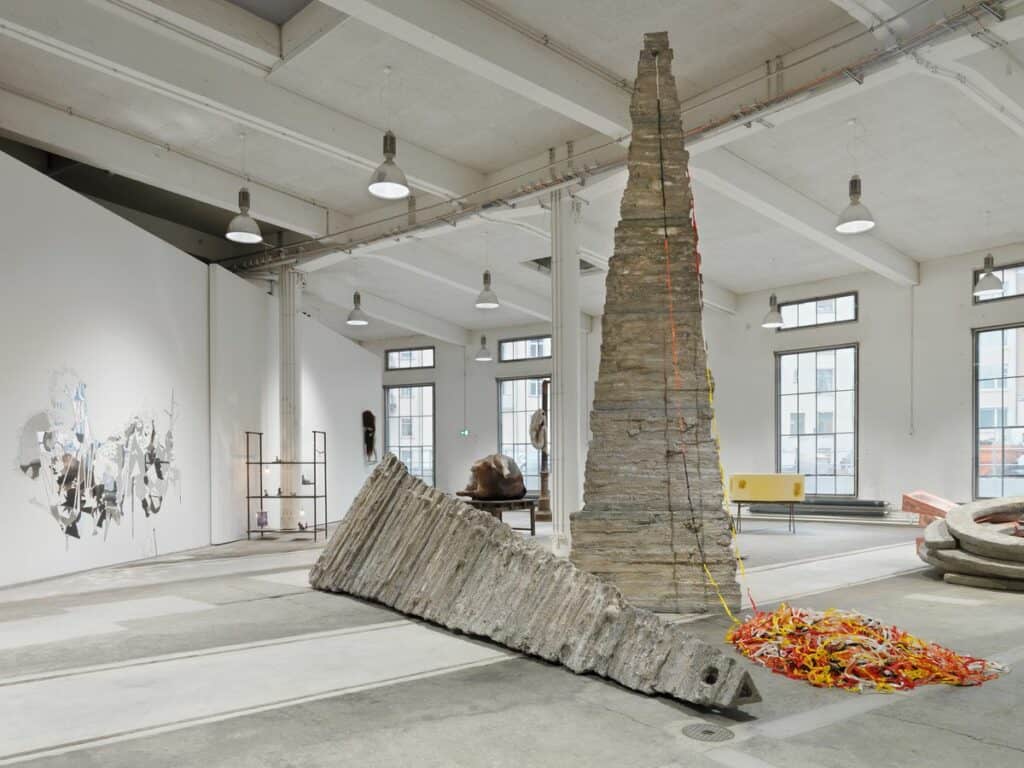 "A sculpture that falls over or breaks is just as exciting as one that reveals itself perfectly formed. All the acts of making in the world are there to be plundered and contain within themselves the potential to be transferred to the studio and adapted."

Phyllida Barlow
Phyllida Barlow: the life
Born on April 4th, 1944 and brought up in post-war London, Phyllida Barlow studied at the Chelsea College of Art from 1960 to 1963 under George Fullard. The sculptor would prove to have great influence over Barlow and her work, injecting a sense of adventure into the process of creation. While at the Chelsea College of Art, Barlow met her husband, writer and artist Fabian Benedict Peake, and the couple would go on to create what is often referred to as 'a British art dynasty' with their five children, including artists Florence and Eddie Peake.
After graduating from further sculptural education at the Slade School of Art in 1966, Barlow embarked on a four decade long career as an educator. Spread across numerous institutions, she began her career as a part-time sculpture teacher at the former West of England College of Art (now the University of the West of England, Bristol). It was in this position that she was able to learn the traditional sculptural techniques while also finding the value in less traditional, more mundane materials such as cement, scrim, cardboard, and polystyrene. This exploration would form the core of her work, allowing her to create abstracted pieces that form an environment of reflection for her audiences, enabling them to see and explore her process through her materials.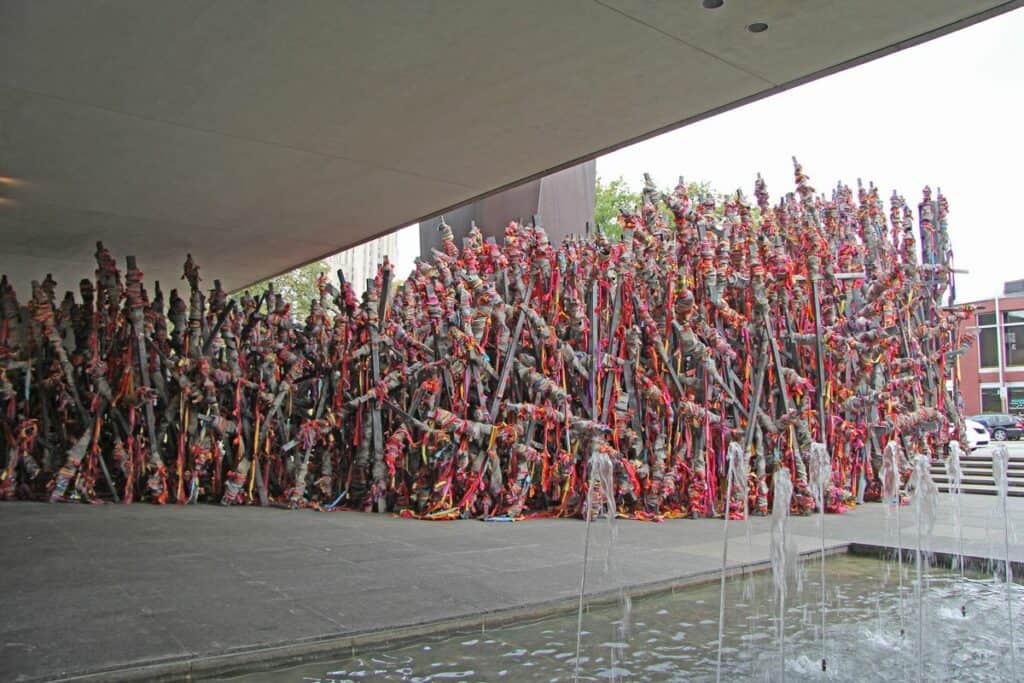 In 2004, Barlow became Professor of Fine Art and Director of Undergraduate Studies at Slade School of Art before retiring in 2009 to focus on her own art. Though she had been working on her art for nearly forty years, and some of her pupils became very famous indeed – Rachel Whiteread's name stands among the others – she would not receive great public attention until her 2010 when, unexpectedly, Barlow was offered a show at the prestigious Serpentine Gallery.
It could be considered pure luck that Phyllida Barlow's art was finally acknowledged after her retirement from teaching, though she had put decades of work into her style and oeuvre at that point. In fact, the Director of the Tate Museum, Frances Morris, has stated that the overlooking of Barlow's work for so long gives her a sense of institutional guilt, further elucidating that she believes that the negligence is indicative of the discriminatory state of the art world. Barlow's rise to stardom may be attributed to her 2009 win of the Paul Hamlyn award, or being written about in ArtForum by young artist Nairy Baghramian. Whatever the source, after being visited by Hans Ulrich Obrist of London's Serpentine Gallery, she finally had the attention she deserved.
Phyllida Barlow: the work
Often described as both playful and menacing, Barlow's most characteristic artistic output is her large-scale sculptures. Colossal to the extent that they could be considered installation art, Barlow's sculptures are often painted in child-like colours that offer a sharp contrast to the industrial materials that form the works' immense scale. Drawing on the familiarity of the inexpensive and everyday materials she uses; plywood, plaster, cement, cardboard, paint, and fabric; she envelopes her audience within her works.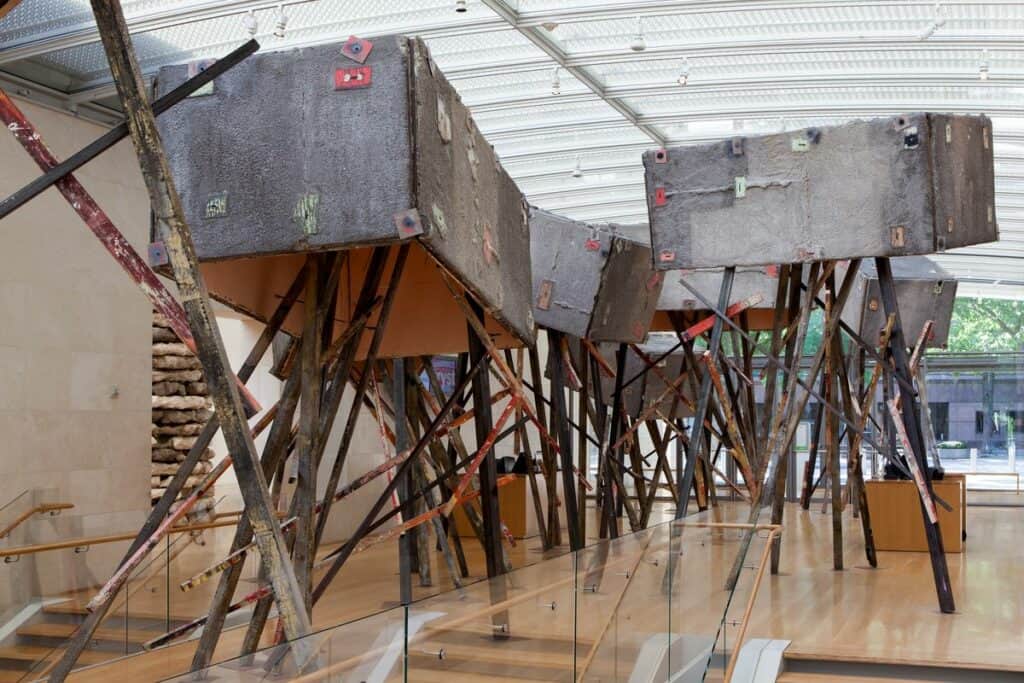 Towering above the viewer, the sculptures play with mass, scale, volume, and height to create a tension of intimidating joyfulness and an environment in which one can be lost. Exposing the details of her process and materials, Barlow begs her audience to ruminate on the act of creation, illustrating before them the adventure of construction she embarked upon to provide the work in front of them. Playing with mass and volume she is able to make works that appear both monumentally heavy and light as a feather simultaneously. Through a process of layering, accumulation, and juxtaposition she provides an environment that seems impossible and a sculptural work that feels at odds with its immediate surroundings.
This resulting juxtaposition is due to Barlow's interest in exploring dynamic qualities over beauty. For example, by exploring the qualities of time, weight, rhythm, or balance; her works can appear to be questions on the power of gravity or a curiosity about the dichotomy of growing versus shrinking.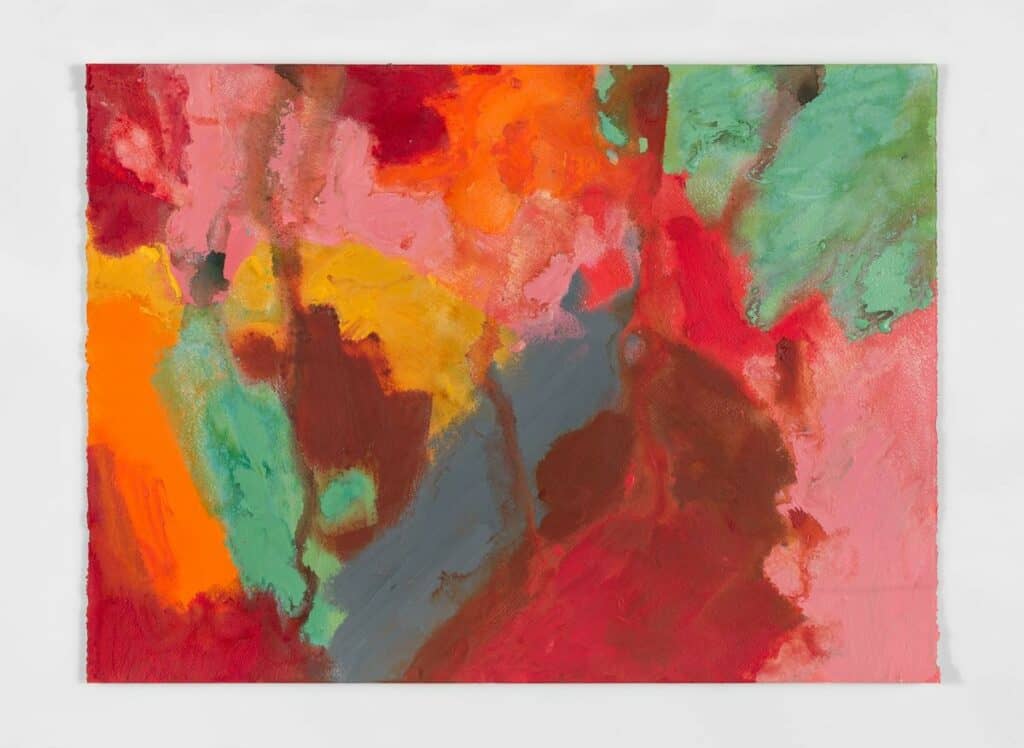 In addition to these large-scale sculptural installations Barlow also was a creative painter, though she herself ascribed them as 'sculptural drawings'. After being recognised for her 2010 exhibition at the Serpentine, Barlow went on to take part in numerous exhibitions including a 2014 Tate Britain Commission and her career culminated with the most illustrious task in the art world: representing the United Kingdom at the 2017 Venice Biennale.
Relevant sources to learn more
Learn more at the Royal Academy of Arts
See her work at Hauser & Wirth