Category
Mary Cassatt: Story and Paintings of a Radical American Impressionist in Paris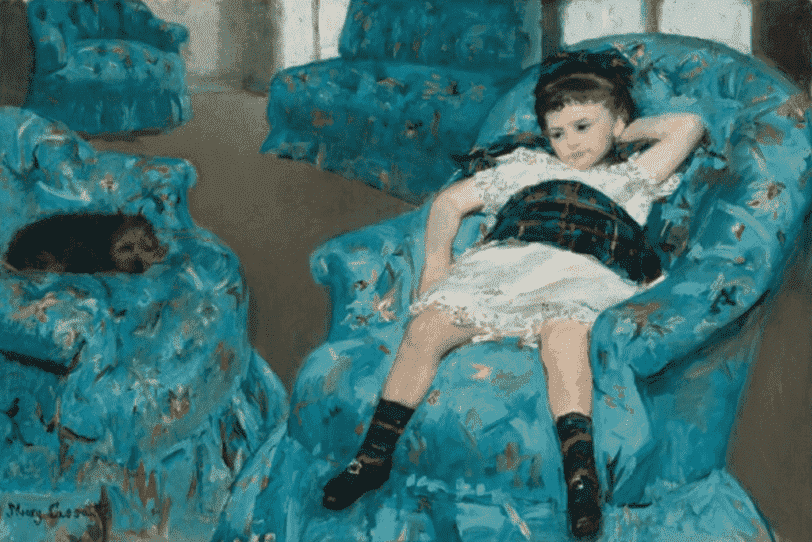 By Méri Charitonidi
"I have touched with a sense of art some people – they felt the love and the life. Can you offer me anything to compare to that joy for an artist?"

Mary Cassatt
One of the so-called Trois Grandes Dames (literally 'the three great ladies') of Impressionism, Mary Cassatt was one of only three women, and the only American, ever to join the French Impressionists. A very determined and inquisitive artist, a feminist, and an influential intellectual personality of her time, with her paintings she was eager to pursue the depiction of movement and light, becoming a distinct figure of the celebrated 19th-century avant-garde art movement, although often overlooked until recent years. With talent and unprecedented modernity, her bold brushstrokes and daring use of pastels as a medium depicted the moods and emotions of her subjects as a celebration of their lives.
In the French Impressionist, she found a group of like-minded and inclusive artists and thinkers, to whom gender did not appear to be a barrier, and she contributed greatly to the group artistically, intellectually, and financially.
The Life of Mary Cassatt
Mary Stevenson Cassatt was an American painter and printmaker. Born and raised in Allegheny City, Pennsylvania (now part of Pittsburgh's North Side) in 1844, she lived most of her adult life in France where she would develop her art and become one of the most important Impressionist figures. "No woman has the right to draw like that," Degas reportedly said upon viewing Cassatt's 1891's painting Young Women Picking Fruit. She would take the thinly veiled insult in stride, and the two maintained a close friendship based on shared respect for asymmetrical composition and classical Japanese prints. Cassatt mainly depicted the social and private lives of women, with particular emphasis on the intimate bonds between mothers and children. She died at her country home at Château de Beaufresne in 1926 after failing eyesight, which had severely curtailed her work after 1900, forcing her to give up printmaking in 1901 and then painting as a whole in 1904.
The Art Journey of a Female Painter
Mary Cassatt was just 15 years old when she began her painting studies at the Pennsylvania Academy of the Fine Arts in Philadelphia. Known for her strong feminist ideas and bohemian lifestyle, she was a lifelong advocate of equal rights for the sexes and thus naturally unsatisfied by the patriarchal teaching she and her fellow female classmates received in the Academy. Her ideas brought her to the decision to abandon the course and move to Paris in 1866 to master her art by herself. At the time, however, women were not accepted in the École des Beaux-Arts, nor even at the cafés where artists used to socialize. Mary Cassatt found her way around and did study alongside the masters of the time in both private and joined classes where she was exposed to different techniques. Her persistence led to her success, being accepted for the first time by the 1868 Paris Salon jury with her painting A Mandoline Player. For the next ten years, even though she worked erratically, she had no luck in the industry and often considered giving up, also frustrated by the lack of approval and support from her father back in the States. But her discouragement didn't last long.
"If painting is no longer needed, it seems a pity that some of us are born into the world with such a passion for line and color."

Mary Cassatt
Joining the Impressionists
In 1871, Mary Cassatt painted Two Women Throwing Flowers During Carnival, which not only was well received at the 1872 Salon but was also purchased. That was just the beginning of her distinguished art career. She started traveling, taking up residences, and experimenting with her art style until her work caught the attention of  Edgar Degas, who invited her to show her paintings along with the Impressionists. At the time, the group – so radical in its technical innovation – was being attacked by the critics as they had begun their own series of independent exhibitions. She joined them with excitement and declared: "We are carrying on a despairing fight, and need all our forces". Degas would greatly influence her and her constant pursuit of a signature style through different approaches. Her research through drypoint, distemper, etching, and draftsmanship ultimately led her to master the use of pastels, the medium that characterized her art production in her most prolific years.
Depicting Intimate Scenes of Life: The Most Famous Paintings by Mary Cassatt
During the 1890s, Mary Cassatt became a role model for young female artists as she was going through her most creative and blooming period as a painter. In her paintings, she mostly depicted delicate scenes of life, especially focusing on the lives of contemporary women in their intimate moments, particularly through the course of motherhood. The principal motif of her mature and perhaps most familiar work became mothers caring for small children.
In the Lodge, 1878
Cassatt strongly believed that art needed to break free of old methods and adapt to the modern world. When In the Lodge was shown in Boston in 1878, critics described the picture as "striking," adding that Mary Cassatt's painting "surpassed the strength of most men" – a rather sexist comment that was accepted as an expression of some kind of praising at the time. The artwork explores the very act of looking, breaking down the traditional boundaries between the observer and the observed, the audience and the performer, and also showing the complex relationship of gaze, public spectacle, and class privilege.
Little Girl in a Blue Armchair, 1878
With its dynamic depiction of a moment in the life of a child's time between rest and play, Little Girl in a Blue Armchair stands as the main testament to Mary Cassatt's painting style. The ​​brushwork is vibrant and joyful as opposed to the little girl, who looks bored and tired. This work of art was exhibited along with ten other paintings in her debut exhibition with the impressionists in 1879.
The Coiffure, 1890-91
Exhibited in 1891 at the Galerie Durand-Ruel as part of a set of ten color prints, The Coiffure shows a half-dressed woman sitting before the mirror, arranging her hair while gazing down at her lap. Realized through different steps – using drypoint lines to establish the figure, then applying aquatint to build tone and pattern, and finally printing the plates with colored inks – the work shows how Mary Cassatt shifted from emphasizing form to highlighting lines and patterns, influenced by Japanese art masters Utamaro and Toyokuni.
Woman Bathing, 1890-91
Woman Bathing belongs to the same group of ten color prints that resulted from Cassatt's study of Japanese art, and especially color woodblock prints. The abstract, linear quality of the nude's back drew the attention of Cassatt's friend and fellow artist Edgar Degas.
The Boating Party, 1893
One of Mary Cassatt's largest oil paintings, The Boating Party has been in the collection of the National Gallery of Art since 1963. The familiar theme of a mother and child is again at the center of her work, although the scene is set outdoors and not in an interior or a garden like in most of her other paintings. In The Boating Party, the man's expression is obscured, placing the focus on a deftly-rendered woman and child. Cassatt once said her goal was to depict women as "subjects, not objects."
The Child's Bath, 1893
The painting features May Cassatt's recurring themes of bathing – often during the cholera outbreaks – and motherhood, but it is distinct in its angle of vision. Both the viewer and the depicted subject gaze in fact from an overhead perspective, inspired by Japanese woodcut prints and the work of Edgar Degas.
Relevant sources to learn more
Explore a selection of paintings for sale by Mary Cassatt on Artland
Read more on Artland Magazine
Learn about the Impressionist movement
Art and fiction: 15 brilliant novels about art and artists
Wondering where to start?