Fairs and Events
Highlights of SWAB Barcelona Contemporary Art Fair 2022
By Adam Hencz
SWAB Barcelona, the contemporary art fair of the free-spirited, cosmopolitan Catalan capital, brings together more than 70 galleries from all over the world at the Italian Pavilion of the Fira de Barcelona from October 6th to 9th. For it 15th iteration, SWAB showcases a wide sample of emerging artistic talent – the talent that is a defining force in the future of the art market.
Read on to explore our selected artists from five different gallery booths across the diverse sections of the art fair.
SWAB Barcelona Contemporary Art Fair 2022
The fair presents its General Program of local galleries and art projects together with galleries from the international scene. In parallel, faithful to its vocation of being a visibility platform for new voices, the fair bets on SWAB Emerging, the subsection of the General Program dedicated to galleries less than five years old that are already showing direction internationally.
Along these lines, the fair includes a specially localized program offering a selection of Mediterranean galleries presenting fresh proposals. Another of the fair's regularly curated programs is SWAB On Paper, a section that explores the possibilities of paper as a medium and as an artistic technique.
On top of that, SWAB also offers a unique space for free to help promote new emerging galleries, a section called My First Art Fair (MYFAF). Its program features three young contemporary art galleries, less than two years old, that have not yet participated in any international fair.
Ana Tiscornia at ESPACIO MÍNIMO
As part of the General Program, Uruguayan visual artist Ana Tiscornia shows recent works that explore the relationships between painting, architecture, destruction, and creation. The New York-based artist expresses displacement, void, and uncertainty, seeking to unite the language of her constructions. Using seemingly loosely connected, fragmented materials, Tiscornia attempts to create a strong presence amid desolation and loss, exploring the unique cartography of oblivion.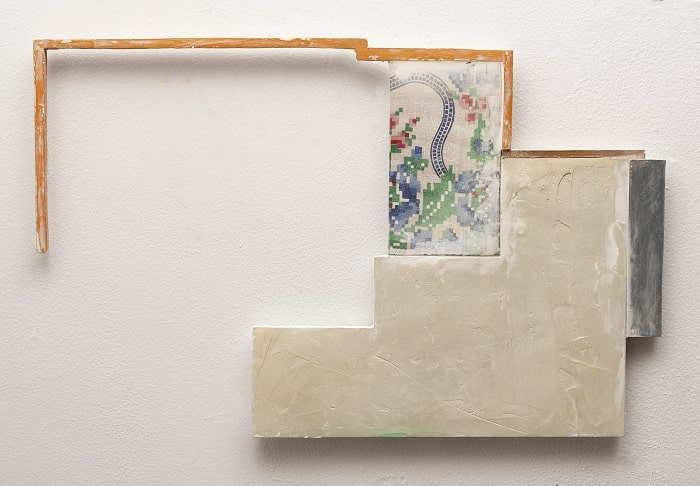 Luisa Ardila at SISSI club
Luisa Ardila's works appear as illusions frozen in frame. The action remains suspended and exudes familiarity where the figures are diluted as the painting stretches. Her pictorial narration is often constructed by fragments of everyday life: from the sumptuous villas of the boulevard Michelet to the Luminy quarter of Marseille, passing by the football stadium of the local university campus. The plot of her stories on the canvas is built like collages, combining spatiality and intimacy. For the Emerging section of SWAB Barcelona 2022, Ardila is showing otherworldly compositions, destructuring narratives with elements like metaphysical doors where the irrational arises: from bodily representations to mystical expressions. Often presented as diptychs and triptychs, Ardila's canvases are marked with oblique lines and grids, reinforced with the seams of the canvas, sometimes overflowing on the frame.
Sergen Şehitoğlu at SANATORIUM
The Turkish photographer and visual artist Sergen Şehitoğlu has developed a carefully researched and composed visual style for his observations of isolated urban environments. For the Mediterranean section of SWAB 2022, Şehitoğlu took a different departure, showing instead a site-specific installation. In the center of the space, there is a chessboard liberated from all cultural representations, expressed purely through pedagogy and geometrical coordinates. The pawns are reduced to an abstract formal representation of their strict movements on the board.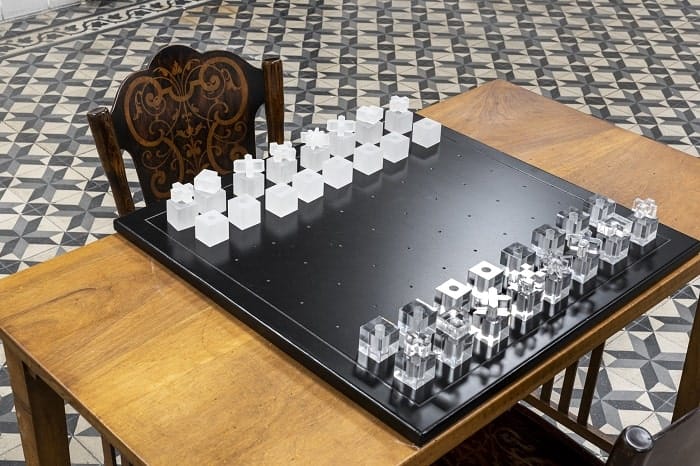 Barbara Lüdde at Galerie Lætitia Gorsy, She BAM!
This year's edition of Swab On Paper, titled Cuerpo sin Nombre (Body without a name), presents proposals that reflect on the figure of the body, its connotations, and its possible emancipation from history, gender, or origin. Among the four exhibited artists is Barbara Lüdde, whose work explores the concepts of belonging and isolation in our heavily digitized world. Her portrait drawings depict the upper bodies of contemporary characters who are both connected and yet alienated in our atomized society. Instead of mimics and faces, the focal points of Lüdde's drawings are the hands and the folds of the figures' clothing, reinforcing their feelings of separation and their search for meaningful connections.
Giuditta Branconi at L.U.P.O Lorenzelli Projects
Branconi's paintings are chaotic and turbulent coexistences of discharged colors and vivid masses of paint. The young artist's work, part of this year's MYFAF discoveries, outlines mysterious figures, introducing sometimes erotic, and sometimes deranged atmospheres. With a continuous succession of noisy patterns and the use of vivid contrasts, Branconi's lively compositions are consistently delightful and spontaneous.
Wondering where to start?