Articles and Features
Female Iconoclasts: Vera Molnár, Pioneer of Early Computer and Generative Art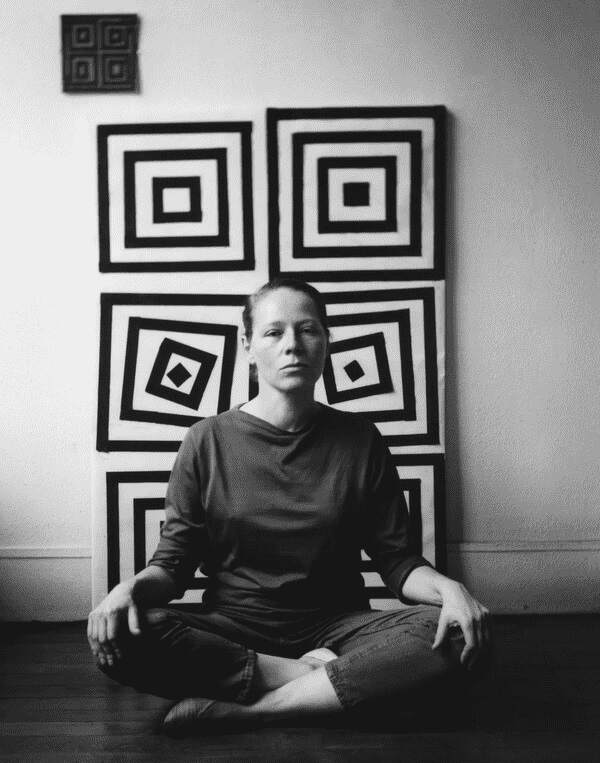 By Adam Hencz
Vera Molnár, a founder of early computer and generative art, radically helped establish the parameters for geometric abstraction, focusing on form, transformation, and movement. Her works follow a strict compositional approach regulated by a set of mathematical principles that foresaw the rise of computers, using line and color as the sole structural pillars of her work. She constructs a language out of controlled and programmed lines, inviting chance and randomness into the creation process.
Vera Molnár was a founding member of the Centre de Recherche d'Art Visuel and participated in the artistic discussions that sparked the emergence of kinetic art. She became one of the early pioneers of using computers in visual arts from 1968 onwards.
Short biography of Vera Molnár
Born in Budapest, Hungary, in 1924, Molnár started creating art when she was eight years old and carried on studying both Art History and Aesthetics at the Hungarian University of Fine Arts. Molnár, also known by her maiden name, Gaks Vera or GV, had already established a body of conventional work when she began creating the generative and computer art for which she became best known.
After spending a scholarship in Rome, she moved to Paris in 1947 with François Molnár, who would later become her husband. The two quickly became a part of the Hungarian artistic diaspora. They spent their evenings in the Montparnasse café Le Select, where she met Victor Vasarely, Fernand Léger, Kandinsky, Brancusi, and other famous contemporaries.
In 1948, inspired by Albrecht Dürer's etching titled Melancholy, Molnár started producing geometric drawings more actively. Between 1959 and 1968, she worked with a method she referred to as machine imaginaire, a creative process with strict sets of rules that replaces humans in the artistic creation.
Seminal Experiments
Molnár has been engaging with the potential of computers in art since 1968 when she first had access to a computer at a Sorbonne research lab. She learned how to program in the rudimentary language Fortran, which gave her the freedom to feed the computer countless algorithmic variants and to print repetitive geometric shapes and abstract images with a plotter printer.
A new type of computer with a screen was introduced in 1974, enabling Molnár to promptly examine the results of her code, identify errors, and modify them. She used the computer as an accelerator of artistic creation and also as a means of breaking away from the traditional concept of art.
In 1979, she worked at the Atelier de Recherches des Techniques Avancées (ARTA) at the Centre Pompidou. Between 1980 and 1990, she was an associate professor at the Center de Recherche Experimental et Informatique des Arts Visuels in Paris. Her friend, François Morellet encouraged her to show her works at Galerie Oniris in Rennes in 1995, and she has been represented by the gallery ever since. Molnár's artwork is frequently displayed in major museums, galleries, and art fairs, most recently at the 2022 Venice Biennale. Her works are exhibited at galleries around the world and are part of numerous collections. The artist, who is currently 98 years old, still resides and works in Paris.
Between Art and Technology: Generative Art
From 1959, Molnár started making combinatorial images by implementing simple algorithmic programs by hand, a method referred to as her machine imaginaire. This aided her in progressing systematically through all of the conceivable permutations of a series while adhering to a set of instructions and self-imposed constraints.
She was given the opportunity to work with a real computer in 1968. Molnár then started to use computers as generative tools in her artistic endeavors. She programmed and instructed the computer to generate specified geometric forms and shapes that can be changed and mixed in either a fixed or randomized fashion.
The algorithmic randomness of the computer plays a key role in her works. Central concepts of her art are order and disorder, structure, and freedom. Molnár's first solo exhibition entitled Transformations was held in 1976 at the gallery of the London Polytechnic.
Her work is supported by a deep theoretical examination of the processes of perception and the tools of production. Her generative art has its roots in the works of Mondrian, Malevich, and the Zurich Concretes, and finds countless parallels related to the exact sciences, particularly mathematics.
Vera Molnár: Interruptions (1968/1969)
The Interruptions series includes Molnár's earliest computer-generated images and plotter drawings. She produced each drawing using a computer program of her own devising, which printed on a plotter printer. In this series, Molnár begins with a grid of straight lines of the same length and then rotates them randomly to create a highly complicated pattern. The artist included a degree of randomness in her program, resulting in gaps in the composition, and adding "interruptions": the untouched areas where specific lines are missing.
Vera Molnár at the 2022 Venice Biennale
A section of this year's primary exhibition at the Venice Biennale is devoted to Molnár's works created in the 1970s and 1980s, including her acclaimed Transformations series of computer plotter drawings. Molnár wrote an algorithm that created a work based on simple concentric squares in a dynamic rhythm and vibrating repetitiveness, but also added random patterns of disruption, letting the geometric shapes collide and generating friction.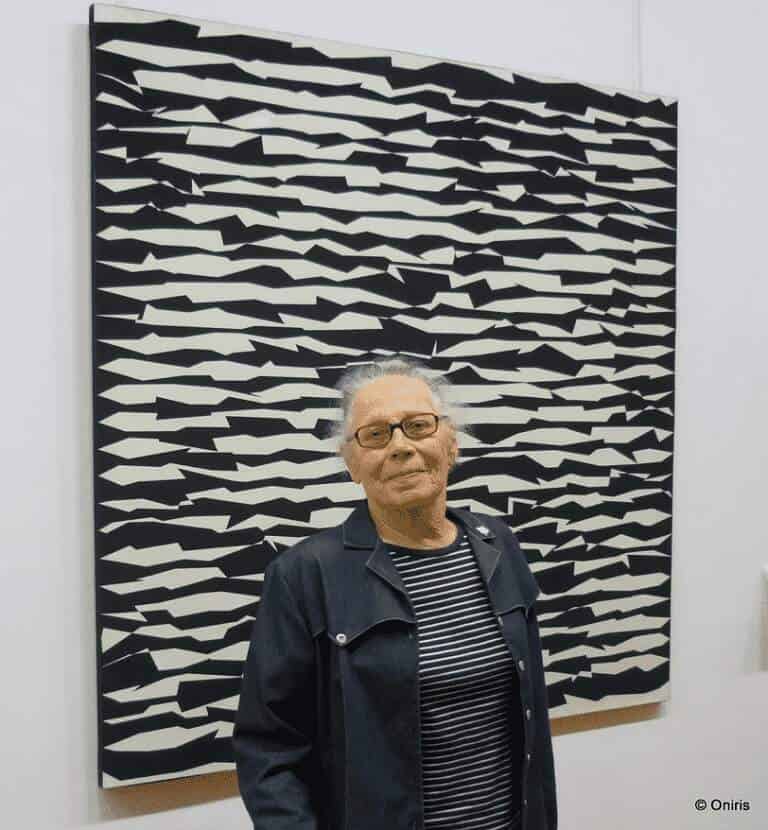 Vera Molnár's NFTs
Today still creatively prolific, Vera Molnár has recently dropped an original series of NFTs. The artist designed an original performative protocol to make the series entitled´2% de désordre en co-opération (2% of disorder in cooperation) in honor of her 98th birthday. The process worked as follows:
An initial square of a 100-square grid drawn on paper is colored and filled in by a random visitor to the artist's studio.
The guest chooses a square of the grid and a color to fill it in (with the exception of black).
The artist then fills in a second square only using the color black, leaving the other 98 pixels on the grid uncolored.
Fourteen paper grids were transformed into unique NFTs
Recognition
Over her eight-decade-long career, with her computational experiments and radical geometric abstractions, Molnár has redefined the relationship between geometric abstraction and scientific inquiry. Besides the Venice Biennale, in recent years, her work has received a notable upswing in international recognition with solo and group exhibitions around the world; including Chance and Control: Art in the Age of Computers at the Victoria & Albert Museum in London (2018); Degree Zero: Drawing at Midcentury at New York's MoMA (2020); and Women in Abstraction at Centre Pompidou, Paris (2021). She also received the first D.velop Digital Art Award in 2005 and won the AWARE Prix d'Honneur in 2018.
Wondering where to start?