Articles and Features
Ecology of Separations.
The Multifaceted Artistic Practice of Étienne Chambaud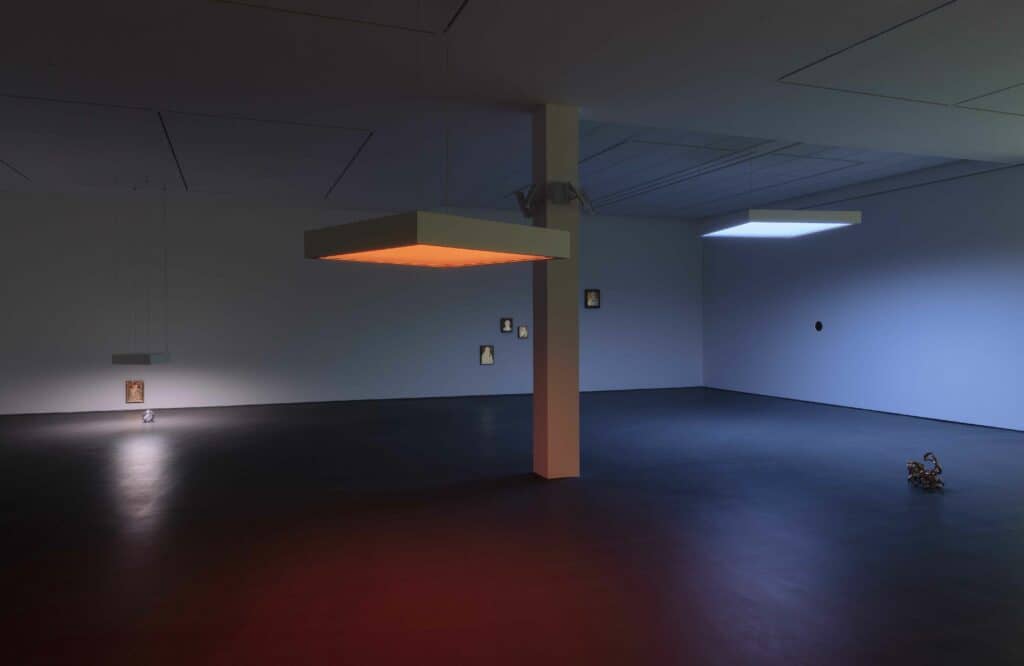 By Shira Wolfe
"An on-going investigation on the limits between things, their exhibitions and their perceptions…"

LABOR Gallery, Mexico City
French artist Étienne Chambaud's work is sometimes described as an "ecology of separations", as he is engaged with an ongoing investigation into the borders between forms, objects, gestures, discourses, and the way these are perceived and exhibited. He works across a wide spectrum of media and explores the different categories we tend to impose on objects, experiences and disciplines. Chambaud's works challenge and alter the way we see, perceive and know things.
Ecology of Separations
To create his "ecology of separations", the Paris-based artist who received his training in visual arts at ECAL in Lausanne, DNAP in Nice, and ENBA in Lyon, works with painting, collage, photography, computers, film, texts, situations, and exhibition experiences. He frequently uses scientific processes, animal elements and historical research to create his complex artistic interventions, resulting in works like his reconfigured world atlases, inanimate objects with human fever, and a film following the common history of the guillotine and the modern art museum.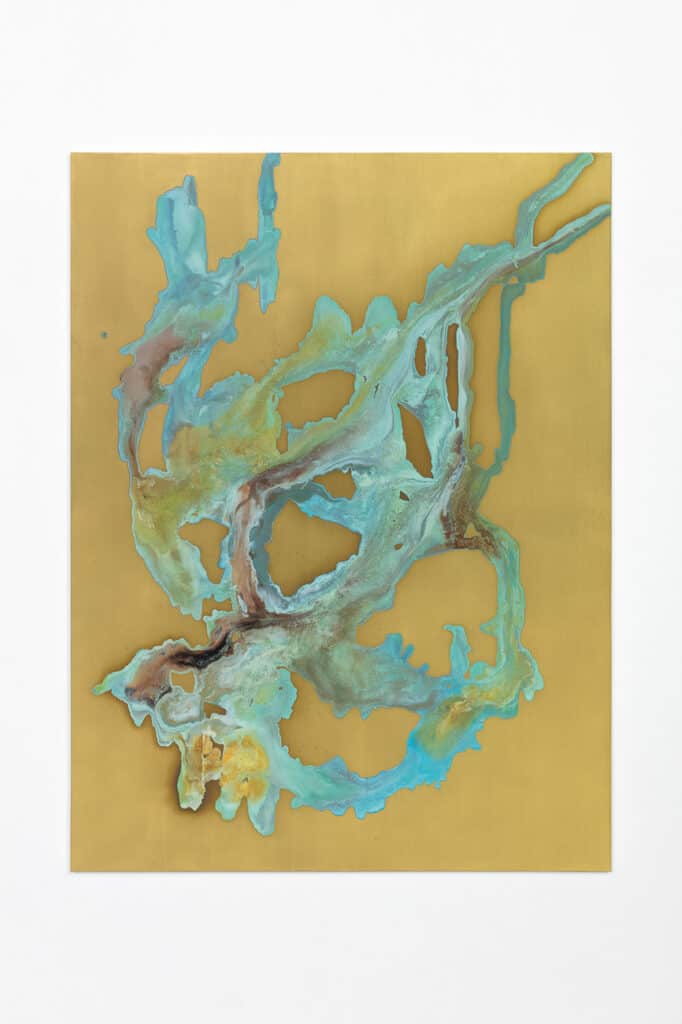 Animal fluids and their chemical processes are central elements of Chambaud's Nameless series (2019): he applied a mixture of medium and bronze or copper dust on stretched canvases and then added various animal urines (squirrel, mink, wolf, coyote, zebra, bear, lama, deer, dog, puma, lynx, etc.) to oxidise the metal, thereby creating abstracted motifs to alter the monochromatic background. Here, Chambaud also plays with the concept of territory marking and social hierarchy, recurring themes in his projects.
Chambaud is also interested in allowing artworks to transform while they are being presented, revealing what the object was initially concealing. An example is Cella (2017-2018), a geometric shape consisting of oranges that begins to degrade and deform as the organic components dry and rot. As the shape changes and deteriorates, the internal structure is revealed.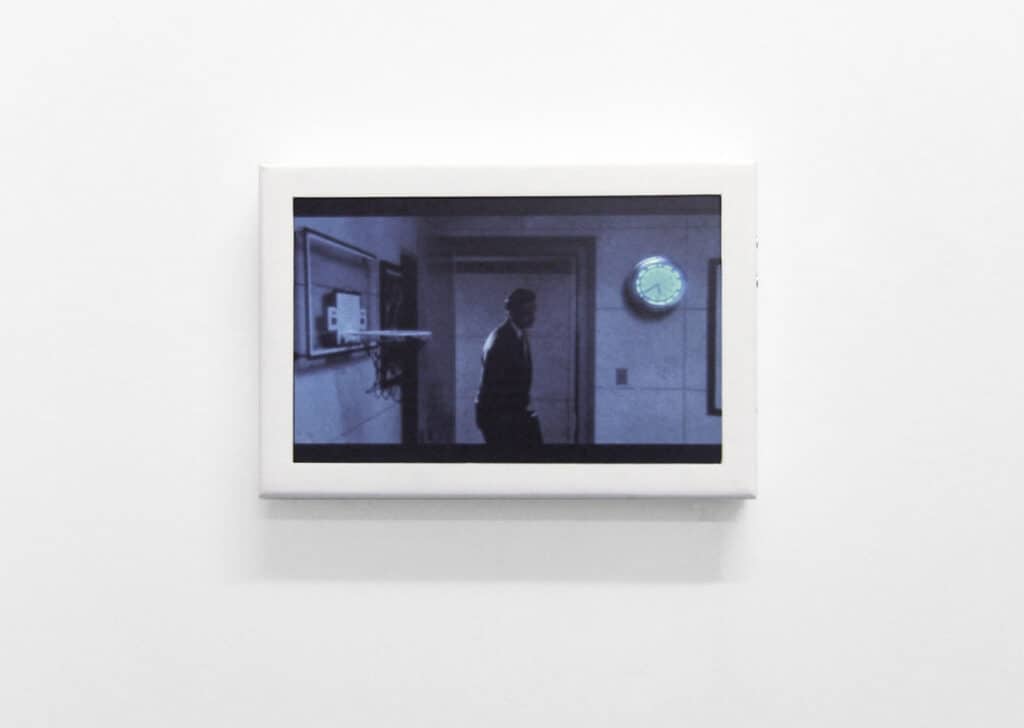 Film and Video Works
In INCOMPLT (2016), filmed in a mountain forest in the Mexican state of Michoacán, Chambaud depicts scenes from the annual migration of millions of monarch butterflies interspersed with a giant ice sculpture which the butterflies land on and interact with. The artist then worked with a specialised software to transcribe the natural sounds recorded during the filming into a musical score played by acoustic instruments.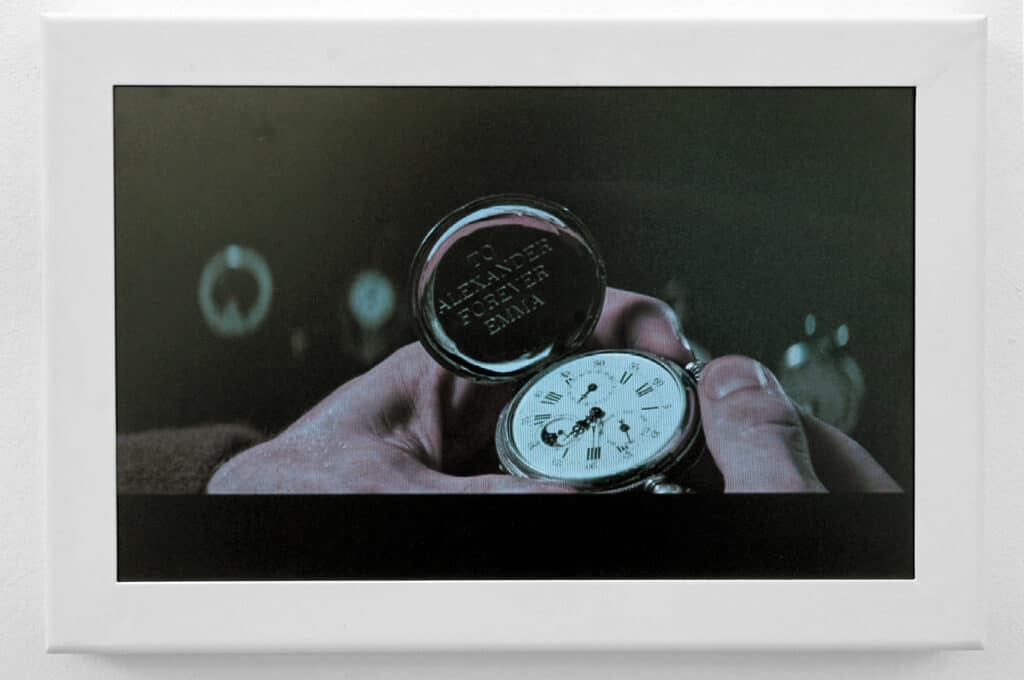 In his 2005-present project L'Horloge, Chambaud has created a durational piece using film stills of clocks from various movies to create a clock showing the exact time of day. The aim is to find each time of day by the minute in a movie still. If no corresponding image has been found yet, a monochromatic blue screen appears.
"Quiet gazes appear to issue forth from Chambaud's series Uncreatures. The historical icons, panel paintings of religious figures represented against a golden background—the symbol of uncreated light—have been modified and the figures, except for their eyes, covered entirely with gold leaf."

Esther Schipper Gallery, Berlin
Creating Exhibition Experiences: Inexistence at Esther Schipper Gallery in Berlin
Chambaud creates fascinating exhibition experiences in which he implores us to focus on a variety of senses – not only the visual impression of his art, but also scent and sound become important elements in his exhibitions, creating a fully immersive experience. At times, the visitor is even invited to touch. With his exhibition Inexistence, currently on view at Esther Schipper Gallery in Berlin, Chambaud invites the visitor into a mysterious world conjured up by a scent and sound installation, three light installations that form the only light source in the exhibition space, sculptural works and modified historical icon paintings, the absolute highlight of the show.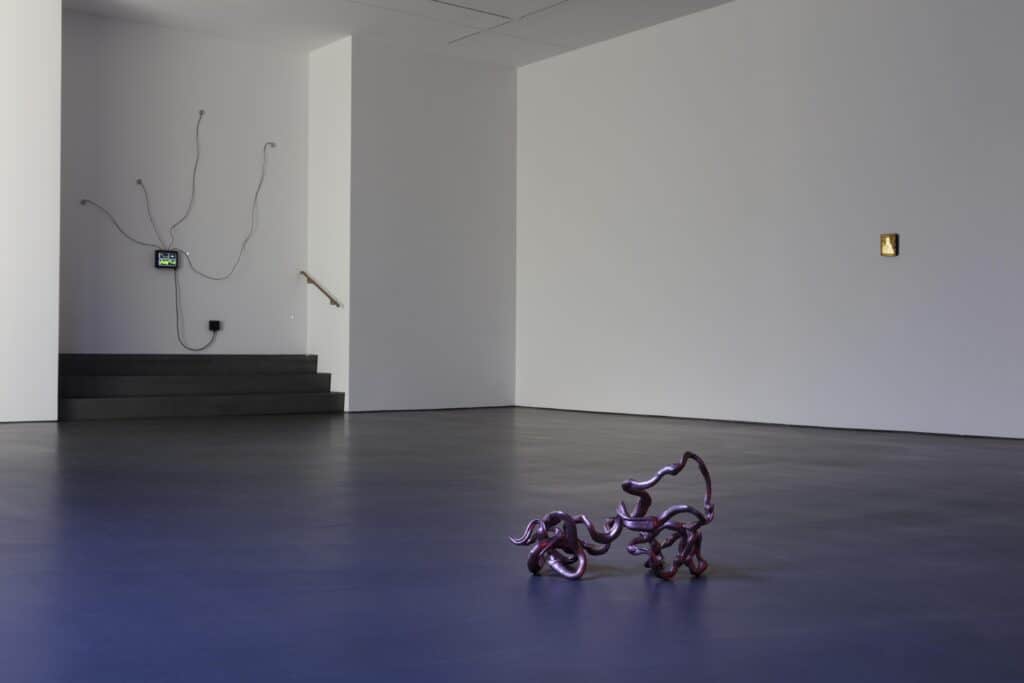 The first work the visitor encounters is Multiplex, Chambaud's scent installation which uses chemical compounds present in both animal markings (tiger urine) and human environments (popcorn in a movie theatre). This work is subtly disruptive while also invoking familiar spaces, and reminds us of the importance of scent in returning us to a certain past place or experience. Next, the visitor encounters the installation Fever, where touch is encouraged – here, Chambaud has transposed the symptoms of a specific disease onto a section of the gallery wall. By placing a hand on the wall, the actual raised temperature of this inanimate object suffering from a human disease can be felt. Meanwhile, the sounds of songbirds, synthesised with artificial neural networks, fill the gallery space, constantly metamorphosing as each songbird's voice is affected by the other.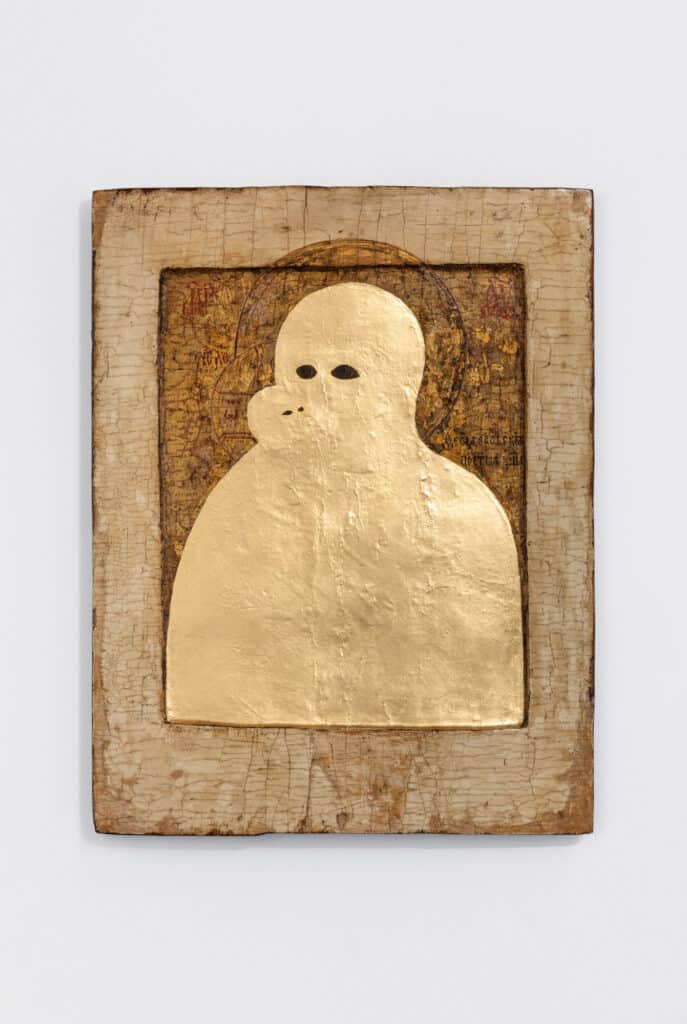 Uncreatures
Chambaud's Uncreatures provide a serene refuge from the constant disturbances of contemporary life and technology, inviting the audience to pause, to forget about time and responsibilities, simply to be, to watch, to observe, to peer into the past. These are historical icons, panel paintings of religious figures set against a golden background that Chambaud purchased and marked with his own interventions. Each figure has been entirely covered with gold leaf, except for their eyes, and sometimes their hands. It's as though Chambaud has turned religion into something for everyone, even the non-believers, mirroring perhaps the experience of a random passerby who ducks into a church or cathedral for a moment of peace, beauty and awe, regardless of his or her faith. Chambaud's icons are treated with respect, as their original outlines remain visible from behind the gold leaf intervention. At the same time, the icons seem to raise questions about the surveillance age we live in, in which we are constantly covering ourselves up, both literally and metaphorically, but are also more exposed than ever before.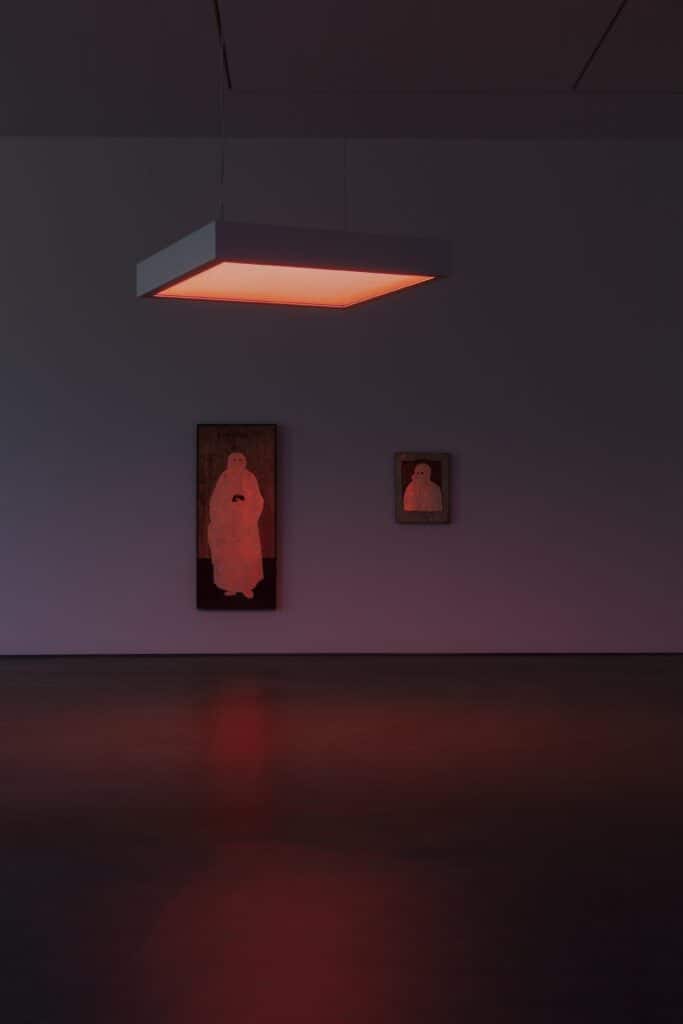 The golden Uncreatures look different from up close and far away, sometimes they are barely visible, at other moments the gold shines incredibly bright, as they are illuminated by yet another element of Chambaud's universe, the only light source in the exhibition from his series Models for Afar. Each work from this series emanates modulated light formations programmed to simulate the atmospheric and meteorological light conditions of the sky at a specific time and place. One light source recreates a solar Martian day of the late 15th century. Another combines the date of Alexander the Great's battle at Issus in 333 BCE as depicted in a painting by Albrecht Aldorfer with the location when Altdorfer painted it in 1529. The third light source recreates the never-setting sun of an arctic summer in Canada in 1789. All in all, the exhibition presents us with ephemeral sensations in a site filled with contradictory states and artworks that become even more alive in dialogue with one another.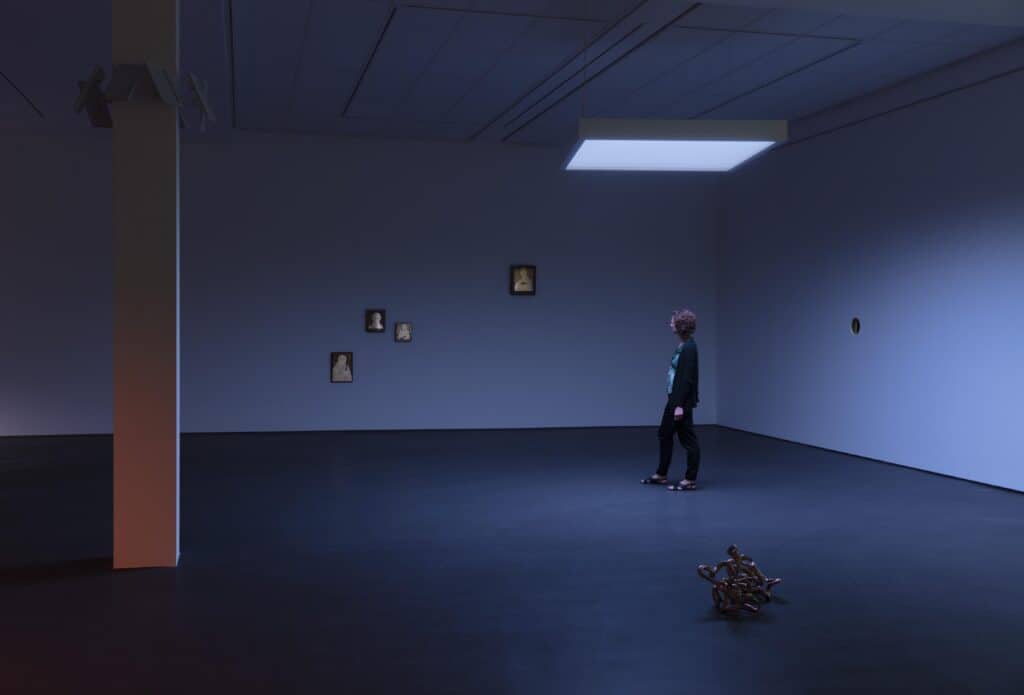 Chambaud's solo exhibition Inexistence will be on view at Esther Schipper in Berlin through 28 August 2021. His works are also currently exhibited in the following group exhibition: I am Nature – Of Vulnerability. Survival in the risk society at ROHKUNSTBAU 26 at Schloss Lieberose.
Relevant sources to learn more
Read more about Étienne Chambaud's current exhibition Inexistence at Esther Schipper
LABOR Gallery
View more by Étienne Chambaud on the artist's website
Wondering where to start?