Articles and Features
Oskar Fischinger, Pioneer of Abstract Animation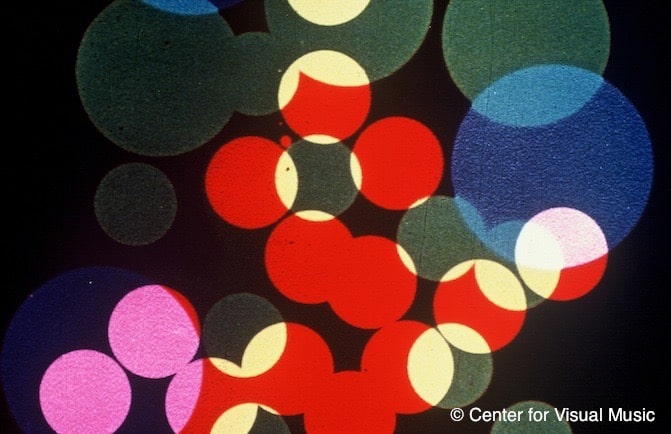 by Tori Campbell
"Music is not limited to the world of sound. There exists a music of the visual world."

Oskar Fischinger
Oskar Fischinger's Abstract Visual Life
Abstract animator, filmmaker, and painter Oskar Fischinger created abstract musical animations decades before the appearance of computer graphics and music videos. Light-years before his time, Fischinger's extraterrestrial special effects can be seen in one of the first science fiction films, Fritz Lang's 1929 Woman in the Moon, and his influence can be felt in Disney's classic Fantasia.
Early Life
Oskar Fischinger was born on June 22nd, 1900 in Gelhausen, Germany. He spent his youth mastering the violin and apprenticing at an organ-building firm until the firm's owners were drafted into World War I. The following year he was deemed too young and unhealthy for duty and thus moved to Frankfurt to become an apprentice draftsman in an architect's office, ultimately receiving a diploma in engineering.
Introduction to Film
In 1920 Fischinger was introduced to film critic Bernhard Diebold in a Frankfurt literary club. Taken by Fischinger's abstract scroll sketches, Diebold introduced him to the artistic potential of filmmaking. The following year, Fischinger attended the first public screening of Walther Ruttmann's Light Play Opus I. Fischinger was so moved by Ruttman's film that he decided to devote his life to the creation of "absolute cinema" — also known non-narrative film, this style of experimental film perfectly incorporated his musical and graphic art skills.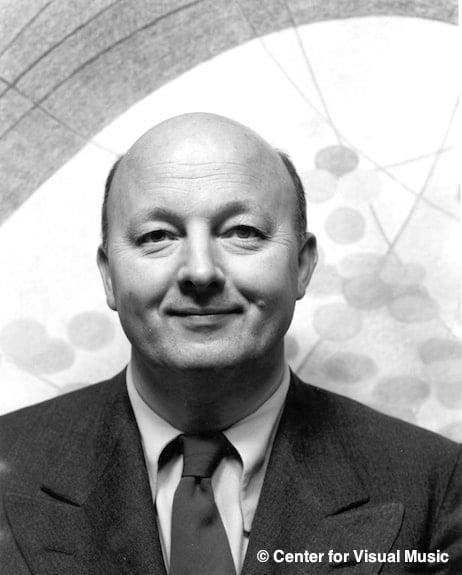 Early Work
Oskar Fischinger soon abandoned his position as an engineer in favour of a full-time filmmaking career in Munich. During this time of exploration and abstract experimentation, he supported himself financially by making conventional cartoons. These works demonstrate his ability with realistic representation and traditional narrative, in addition to his mastery of abstract form and sound. His film Spiritual Constructions would later marry these skills in the story of two characters whose drunken journey home becomes a whimsical experience full of abstract and haunting forms.
Fischinger's films of the early 1920s are examples of his most radical work, perhaps due to his interest in pushing past the more traditional romantic features of Ruttmann's films.
In the films Wax Experiments and Spirals, he portrayed hypnotic, complex, visual patterns interrupted by striking "singular frames of contrasting imagery" and experimented with this unique editing style again, ultimately creating a series of film performances called Raumlichtkunst ('space-light-music'): abstract multiple-projection shows, first performed in Germany in 1926. Raumlichtkunst is widely considered to be far ahead with its dynamic inventiveness, described as "Dazzling…an exhilarating phantasmagoria of abstraction and metaphor" by The New York Times in 2012, following the restoration of Fischinger's original nitrate film by the Center for Visual Music.
In June 1927, Fischinger fled on foot from Munich to Berlin to escape financial debts and difficulties. He recorded his journey in a series of single-frame exposures that would greatly inform and influence future artists working in diary films.
1930s and the Rise of Nazism
In 1929 Fischinger was commissioned by Fritz Lang to make special effects of stars, planets, and rocketships for his science-fiction feature film Woman in the Moon. After breaking an ankle on set, Fischinger began drawing charcoal animations on paper — leading to the Studies series.
Oskar Fischinger, Studie nr. 5 (excerpt) from CVM on Vimeo.
His Studies series, synchronized with music, was extremely popular with audiences around the world but the rise of Nazism led to the films being labeled as "degenerate art". However, during this time, the advent of the Gaspar Color process afforded him new opportunities and his 1933-1934 film Circles became utilised as an advertising film. He also produced a second film in colour, Composition in Blue, that he submitted to foreign festivals even though without an official permit.
Composition in Blue (excerpt) by Oskar Fischinger from CVM on Vimeo.
Life & Work in the USA
Shortly after the production of Composition in Blue, Oskar Fischinger rushed to Hollywood, both in an effort to escape Nazi persecution and to pursue an opportunity at Paramount Studios. However, when he arrived he found that though they paid him generously, Paramount would not support his colour film production, a fact that they neglected to mention until after he completed a short colour film to be included in the feature film The Big Broadcast of 1937. After this snub, Fischinger requested to be let out of his contract but many of his subsequent efforts suffered similar difficulties.
Fischinger composed An Optical Poem to Franz Liszt's Second Hungarian Rhapsody for MGM but received no profits for his work. He also designed the Bach Toccata and Fugue in D Minor for Disney's 1940's hit Fantasia, but left without credit due to difference in artistic opinions and representation. After numerous struggles in the American film industry, Fischinger increasingly pursued the medium of oil painting, marrying both passions in his film Motion Painting No. 1 from 1947. The film, capturing the process of painting by shooting every brushstroke, won the Grand Prix at the Brussels International Experimental Film Competition in 1949.
Death & Legacy
Fischinger died in Los Angeles in 1967 but continues to live on in his work. Three of his films made the list of world's greatest films in the 1984 Olympiad of Animation and Motion Painting No. 1 remains on the National Film Registry of the United States' Library of Congress to this day. He is believed to have created over 50 short films and 800 canvases in his life. Fischinger's artistic legacy is upheld by the Center for Visual Music in Los Angeles, which owns and manages the artist's films and papers.

---
Oskar Fischinger FAQ
1. Who is Oskar Fischinger
Oskar Fischinger was a German abstract artist and animated film pioneer, who was a key innovator in abstract animation set to music, and one of the first artists whose work allied high art with mass culture. A proponent of 'visual music' Fischinger's influence was broad, ranging from early Disney experiments to avant-garde film making.

2. What was Oskar Fischinger famous for?
Oskar Fischinger is famous for his pioneering abstract musical animations which influenced Disney's Fantasia and were also utilised in advertisements, beginning in the 1920s.

3. What is Oskar Fischinger's 'Circles'?
'Kreise' (Circles) is an abstract animated film from 1933-1934 by Oskar Fischinger, consisting of pulsing coloured circles against a white ground. Likely inspired by the abstract compositions of Wassily Kandinsky, the film was used by the advertising company Tolirag. Notably the film passed the Nazi 'Entartete Kunst' censors because it was registered as a commercial rather than as a fine art entity.
Relevant sources to learn more
Learn more on Oskar Fischinger
Center for Visual Music: Home page and Research Library
Discover the story behind Fischinger's Google Doodle
Explore other Artland articles