Article and Features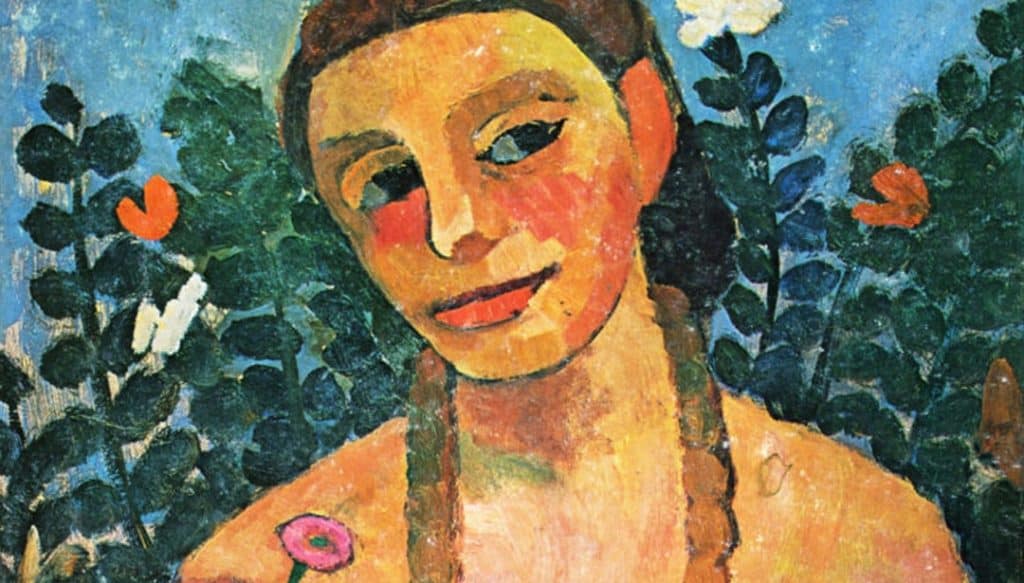 "She painted the things and objects of Worpswede…which nobody else had seen or could paint in that way"

Rainer Maria Rilke
by Tori Campbell
In this article series, we discuss some of the most boundary-breaking female iconoclasts of our time; women who defied social conventions in order to pursue their passion and contribute their unique vision to society. In the last edition, we covered the life and work of the surrealist and dadaist artist Meret Oppenheim. This week, we will discover Paula Modersohn-Becker, a German painter amongst the early practitioners of German Expressionism and the first female artist to paint a nude self-portrait.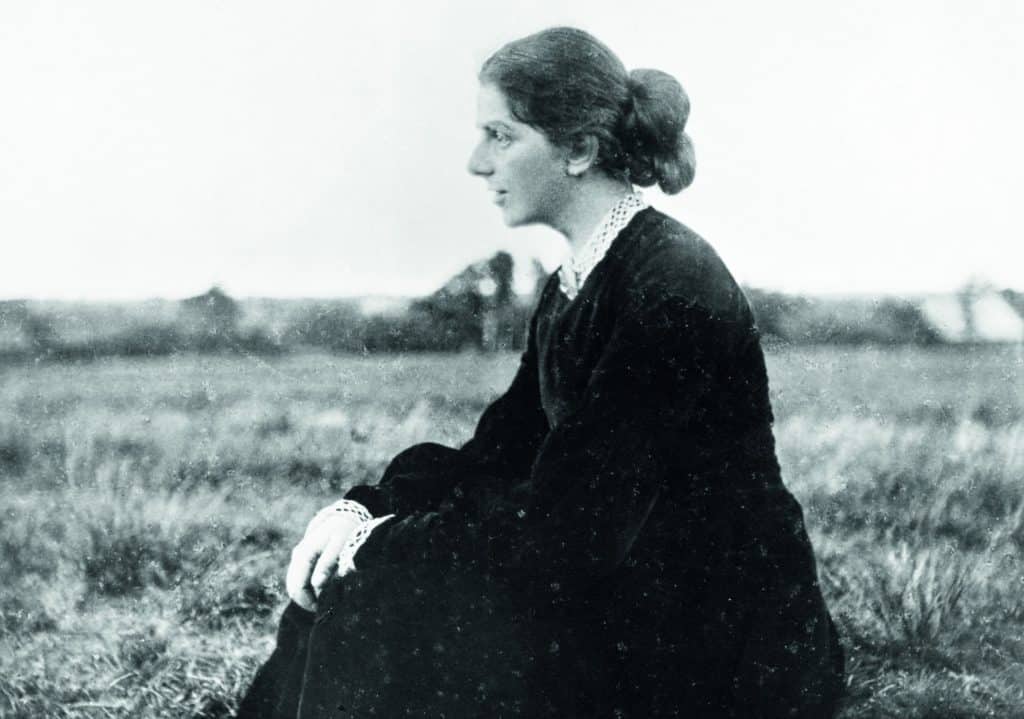 Early Life
Born in 1841 in Dresden-Friedrichstand, Modersohn-Becker grew up in a cultured and intellectual environment. She began to paint at the age of 16 and studied in London and Berlin before settling in an artists' colony in Worpswede, in the north of Germany. Also in the colony were German artists Otto Modersohn, Fritz Mackensen, Fritz Overbeck, and Heinrich Vogeler, all seeking an artistic life outside the traditional academy setting in the city. At this time she became close friends with the sculptor Clara Westhoff and the poet Rainer Maria Rilke. Seeking to live closer to nature, she found her inspiration in the women inhabiting that landscape. Solitary farm girls, mothers nursing their children, and women in the woods occupied her artistic production.
In 1899 Becker joined her friend Clara Westhoff in Paris, in what would be the first of many influential trips to the city. By 1900 she had started to study at the Académie Colarossi in the Latin Quarter and was joined by fellow artists Fritz Overbeck and Otto Modersohn. Only a year later, in 1901, Paula married Otto Modersohn and became the stepmother to Elspeth Modersohn, his two-year-old daughter from his first marriage.
The Paris Years
Modersohn-Becker took several trips back to Paris, resulting in great artistic and personal growth. She attended courses at the École des Beaux-Arts and drew inspiration from exhibitions of Paul Cézanne, Vincent van Gogh, and Paul Gauguin's works. The influence of Fauvism, a style that prioritized colour and stroke over representativeness, can be seen in her work from this time.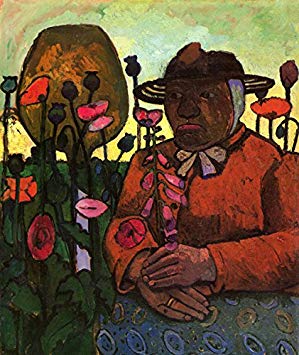 By 1906 Paula Modersohn-Becker had decided to permanently relocate to Paris, leaving Otto Modersohn. Despite her family's disapproval, this period ended up being the most productive and happy in Modersohn-Becker's artistic life. During this time she accomplished the largest bulk of her work and began to experiment with nude self portraits, absolutely unheard of for a female painter of the time. She also completed portraits of friends, including Rainer Maria Rilke and Werner Sombart. The work she created at this time left her with satisfaction and optimism for her artistic career and personal future.
"I am becoming somebody – I'm living the most intensively happy period of my life"

Paula Modersohn-Becker in a letter to her sister Milly Rohland-Becker in 1906
Return to Germany
Though she expressed a near-constant desire for independence, Modersohn-Becker returned to Germany and to her husband, in 1907. Her diary details her concerns about delaying her artistic career for motherhood, and her hesitance to have a child while working, but on November 2, 1907, her daughter Mathile (Tillie) Modersohn was born. She and Otto were joyous but disaster struck a mere nineteen days later when Modersohn-Becker died suddenly due to complications with birth.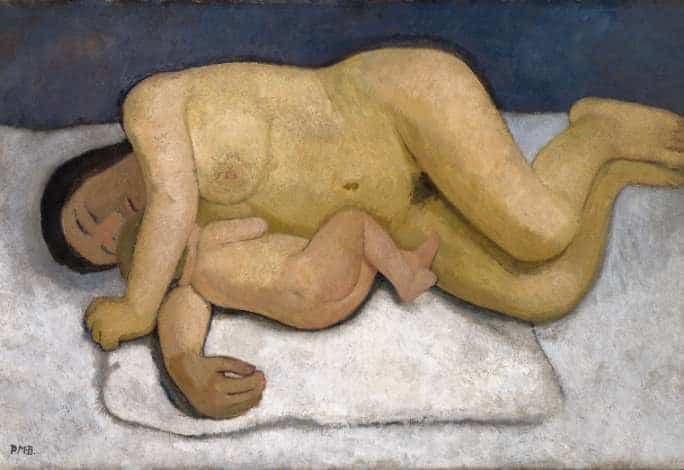 Legacy
Despite her tragically short life of thirty-one years, Paula Modersohn-Becker left behind a vast body of work that has continued to inspire artists for generations. In only 15 years of artistic engagement she created a legacy of over 700 paintings and 1,000 drawings and prints.
Though she received little recognition during her lifetime, her works have since gained acclaim and can be found in the collections of influential institutions around the world, including the Art Institute of Chicago, the Städel Museum in Frankfurt, The Museum of Modern Art in New York, the Kunstmuseum Basel, and the National Gallery of Art in Washington, D.C.
---
Paula Modersohn-Becker FAQ
Who is Paula Modersohn-Becker?
Paula Modersohn-Becker was a German woman artist in the early twentieth century, and a pioneer in post-Impressionist and Expressionist painting. She is renowned as the first woman artist to paint a nude self-portrait, for subverting the depictions of women commonplace in the art of the time, and for determinedly pursuing a career as a professional artist at a time when this was unusual for women.

What kind of art is Paula Modersohn-Becker known for?
Paula Modersohn-Becker is known for her expressive and un-idealised self-portaits, for her candid but tender depictions of young children and their mothers, and, to a lesser extent, her brooding landscapes, all of which are executed in a Expressionist style associated with German art of the early twentieth century.


How did Paula Modersohn-becker die?
Paula Modersohn-Becker died tragically just days after child birth. Complaining of pain in her leg, her doctor advised to get to her feet and walk around, resulting in a fatal embolism.
Relevant sources to learn more
Learn more about Paula Modersohn-Becker in this insightful 2013 article in the New Yorker
Want to read more from our female iconoclast series?