Articles and Features
The Checklist, Vol. 6: Pierre Huyghe's Influants at Esther Schipper, Berlin, 2011
---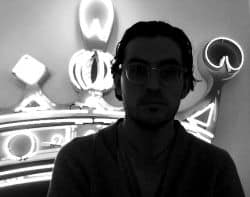 William Pym, The Checklist, Volume 6
Art history, like world history, looks different depending on where you're standing and what matters to you. The monolithic western canon has been chiseled into a prism, absorbing and reflecting new narratives and new histories. This is a good thing. Fashion, a sexy blur, drives the conversation about contemporary art in culture, and consensus is rare and temporary. This is a fine thing. Money and the art market tie us in knots and cloud our judgement, because the latter is easily manipulated by the former. This is a bad thing. Mush all these factors together, and a solid art history seems both more elusive and more necessary than ever. This column, The Checklist, looks at an exhibition from the past via facts that cannot change: artwork, space, audience, a moment in time. The goal is to cut through the noise, and to remember that art is a gift.
---
Influants
Pierre Huyghe
Esther Schipper
Berlin
September 9 ­­– October 22, 2011
For the 2011 edition of the abc Art Berlin Contemporary fair, 49-year-old French conceptual artist Pierre Huyghe opened his fourth exhibition at Esther Schipper's charming Tiergarten space. The theme of that year's fair was 'about painting,' and Huyghe and Schipper pretty much did the opposite. The doors to the first-floor gallery were closed. An assistant standing in front of them took your full name, then opened the door and announced it so that everyone in the gallery could hear. Once inside, there was, ostensibly, no work. If you waited long enough in the space you'd notice ants and spiders crawling around on the walls. If you looked into the corners of the room you'd see particularly spindly, stationary spiders. A gallery director would come over and greet you. That's it. Those were four works, that was the exhibition, and this is the subject of this month's checklist. In the memory, or in description, an exhibition like this can seem like a pretentious oddity or a joke. With just a little inquiry, however, one might well consider it to be essential, and to be art history.
You could read the brief one-sheet summary of the four works while you were standing there. The ants and spiders were Umwelt, a tribe of bugs who formed and moved around the gallery walls. The spindly insects were C.C. Spider; a species with a fondness for high corners that felt, curiously, like CCTV cameras in the space. Name Announcer meant you couldn't come into the gallery anonymously. Influenced was a member of the gallery staff who had the flu. The man who had it on the day I visited did not look great, but he was cheerful and chatty. One could spend a lot of time at this show without really knowing why.
Huyghe's Influants can be placed in the lineage of what one might call, without negative shading, 'nothing' exhibitions. Conceptual, to do with architecture, and often extremely lean, this durable postwar aesthetic runs the spectrum from the resistant, discordant punk of Vito Acconci and Christopher D'Arcangelo to the celestial clarity of minimalism. It was alive and well in Huyghe's moment with, for example, Martin Creed's 2000 beacon Work No. 227: The lights going on and off, or Urs Fischer's 2009 digging-up of Gavin Brown's New York gallery to make an exhibition of a hole. Shows of this sort are invariably tuned for psychological effect, using absence and lack to heighten the viewer's sense of presence in the space. Perception takes over. When a nothing exhibition is good, the absence of a traditional focal point — a framed painting, a lit sculpture, a film you sit and watch — takes the experience far beyond the pictorial or formal. When perception takes over, static thinking and static objects' limits are revealed.
This is Huyghe's business: to excavate and reveal; to zoom in and out; to show rather than tell. For the annual rooftop commission at the Metropolitan Museum of Art in 2015, the artist lifted up and moved the concrete paving stones on the New York museum's roof. He pulled a layer of skin off the great American temple of art, revealing that below the surface it is no different from any other building. He found, beneath the cracks, traces of the artists who had taken on this project the previous two years. Questions of value and memory twisted on the spot, revealing both the fleetingness of time, as we constantly move to the new, and evidence of actual permanence, where everything leaves a trace and nothing fully ever goes away. Huyghe's actions on the Met roof managed to both mystify and demystify the museum experience.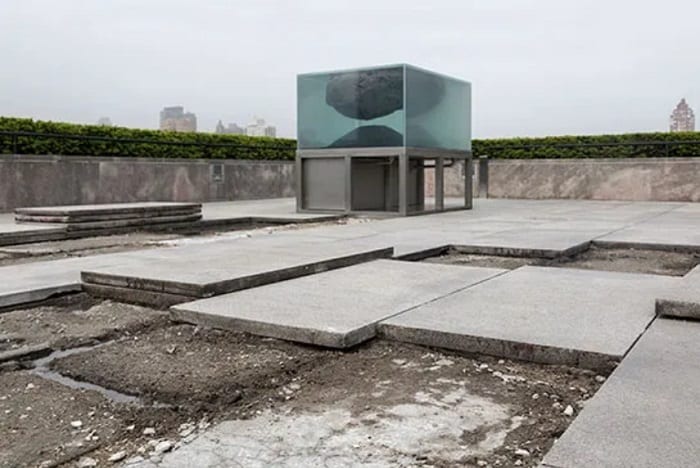 In 2012, for his participation in the 13th mega art festival documenta, Huyghe installed work in and around a remote compost heap. documenta is famous for taking over the German city of Kassel every five years, occupying park pavilions and city streets and stores and historical buildings. Huyghe's contribution — including a concrete figure with an active beehive for a head, various psychotropic plants growing out of the dirt, and a dog with one bright pink leg walking around — was hard to find and hard to hold, placed as it was on a site of slowly rotting organic waste that is not designed to be seen or enjoyed. Huyghe called it Untilled, suggesting naturally coexisting phenomena that simply spring from the earth. The artist had, in fact, considered every detail of the installation as an argument in ontology, inviting the viewer to consider what is natural or unnatural, to what extent anything is more meaningful or artistic than anything else, and where authorship begins in the world. It was a chewy, pointedly philosophical work that was set, and certainly resembled, a forgotten trash heap.
Here and in all his work, Huyghe makes the case for being there, and for testing the world. In 2005, for a film and puppet play about Le Corbusier, Huyghe made his research over two years in residence at and around the Carpenter Center, the architect's only North American building, in order to unite the poles of experience and study. Be there, and learn, and be there, and learn — a back and forth of channeling and observing.
So it goes with Influants in Berlin in 2011. In that exhibition, Huyghe offered elemental sparks, the smallest provocations of ideas that can grow into bigger ideas, create bigger networks of connection, and evolve into genuine discovery. Everything starts when a stranger introduces themselves and offers their hand. Everything starts when insects start to gather. Everything starts when your name is said out loud. If I may make a simple, full-throated defense of the nothing exhibition, it would be to note that nothing is where ideas come from. As art viewers and art lovers, we take it from there.