Articles and Features
Stories of Iconic Artworks: Dorothea Lange's Migrant Mother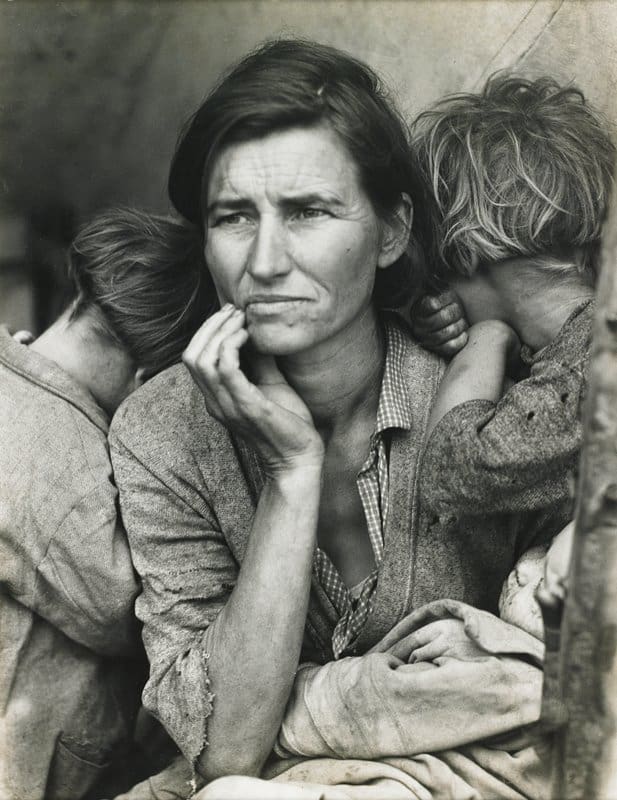 By Shira Wolfe
"I saw and approached the hungry and desperate mother, as if drawn by a magnet. I do not remember how I explained my presence or my camera to her, but I do remember she asked me no questions. I made five exposures, working closer and closer from the same direction."

Dorothea Lange
In 1936, Dorothea Lange captured a photograph that became one of the most famous images of the Great Depression: Migrant Mother. At the time employed by the U.S. government's Farm Security Administration (FSA) program, which was formed during the Great Depression to raise awareness of impoverished farmers and to provide aid, Lange concentrated on the unemployed and displaced farm workers of the American West and Southwest. The startling image, depicting 32-year-old migrant farm worker Florence Owens Thompson and three of her children, was widely circulated in newspapers and magazines, becoming part of the collective memory of the era. In this edition of our "Iconic Artworks" series, we explore the story behind the iconic photograph.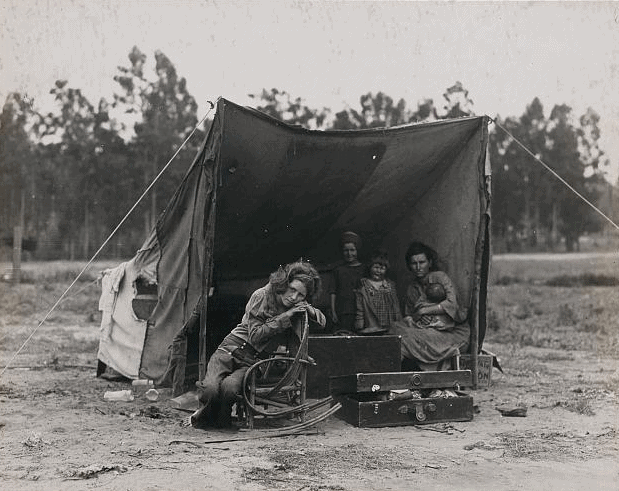 The Great Depression
The Great Depression started in the United States, after a major fall in stock prices around 4 September 1929. It became worldwide news after the stock market crash of 29 October 1929, which became known as Black Tuesday. Between 1929 and 1932, the GDP fell about 15% worldwide. The Great Depression had devastating effects worldwide, as personal income, tax revenue, profits and pricing dropped and international trade fell by more than 50%. In the United States, unemployment was as high as 23%. On top of that, a severe drought ravaged the agricultural heartland of the United States, starting in the mid-1930s. Farming communities suffered immensely as crop prices dropped by about 60%.
In 1937, President Franklin D. Roosevelt established the Farm Security Administration (FSA) to help poor farmers and migrant workers. The FSA resettled farmers on better land and provided emergency relief and money loans, allowing farmers to buy and improve their farms. The FSA also built experimental rural communities, suburban "Greenbelt towns", and sanitary camps for migrant workers. In order to promote these initiatives, a publicity department was created to document rural poverty and government efforts to alleviate it. The department was named the "Historical Section". Skilled photographers, some of whom would become the most famous documentary photographers of their time, were hired to travel around the nation capturing images of people in rural areas. Among them was Dorothea Lange.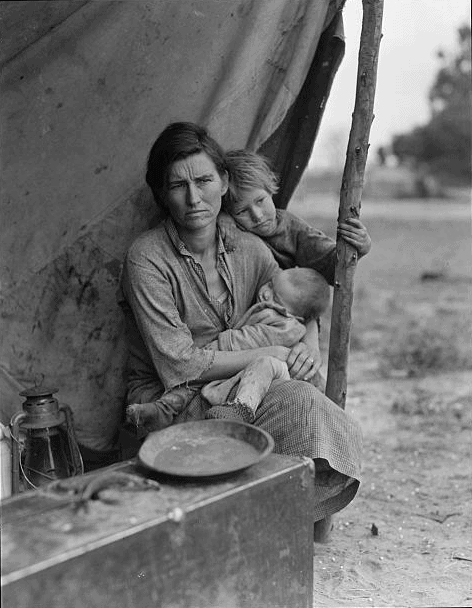 Dorothea Lange's Photography
Dorothea Lange became one of the most influential documentary photographers, known especially for her work during the Depression Era and arresting images of migrant workers, homeless and unemployed people affected by poverty. Lange was born in 1898 in Hoboken, New Jersey. She studied photography at Columbia University in New York, and then moved to San Francisco, where she set up a portrait studio. Her early work mostly involved shooting portraits of the San Francisco elite. However, when the Great Depression started, she turned her lens from the studio to the street.
Employed by the FSA, Lange began travelling around the United States, mainly in the American West and Southwest, photographing the destitute people hit hardest by the Great Depression. Here, she truly found her purpose and direction as a photographer. With these new photographs she was taking, Lange became known as one of the first documentary photographers. Notable works of the period include The White Angel Breadline (1933), depicting a man facing away from the crowd in a soup kitchen, and Ditched, Stalled and Stranded, San Joaquin Valley, California (1936), in which we see a man with a haunting, concerned look on his face, sitting in his car. However, Lange's most famous image is Migrant Mother (1936).
"She and her children had been living on frozen vegetables from the field and wild birds the children caught. The pea crop had frozen; there was no work. Yet they could not move on, for she had just sold the tires from the car to buy food."

Dorothea Lange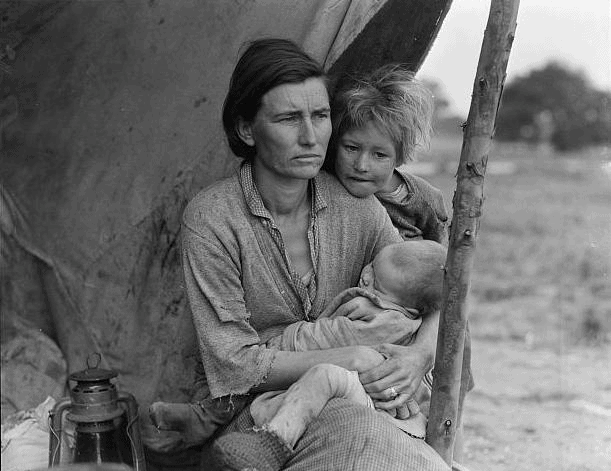 Migrant Mother
Lange photographed Migrant Mother in 1936 in Nipomo, California. The photograph was one in a series of photographs that Lange made of 32-year-old Florence Owens Thompson and her children, whom she met in a camp filled with field workers. At the time, the photograph was named Destitute peapickers in California; a 32-year-old mother of seven children. February 1936, and it later became widely known as Migrant Mother. Thompson and her children were living in desperate conditions as their livelihoods had been devastated by the failure of the pea crops. In the iconic photograph, we see the mother's stern, weary and concerned expression, while her children bury their heads on their mother's shoulder. The other photographs in the series show Thompson breastfeeding, and show her children's faces.
Years after she took the pictures, Lange recalled her encounter with Thompson, saying: "I saw and approached the hungry and desperate mother, as if drawn by a magnet. I do not remember how I explained my presence or my camera to her, but I do remember she asked me no questions. I made five exposures, working closer and closer from the same direction." She described the situation as follows: "She and her children had been living on frozen vegetables from the field and wild birds the children caught. The pea crop had frozen; there was no work. Yet they could not move on, for she had just sold the tires from the car to buy food." Thompson later contested Lange's account, stating that they had not actually spoken to each other and that she hadn't sold the tires of her car. Thompson suggested that Lange either confused her story with that of another farmer, or that she had embellished her situation in order to make a better story.
Regardless of how the story goes exactly, the picture that became known as Migrant Mother became an important symbol of the plight of migrant farm workers during the Great Depression, after being circulated widely to magazines and newspapers. Lange's powerful documentary photography that managed to capture the emotional states and inner worlds of her subjects, became forever tied to America's collective memory of the Depression Era. Her work remains an inspiration for photographers seeking to record the social conditions of people from all walks of life, as well as to inspire change.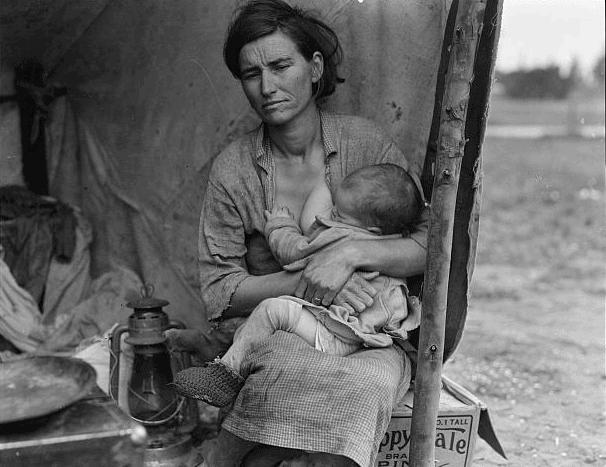 Relevant sources to learn more
MoMA
Mia
The Farm Security Administration
For other Stories of Iconic Artworks, see:
Diego Rivera's Rockefeller Mural
Mark Rothko's Seagram Murals
Joseph Beuys' I Like America and America Likes Me
Andy Warhol's Oxidation Paintings