Articles & Features
The Art of Cooking: Artists in the Kitchen
By Tori Campbell
Artists in the Kitchen
Sharing a meal can be an artistic experience, from the food served to the table settings chosen, and artists throughout history have employed their creative talent both as skilful cooks and avid entertainers. Salvador Dalí, who desired to be a chef from the age of six, saw his dream become a reality with his Surrealist cookbook Les Diners de Gala, a whirlwind fever-dream of a publication. While other artists found their entertaining style more grounded in reality, Georgia O'Keeffe for instance produced a small cardboard box to hold her locally-inspired recipes.
Pull up a chair to the table and explore with us how artists, in various ways, have dominated the kitchen.
Claude Monet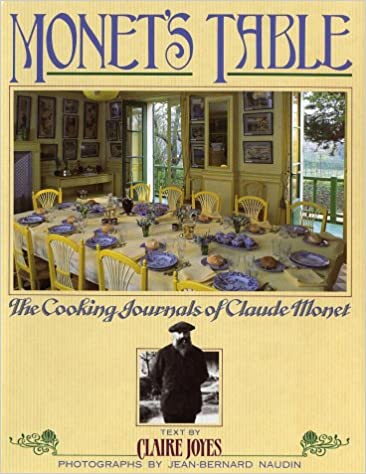 Compiled by Claire Joyes, a distant relative of Claude Monet, Monet's Table – the Cooking Journals of Claude Monet explores the role of the artist in the kitchen. Alongside the artist's paintings and photographs of the Giverny countryside are French recipes that offer insight into what Monet would have eaten and served. Notably, the artist was always awake before dawn to paint, which meant he only hosted guests for lunch, never dinner. This book provides an intimate look into what might have been served at Monet's lunch table.
Frida Kahlo
Another volume compiled by an artists' relative is Frida's Fiestas: Recipes and Reminiscences of Life with Frida Kahlo, by the late artist's stepdaughter, Guadalupe Rivera. Packed with over 100 recipes, from Mexican classics to innovative recipes sprung from her own imagination, the cookbook reminds readers of the parties and dinners Frida Kahlo and Diego Rivera would often host in their home, the Casa Azul. With extensive menus like the Día de los Muertos meal of pumpkin in syrup, chicken in Pipián sauce, and a final strawberry atole, you can join the artist in the kitchen and feel you are dining with Kahlo herself.
Lee Krasner & Jackson Pollock
In Springs, Long Island, artists and couple Lee Krasner and Jackson Pollock made a life for themselves outside of the chaos of Manhattan. Real artists (also) in the kitchen, the two connected with nature through gardening and harvesting, creating recipes out of the food grown on their property and used to host long, late dinners with fellow artists celebrating food. Dinner with Jackson Pollock: Recipes, Art, & Nature follows this trajectory for the artists, featuring Krasner and Pollock's own hand-written recipes alongside some of their favourite dishes from their friends and guests such as Elaine de Kooning's fruit salad and Frank Stella's potato pancakes.
Georgia O'Keeffe
Deeply embedded in the local flora and fauna of New Mexico, Georgia O'Keeffe spent most of her life at her desert Ghost Ranch, where she was inspired by the landscape in both her art and cooking. An avid cook, O'Keeffe's recipes often included local ingredients: fried eggs seasoned with coriander and lime juice or chicken flautas.
In February 2020, for the first time ever, O'Keeffe's personal recipe collection in the form of innumerable hand-written cards, newspaper and magazine clippings in a tidy alphabetically organised box, went up for auction. If you yourself weren't able to score the original, you can check out her older cookbook, A Painter's Kitchen: Recipes from the Kitchen of Georgia O'Keeffe or the more recent Dinner with Georgia O'Keeffe: Recipes, Art, Landscape by Robyn Lea.
Andy Warhol
Self-published in 1959, just before his skyrocket to fame, Andy Warhol and interior decorator Suzie Frankfurt created a cookbook entitled Wild Raspberries. Far more of a joke, a tongue-in-cheek publication poking fun at the haute cuisine popular at the time, than an actual working cookbook, Warhol offered recipes for fake foods such as the 'Omelet Greta Garbo' or the 'Seared Roebuck'. Reportedly, Suzie Frankfurt came up with the copy, Warhol illustrated, while his mother Julia did the calligraphy, and the four schoolboys who lived upstairs from Warhol coloured them. Only 34 books were completed, and only 20 sold (the rest were given to friends and family) and one is set to go to auction later this month.
Salvador Dalí
Originally published in 1973, Les Diners de Gala was the editorial masterwork of Salvador Dalí. This surrealist daydream offers 136 recipes throughout 12 chapters and is supplemented with bizarre illustrations and collages that the artist crafted especially for the cookbook. Complete with portraits of Dalí presiding over lavish settings and towering plates of food, the publication truly has to be seen to be believed. The recipes included within are decadent and opulent, such as 'Toffee with Pine Cones' and 'Veal Cutlets Stuffed with Snails'.
Olafur Eliasson
Danish-Icelandic artist Olafur Eliasson brings a fully vegetarian menu to his table with a dedicated cookbook. Providing healthy, locally-embedded vegetarian recipes replete with stunningly crisp photography, The Kitchen arguably began 15 years ago, when his studio started eating together daily. Inspired by the Nordic cultural tradition of gathering for lunch at the long communal table in the kitchen, his studio staff and fellow artists exchange creative ideas and nourish one another with companionship and food.
The Museum of Modern Art, Artists' Cookbook