Articles and Features
Stories of Iconic Artworks: How Jackson Pollock's Blue Poles Caused an Uproar in Australia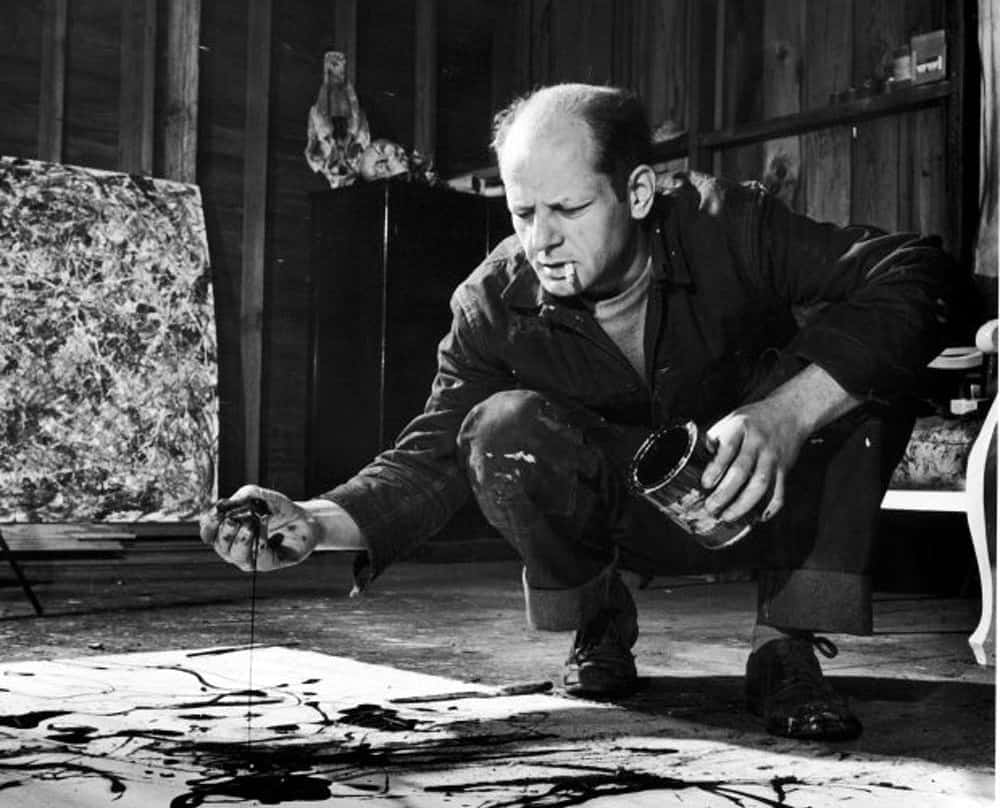 By Shira Wolfe
"The oranges, the yellows were terrific, the whites splendid. There was an atmosphere. Gentle and delicate and tough and aggressive. And somehow, they're all that at the same time. That's very unusual." – Art dealer Ben Heller speaking about Blue Poles
Artland's Stories of Iconic Artworks series delves into the stories behind some of the most iconic works of art ever made. In this week's edition we feature Jackson Pollock's painting Blue Poles and the bitter controversy that followed its acquisition by the Australian Government for $1.3 million – the highest price ever paid for an American painting at that time. This purchase sparked widespread outrage among Australians, and also contributed to Pollock's art becoming a symbol of modern Australia.
Jackson Pollock and American Modern Art
Jackson Pollock is one of the greatest pioneers of Post-War American painting. Born in Cody, Wyoming in 1912, he studied painting at the Manual Arts High School in Los Angeles, and then moved to New York where he studied under Thomas Hart at the Art Student League. In the 1920s and 1930s in the New York art world, many of the great artists were immigrants from Europe, fleeing the pogroms and struggles of the old world and seeking to establish a new community of artists in the United States. Pollock fought for his place among them in New York, ultimately becoming one of the most famous Abstract Expressionists. Following the Second World War, there was a general feeling among artists that after witnessing such horrors, it was no longer possible to create representational art as before. Moreover, according to art critic Jerry Saltz, "American artists [had] to deal with the supernova named Picasso. How do you get around something so epically huge that's happened just before you? How do you follow that act? You ape it, and then you have to change it. Willem de Kooning famously said: 'Pollock broke the ice.'"
Pollock started doing something that no one else at the time was doing: he would place his canvases on the floor, never letting the brush touch the canvas, instead moving around freely, dripping and splashing paint on it – a technique that has come to be known as 'action painting'. With this extremely physical and dynamic method, reminiscent of ancient, prehistoric practices, Pollock created an absolutely new type of painting. In an interview, Pollock explained: "The modern artist is living in a mechanical age. We have mechanical means of representing objects and nature, such as the camera, the photograph. It seems to me that the modern painter cannot express this age, the airplane, the atom bomb, the radio, in the old forms of the Renaissance, or of any past culture. Each age finds its own technique. I happen to find ways that are different from the usual techniques of painting. I am able to be more free and move about the canvas with greater ease."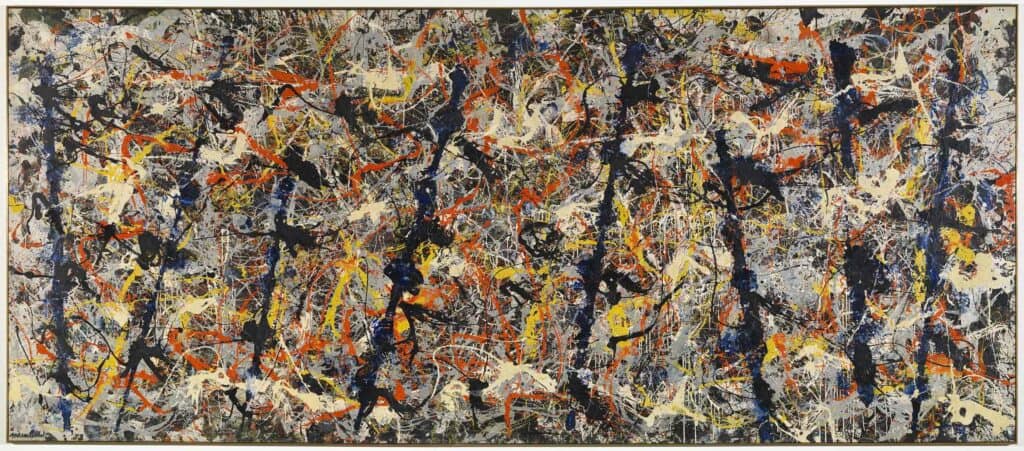 Blue Poles
In 1945, Pollock married fellow artist Lee Krasner, and the couple moved to Long Island, where they bought a farmhouse with the financial support of Peggy Guggenheim. Pollock converted the barn into his studio, providing himself with the space he needed to explore and perfect his drip technique. In 1952, four years before his death, Pollock painted Blue Poles, reassessing his drip style, which he had used in his paintings from 1947 to 1950. He applied the first layer of paint while the canvas was stretched out on the floor, after which he tacked the canvas to a beam running along the wall of the studio. He then applied white paint, allowing this to run down the canvas. After this stage, he returned the canvas to the floor and continued with his characteristic pouring and dripping technique. It took nearly a week for each of the layers to dry. Pollock used sticks, brushes and syringes to build up rhythmic splashes, and finally created the vertical blue poles cutting through the wild drips and gestures. This element – to which various figurative connotations have been attributed, from totems to the masts of a ship – differed significantly from his previous works, as the poles created strong vertical focus points in the painting.
In the National Gallery of Australia documentary about the Blue Poles acquisition, Pollock's friend and collector, the art dealer Ben Heller, remembers the first time he saw Blue Poles, when it was worth $6000: "The first time I saw it at the Whitney Museum when it was on 54th Street, I was kind of wowed. The oranges, the yellows were terrific, the whites splendid. There was an atmosphere. Gentle and delicate and tough and aggressive. And somehow, they're all that at the same time. That's very unusual." By the time he bought the painting, he paid $32.000 for it; but when, in 1973, Heller agreed to sell his beloved Blue Poles to the National Gallery of Australia in Canberra, the painting had a price tag of US $2 million, equivalent to A $ 1.3 million.
"You must remember Blue Poles in his lifetime was sold for 6000 dollars, and that was a high at the time for a Pollock." – Lee Krasner
The National Gallery of Australia Acquisition of Blue Poles
How did the National Gallery of Australia acquisition of Blue Poles, Pollock's last monumental painting, come about? It was first and foremost an initiative of James Mollison, the inaugural director of the National Gallery of Australia in Canberra. Mollison was commissioned to create Australia's national art gallery, and wanted to do something big. In a 1978 interview Mollison explains: "When you're actually commissioned to create a national art gallery, where on earth do you start? It depends on your ambition. It also depends on the sort of funding you have. If funds are low and the ambition is low, then you might make yourself a gallery which is for the local community. If you're called the National Gallery in a country such as this, I think you really have to work a bit harder than that, and we are attempting to build up a large number of varied collections all on the grounds that there is a great deal of excellent material still available, and to bring it into the country." Mollison convinced Ben Heller to sell Blue Poles to the National Gallery of Australia by explaining that Australia did not want to see itself as a "white bastion in a yellow world", but wanted to be a part of the Pacific community. He drew parallels between this position and Pollock, who had left New York in order to live a very specific, solitary life out on Long Island, and whose painting was all about going out on one's own and creating new paths. Mollison and Heller agreed Pollock would have liked his monumental painting to be in Australia.
The acquisition of Blue Poles, however, sparked a major controversy in Australia as people protested against the high price paid for it – in fact, it was the highest price every paid for an American painting at that time. Taxpayers complained it was a waste of their money, and with few exceptions, the responses towards the painting, the National Gallery and the government were negative. Headlines like A Pollock Sold for $2-Million, Record for American Painting and Would you pay $1.3m. for this? dominated newspapers and magazines. After 23 years of a conservative government, the Labourite and then Prime Minister Gough Whitlam wanted to make changes and supported this bold and progressive abstract art purchase. However, the conflict was such that many people who identified as progressives still wanted an Australian-only culture, and were angry that so much money was spent on this difficult-to-comprehend American abstract artist. Yet as Christine Dixon, former Senior Curator of the National Gallery of Australia, explains: "Pollock provided something new and different and exciting. In effect what it's done is bring Australian art in the same range as international art. [It made] Australia a representative of international, American and modern culture." And sure enough, today, it is still one of the most treasured artworks in Australia.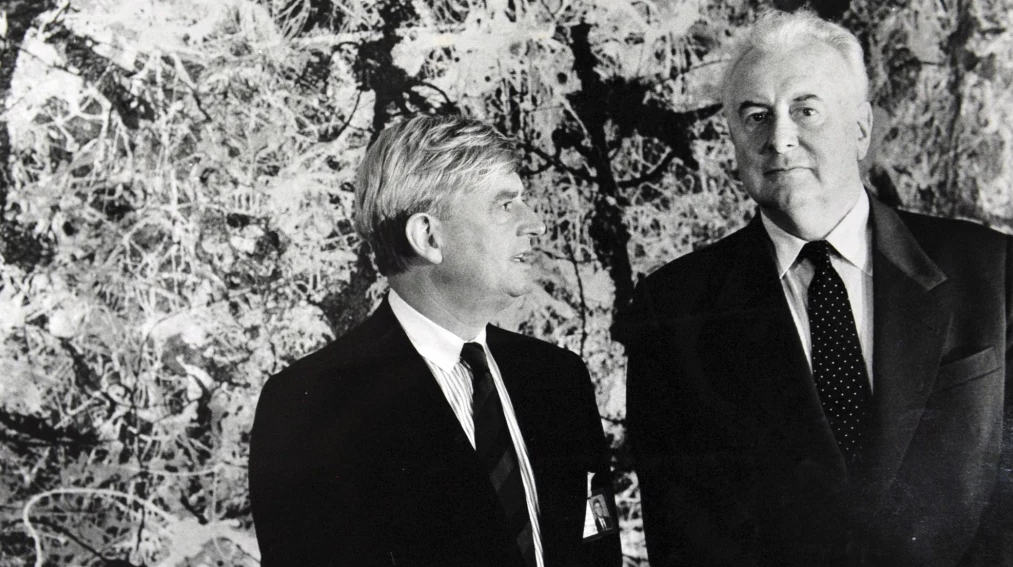 Responding to a question about whether Pollock had any conception about what the worth of his paintings would be, his widow Lee Krasner once said: "Not in terms of like what has been paid for Blue Poles today, I don't think even he could have conceived that. You must remember Blue Poles in his lifetime was sold for 6000 dollars, and that was a high at the time for a Pollock. I think [the price of Blue Poles today] would amuse him no end."
Relevant sources to learn more
Discover more about the National Gallery of Australia Blue Poles acquisition here:
Read more Artland articles about Jackson Pollock:
Lost (and Found) Artist Series: Lee Krasner
Artists in Residence: The Studios of the Abstract Expressionists
Art Movement: Abstract Expressionism