Articles and features
Takashi Murakami: Art & Collaborations of the Artist Who Blurred the Line Between Fine and Commercial Art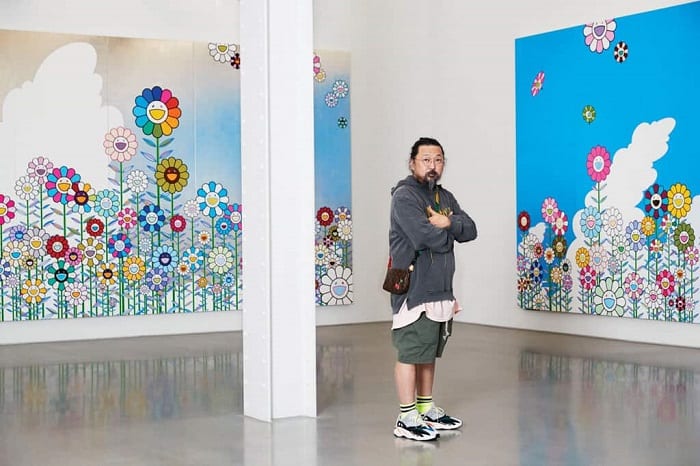 By Adam Hencz
From album covers and music videos through streetwear and high fashion to landmark cultural institutions, Takashi Murakami's fingerprint is all around the industry. An icon of contemporary Pop Art, Murakami is often defined as "the Japanese Andy Warhol." His style seamlessly blends Western commercial imagery and Japanese pop culture references with the country's rich cultural legacy, from Buddhist iconography to otaku subcultures. Even though Murakami thoughtfully treats art as a commodity and employs hundreds of workers for his projects like fellow contemporary art superstar Jeff Koons, his maniacally cheerful figures like his signature rainbow flower also carry deep meaning and bitter connotations to a destructive past. Murakami is celebrated for developing his own art movement, Superflat, which compresses both the aesthetics as well as the cultural values of art and questions its role as a commodity. His paintings, sculptures, and films are populated by repeated motifs such as the smiling flower, the skull, or the mushroom, as well as anime-inspired and evolving characters of his own creation, oftentimes appearing as the artist's alter-egos like Mr. DOB.
Biography of Takashi Murakami
Takashi Murakami was born in 1962 in Tokyo, Japan. In 1993, Murakami obtained a doctorate at the Tokyo National University of Fine Arts and Music, where he had been studying as a painter in accordance with traditional Japanese artistic conventions in techniques, themes, and materials. To this day, Murakami actively incorporates these elements into his work, including fantastic figures and unusual references from traditional Buddhist iconography or Zen painting and composition techniques from the Edo period of the 18th century.
Murakami in New York
After completing his studies, Murakami began to display his works in the 1990s as part of the Japanese Neo-pop generation but soon realized that, in order to succeed as an artist in Japan, he had to build a new type of art market that would embrace both Western and Japanese culture. He moved to New York in 1994 backed by a scholarship from the Asian Cultural Council and started developing the core concepts behind his artistic practice.
Art as merchandise
Two years later, inspired by how Jeff Koons was maneuvering the art world, Murakami founded the Hiropon Factory in Tokyo, a production workshop, which in 2001 became Kaikai Kiki Co. Ltd: an international corporation with more than a hundred workers dedicated to the production, management, and marketing of the art made by Murakami. His company developed a market strategy that goes beyond the scope of artistic circles, designing commissioned products in collaboration with luxury brands such as Louis Vuitton and Issey Miyake.
The Superflat Movement
In 2000, Murakami published the sociocultural and aesthetic ambitions of his art in a manifesto that coined the name of his own art movement: Superflat. The movement's style was inspired by traditional Japanese wood prints in the ukiyo-e style, works that would feature its subject and its characters with very little emphasis on depth. Takashi complemented this perspective with a complex and vivid color palette as well as subtle characters. He often makes his works mass-produced and accessible, emphasizing flatness in art in other ways as well. Superflat aims to blur the lines between genres of art and the divisions of high and low art, and combines this approach with traditional Japanese art and cheap, shallow consumerism.
Fashion and Design Collaborations
Murakami's style soon made him a favorite with the Hollywood elite. Since their first appearance in the 1990s, Murakami's characters have transcended the art world and have taken over each and every corner of pop culture. The Superflat movement spilled over various industries and made its mark on streetwear clothing, high fashion, music video production, and album covers. Murakami is famous for his collaborations with other key players of the entertainment industry like Kanye West, Pharrell Williams, Billie Eilish as well as for working with high-end fashion houses like Louis Vuitton.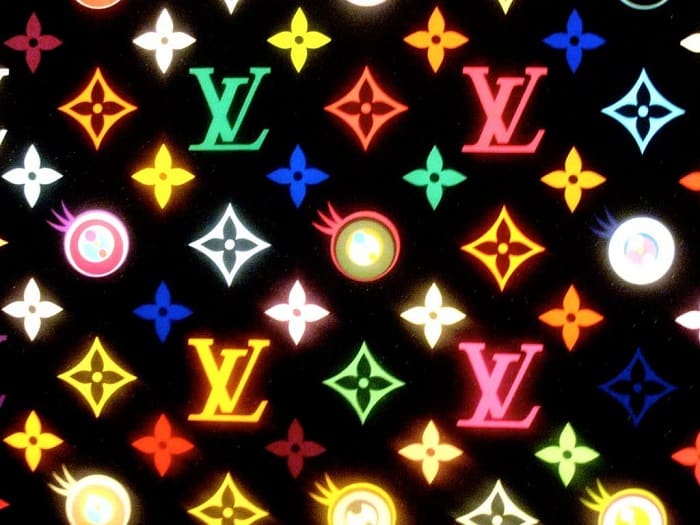 Takashi Murakami & Louis Vuitton
In 2002, Mark Jacobs commissioned Murakami to reinvent the brand's monogram design and launched a fruitful collaboration that lasted almost two decades. Murakami's version of the luxury brand's design made its debut in 2003 at the brand's spring fashion show. Murakami has since caught the eyes of many of fashion's most iconic brands such as Adidas, Vans, and Supreme, all in search of his signature flowers.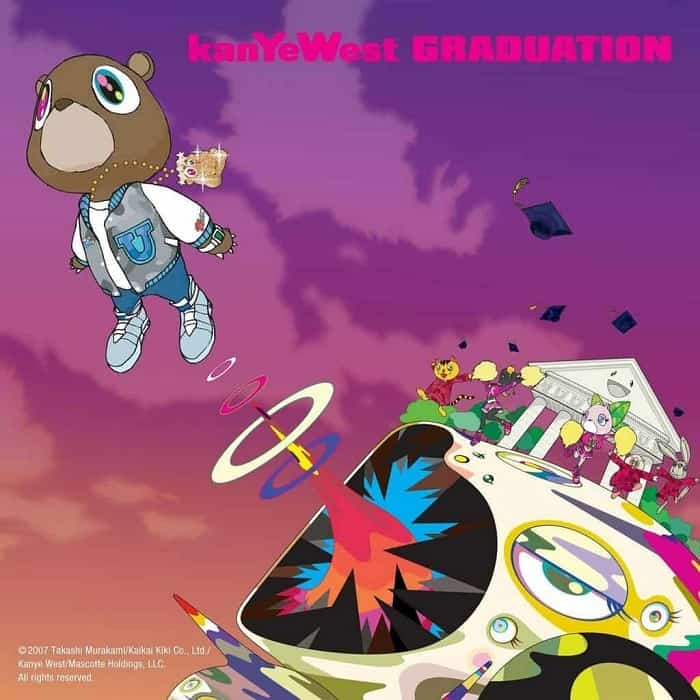 Takashi Murakami & Kanye West
Kanye West (now Ye) is probably Murakami's earliest promoter in Hollywood and one who collaborated with the painter on multiple fronts. The two first met in Murakami's studio when Kanye flew to Tokyo planning to purchase one of Murakami's Miss ko2 sculptures. Murakami first contributed to the album cover of West's major 2008 album Graduation, which saw the Superflat style transform Kanye's signature mascot, the Dropout Bear, rocketing off a plane surrounded by Murakami's colorful motifs. Murakami also produced and directed the music video for one of the album's singles, Good Morning. Most recently, the two artists, along with Kid Cudi, collaborated on a full-length joint album, entitled Kids See Ghosts.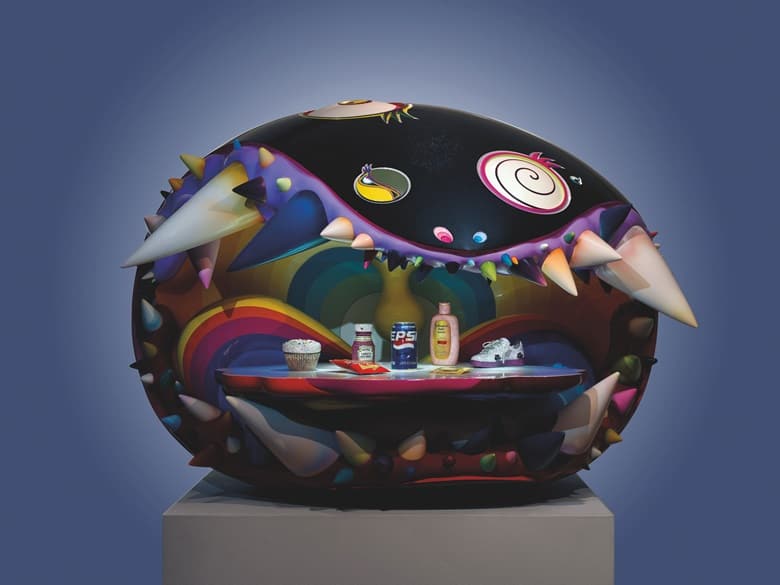 Takashi Murakami & Pharrell Williams
This time, it was Murakami's collaborator who wanted to conquer another industry than his own: the rapper, songwriter, and entrepreneur Pharrell Williams approached Murakami with the idea of creating a unique sculpture together. The piece that emerged from the idea, The Simple Things (2009) was crafted in Tokyo and made of fiberglass, steel, an LED light system and includes seven consumer products, handpicked by Williams, that are covered in gold, rubies, sapphires, emeralds, and diamonds. The Simple Things is first and foremost a sculptural representation of Murakami's character, Mr. DOB, who has been interpreted as an alter-ego of the artist. The work has remained in the same private collection since its debut at Art Basel in 2009 and was offered for the first time at auction at Christie's in Hong Kong in 2019.
Takashi Murakami & Billie Eilish
In 2019, Murakami collaborated with another pop music icon, Billie Eilish, producing an anime-style music video for her song You Should See Me in a Crown. The joint project was accompanied by limited-edition merchandise inspired by the richness of the film's painfully bipolar world where a monster-like Eilish exterminates Murakami's signature smiling flowers. The two had previously had a Uniqlo fashion collaboration and also worked together on a photoshoot for Garage Magazine.
Wondering where to start?