Articles & Features
Upon Reflection: The Mirror in Contemporary Art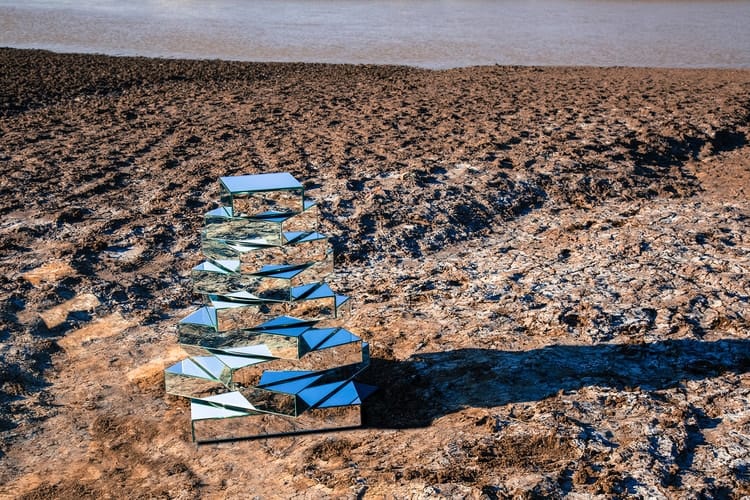 By: Tori Campbell
Mirror Art
Mirrors, and their reflective quality, carry innumerable symbolic connotations. Thus, mirror art can take many forms. Some artists choose to build off of the legacy of Narcissus — forcing their audiences to confront themselves and their bodily existence by reflecting those who view their art. Meanwhile, others choose to explore the power of the mirror — distorting and disorienting spatial perceptions through slight variations in the surface of the medium. Whatever the motivation, the use of mirrors within contemporary art harnesses the magic of reflection to craft ever-evolving narratives around our perceptions of ourselves and our understanding of the world around us.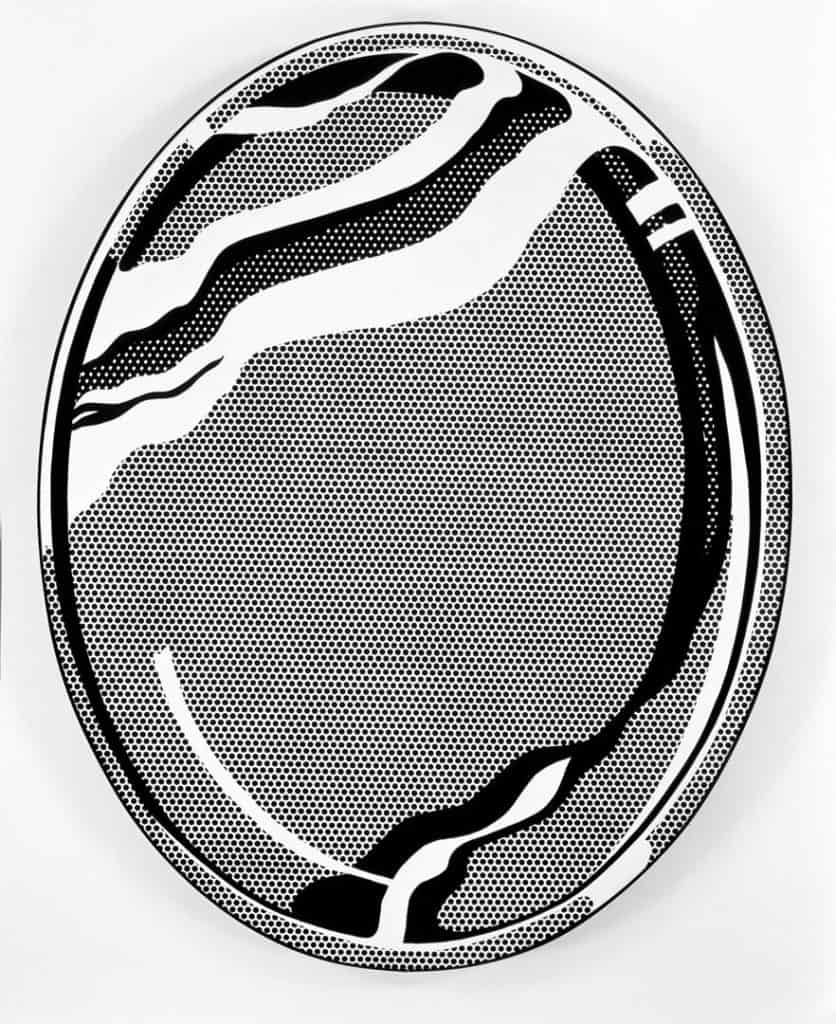 Known as a key figure in the American pop art movement, Roy Lichtenstein's work is characterised by his unique stylisation of comics and advertisements. Instantly recognisable due to his iconic use of the black line as a frame, combined with his signature benday dots, he began to utilise this technique to emulate ornamental motifs found in the home, such as brass decorations, entablature and geometric wallpaper, in his Modern series. Lichtenstein's tongue-in-cheek comicbook-like Mirror #1 displays all the telltale signs of the object without performing its most necessary function: reflection. In other works, Lichtenstein would render entire rooms in his pop art style, using depicting mirrored walls in order to approach his subject through a new lens.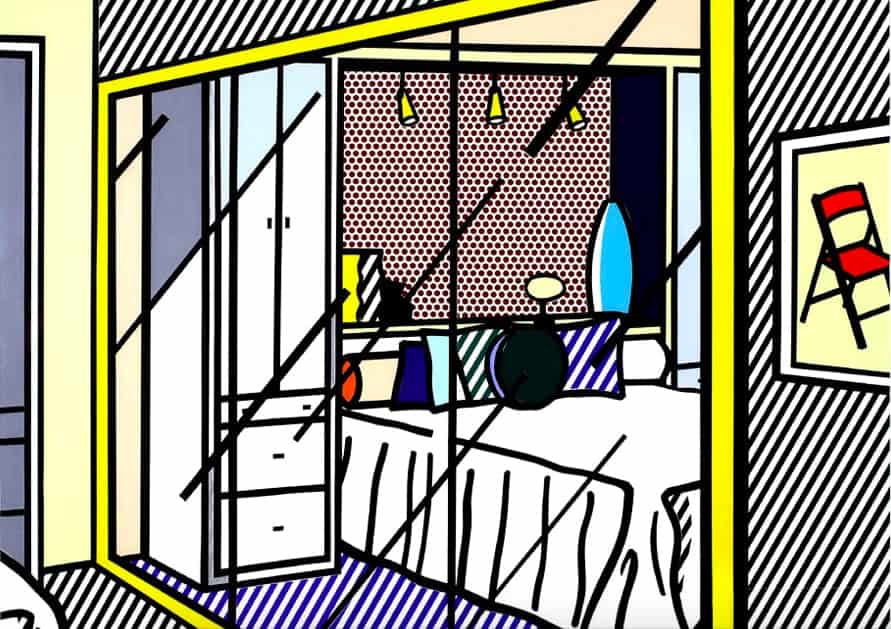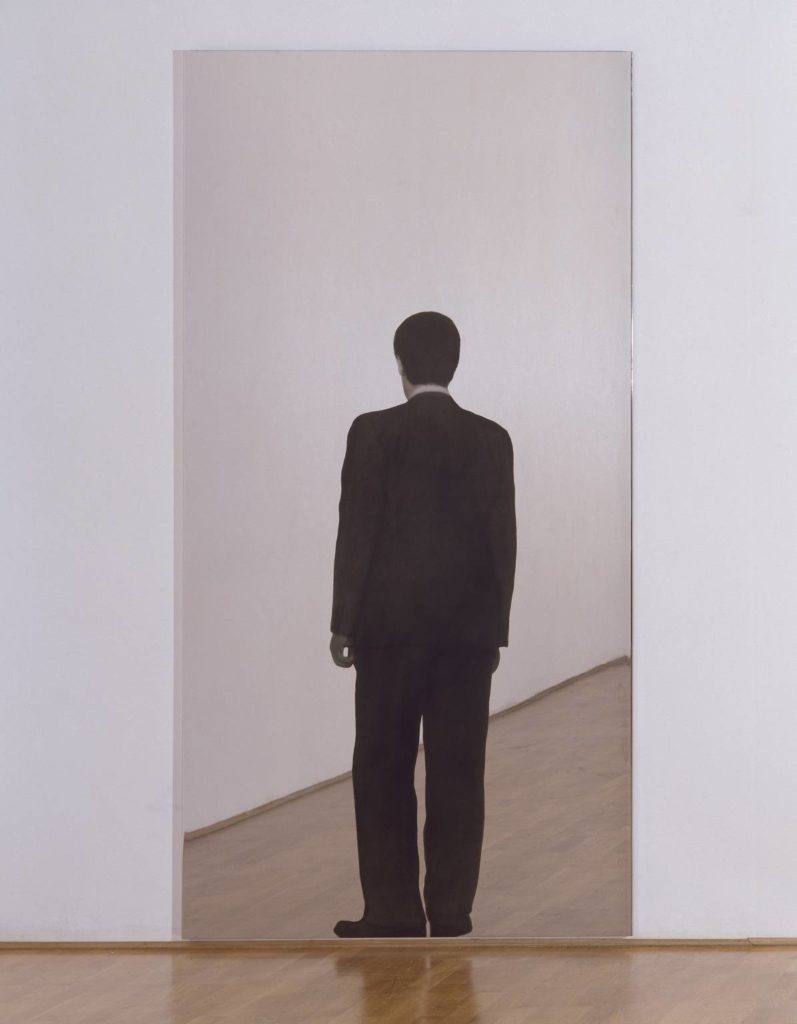 Beginning in 1961 Italian artist Michelangelo Pistoletto began making what would become his most iconic works, his Quadri specchianti (mirror paintings). At first Pistoletto used cut-out images of people painted on tissue paper, and applied them to sheets of stainless steel that had a reflective, mirror finish — but with time Pistoletto began to use photographs of his friends and family members, taken by a professional photographer. He would then enlarge these photographs to nearly life-size and copy them onto tracing paper — he ultimately mastered a silkscreening process and continued this series until the 1980s. By catching the reflection of the audience within the work itself, Pistoletto encourages interactions and creates face to face encounters harkening back to the artist's interest in performance art and the 'creative collaborations' he facilitated between himself and his audiences.
Michelangelo Pistoletto on his Mirror Paintings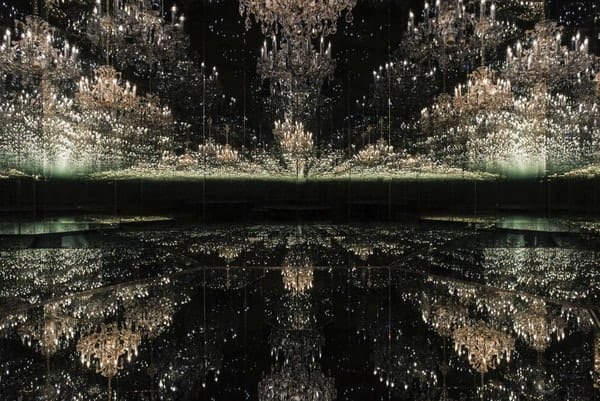 Ubiquitous on any art-lover's Instagram account is the work of Yayoi Kusama. Her series of Infinity Rooms, deemed such by their seemingly endless dimensions through the use of mirrored walls, have caught the attention of her audiences since 1965. Throughout the decades Kusama has worked on various iterations of these rooms, populating them with polka-dotted fabric phallic structures, classical chandeliers, oversized pumpkins, and most-popularly ethereal hanging lights. Since 1965 she has created over 20 such works, ranging from small 'peep show-esque' mirror-lined boxes, to full rooms paved with water. Her mastery of the magic of mirrors tricks the eye and creates environments that her fans yearn for.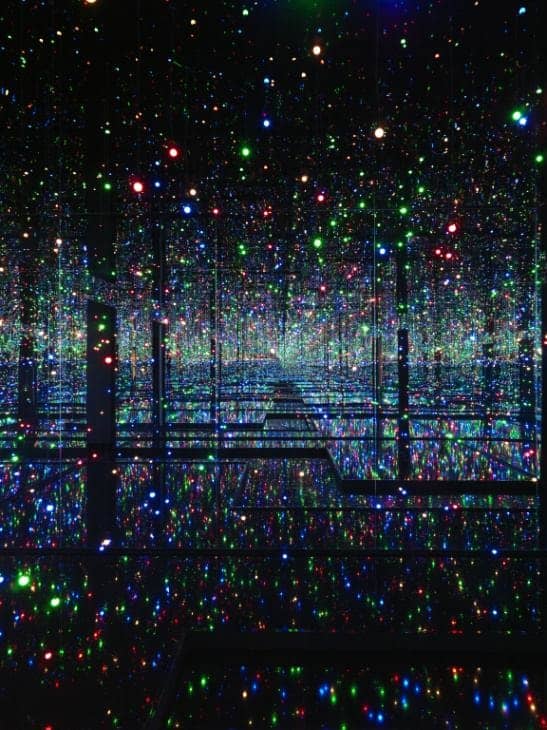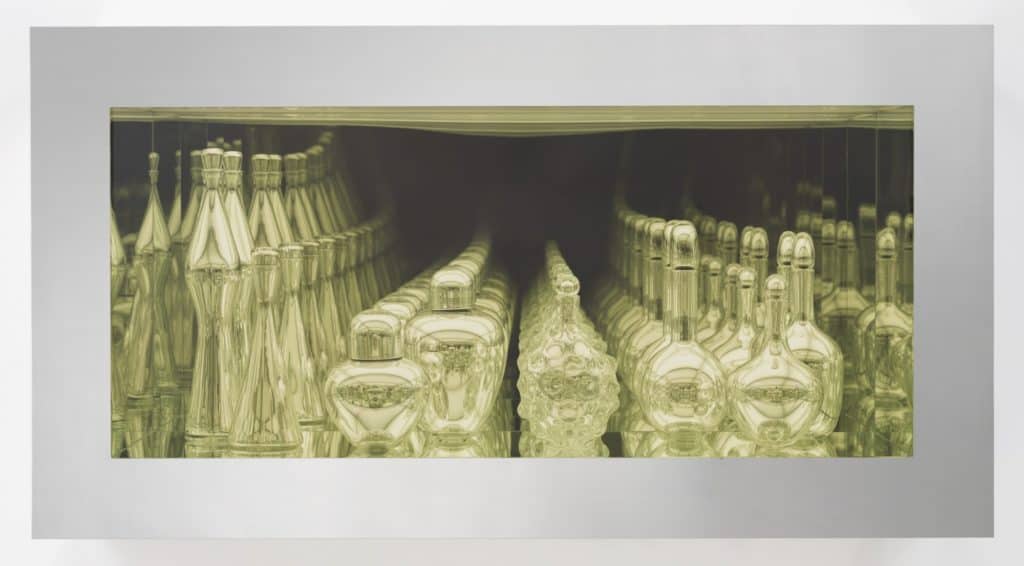 Fusing art and design Josiah McElheny uses mirrored cases and reflective sculptural objects to create a seemingly endless array of these appealingly curvilinear forms. His 2003 work Modernity, Mirrored and Reflected Infinitely draws on the legacy of well-known glass designers such as Carlo Scarpa, his son Tobia Scarpa, Fulvio Bianconi, Paolo Venini, and others from the 1950s and 1960s to inspire the nine glass decanters that gleam sculpturally in their case. McElheny is no stranger to using mirrors for his artistic output, employing two Harvard University dance students in 2015 for a performance art exhibition in the Le Corbusier-designed Carpenter Center in which they donned 5-foot tall mirrored structures while moving amongst their audiences.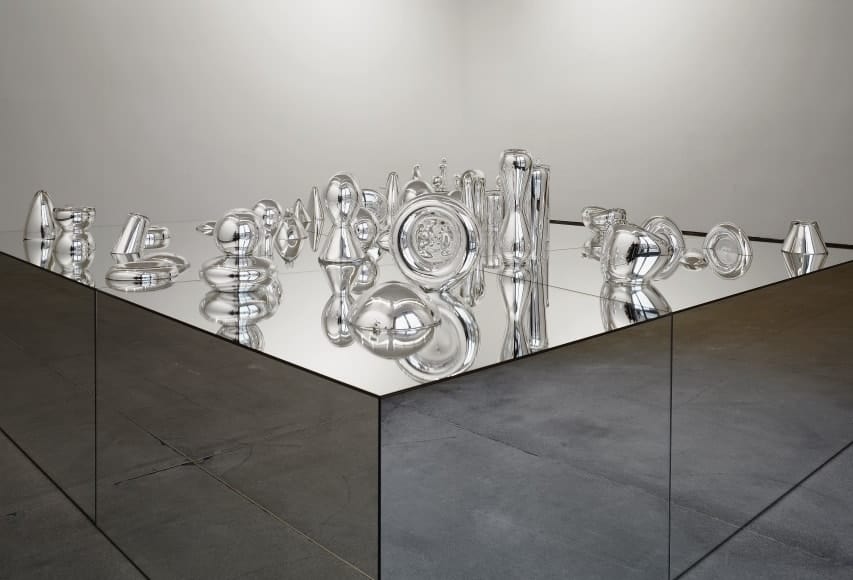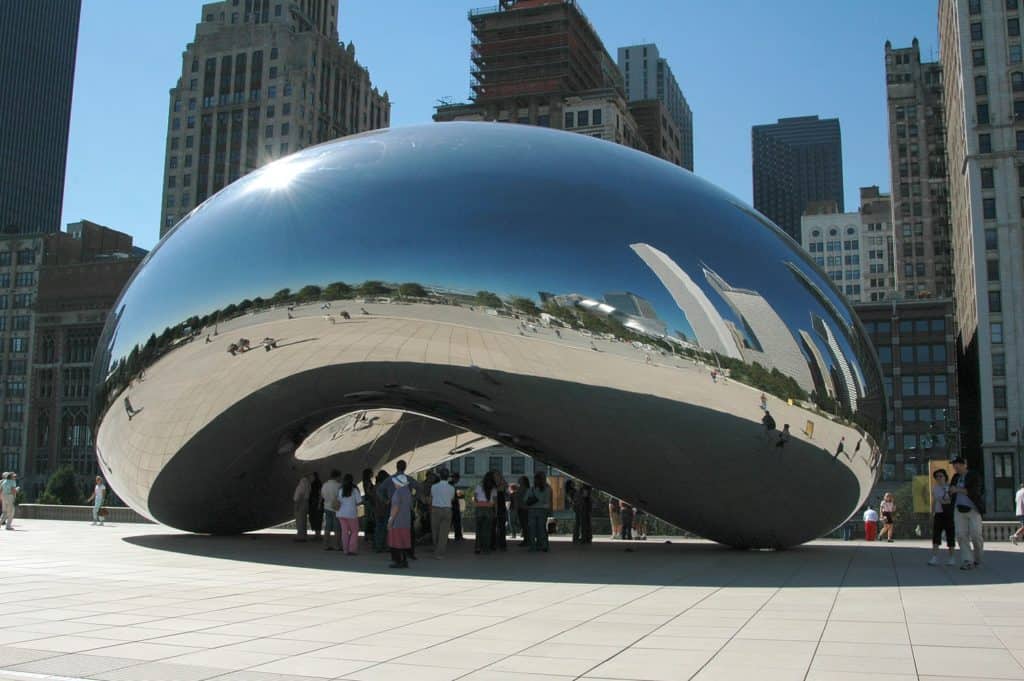 Somewhat of a celebrity in the art world, Anish Kapoor's best known work is an iconic piece of public art, reflecting the skyline and parkscape of downtown Chicago. His Cloud Gate, more colloquially known as "The Bean" stands as the centerpiece of Millenium Park at a towering 10 m × 13 m × 20 m inviting tourists and locals to circle the work, and duck underneath it, to capture their own reflections in the curvature of the momentous piece. Though one of the largest examples of mirror art in Kapoor's oeuvre, it is by no means the only time the artist explored the medium — with his 2001 Sky Mirror still publicly displayed in Nottingham, England.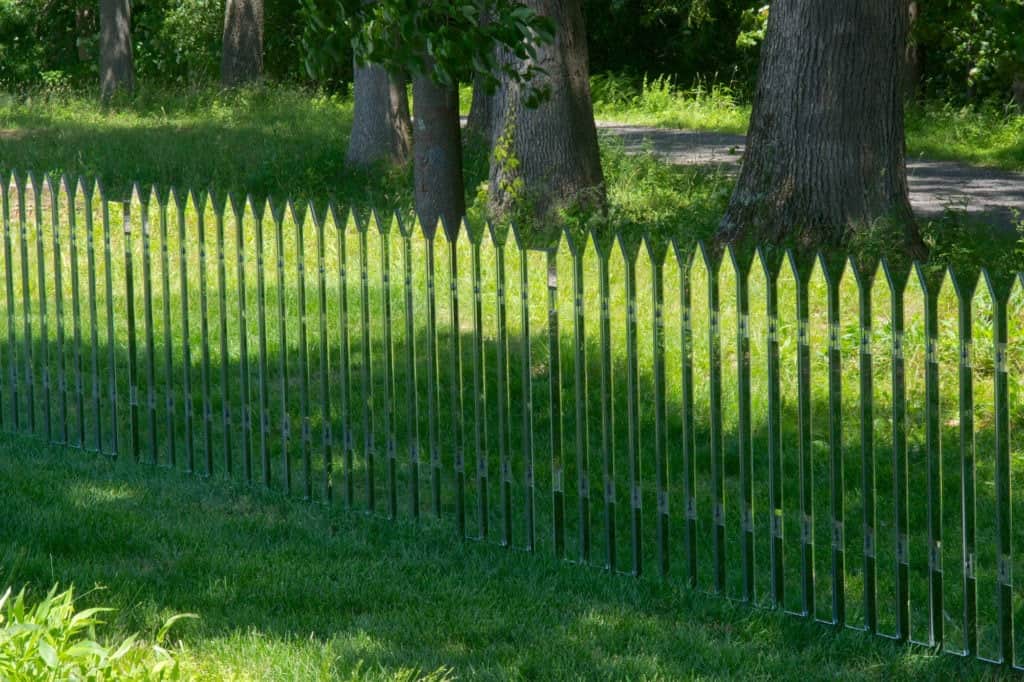 American large-scale sculpture artist Alyson Shotz explores the nature of an ever-changing landscape within her mirrored work Mirror Fence. Installed in upstate New York's famed sculpture park Storm King Arts Center Shotz's hyper-reflective picket fence stands witness to the weather and changing seasons, mirroring its surroundings back and blending into the landscape. Viewed from afar the work is almost entirely camouflaged, appearing in the greens and browns of the nearby trees and grasses, Shotz' work is entirely dependent on its context, relying on the power of nature.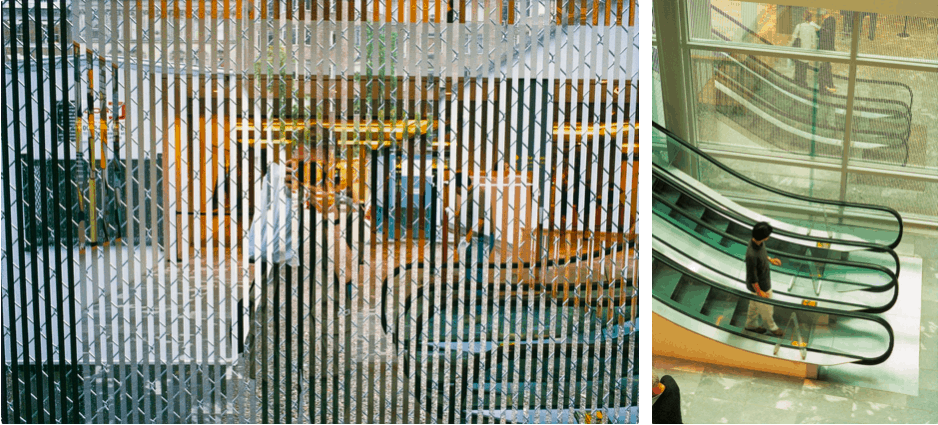 Constantly playing with perceptions versus realities, Icelandic artist Olafur Eliasson tricks the eye, using mirror art to confuse his audiences and create new ways of seeing. Eliasson's 2001 exhibition at the Museum of Modern Art in New York City included the work Seeing Yourself Sensing in which he used fifty glass panels, alternating between mirrored and transparent glass and extending between the ground and second floors, to create an internal and external view for those in the space. Playing with the dualities of looking at and looking through, Eliasson toys with the double perspectives that result from his work — breaking the expectations of his audience as they see themselves both in and outside.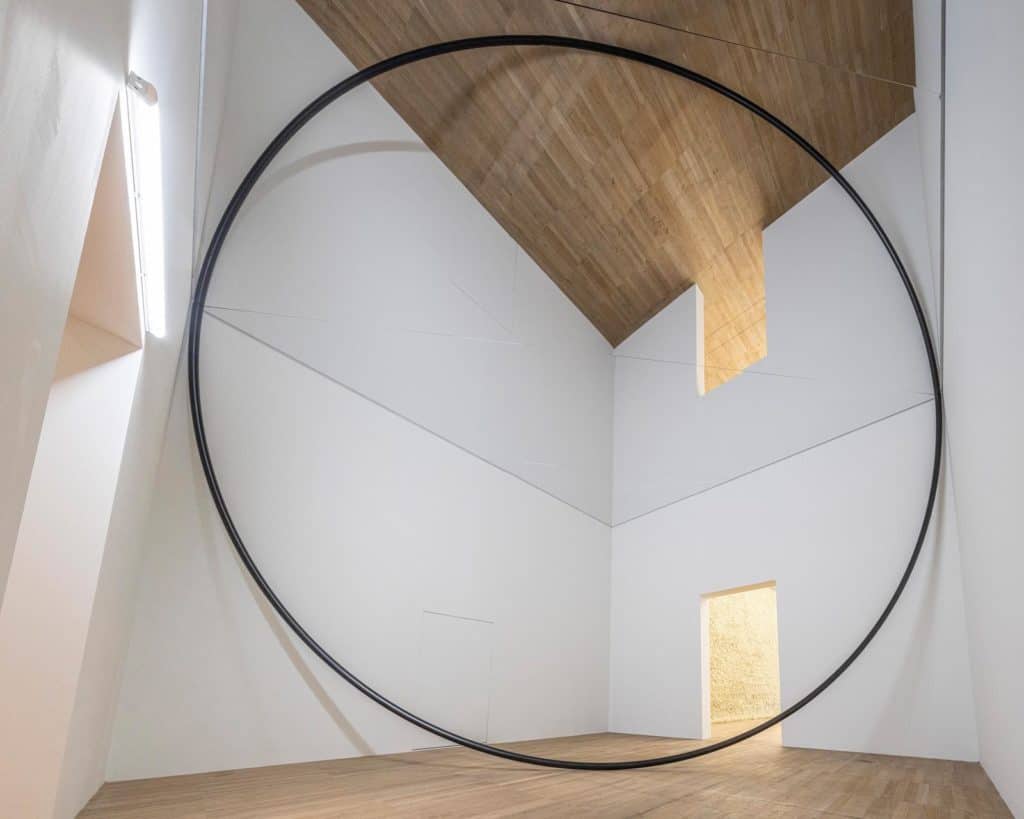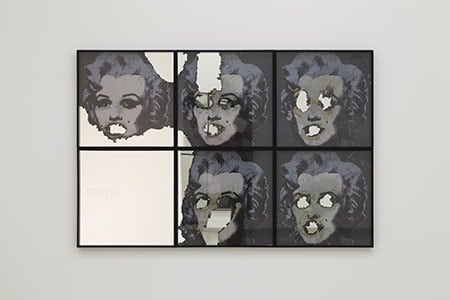 At times disturbing Douglas Gordon's Self Portraits of Me and You series explores the dangers of excessive adoration through the mutilation of the images of 'Bond Girls' — actresses who have played alongside James Bond throughout the last four decades, or other equally iconic female stars. In the same vein as his Blind Stars series, Gordon maims the images of famous figures, removing the eyes from the usually sparkling and beautiful faces — and burning the portraits nearly beyond recognition. Behind the burned and destroyed features of these stars lies a mirrored surface, challenging the viewer to literally look beyond the remains. Destabilising our familiarity with these figures Gordon begs us to question our complicity in this system of celebrity.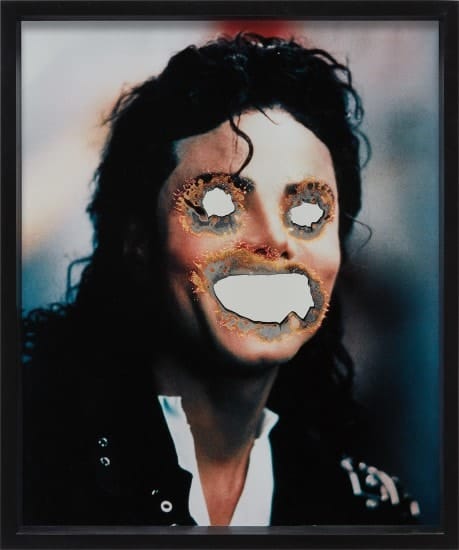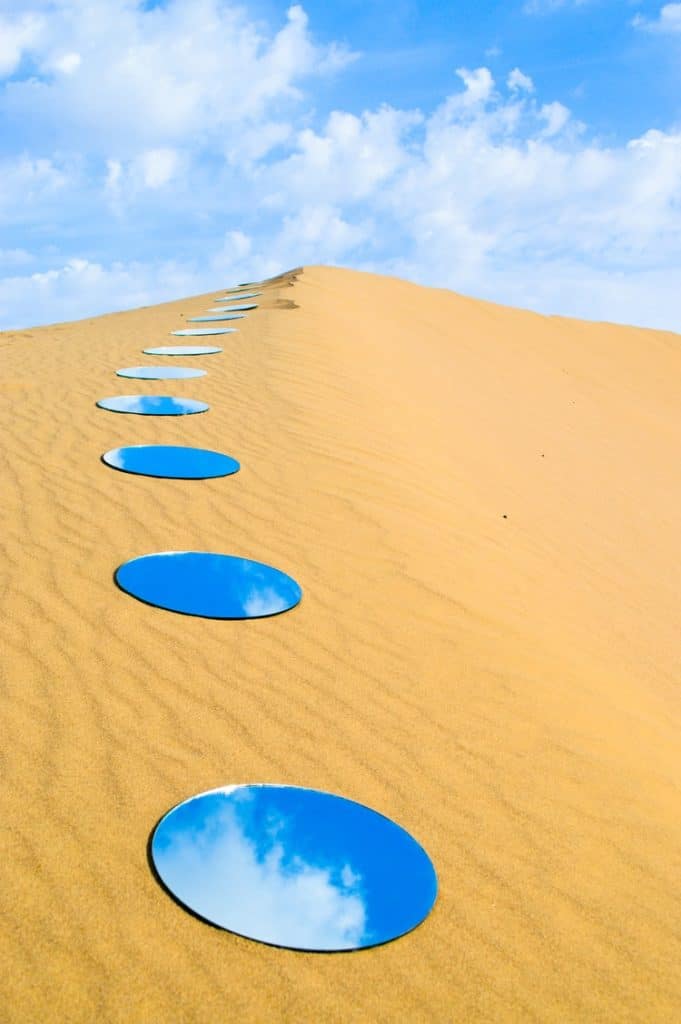 Though initially interested in confronting issues of gender, sexuality, and human compassion; Iranian artist Shirin Abedinirad turned toward exploring nature as a central theme within her artistic output in 2013. Since then she has created land art, installation projects, and public art — often employing the use of mirrors to reflect the natural landscape that lies outside her home city of Tehran. Her motorized Babel Tower as well as her Mirrored Ziggurat stand tall within their surroundings, and can at times disappear into the natural landscape before catching a glint of the setting sun and reflecting it back to her viewers. Recontextualising timeless stories, her Babel Tower is crafted out of modern materials and creates a union between ancient history and our present world — linking the past and present to the future.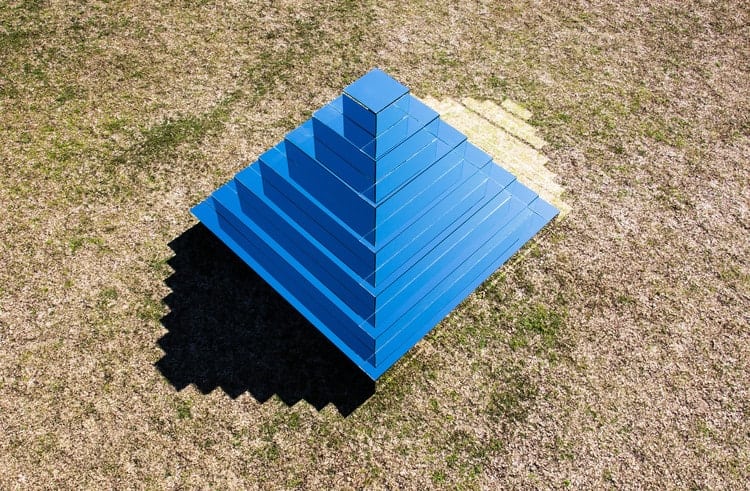 Jeppe Hein's interactive public art piece Mirror Labyrinth, situated at Brooklyn Bridge Park from 2015-2016, helped to build a visual bridge between Manhattan and Brooklyn. As the piece literally reflected the iconic skyline of the small island within its mirrors it simultaneously symbolically referred to the architecture of the adjacent skyscrapers through the sculptural forms of the piece itself. Hein often plays with physical space through his use of mirror art; fragmenting and disorienting his audiences by reflecting them within splitters, rounded balls, or sheets of the mirrored steel bedecked with phrases and thought-provoking sentences. Tricking the eye of the viewer, Hein enjoys creating new spatial perceptions through his distortion of the audience's surroundings.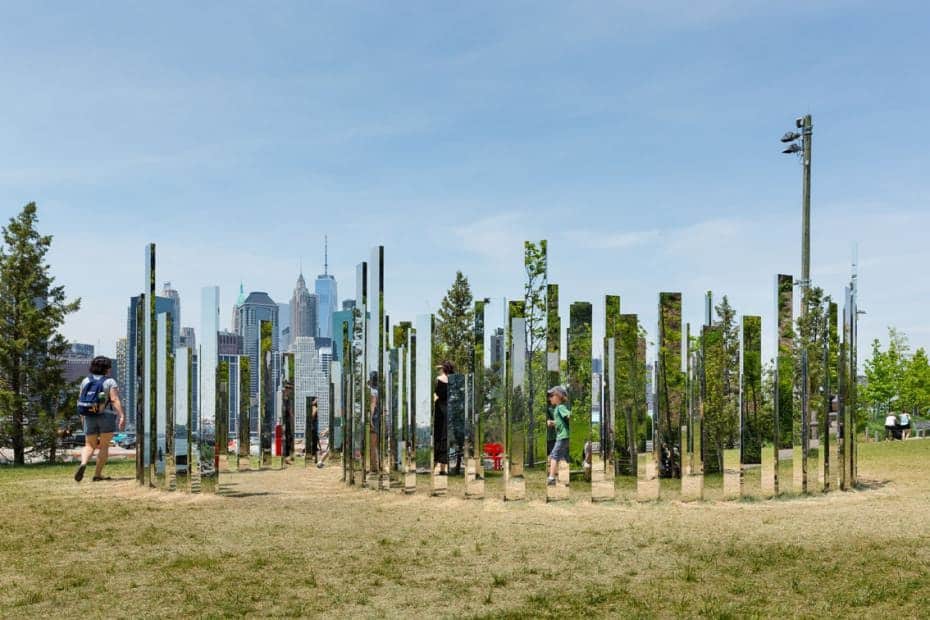 Check out a different way that art can change perception, through protest and activism
Explore the archives of Roy Lichtenstein