Articles and Features
10 Books Illustrated by Great Artists
By Shira Wolfe
Many great visual artists have illustrated books, offering an unforgettable experience for the reader that allows them to explore a story through the eyes of an iconic artist. From fairytales to literary classics, we take a look at 10 books illustrated by great artists.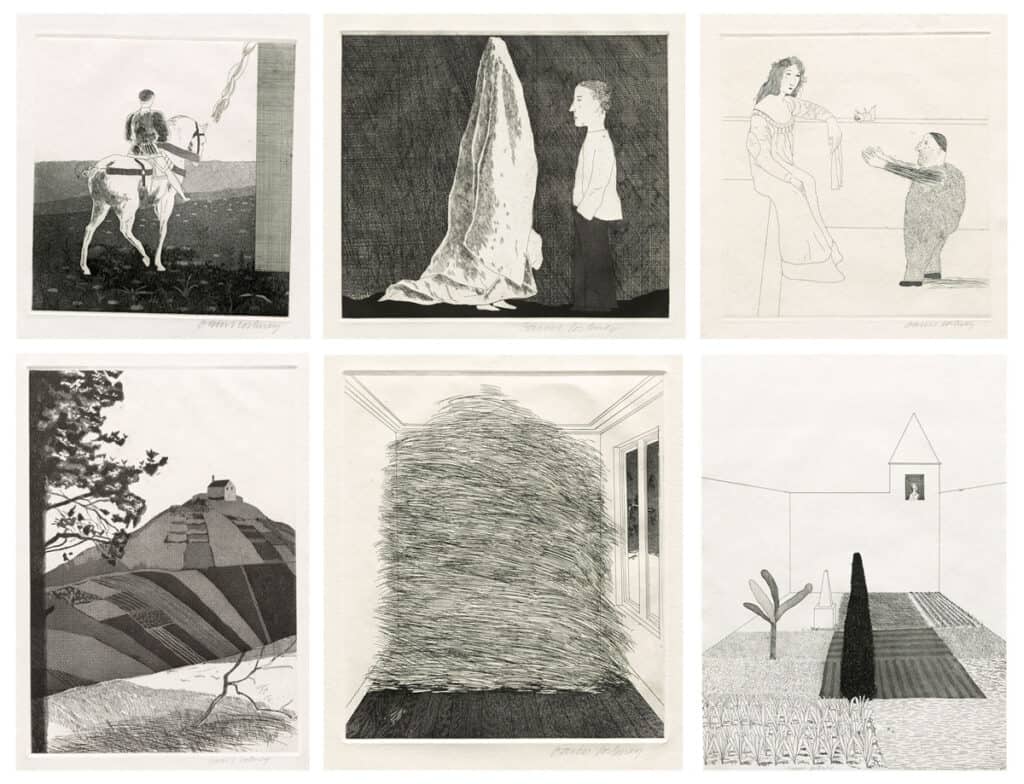 1. David Hockney's Book – Six Fairytales from the Brothers Grimm
In 1969, David Hockney illustrated an edition of Six Fairy Tales from the Brothers Grimm. The book features 45 black-and-white etchings for six fairy tales collected by the Brothers Grimm: The Little Sea Hare, Fundevogel, Rapunzel, The Boy Who Left Home to Learn Fear, Old Rinkrank, and Rumpelstilzchen. Hockney reimagined these classic folk tales for a modern audience by working with a powerful balance of texture, lines and negative space and reminding us that less is more.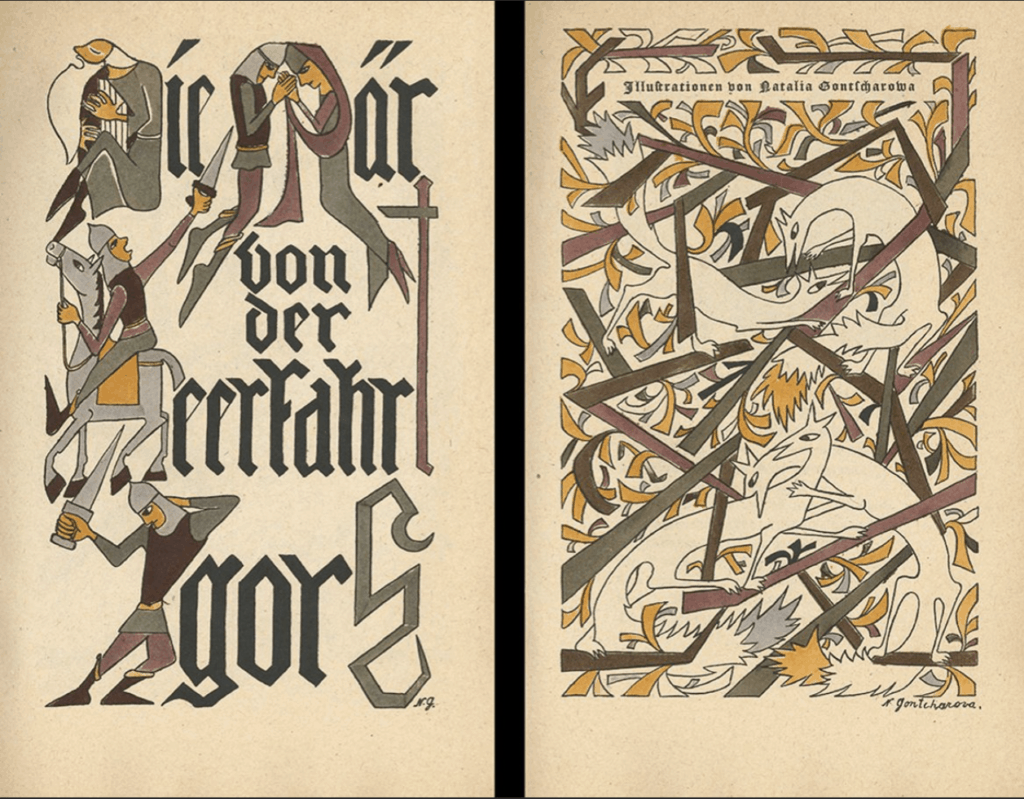 Russian avant-garde artist Natalia Goncharova became known as one of the founders of Rayonism, an artistic style characterised by interacting linear forms derived from rays of light and greatly influenced by Cubism. Goncharova was active across many disciplines, working not only as a painter but also as a costume designer, set designer, writer and illustrator. She was closely associated with the literary avant-garde and illustrated several Russian Futurist and poetry books, including Gorod: Stikhi and Die Mar von der Heerfahrt Igors. The first is an illustrated octavo of poems published in 1920 and containing her lithographs and designs for the cover, and the latter is an artist's book with hand-coloured pochoir prints on ivory wove paper.
3. John Heartfield's Book – Graphic Design for Book Covers
German Dada artist John Heartfield, who called himself "Der Monteurdada" and claimed to have invented photomontage, was a prolific graphic designer as well, whose designs for book covers became iconic in their own right. He revolutionised typography and made it an integral, visual element of the graphic design. Often, customers bought the books simply because they wanted to own a John Heartfield book cover. His collaboration with Kurt Tucholsky on Deutschland, Deutschland, über alles is one of his most famous book designs, and Heartfield's photomontages helped make Tucholsky's satiric book an instant classic.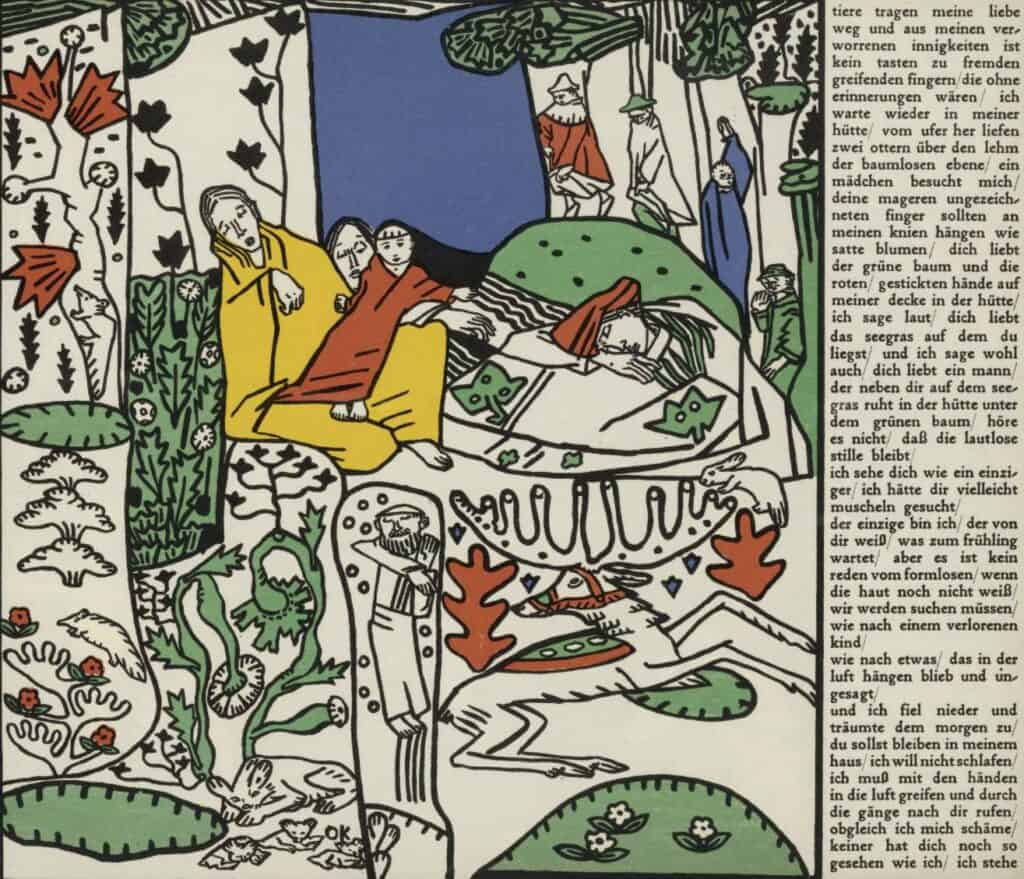 4. Oskar Kokoschka's Book – The Dreaming Boys
In 1907, Fritz Waerndorfer, the financial backer of the Wiener Werkstätte (the leading design workshop in Vienna), commissioned Oskar Kokoschka, at the time still a student at the School of Decorative Arts in Vienna, to create an illustrated fairytale for his children. Instead, Kokoschka chose to write a haunting poem about awakening adolescent sexuality. The story takes place on far-off islands, far removed from the modern city and bourgeois lifestyle. Kokoschka dedicated the volume to Gustav Klimt, who inspired him to use a square format for the images to push the text to the margins. Kokoschka's lithographs contain stylised patterns, typical of the fin-de-siècle decorative approach in Vienna.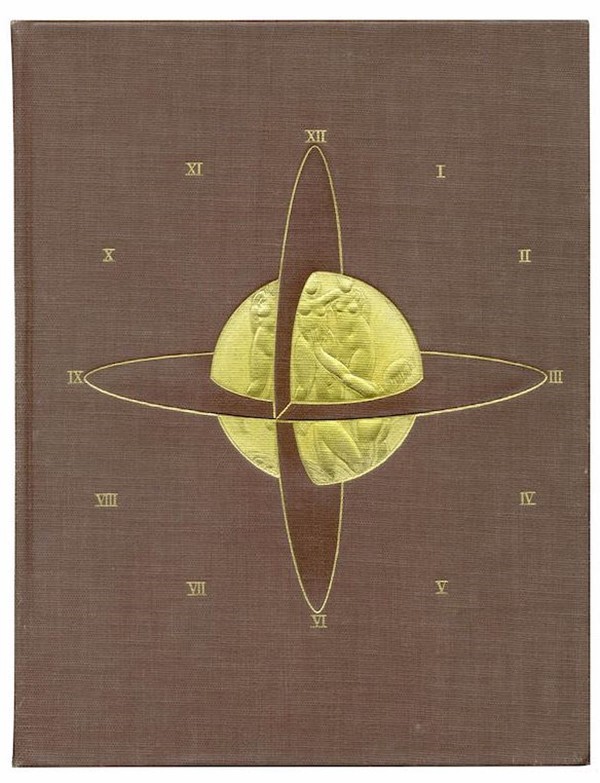 5. Henri Matisse's Book – Ulysses
In the early 1930s, Henri Matisse was commissioned by George Macy, the founder of the Limited Editions Club, to illustrate a special edition of the literary masterpiece Ulysses by James Joyce. The cover of the book shows Matisse's Nausicaa design, with four nudes enclosed in a sphere with Roman numerals, forming a celestial clock and embossed in gold. The illustrations are done in black and white, and show off Matisse's talent when it comes to painting the female nude. The limited edition was published in 1935 and signed by Matisse and James Joyce.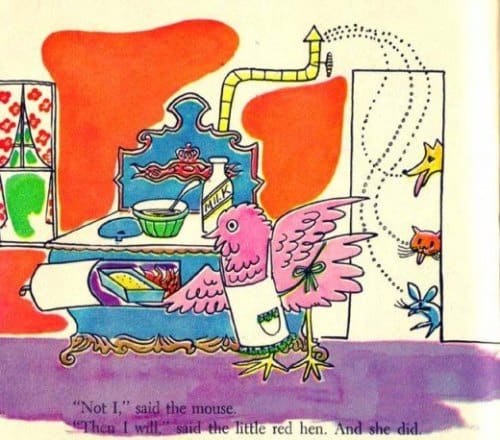 6. Andy Warhol's Book – The Little Red Hen
During the 1950s, legendary Pop Artist Andy Warhol made a living as a freelance graphic designer and artist. One of his gigs at the time was doing the illustrations for the 1958 children's book The Little Red Hen, part of the anthology Best of Children's Books #15. His vibrant technicolour artwork was a real change from the dominant pastel colour schemes of the era, and foreshadows his subsequent career as the king of Pop Art.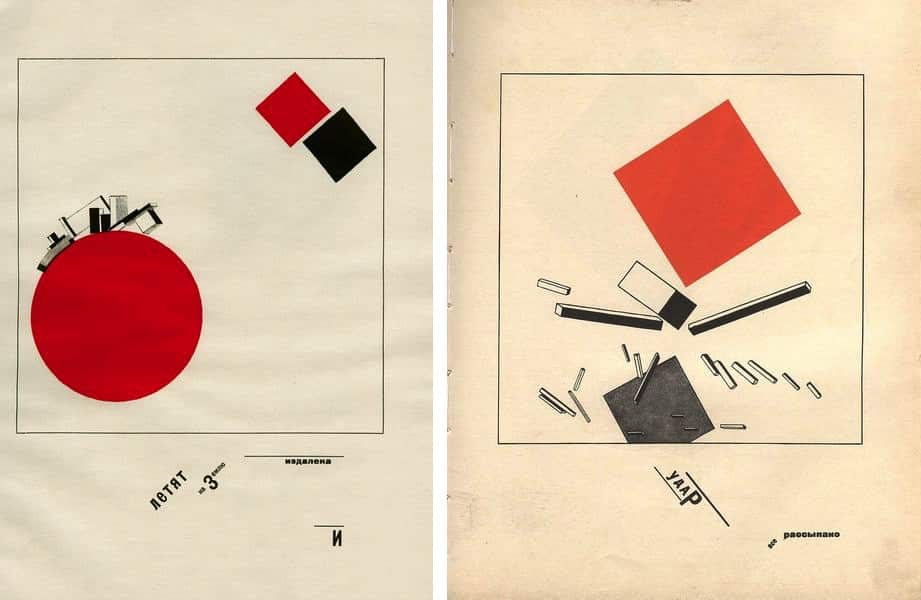 7. El Lissitzky's Book – About Two Squares
First published in 1922 in post-revolutionary Russia, El Lissitzky's short picture book for children About Two Squares, which he wrote and illustrated himself, is a powerful expression of Suprematist avant-garde art. The story is as simple as it is sophisticated and inspiring: it's the story of two squares, one black and one red, which fly to earth from afar and take on the mission of rebuilding the world. The red square symbolises the superiority of the new Soviet order over the old (represented by the black square).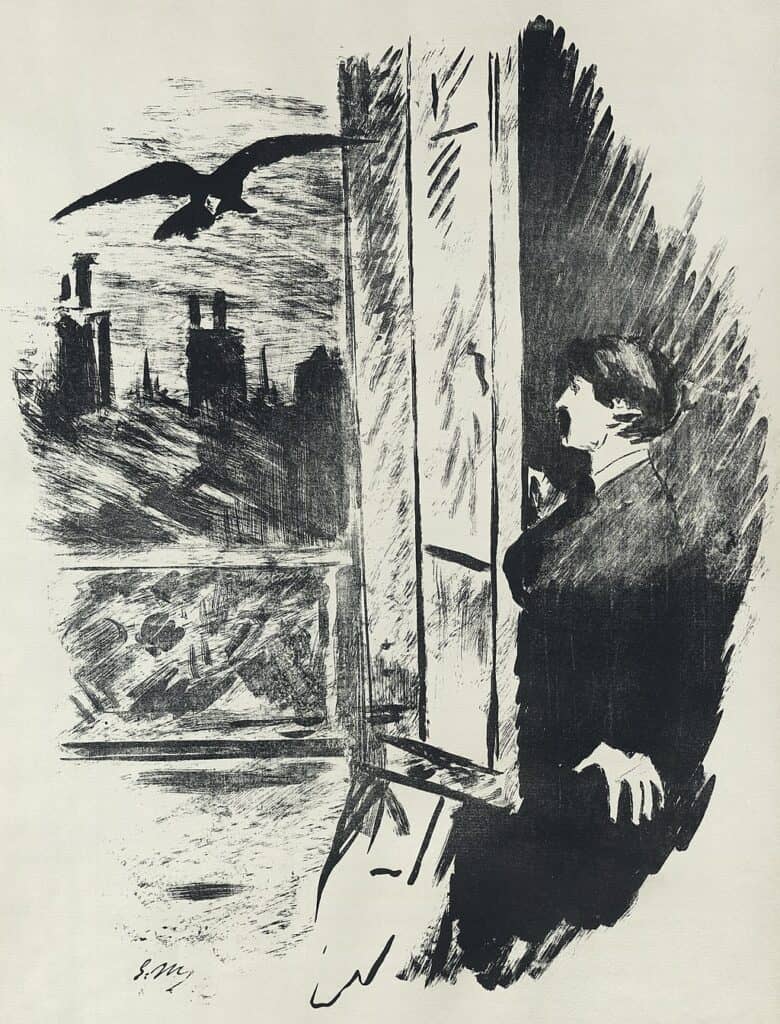 8. Édouard Manet's Book – The Raven
In 1875, the French Impressionist Édouard Manet made a series of lithographs for Stephan Mallarmé's translation of the famous Edgar Allan Poe poem The Raven. The engravings consist of heavy, dark smudges that perfectly accompany the gloomy, dark and mysterious world that Poe conjures in his writing. The volume is generally considered to be one of the first examples of the modern French livre d'artiste.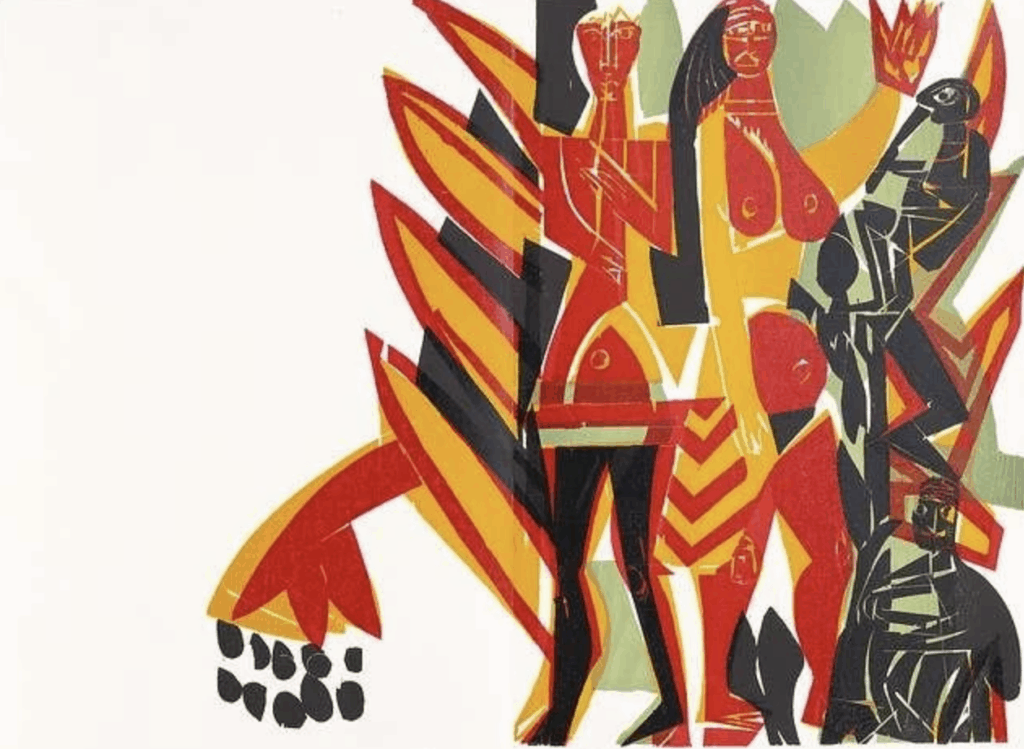 9. HAP Grieshaber's Book – Carmina Burana
German master woodcut artist HAP Grieshaber's signature aesthetic was inspired by Cubist art and rendered with more than three colours in his prints at a time. Grieshaber was well known for his prints inspired by mythology and for illustrating books and poetry collections. In 1975, he created 12 woodcut prints to accompany the musical notations and writings of Carl Orff's famous opera Carmina Burana. The portfolio also contains a poem by Jacques Prévert.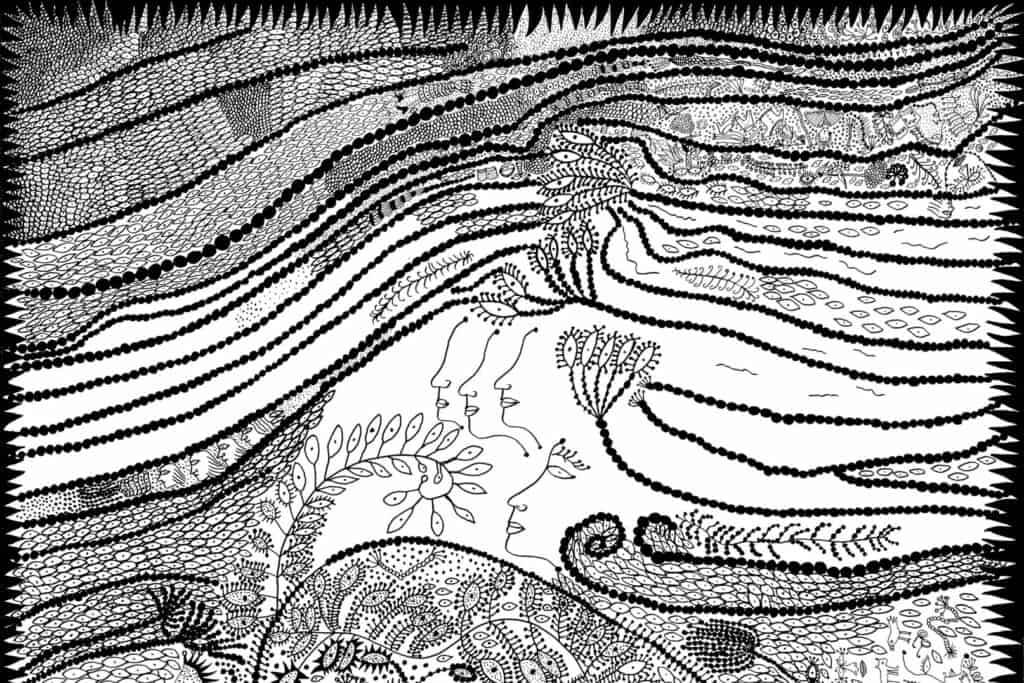 10. Yayoi Kusama's Book – The Little Mermaid
In 2016, the Hans Christian Anderson fairytale The Little Mermaid received a new image by none other than Yayoi Kusama. Kusama used her characteristic repetitive patterns and undulating lines to bring the tragic tale into her visual world. Most remarkable are the countless eyes in her drawings, that could also represent the fish scales of the mermaids. The series of drawings Kusama did for The Little Mermaid originally appeared in her "Love Forever" series (2004-2007).
Relevant sources to learn more
Read more about the artistic practice of the artists mentioned in this article in our previous articles:
Lost (and Found) Artist Series: Natalia Goncharova
Female Iconoclasts: Yayoi Kusama
Andy Warhol Portraits: A Definitive Guide
Stories of Iconic Artworks: Andy Warhol's Oxidation Paintings
Wondering where to start?