Articles and Features
9 Famous Artists Who Destroyed Their Own Work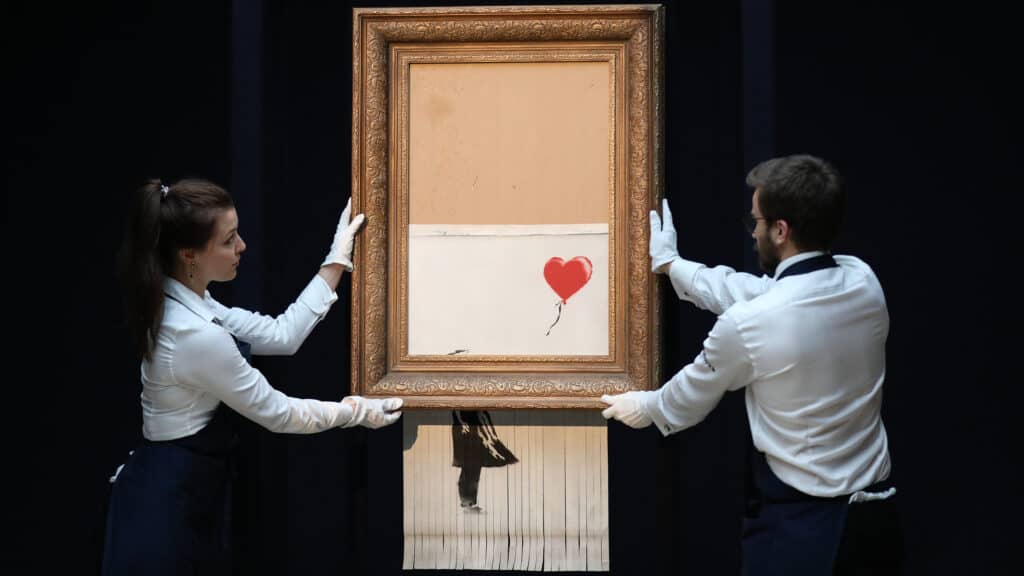 By Tori Campbell
Artists Who Destroyed Their Own Work
Artists have destroyed their work in every decade, every country, and every culture. Whether the impetus to destroy comes from creative expression, a need to erase past works, mental anguish, or all of the above, artists take ownership over their artwork both by creating it and taking it away. From Michaelangelo to Georgia O'Keeffe, learn more about the artists who destroyed their own work, and understand why the controversial street and political artist Banksy once stated, "the urge to destroy is also a creative urge".
Michelangelo
Possibly the earliest known instance of an artist destroying their own work is when, in the 16th century, Michelangelo took a hammer to Christ's left leg and arm in his marble Pietà, severing the limbs dramatically from the rest of the sculpture and leaving the artwork tattered in pieces. Reasons are still unknown to us, though historians have multiple speculations: from a fear of being exposed as a Protestant sympathizer during the Roman Inquisition, to a fit of anger over the quality of the marble; the Pietà would become a lasting example of the numerous works artists destroyed in their own name.
Claude Monet
Claude Monet famously disposed of a number of his paintings in the final years of his career. In 1908, upset with a series of waterlily paintings, he was composing for an upcoming exhibition, he took a knife to at least fifteen of these works, delaying his Paris exhibition. Not the only time he set to destroy his own works, after his cataract surgery Monet disposed of or repainted many of the works he created when he was visually impaired. Often thought of to be on a 'quest for perfection' Monet's friend and former French Prime Minister Georges Clémenceau explained in 1927: "Monet would attack his canvases when he was angry. And his anger was born of a dissatisfaction with his work…"
Jasper Johns
In 1954, when Jasper Johns was a young 24 years old, he set to destroy all of his work. He explained later in reflection on this act that he realised that he had "to stop becoming and to be an artist… I had a wish to determine what I was… what I wanted to do was find out what I did that other people didn't, what I was that other people weren't." Becoming one of the many artists that destroyed their own work set Johns on a new path, and refocused his inspiration. Shortly thereafter, he dreamed of painting an American flag, and his most famous work Flag was realised that same year.
John Baldessari
Godfather of conceptual art, John Baldessari made a bold statement in 1970. He decided to destroy all of the paintings he had made between May 1953 and March 1966, doing so through the act of cremation. This act thereby created one of the pieces of conceptual art he is best known for: The Cremation Project. After folding some of these ashes into cookie dough, he displayed the baked goods at New York's Museum of Modern Art's seminal survey of conceptual art, Information. The rest laid within a bronze urn in the shape of a book and was placed upon his bookshelf. The Cremation Project was the death of one movement, and the birth of a new phase of artistic production, which he vowed with his subsequent work aptly entitled I Will Not Make Any More Boring Art.
Agnes Martin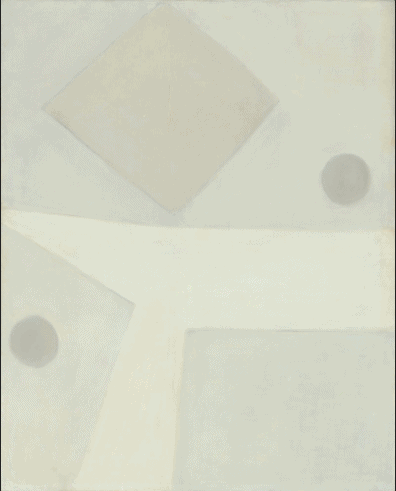 Canadian-born abstract expressionist painter Agnes Martin famously destroyed all of her early paintings, erasing her earliest styles from her artistic oeuvre. Numerous theories exist as to why the artist destroyed her own paintings: from a fastidiousness to control her own image as an artist, to a decline in mental health due to rapidly worsening schizophrenia diagnoses, Martin's early landscape paintings have all but disappeared from the art world; leaving only her meticulous minimalist masterworks behind.
Georgia O'Keeffe
Always attempting to own and master her own image, Georgia O'Keeffe famously purchased back and destroyed several paintings toward the end of her life in the 1980s. In addition to removing several artworks, she also destroyed some of her former husband, Alfred Stieglitz's photographs, in an effort to gain control of public perception and in anticipation of her death. One early piece, Red and Green II, that she documented as 'destroyed' in her personal notebooks, resurfaced at a Christie's sale in November 2015 – proving that no matter the intention of the artist, their control of their work only extends so far.
Francis Bacon
After his death in 1992, Francis Bacon's cluttered studio in South Kensington was skillfully excavated, and nearly one hundred destroyed canvases were found. Known for his violent, masochistic, and torturous creative process it is perhaps no surprise that Bacon routinely destroyed works that he was not pleased with. Gorilla with Microphone, a work that had originally seen the light of day, was found in his studio with two large cut-outs – removing his central figure and negating his artistic efforts with a destructive slashing of his knife.
Louise Bourgeois
Like Francis Bacon, Louise Bourgeois left a chaotic scene in her studio after her death. Her New York City townhouse, the site of her home and artistic practice, was filled to the brim with projects in every state of completion and destruction. Known for her erratic outbursts of creativity and anxiety, she had been known to casually push small sculptures off the end of her kitchen table if they did not suit her liking. Her close friend and assistant Jerry Gorovy explained, "if she worked, she was OK. If she didn't, she became anxious… and when she was anxious she would attack. She would smash things, destroy her work."
Banksy
Perhaps the most well-known example of art destroyed by the artist is Banksy's 2018 self-shredding artwork. When his Girl with Balloon sold for over £1 million at an auction at Sotheby's in London, the work began to self-destruct, catching onlookers and bidders by surprise. Embedded within the work's thick frame was an automatic shredding device, that actually malfunctioned and only caused half of the work to be destroyed. Regardless of whatever statement Banksy was attempting to make about consumerism and value in the art world, the value of the work skyrocketed after its destruction and birthed a new work entitled Love is in the Bin.
Relevant sources to learn more
Learn more about artists and authors who have destroyed their work with the NYTimes
Read John Baldessari's biography and understand his role in the establishment of conceptual art
Want to learn more about why artists like Agnes Martin destroyed their own work? Check out this article by author Olivia Laing