Articles and Features
Drawings Expanding into Space. The Sculpture of Jean Dubuffet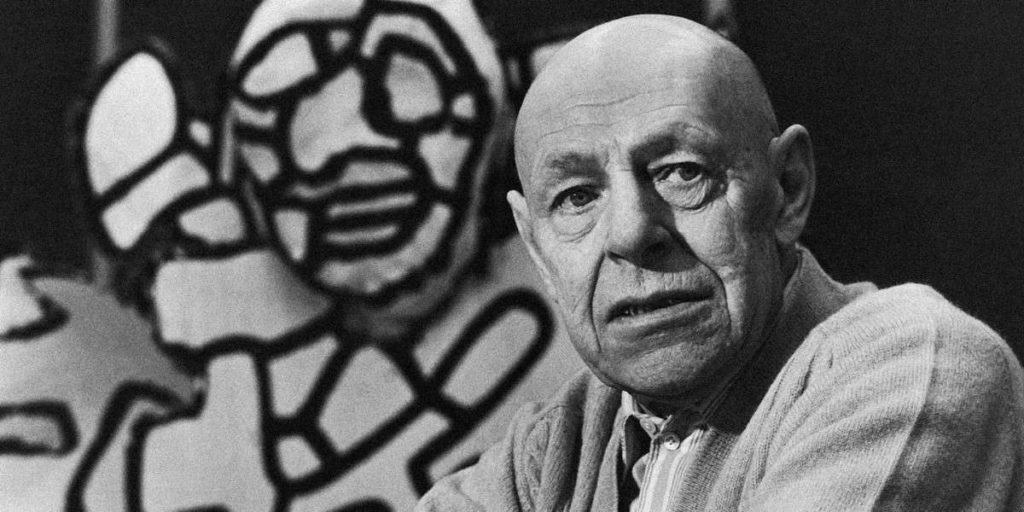 By Shira Wolfe
"Questioning realities – that one had believed to be reality – is something invigorating."


Jean Dubuffet
Boundary-breaking sculptors are those, who in his or her own way pushed the medium of sculpture forwards into new, unique territories. The French artist Jean Dubuffet (1901-1985) is known for bringing the term "Art Brut" to the foreground, which connotes art made without the influence of the established academic tradition of fine art, by people like the mentally ill, prisoners, children, and autodidacts. Dubuffet, and other 20th century artists, were inspired by the untainted creativity and non-conformism of this art and aspired towards this type of creation themselves. In the '50s and '60s, he was principally known as a painter, draughtsman and printmaker. In the last phase of his life, Dubuffet began to create sculptures that he considered as drawings expanding into space.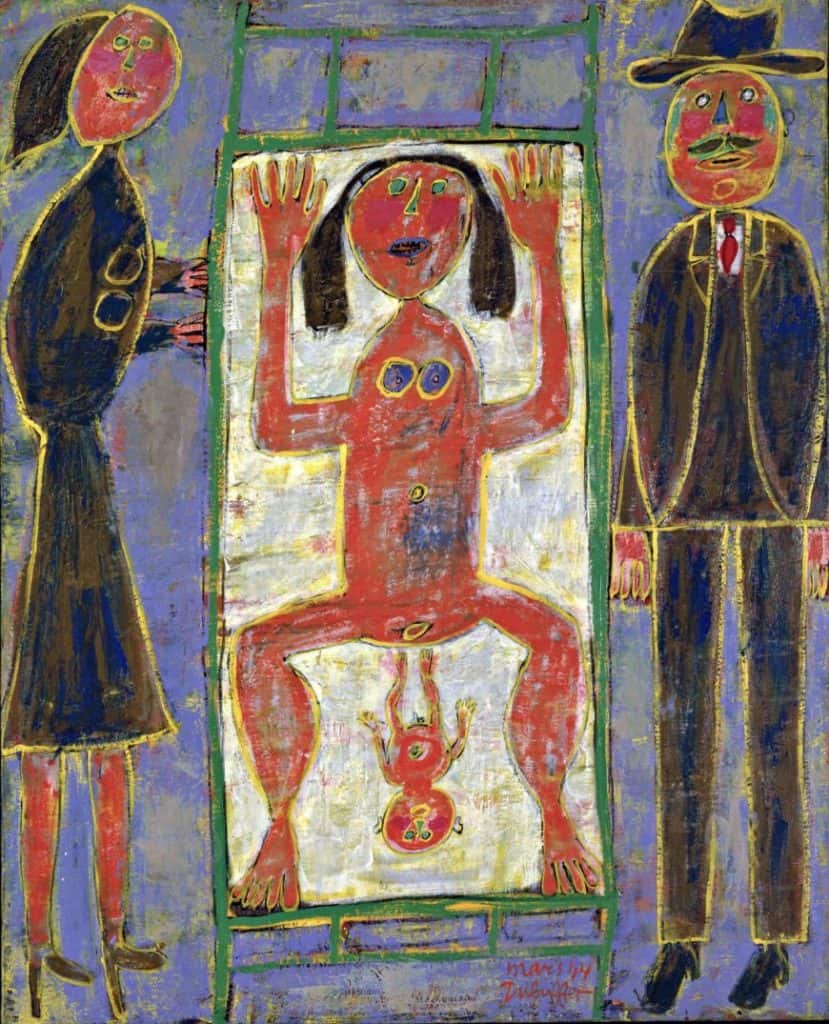 Jean Dubuffet's Art Journey
Jean Dubuffet was only 17 years old when he moved to Paris from Havre in 1918 to devote himself to painting. He was 24 when he stopped painting because of his doubts regarding the value of culture. This period would last 8 years. After working in the family business, he took up painting again in the 1930s and in 1942, he made the decision to devote himself fully to painting. From the 1940s onwards, Dubuffet was particularly preoccupied with several questions, namely:
"How can you capture thoughts that shoot off in all directions, in a painting?" and "How can you represent a world that is beyond objective reality in a work of art?"
With Dubuffet's seminal paintings, he wished to break from tradition. Using rough mark making and emulsions made from sand, tar, and trash, he sought to create direct projections of what happens in the depth of a person's being, as well as immediate reflections on the world. Eventually, he developed a style that eliminated human presence more and more, saying: "In all my works, there are two different winds that blow, one carrying me to exaggerate the marks of intervention, and the other, the opposite, which leads me to eliminate all human presence… and to drink from the source of this absence."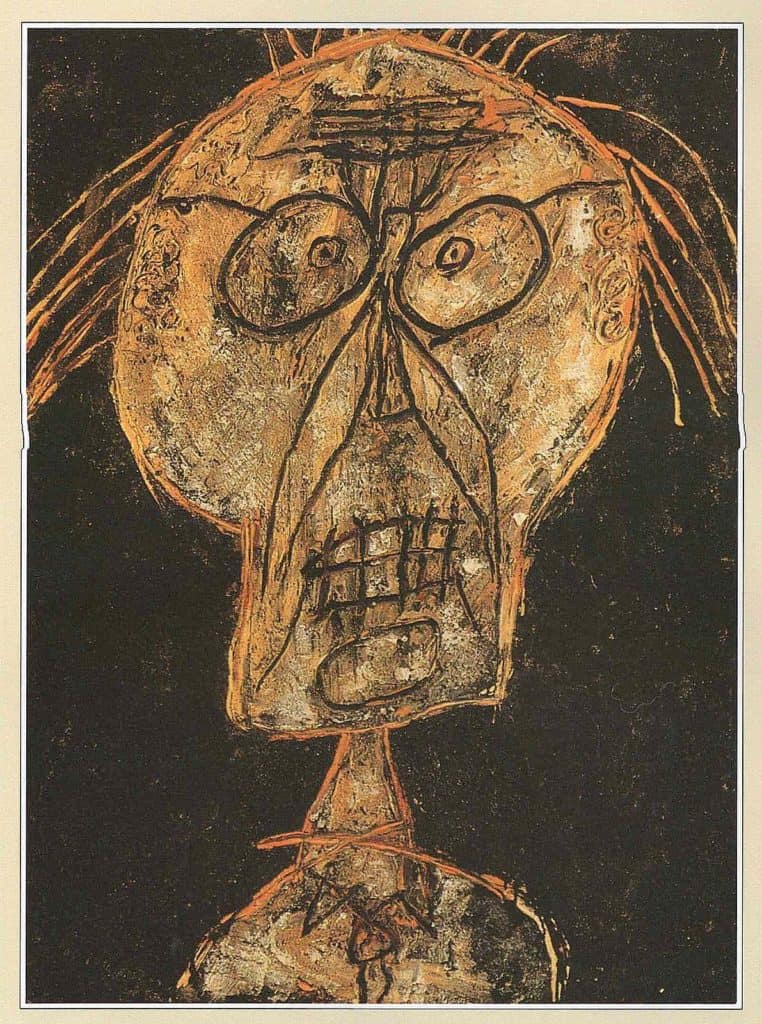 Jean Dubuffet and Art Brut
In 1945, Dubuffet travelled to Switzerland to research marginal artwork such as works by psychiatric patients and prisoners. Dubuffet coined the term "Art Brut" to describe this type of art, art that was executed by people free from artistic culture and intellectualism, which comes straight from the heart instead of drawing from art history. He explained: "It is my belief that only in this Art Brut can we find the natural and normal processes of artistic creation in their pure and elementary state." Dubuffet began collecting this art and integrating this type of artistic expression into his own art production. Dubuffet founded the Compagnie de l'Art Brut in 1948, together with André Breton, Jean Paulhan, Charles Ratton, Henri-Pierre Roché, Michel Tapié and Edmond Bomsel. The group organised exhibitions of the collection of Art Brut artworks and continued to expand and care for the collection.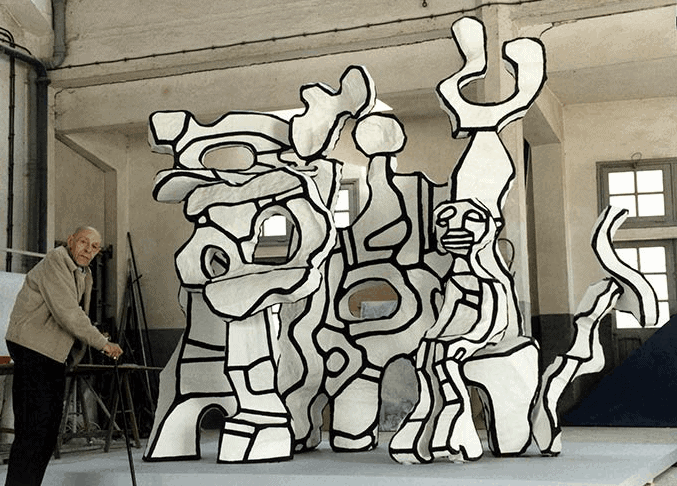 "I want to give monumental dimensions to these unrestricted graphics, these graphics that escape from the paper's surface which usually serves as a support."


Jean Dubuffet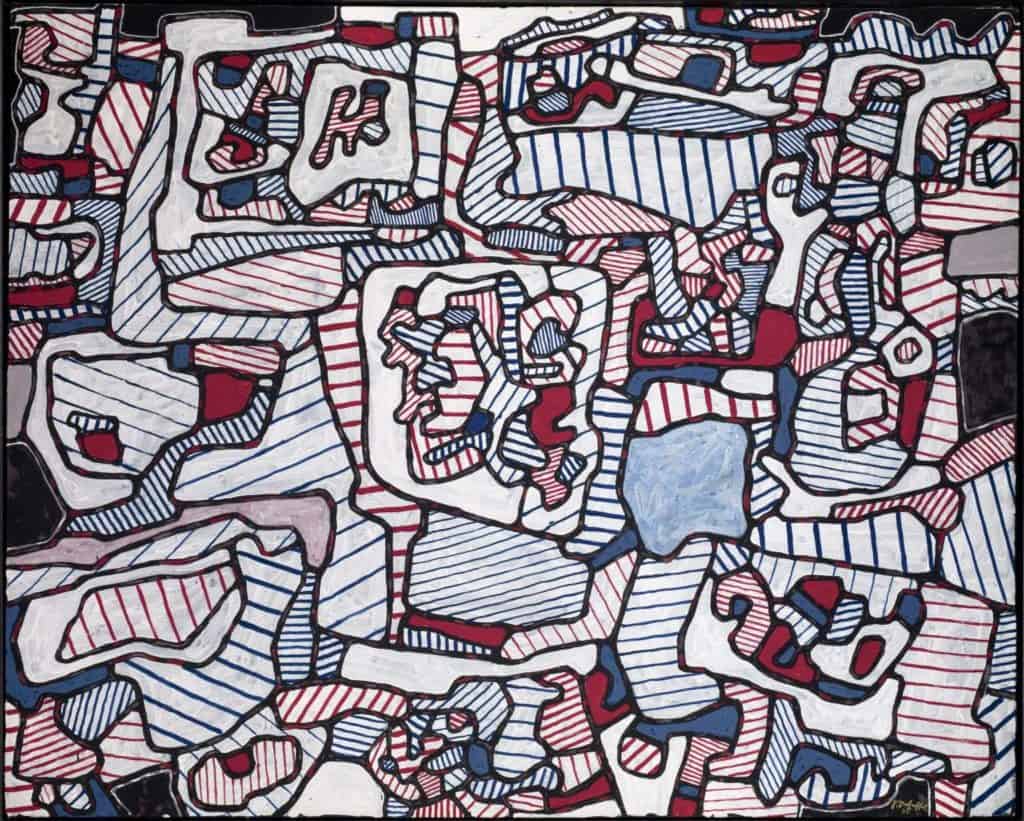 The Hourloupe Cycle and a Move Towards Sculpture
In the 1960's, Dubuffet began to produce works that were more graphical in nature than before. He was more and more inclined to replace human and animal figures with complex scenes made from contour lines around cells in bright colours. Working in this "irrational world", Dubuffet reduced figures, landscapes and objects to black lines set against a white background with accents of colour. His Hourloupe cycle, which he began in 1962 and finished in 1974, can be seen as the starting point for Dubuffet's work in sculpture. The works came from his need to capture the illusory nature of the world that is believed to be the "real world". With his constantly ambiguous references, he created an infinity of options with which to interpret the world.
Initially, the Hourloupe cycle began with drawings and paintings. Dubuffet then began to feel the need to add reliefs to the paintings to give them more life. The next step was the desire to augment the presence and action of the paintings. He started to abandon flat panels and to use materials freely opened into space, creating complete sculptures. Finally, Dubuffet wished to actually be able to enter into the images, to live them, which led to a kind of monumental sculptural work creating an imaginary architecture.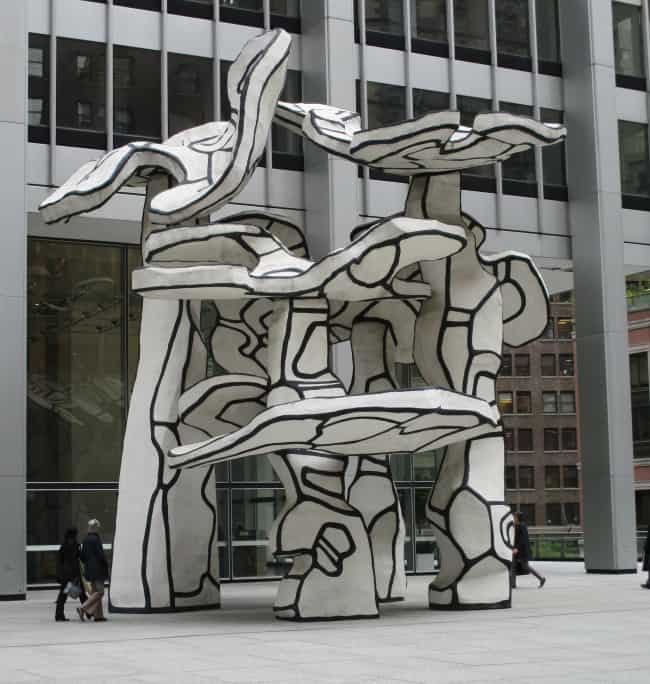 Jean Dubuffet's Monumental Sculptures
For his sculptural pieces, Dubuffet would sculpt from blocks of polystyrene with a hot wire, which was light and easy to manipulate, therefore allowing him a great deal of freedom to develop. Afterwards, he would transfer the forms from polystyrene to the less fragile polyester resin or epoxy resin. Dubuffet's first commission for a large-scale site-specific sculpture came from David Rockefeller in 1969, who commissioned Dubuffet to create a sculpture for the Chase Manhattan Bank in New York. The monumental sculptural group, Groupe de Quatre Arbres, was unveiled in 1972. The large white forms with black outlines, characteristically Dubuffet, allow for real public interaction as people can walk around, through and underneath them. One of the peaks of this aspect of Dubuffet's artistic production is Jardin d'émail (1974), the artificial walled "garden" which Dubuffet designed especially for the Kröller-Müller Museum's sculpture garden in The Netherlands. This is a work of art that people are allowed to touch, and are invited to walk and play on, creating a truly open and interactive work of art.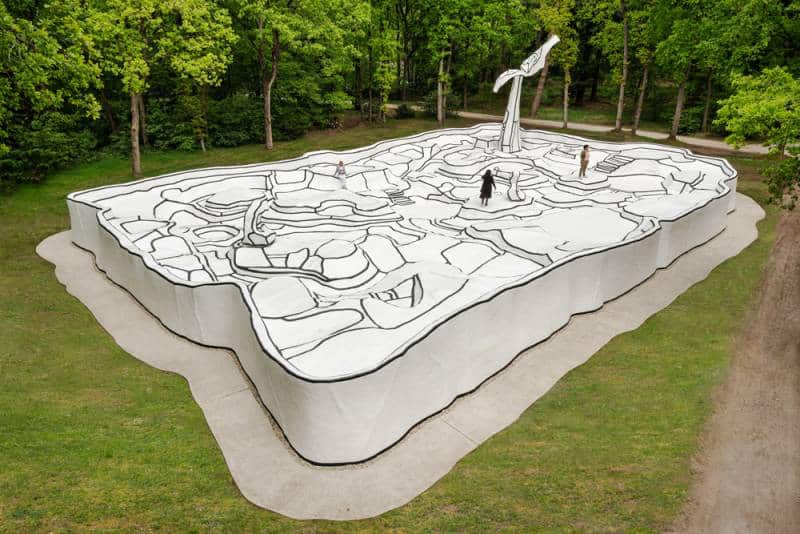 Dubuffet passed away in 1985, but not before approving one more large-scale sculptural work commissioned by the French state. Tour aux figures, which measures 24 metres in height, was realised in 1988, after a model by Dubuffet from 1967. This exceptional tower coloured with Dubuffet's red, blue, black and white forms, can actually be entered and explored from the inside, as a kind of ascending labyrinth.
With these large, site-specific sculptural undertakings, Dubuffet finally fulfilled his wish for himself and others to be able to "enter into" and live his images.
Relevant sources to learn more
Discover & Buy Sculptures for Sale