Articles & Features
The Fibers and Fabrics of Textile Art: How Classic Craft Found Its Way Into Fine Art Practices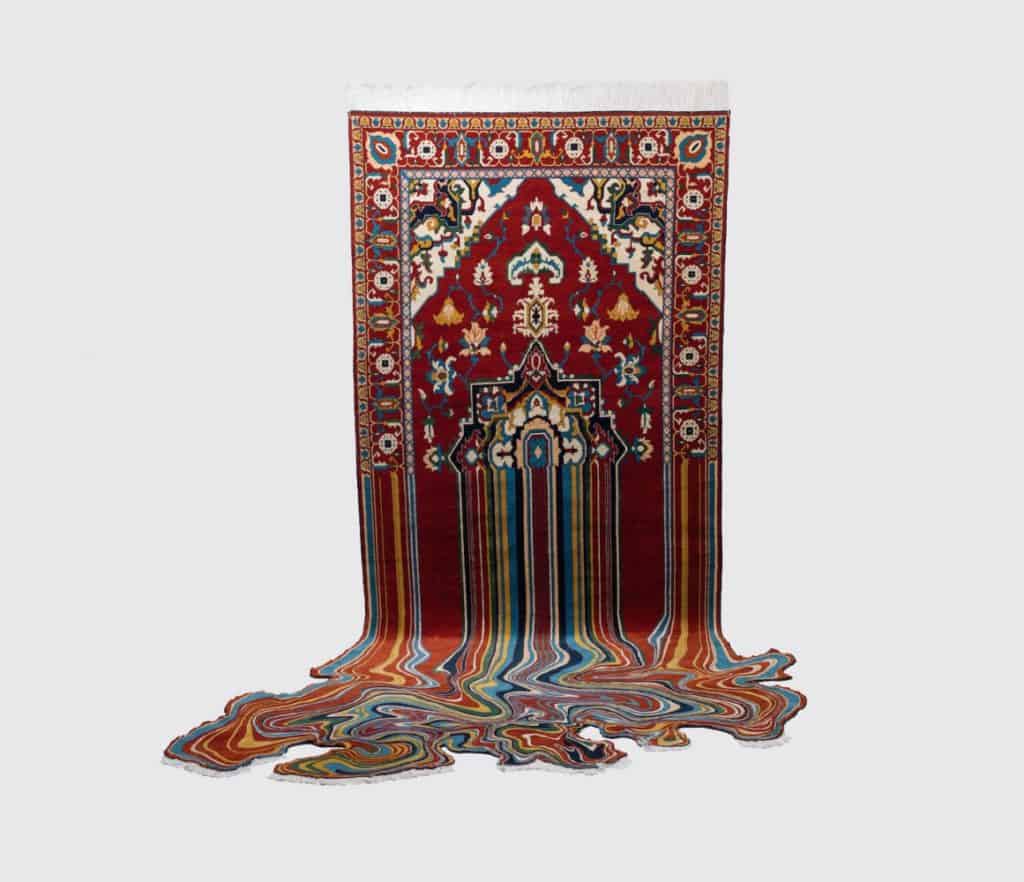 By Tori Campbell
It is no surprise that evidence of textiles can be found dating back to the prehistoric age — of course, textiles have been created for millennia, as a way of protecting oneself from the elements. With time, humans began to create works of art with these natural fibers like silk, cotton, and wool; while making statements about our roles within society. Today, textile art which can also be known by the terms fiber art or fabric art, is much more than the medieval tapestries you may immediately associate with the medium — but can take myriad forms. Explore the diverse nature of textile art through the works of ten artists from around the world.
Sheila Hicks
Focused on the holistic practice of living a life centred around artistic creation, Sheila Hicks is deeply devoted to her work. Incorporating innovative weaving techniques with sculptural effects, Hicks' art utilises bold colours and natural materials to explore personal narratives. With a wide range in size, from the tiny works she calls her 'minimes' to massive installation pieces, she adds artefacts from the world around her: shirt collars, razorshell clams, rubberbands, noodles. Her pieces are built upon her foundation as a painter and it is clear that she employs the lessons she learned about colour in this discipline within her textile art.
Faith Ringgold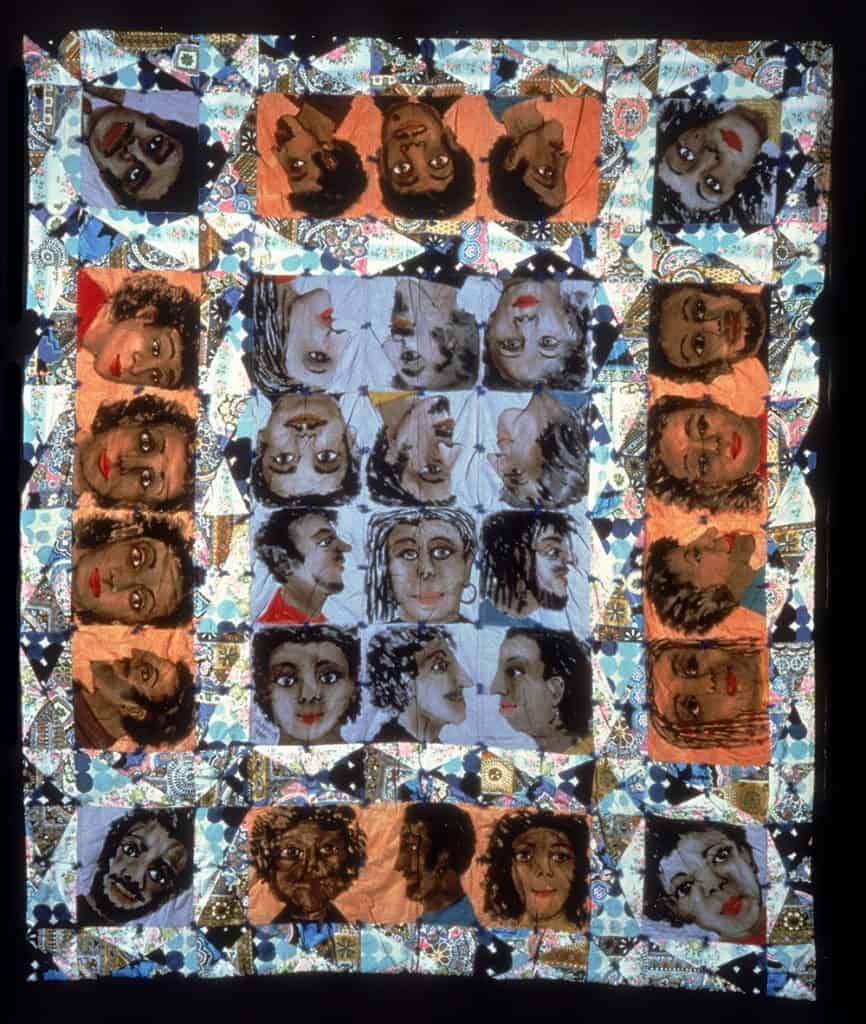 "In 1983, I began writing stories on my quilts as an alternative. That way, when my quilts were hung up to look at, or photographed for a book, people could still read my stories."

Faith Ringgold
Though she is best known for her narrative quilts, Faith Ringgold is a multimedia artist — versed in painting, writing, sculpting, and performance art. Surrounded by the aftermath of the Harlem Renaissance, Ringgold was steeped in the arts from a young age, exploring visual arts with the help of her mother. After receiving her degree in arts education (New York City College did not allow women to major in art) she explored painting for decades before she discovered the potential of quilting as a medium. In collaboration with her mother, Willi Ringgold, a skilled seamstress and tailor; she set out on creating storytelling quilts, resulting in the 1980 Echoes of Harlem. Ringgold continued to create what she called 'quilt paintings' full of the stories of her life and thoughts, as no one at the time desired to publish her autobiography.
Alighiero e Boetti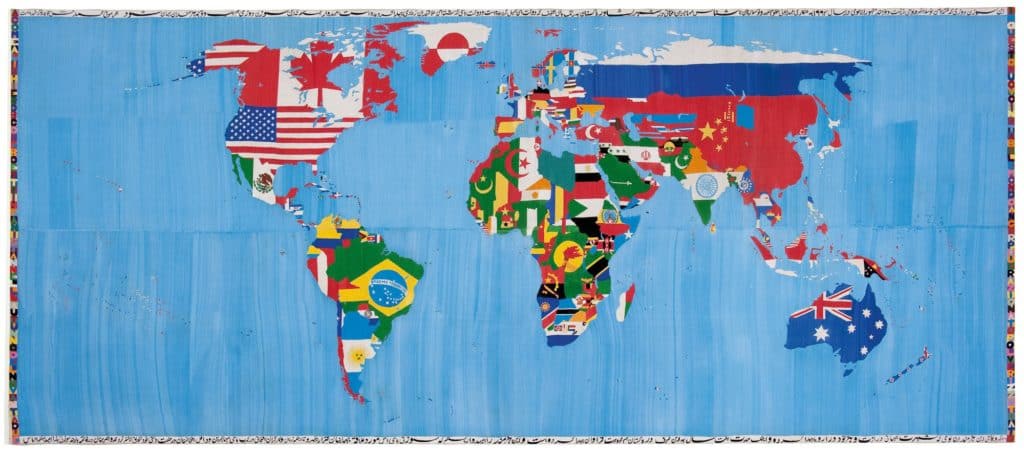 "For me the work of the embroidered Mappa is the maximum of beauty. For that work I did nothing, chose nothing, in the sense that: the world is made as it is, not as I designed it, the flags are those that exist, and I did not design them; in short I did absolutely nothing; when the basic idea, the concept, emerges everything else requires no choosing."

Alighiero e Boetti, 1974
Best known for his Mappa series of large embroidered maps of the world, eccentric textile artist Alighiero e Boetti's work was deeply entwined with the geopolitical landscape of his time. After the Six-Day War in June 1967 Boetti took an interest in maps depicting war zones — and he asked his wife to embroider the outlines from the June 1967 map. This idea took on greater traction after visiting Afghanistan in 1971, after which he created a series of world maps entitled Territori Occupati. For the next decade he set up an artistic commune in Kabul, the One Hotel, where he collaborated with women from a local embroidery school on over 150 map works. From 1971 to his death in 1994 Boetti partnered with over 500 artisans from Afghanistan and Pakistan to explore the ever-evolving relationships between power and how it was vested in land and its borders.
Rosemarie Trockel
German conceptual artist Rosemarie Trockel has worked in many mediums throughout her artistic career: drawing, sculpture, video, installation, and of course, textiles. In 1985 Trockel began to experiment with industrial knitting machines, making large scale 'paintings' produced on these monstrous looms. Featuring geometric motifs interspersed with well known iconography like a skull, Playboy Bunny, or the hammer and sickle; she has never shied away from controversy. In fact, Trockel is known for her objections to how women are treated in the industry, and has boldly condemned the work of other artists and art movements.
Albert Oehlen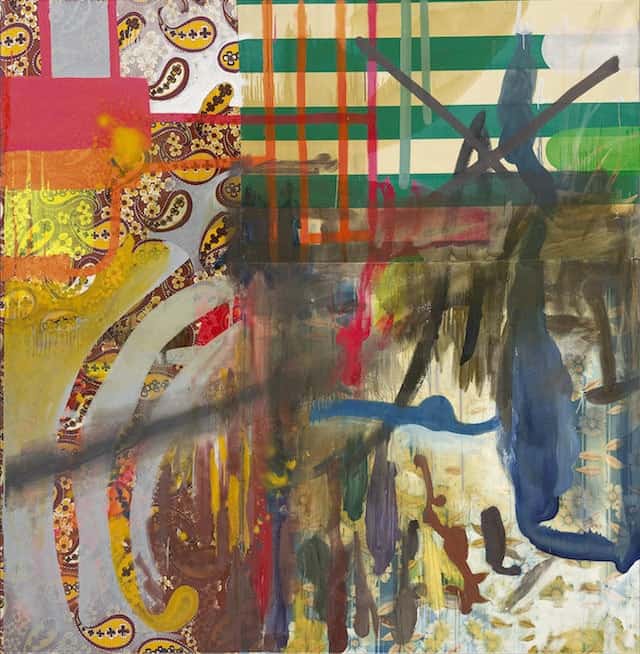 "Nothing is codified — a mess is just a mess. I want an art where you see how it's made, not what the artist intended, or what the work means, but what has been made, the traces of production."

Albert Oehlen in an interview with Diedrich Diedrichsen
Between 1992 and 1996 German contemporary artist Albert Oehlen crafted his series of fabric paintings. Full of vibrant colours and strong brushstrokes, the works are considered fabric paintings as they are completed on a canvas of patterned fabric. This foundation of a printed pattern provides a key compositional counterpoint to Oehlen's more traditional gestural brushwork, but also adds a level of chaos and busy-ness to the works. Though many have asserted deeper meanings to this series Oehlen has been steadfast in asserting that with these works, what you see is what you get — fabric and paint.
Abdoulaye Konaté
By combining his education in painting with installation work, Malian artist Abdoulaye Konaté utilises textile art to explore socio-political and environmental issues central to his home country. Using woven and dyed cloth native to Mali, Konaté ruminates on how his local community has come to terms with, and struggled against, issues including governmental upheaval, religion, globalisation, and ecological change. One theme central to his work is the impact of the AIDS epidemic in Mali, and how both society and individuals may encounter this crisis differently. By incorporating and referencing West African traditions of employing textiles as a medium for communication and commemoration he toes a balance between localism and globalism.
Nick Cave
Dancer, performance artist, sculptor, and textile artist Nick Cave often incorporates all of his artistic mediums into singular performances full of visual stimulus and sound. He is best known for his Soundsuits which came to fruition in 1992 as a reaction to the beating of Rodney King by Los Angeles police officers. Since then, he has made innumerable Soundsuits out of many different objects and materials including dyed hair, sticks, hay, wire, feathers, plastic beads, and buttons. These wearable pieces are vibrantly coloured and innately sculptural, often displayed in static but also incorporated into dance and performance art as costuming, fully realising the whimsical and other-worldly effect of sound and sight.
Sonia Gomes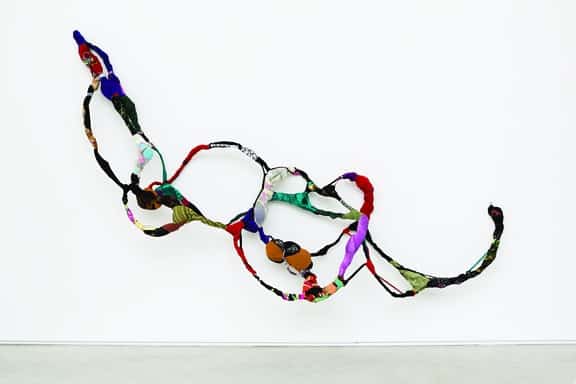 Born in Brazil to a father whose family worked in the textile industry, textile artist Sonia Gomes began her artistic career at the age of 45, though she quickly gained recognition. Gomes' sculptural works are deeply embedded in her cultural and personal history. Inspired by her family and the traditional dress and rituals of her maternal grandmother — whose work as a spiritual healer and midwife has greatly influenced the twisting organic forms of her sculptures. The textile artist employs fabric, thread, and objects that she has either found or have been gifted to her in order to bring new life to that which has been passed along. Much of her work has been described as autobiographical as her recycled materials spiral into a new beginning as a vividly coloured (bordering on psychedelic) and gracefully formed multi-dimensional structure.
Born in Sumqayit, Azerbaijan multimedia artist Faig Ahmed works with textiles, painting, video, and installation. Ahmed is best known for his textile art pieces that deconstruct and rearrange fragments of traditional Azerbaijani rugs to create contemporary installation works and sculptural forms. His work reimagines the ancient crafts of his home country and creates new visual languages by disassembling traditional works and stereotypes by incorporating surrealist themes. In partnership with a group of skilled weavers his team strictly follows the tenets and techniques of traditional Azerbaijani weaving to create these new works that evoke the ideas of digital glitches or spills of liquid.
Ethan Cook