Interview
Stolen Stories: Interview with Ghanaian Artist Kojo Marfo
By Adam Hencz
"If I stick with what I know, I usually get the same results. I can always paint a clever picture, but that's not my goal. I'm trying to make something with heart and authenticity, tackle uncomfortable politics, experiment, and discover."

Kojo Marfo
Traditional fertility symbols from Africa, vibrant patterns of color and graffiti-like texts, collaged characters reminiscent of Basquiat's mysterious figures along with Cubist forms and perspectives of Picasso and Fernand Léger. The London-based Ghanaian artist Kojo Marfo fuses all of the above references and stylistic elements to create paintings and sculptures that hold up a painfully honest mirror to our post-modern society. Drawing inspiration from his Ghanaian roots, spiritual Akan artifacts, early twentieth-century avant-garde, as well as the 1990s New York City street art scene, the emerging artist's body of work boldly comments on his frustration with social inequalities and tends to confront the viewer with harsh modern-day realities. In 2020, the artist was discovered and got represented by London's JD Malat Gallery and had his first Mayfair solo show for the gallery's open-call exhibition titled Isolation Mastered. We had to pleasure to speak with Kojo Marfo on the occasion of his next big step on the international art scene, his first solo exhibition in the United States at UNTITLED, ART Miami Beach art fair.
Where are you working from at the moment?
I used to have a studio in East London, but since the first lockdown everything has changed, so I have converted one room in my flat into a studio. I feel more comfortable working at home, waking up anytime I want, and working on whatever I want without having to travel to the studio. So the setup has stayed and I still work from home most of the time. Looking at it today, it feels like I used to live a double life, finishing work at the studio and then putting it aside when I left. Every time I stepped into the studio I felt like a different person, and there were times when I walked in and just did not want to do anything! I just sat down and chatted with others, spending the whole day talking without making a brushstroke. So from this point of view, the lockdown has helped me to be more focused and since then, I have been working from home. It is just wonderful!
How long have you been living and working in London?
I call the UK my second home. I always go back home to Ghana, whenever I find the time, but since the 1990s, when my mom used to live here, I have been a UK resident. At one point I wanted to pack and go back to Ghana. I even went down there for a bit, but every time I leave London, I feel that something is missing from my life, so I eventually moved back from Ghana.
How did you get into painting?
Painting has always been a form of expression that interested me. As a child in Ghana, I would spend days in libraries reading comic books. One day, I discovered some photos of Picasso's work in an album, an encounter that made me want to draw and paint characters and scenes which I would never expect to see otherwise in reality. In the 1990s, I briefly stayed in New York with my aunt and my brother. In that period there was a lot going on in the streets of New York. Those were the days of graffiti and street art. What I experienced and lived through there urged me to take art seriously and gave me the confidence that I can actually pursue art as a career. It was there that my artistic interest came to the surface.
In the beginning, I was painting double-faced figures in black and red, characters similar to what I saw in Picasso's work. I was experimenting with techniques, trying to recreate and reformulate images I had encountered in the past. I made friends with painters, artists who would make art during the night, sometimes on the street, painting and spraying on walls with bright colors. They inspired me to use more colors and to use them bravely. I also drew inspiration from images from my roots and started reconsidering Ghanaian imagery and symbolism according to my own understanding. Coming from Ghana, paintings were not something people would take seriously. Carving and sculpture were the mediums that mattered.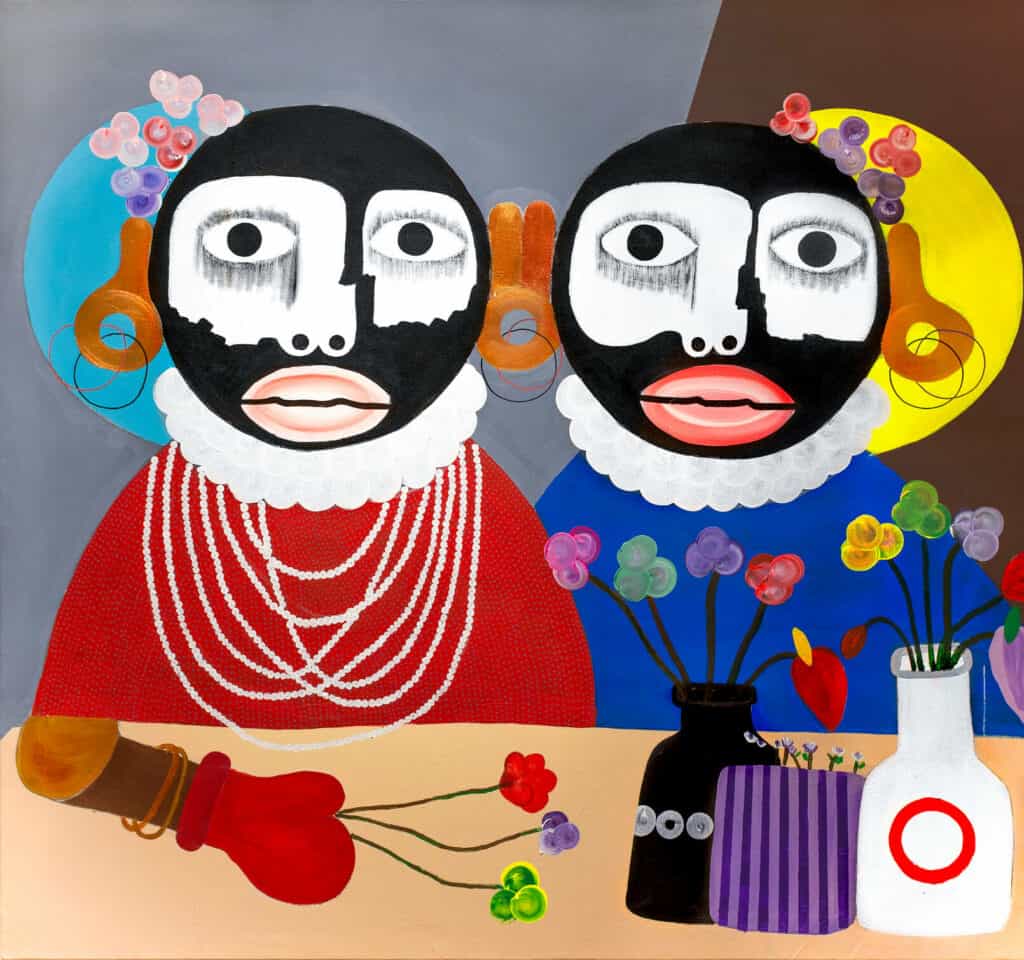 Initially, I started to create images to talk about my hometown Kwahu Tafo, a remote town in Ghana. I realized that if I wanted to take painting seriously, I needed to talk about and express topics that could connect with other people and bring attention to specific questions, like belonging. But slowly it got to a point when it became a bit boring for others to look at paintings about my hometown [laughs]. When I moved to the West, the political landscape had just started changing. In the mid-2000s, politics became one of the most talked-about issues. In those years I also started using my art to talk about pressing social issues.
The paintings you have been creating since then not only spark conversations on global social issues but also allow you to share personal stories. The title of the collection of works you brought to UNTITLED, ART in Miami, Stolen Stories also reflects this layer of your work. Can you tell a bit about the portraits and group portraits that are on display at the fair?
I have lived in the UK for a long time now and have noticed that a lot of people don't talk about their ancestry and basically not just here in England, but in Europe in general. Most black people don't bring up their ancestry, and it almost seems like that their backgrounds have been wiped away. It makes me think that they are ashamed of their origin, that they are ashamed of their background. On the contrary, most black people in America identify themselves as African Americans. The African Americans could claim to call themselves something else, but they chose to call themselves African Americans. At the same time, a lot of black people living in the UK come from somewhere else, but they chose not to connect with their ancestry even though many of them live without any European identity. With Stolen Stories I am trying to highlight these issues, and to confront reality with elemental beauty and purity, to be frank. This is my reality, the things I paint, and these are the kind of identity issues I want to raise attention to, but at the same time, I also have to be considerate, since it is a serious and sensitive topic to tap into. At the end of the day, I want people to understand that they are allowed to talk about their origins and that they should also be proud of where they come from. This is my way to use my art as a platform to confront reality.
In connection with contemporary artists with African roots in general, the term "Neo Africa" has been widely used as a response to the limiting term of "African Art" especially to break away artistic expectations and to advocate the freedom of artists. In your opinion, how has the understanding of "African Art" changed in recent years?
I engaged with art first by reading books on Picasso, finding out that for some of his works like ceramics and paintings, he took aesthetic inspiration from traditional sculptures made in Africa. It made me realize that for so long only artists from the West were allowed to portray African artworks and to display them in galleries and museums for the Western art consumers to finally accept their existence. The landscape has greatly changed since then. I have seen many young talented African artists who paint recklessly and create a positive image of African art. But for a very long time, associations with African art only meant thinking about simple singular figures, some carrying a stick, a pot, or having a baby on their back. In the past two decades, I have seen a lot of people trying to change that image, creating beautiful portrait photos of local people, and putting them out there as African art. But I chose not to go down that route. I decided to look deep into my own culture to find symbols that connected with me and used them to have a conversation with people. I keep using and transforming the symbol of the Akan fertility doll to talk about the social issues I want to drive attention to.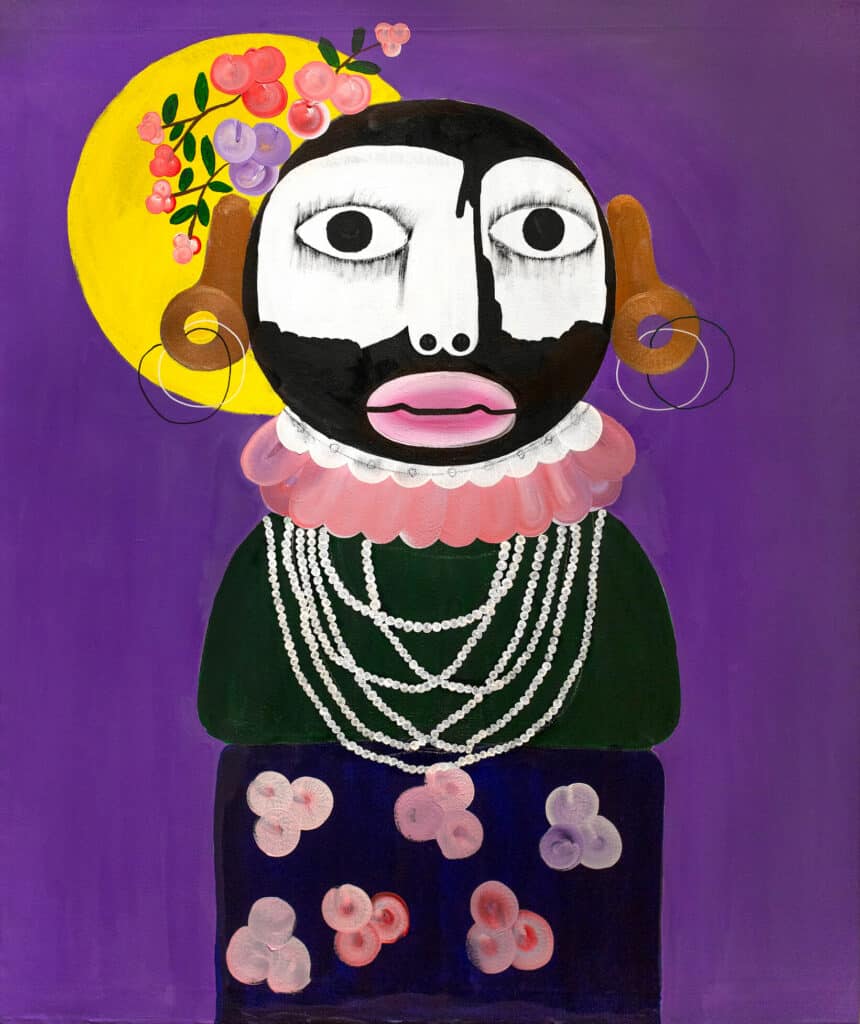 Besides the masked dolls, there are also several props and collage-like patterns, as well as abstract animals often present in your works. They seem to play the role of bridging cultures and carrying universal meanings. Can you elaborate on where these elements and symbols come from?
Most of the figures come from a very diverse background, but the main inspiration for the central characters in my paintings comes from the Akan fertility doll. While I was traveling around Europe and America, I tried to get to know local cultures and to find and understand some recurring symbols in their visual culture. For instance, in many of my paintings, you may find ruffs or stiff linen collars around the neck of some of the characters. It is an element that was very common in paintings of the Elizabethan era. I try to bring a wide range of symbols into my work so that everyone can see their own culture reflected in it. I believe that art should not be based on and should not emphasize a single origin or background. It should connect people. So anytime I start working, all I think about is how I can create something that anyone could relate to on a deeper level. At the same time, it makes my work easy to criticize [laughs].
"Art fairs are like going to a disco. Nobody wants to be preached about racism or discrimination. People just want to have fun, buy art and then go home. But the artist is a different species."

Kojo Marfo
Besides paintings, a sculpture of yours titled Treasure of the Heart also appeared in Miami. How do you feel about it? How do you approach working on a three-dimensional piece?
For the show in Miami, I wanted to create a sculpture that has a clear connection with the paintings I am doing. First, I created a painting that served as a base for the sculpture then I transferred that image into a 3D formula. At the moment I am working on several pieces in a studio in Hackney. Now I work with clay, then I will cast sculptures in bronze, making a series which I will hopefully finish in the beginning of next year. Sculpting is something I have always wanted to do and now I am venturing into the unknown! I am either going to get smashed by critics or get them to say that, "Oh, wow, he is actually good!" [laughs].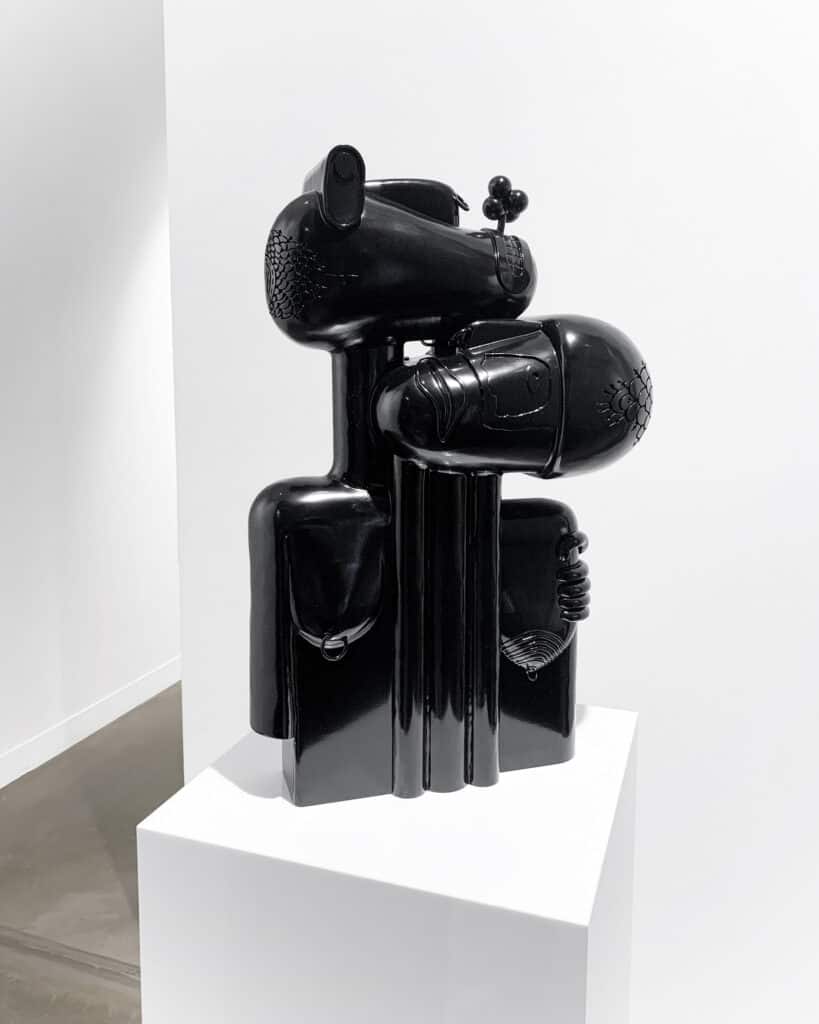 It is quite common for artists to collaborate with luxury brands, and you also had your compositions of abstract figures, animals, and vibrant floral designs crafted onto silk before. Would you take part in such collaborations in the future?
I want to be the guy who every now and then pops up with something new, but I still don't want to become a commercial artist and to be seen as a brand. Initially, I was a bit skeptical about tapping into working with fashion brands, but it seems to be a good opportunity to raise attention to my works. But what I really want is to use my art to confront people with reality and to respond to issues we all tend to ignore. I can use my own medium to comment on these topics and to show people that there is always a guy out there who understands their situation, who feels their joy and their pain as well. I am a man, who is like everyone else, but happened to have the opportunity to travel. My mother was a single parent and everything she had was the church. Wherever she had to travel with the church, we had to follow. When I grew older, I took my own path, but coming from an easygoing family definitely helped me to try new things and pursue them without any fear. It taught me to know that I am not doing anything wrong with my work, I am just expressing myself and talking about human issues. I don't go into identity politics, but I question why certain situations are the way they are. That has always been crucial for me and I always make sure that I don't cross the line – since in art it is easy to cross the line.
Do you think that art fairs are suitable platforms to discuss such social issues?
I think art fairs could be good platforms for that but, at the same time, they could also be one of those places where people just go to escape and want to forget about dealing with that. We live in a society where people want to be up-to-date and want to have an opinion about pressing social issues; but still, they don't want to be confronted all the time. My experience is that there are a lot of controversial pieces some artists bring to art fairs, but they are not ideally the platforms for me to go hard, but to wrap my ideas into works that both draw attention and open a dialog. Art fairs are like going to a disco. Nobody wants to be preached about racism or discrimination. People just want to have fun, buy art and then go home. But the artist is a different species. The artist wants to scan society. You can either deal with it mildly to raise eyebrows and spark conversations, or you can go full-on, but then you leave everyone off.
Update: A collaboration between JD Malat Gallery and public art platform W1 Curates London will result in a monumental display of the work of Kojo Marfo. The collaboration will see Marfo's iconic paintings presented on 8K LED screens across the façade of Flannels' flagship store on Oxford Street, London, from 3 until 16 of January 2022.
Through a display of alternating images of Marfo's most recent acrylic paintings on canvas and earlier paintings on tarpaulin, cardboard and paper, W1 Curates will present the public with the opportunity to engage Kojo Marfo's entire body of work on a showstopping and monumental scale.
Relevant sources to learn more
Discover Kojo Marfo's art for sale on Artland
Exploring Abstraction: Ed Moses' Whiplines, Waterfalls and Worms
Chronicles of a War and an Art Scene in Peril. Interview With Bosnian Photographer Almin Zrno
Art and Technology That Connect Us: In Conversation With Artist-Curator Yuge Zhou
Wondering where to start?