Exhibitions and Fairs
Rembrandt-Velázquez at the Rijksmuseum, Amsterdam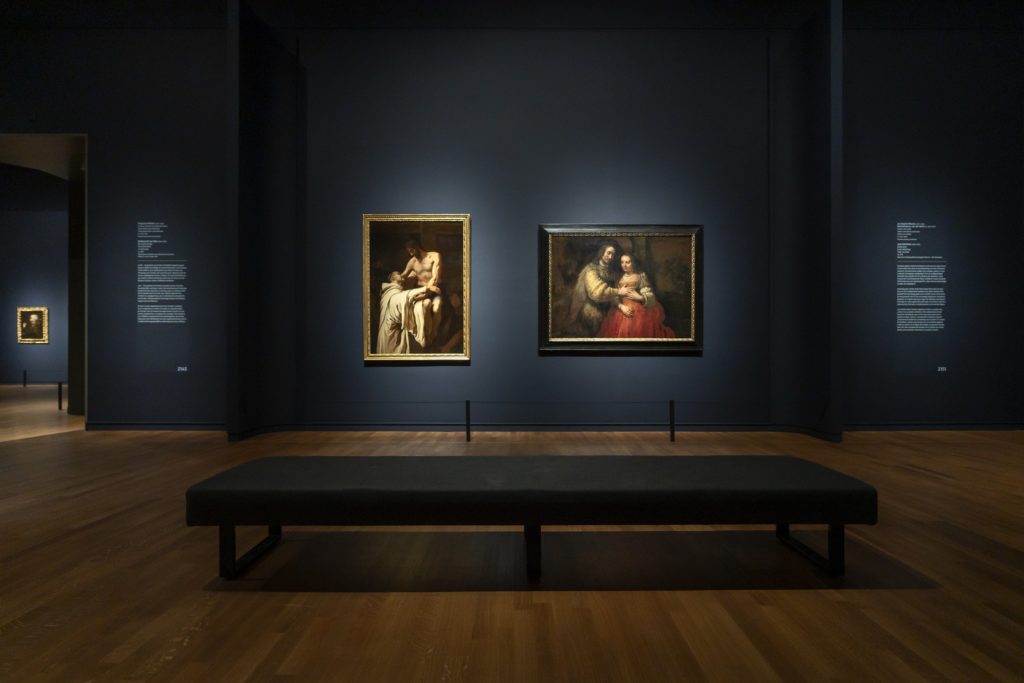 By Shira Wolfe
"Both show exemplary technical control, combined with the ability to let go of that control and transcend technique." – Hans den Hartog Jager
In the 17th century, tensions between the Netherlands and Spain were running high. After all, it was the time of the Eighty Years' War, in which the Low Countries were revolting against Spanish rule. Nevertheless, the arts in both countries were flourishing like never before, and each country produced its own great master: the Netherlands had Rembrandt, and Spain Velázquez. Though the two painters never met, and never even saw each other's work, this exhibition at the Rijksmuseum in Amsterdam reveals some striking resemblances between the work of the two artists. Both worked with a subtle contrast between dark and light, used an almost identical palette of colours, with a preference for dark, earthy pigments: ochre, bone black, umber, siennas and lead white. They created extremely lifelike paintings with an exceptional technique. In the words of Dutch art critic Hans den Hartog Jager: "Both show exemplary technical control, combined with the ability to let go of that control and transcend technique."
Above all, both artists were major innovators, who refused to simply build on the Italian tradition which looked to classical antiquity, and set the standard at the time in Europe.
Rembrandt-Velázquez presents works by these two master 17th century artists and their peers, other Spanish and Dutch artists of the time, in pairs. This allows for a deep introspective viewing experience where the viewer gets to explore the similarities and differences between art from the same period, by Spanish and Dutch artists who probably never had the chance to see each other's works.
We explore five eye-catching works from the exhibition: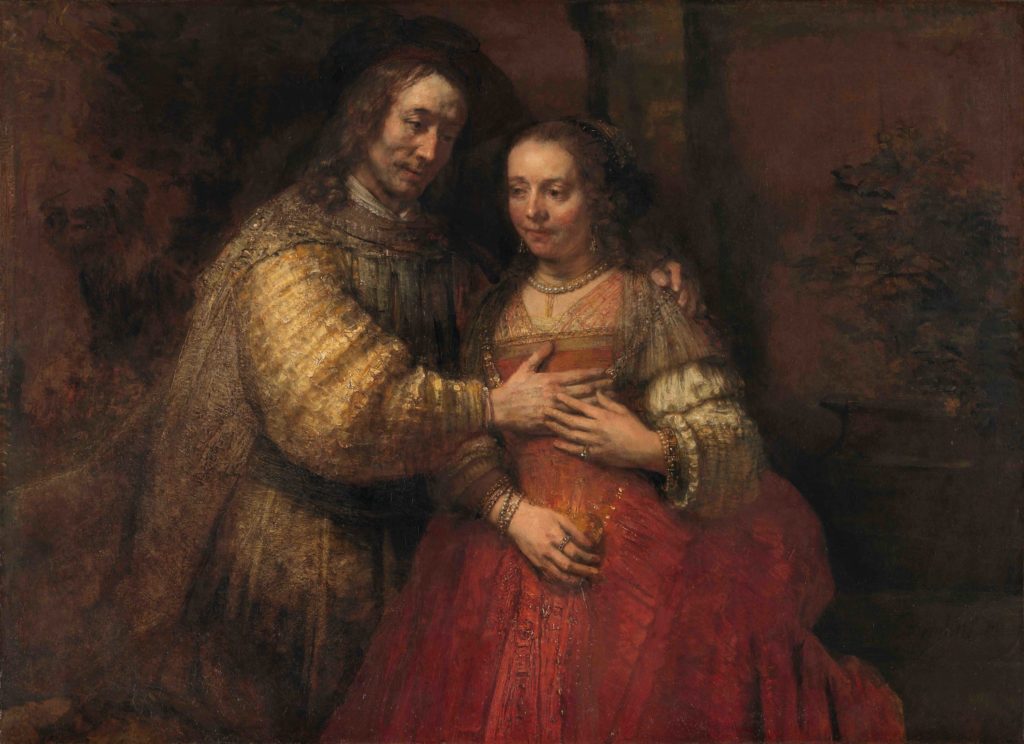 1. Rembrandt – The Jewish Bride, ca. 1666
The Jewish Bride is one of Rembrandt's most famous paintings, and hangs in the permanent collection of the Rijksmuseum. A man dressed in gold gently lays his hand against the breast of his bride, dressed in warm hues of red and orange. She, in turn, touches his hand softly with hers. The expressions on their faces convey their serene love for each other. The painting is likely a depiction of two characters from the Old Testament, Isaac and Rebecca. In order to save his wife from being captured by King Abimelech, and him being murdered, Isaac concealed his love for Rebecca by pretending they were brother and sister. However, their intimacy betrayed them when they thought they weren't being seen. Rembrandt captures this tender moment between the couple. This is one of Rembrandt's extraordinarily free paintings, in which he applied thick paint and scratched it into the painting with the end of his paintbrush.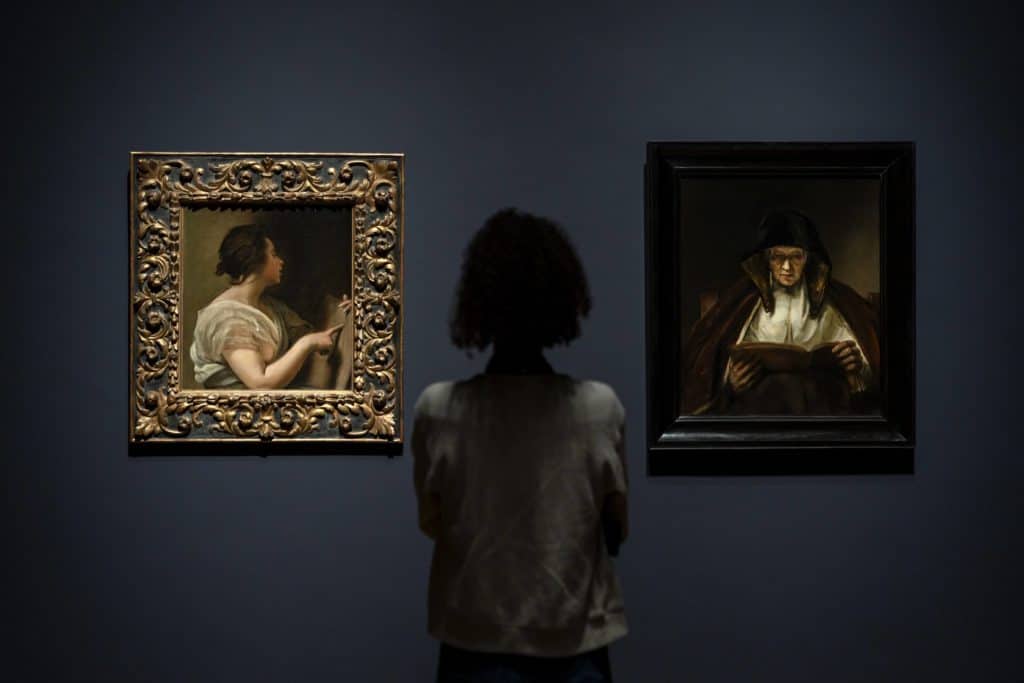 2. Velázquez – Female Figure (Sibyl with Tabula Rasa), 1648
A woman points to an empty board. Like a prophetess, she can predict the future. She conveys her message by means of light, emphasised by the shadow formed by her finger. Sybils, in the medieval Christian tradition, were prophetesses who were to warn the pagan Romans of the coming of Christ. This is one of Velázquez's most mysterious, most enigmatic paintings. In the exhibition, it is paired with Rembrandt's portrait of an old woman reading – most likely Hanna, also a prophetess. Here, the light reflected in her bible is helping to convey her message.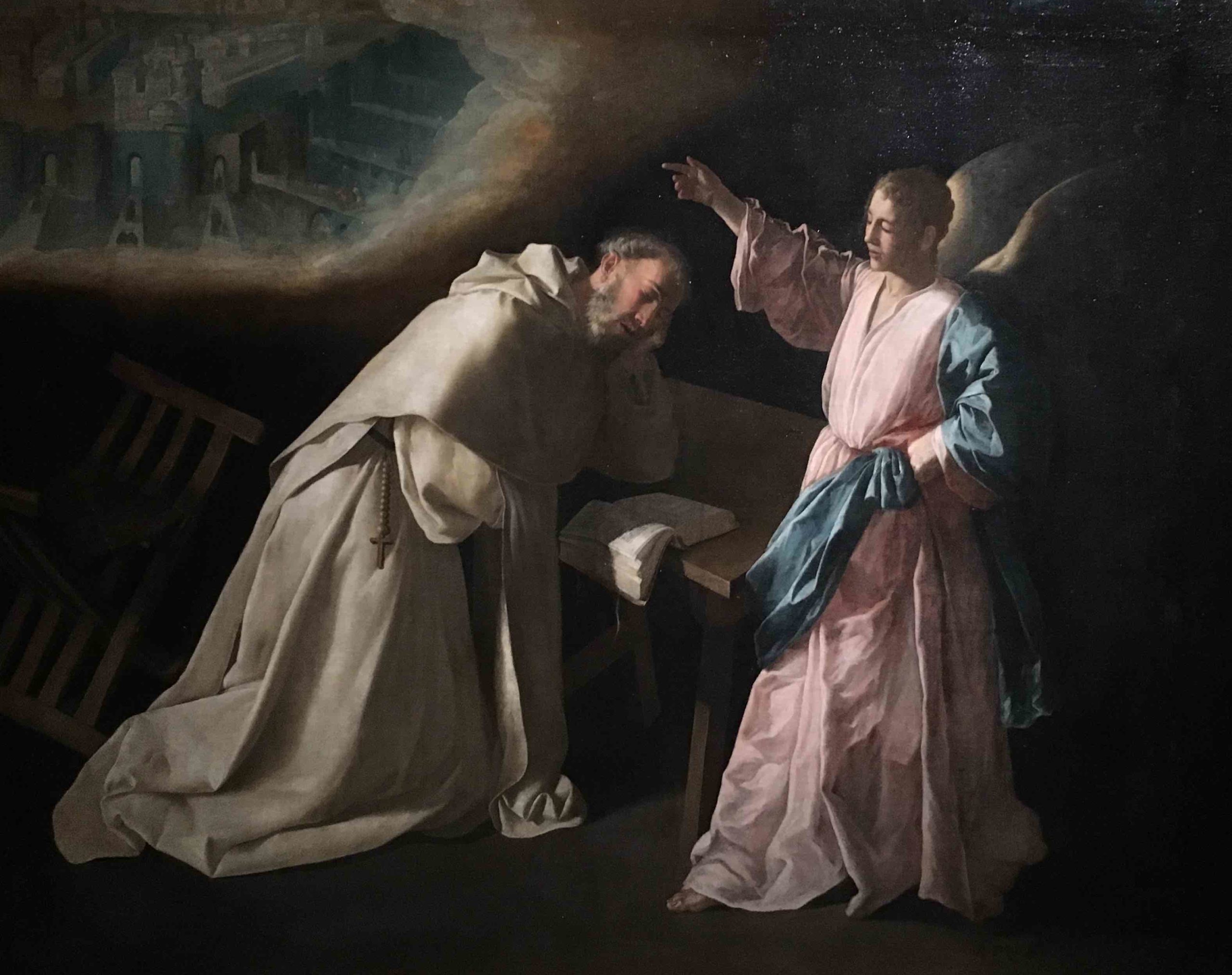 3. Francisco de Zurbarán – The Vision of Saint Peter Nolasco, 1629
Saint Peter Nolasco, the founder of the order of la Merced Calzada, is depicted leaning on a church pew. An angel appears to him in his dream, showing him heavenly Jerusalem. The painting is part of a series painted by Zurbarán for the Cloister of the Convent of la Merced Calzada in Seville. Different moments of the life of Saint Peter Nolasco are depicted in the series. In this painting, the supernatural is depicted in a straightforward manner, with calm tranquility. Both Saint Peter and the angel have their eyes almost shut, as the angel points out Jerusalem to Saint Peter, leaning in rapture against the bench.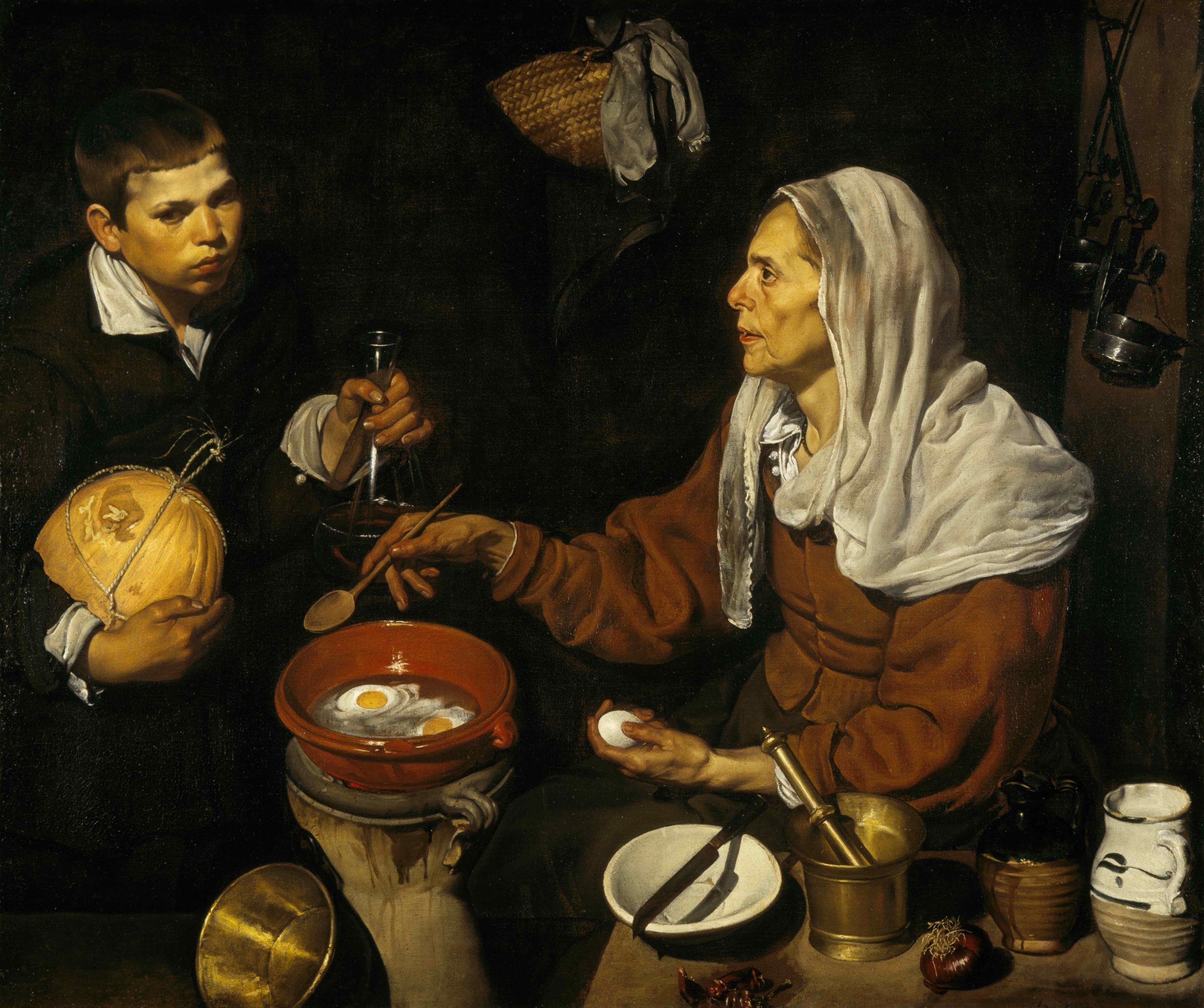 4. Velázquez – Old Woman Frying Eggs, 1618
Velázquez was only 18 or 19 when he painted this painting. His fascination with light and shadow on different surfaces, and with contrasting materials and textures, are evident in this work. This is one of a number of kitchen or tavern scenes, "bodegones" in Spanish, which Velázquez painted early on in his career. While this is an everyday scene, there is something in both the face of the old woman cooking the eggs, and the young boy holding the pumpkin and the bottle, that seems to relate their deep inner lives and thoughts. The dark black background contrasts with their illuminated faces, white of the eggs and the woman's headscarf creates a true radiance in the painting.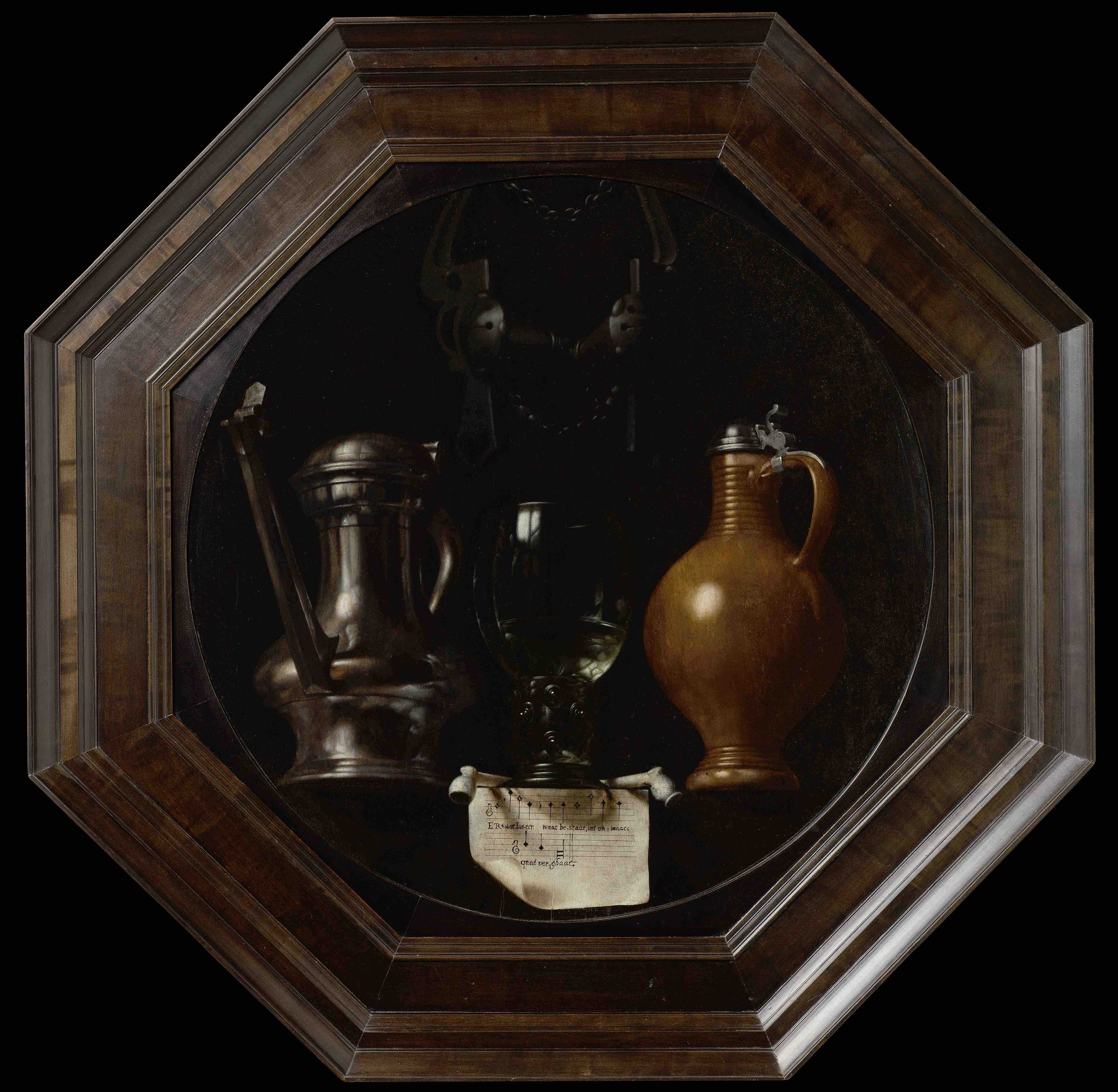 5. Johannes Torrentius – Emblematic Still Life, 1614
Johannes Torrentius' Emblematic Still Life is a breathtaking circular-shaped still life with a black background. It features a pewter flagon, a wine glass, an earthenware jug, a bridle, and a sheet of music bearing the following lyrics: "what is out of measure, perishes in immeasurable evil." The still life is a call for moderation, for curbing one's appetites. In contrast, there is something truly exciting, passionate, and mysterious about the dark, round still life, which creates an interesting paradox alongside the artist's message.

Relevant sources to learn more
Rembrandt-Velázquez runs till 19 January 2020. For more information, read about the exhibition and its artists on the Rijksmuseum Amsterdam website.
For other last-chance-to-catch exhibitions in Europe beginning of 2020, see Artland's:
Last Chance. Must-see Museum Exhibitions in Europe before they close in early 2020