Articles & Features
Remembering When Gatherings Were a Thing…The Crowd In Contemporary Art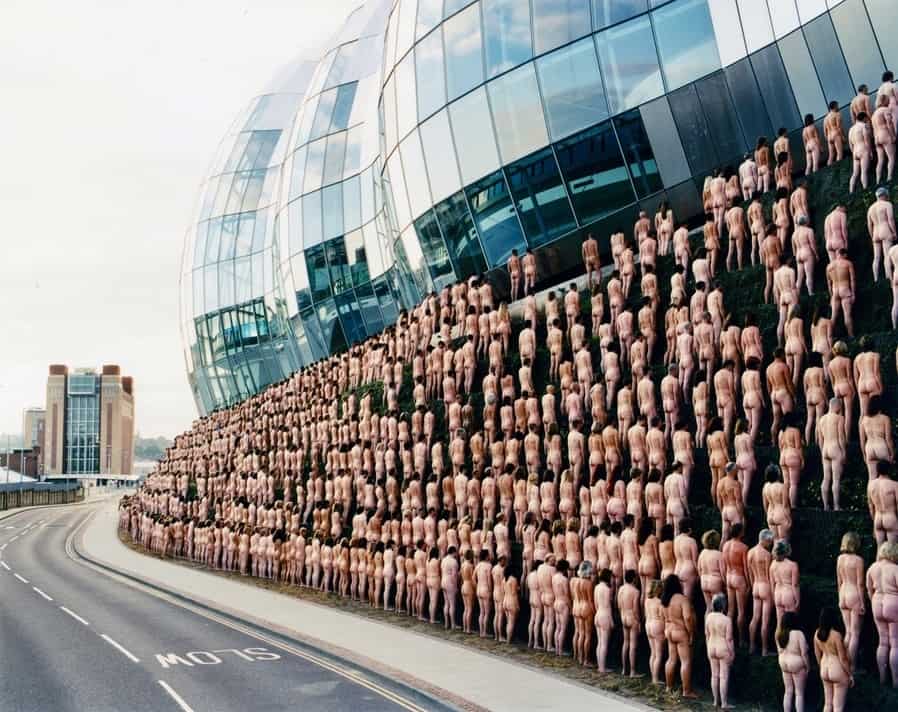 By Naomi Martin
The crowd, between anonymity and unity
Humans are highly complex beings, capable of a great many things, but most essentially can be classed as social animals. We crave contact and interactions with others, for our well-being but also for our own selfish motives, metaphysical queries of self-identity and the eternal quest for a sense of belonging. For as long as it has existed, art has been mapping and depicting the intricacies of human interactions and the collective through the highly personal lens of individual artists. The symbol of the crowd in contemporary art is particularly powerful, as it can epitomize the strength and beauty of a united whole, but also the oppression and painful anonymity one might encounter when submerged and subjugated by the masses.
One thing is certain, the crowd will always exert a magnetic influence on its members, as the contradictory feeling of anonymous belonging can engender powerfully charged emotional reactions. If now more than ever you are craving the liberating and cathartic feeling of being part of a whole, take a look at ten of our favourite depictions of the crowd in contemporary art, intricately embracing the human experience.
Magdalena Abakanowicz – Infants (1992)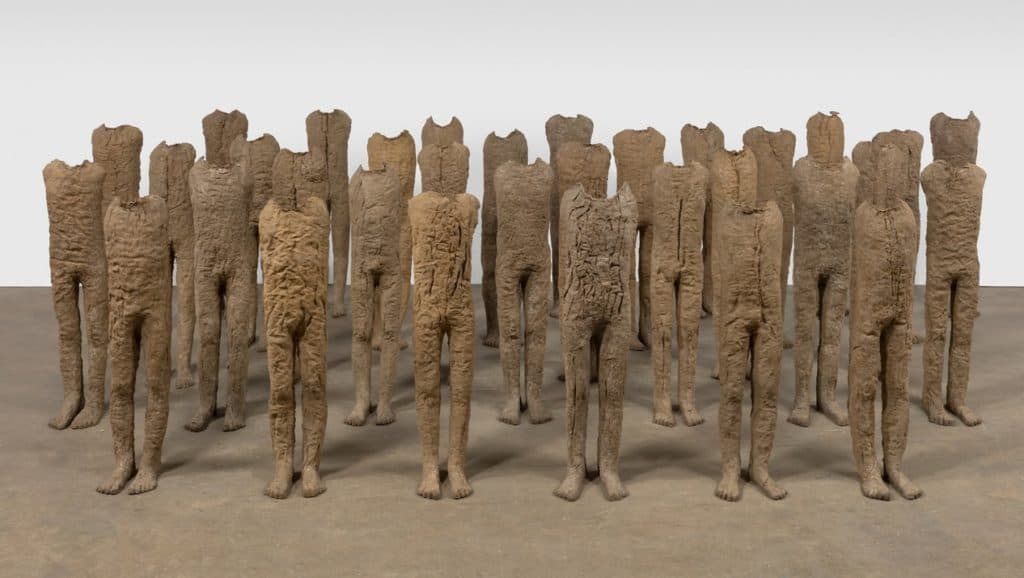 Among the greatest artists of the twentieth century, Magdalena Abakanowicz was known for creating beautifully haunting and uncanny biomorphic sculptures out of textiles and resin-like materials, often of the post-war Poland she lived in. Abakanowicz's otherworldly sculptures represent humankind in an unsettling and powerful manner, as they do not try to literally depict the human body, but rather intriguingly evoke it. Such ambiguity can be observed in Infants, a group of 33 headless humanoid figures – hollow shells evoking a profound loss of identity, perhaps referencing the implications of the second World War in Poland and life under a communist regime. These ethereal statuettes can also be seen as synonym of the universal human experience, erected as a reminder of the collective complexity of existence.
Red Grooms – Weegee 1940 (1998-99)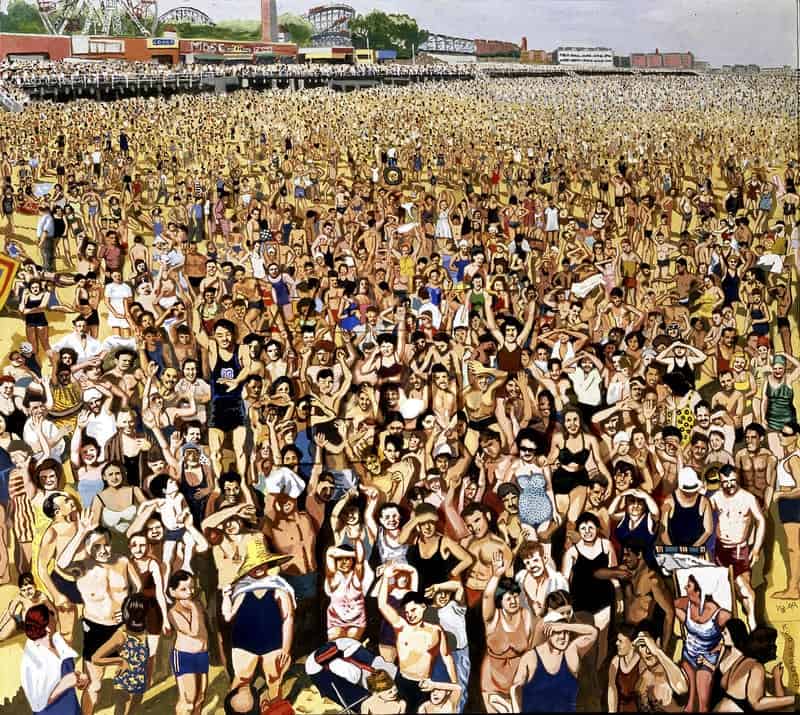 Red Grooms is notorious for his humorous and affectionate parodies and depictions of the frantic New York City of modern life, forever infused with a satirical yet tender gaze. Celebrated for his sculpto-pictoramas, combining painting and sculpture, Grooms and his self-deprecating humour have resulted in fantastic artworks, and an ability to both truthfully and facetiously connect with his audience. With Weegee 1940, Grooms reimagined a famous Weegee black and white photograph from 1940, portraying the wildly crowded beach of Coney Island. For Weegee's generation, Coney Island had represented a slice of serenity, accepting of all classes and backgrounds, an escape from the war and the troubles of urban life. The next generation of artists embraced its symbolism, securing Coney Island as an emblem of the American experience, mirrored in Grooms' painting, which essentially replicated the photograph, capturing the naïve yet authentic happiness of the bathers.
Do Ho Suh – Floor (1997-2000)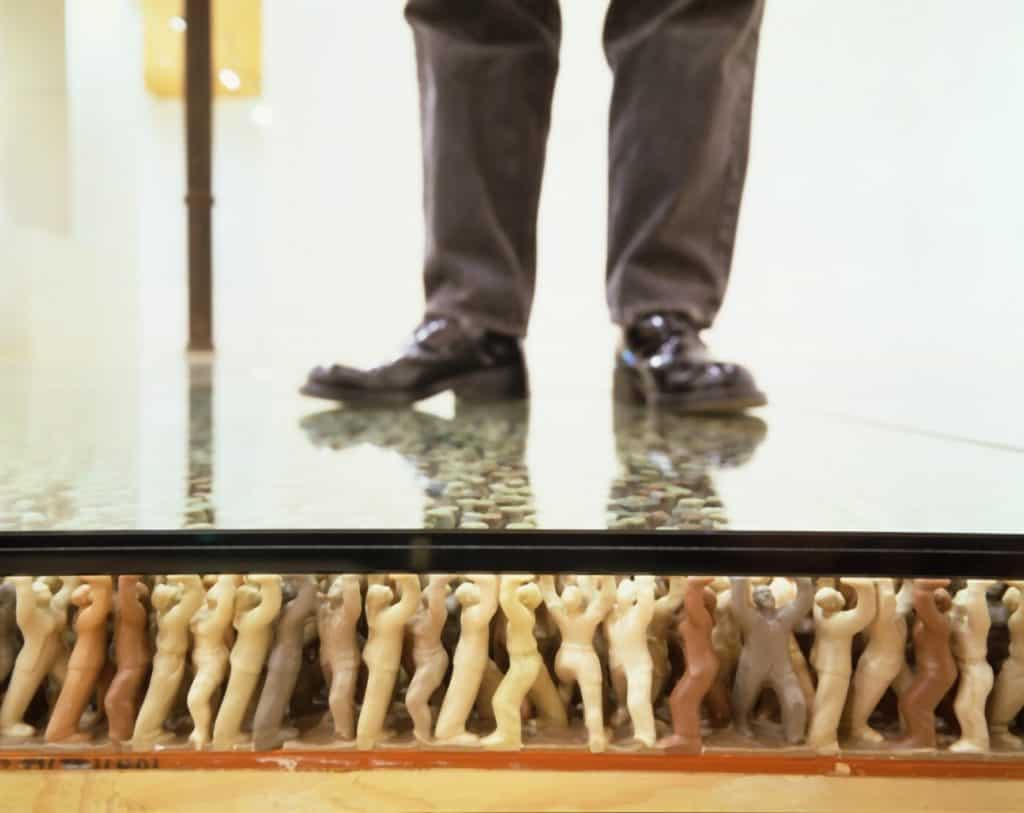 Korean artist Do Ho Suh is renowned for his site-specific installations that often delve into issues of self-identity and anonymity, illustrating the intricacies of human individuality. One of his most acclaimed installations, Floor, only reveals its complexity when closely approached – glass tiles are resting on a crowd of thousands of miniature plastic figurines, pointing their heads and arms upwards, seemingly holding the weight of whoever is stepping on the floor. The installation is brilliantly thought-provoking, leaving the viewer to wonder, are the anonymous figures supporting the floor, or are they resisting it? Intriguing, entertaining, or disturbing, Floor explores issues of identity, oppression and anonymity.
Andreas Gursky – May Day IV (2000)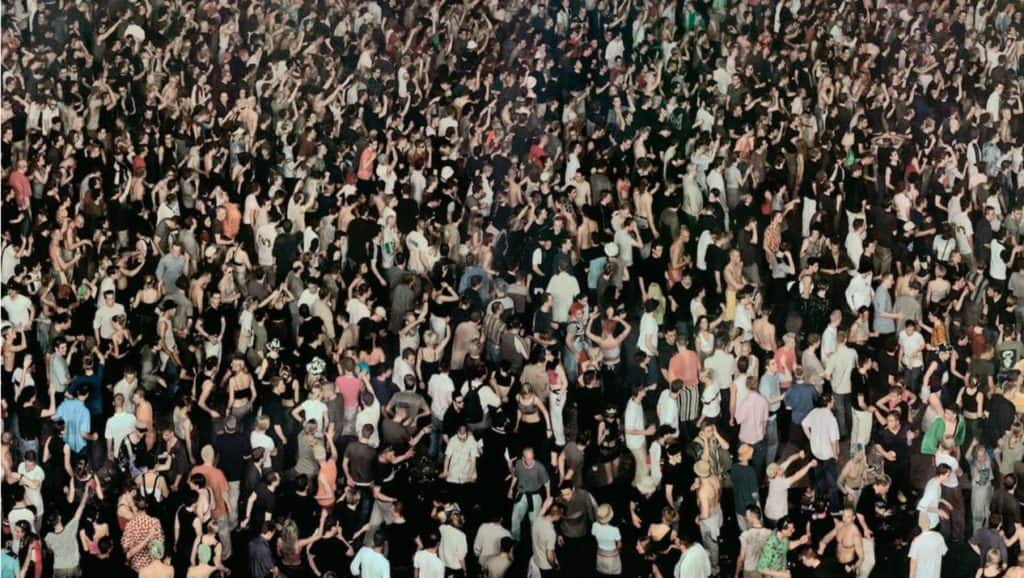 Andreas Gursky is particularly renowned for his large-scale photographs of mass gatherings, often analysing the human presence and conceptually arraying displays of social order. Using digital technology, Gursky's photographs go beyond the traditional medium, for instance by combining details from separate photographs to produce the finished oeuvre, thus giving his work a boundless, infinite sensitivity. May Day IV is the embodiment of this technique, depicting hundreds of partygoers celebrating Germany's Mayday techno music festival, the photograph is in fact constructed from a myriad of individual shots seamlessly assembled by the artist. The photograph is not just a simple shot of a crowd, but hundreds of individuals, all in sharp focus, seized by Gursky in their own unique spheres.
Jake & Dinos Chapman – Hell (2000)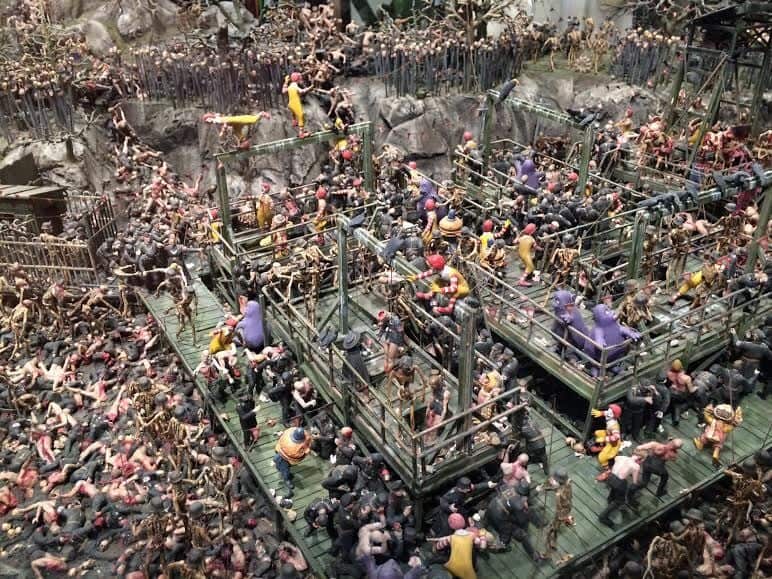 The Chapman brothers' thought-provoking collaborations shockingly examine our contemporary world, exploring the limits of beauty and horror, humour and perversion, confronting the spectator with their own voyeurism. Only by showing us the basest of human mores can were appreciate the value in the good we experience. The brothers created Hell in 2000, an anarchic installation composed of more than 60,000 toy soldiers, chaotically mirroring the horrors of the Holocaust, by subjecting the Nazis to their own genocide, whilst adding multiple Ronald McDonalds and his chums to the dystopian mix as the vengeful overlords. The brothers altered and remodelled the plastic toys, positioning them in nine vitrines laid out to form a swastika. The use of toy soldiers was a determining choice for the artists, as it would, in their eyes, undermine the significance of death and incite inappropriate associations. The installation was crammed with gruesome details, purposely illustrating the viciousness of humankind. Ironically, Hell was destroyed in a fire in 2004, the Chapman brothers consequently created its sequel, Fucking Hell.
Vanessa Beecroft – VB55 (2005)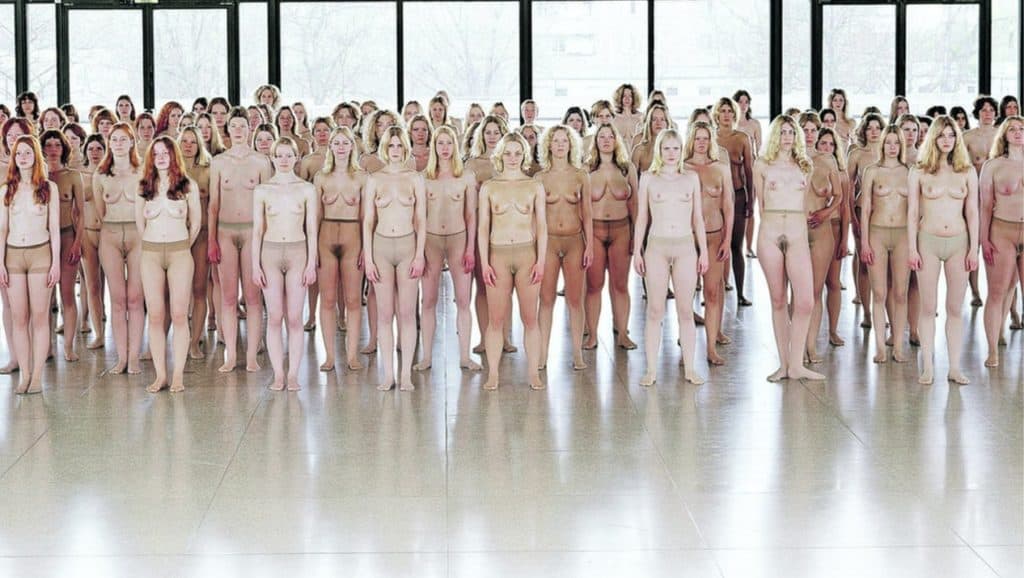 Since 1993, Vanessa Beecroft has been staging her notorious, voyeuristic nude tableaux-vivants, delving into issues narrating the objectification of the female body in contemporary culture, as well as attempting to exorcise her own demons and struggles with eating disorders. VB55 is one of her largest installations, featuring a hundred quasi-nude women posing at the Neue Nationalgalerie in Berlin. Beecroft wanted to feature women between 18 and 65 years old, natural and ordinary looking, instructing them to appear slightly entranced and completely detached from the gaze of the audience, in order to mitigate the state of passivity some women might retreat into as a defence system to the objectification of their bodies.
Spencer Tunick – Mexico City 3, Zócalo Square (2007)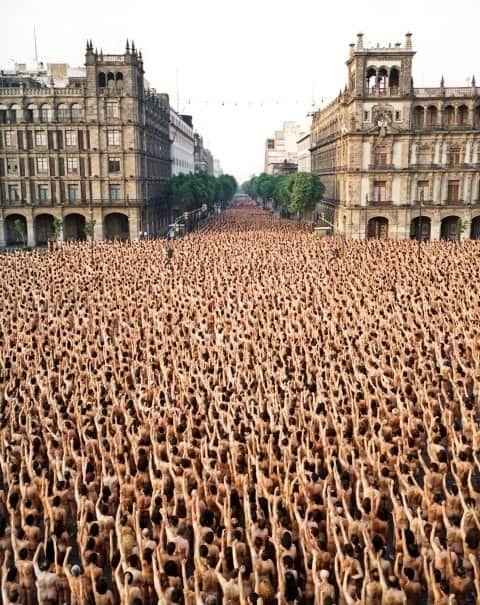 "I use the bodies as a tool against repressive governments and against repressive people, and I also use it, in a way, for beauty, so that we have an explosion of life"

Spencer Tunick
Since 1992, American Artist Spencer Tunick has been using nudity to challenge the oppression of bodies and their often highly sexualised representations. Repressed and condemned by the authorities because of the illegality of his public, nude photoshoots, Tunick gained recognition in 2001 when he was commissioned by the Museum of Contemporary Art of Montréal. In 2007, the artist organized a legal mass photoshoot gathering more than 18,000 fully nude participants, utterly metamorphosising Mexico City's Zócalo Square in an explosion of freedom and open-mindedness. The installation was one of Tunick's largest, as it received an overwhelming response from participants, eager to empower their bodies through uncensored vulnerability. By photographing these interlaced nude bodies en masse, Tunick managed to construct a new reality where the freedom of nudity gained the power to overcome damaging perceptions of the human body and strengthen the feeling of ownership of one's body.
Florian Süssmayr – Untitled (2008)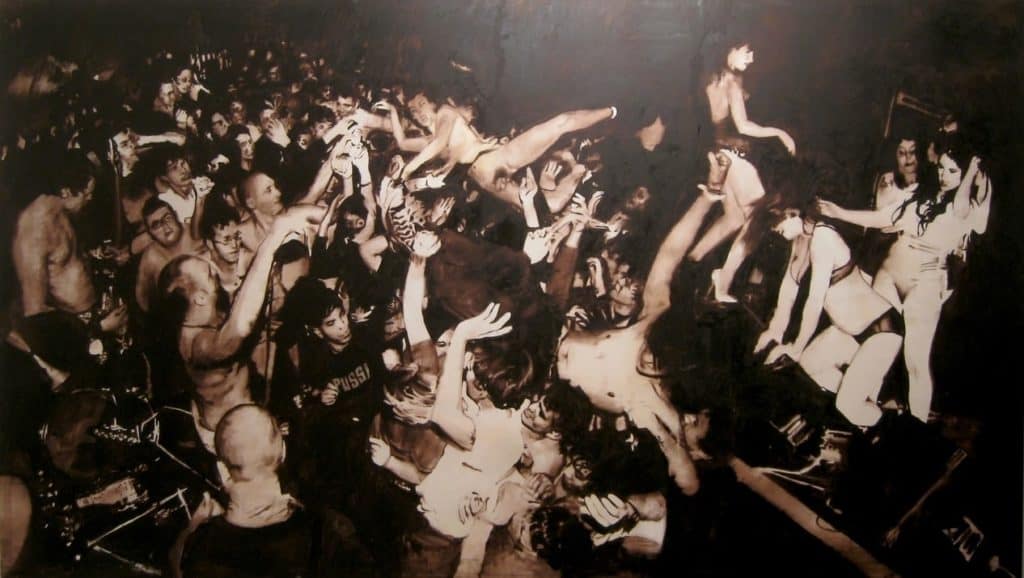 German painter Florian Süssmayr was involved in the punk scene of the 1980s, which significantly influenced his aesthetic sensibility. A musician in a punk band and working on movie sets in his early years, Süssmayr devoted himself to painting in the late 1990s, mainly creating dark and melancholic photorealist oil paintings, often depicting protestors, rock concerts or graffitied urban settings, with a dazzling, almost monochromatic technique. Reminiscent of his counter culture background, this oil painting teems with the riotous energy of an outrageous crowd, perhaps at a punk concert. It emerges like a faded yet powerful fragment of his memory, somewhere between loneliness, violence and normality.
Cecily Brown – Untitled (Blood Thicker Than Mud) (2012)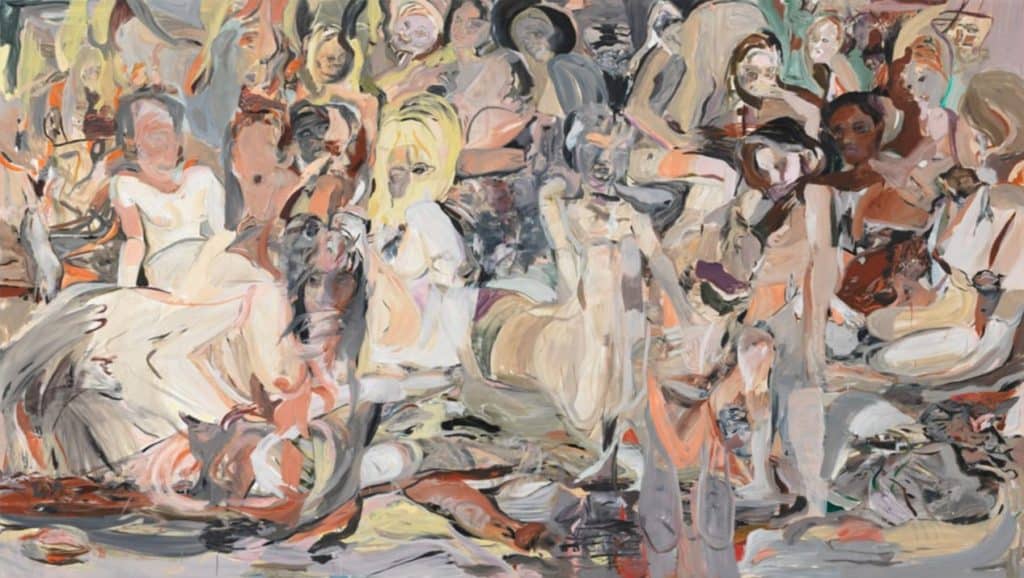 Cecily Brown has been accredited as a key figure in the revival of painting since the turn of the century. By using colours and an eerie, lifelike movement to convert paint into flesh, Brown stunningly embraces the human form in her art. Vividly and gracefully depicting a crowd of fragmented bodies, Untitled (Blood Thicker Than Mud), explores the immensity of the human experience, imbued with a subtle erotic energy. Brown's sensual, yet energetic brushstroke treats the nude body and the crowd with an intense and vibrant expressivity.
Massimo Vitali – Jova Beach Party (2019)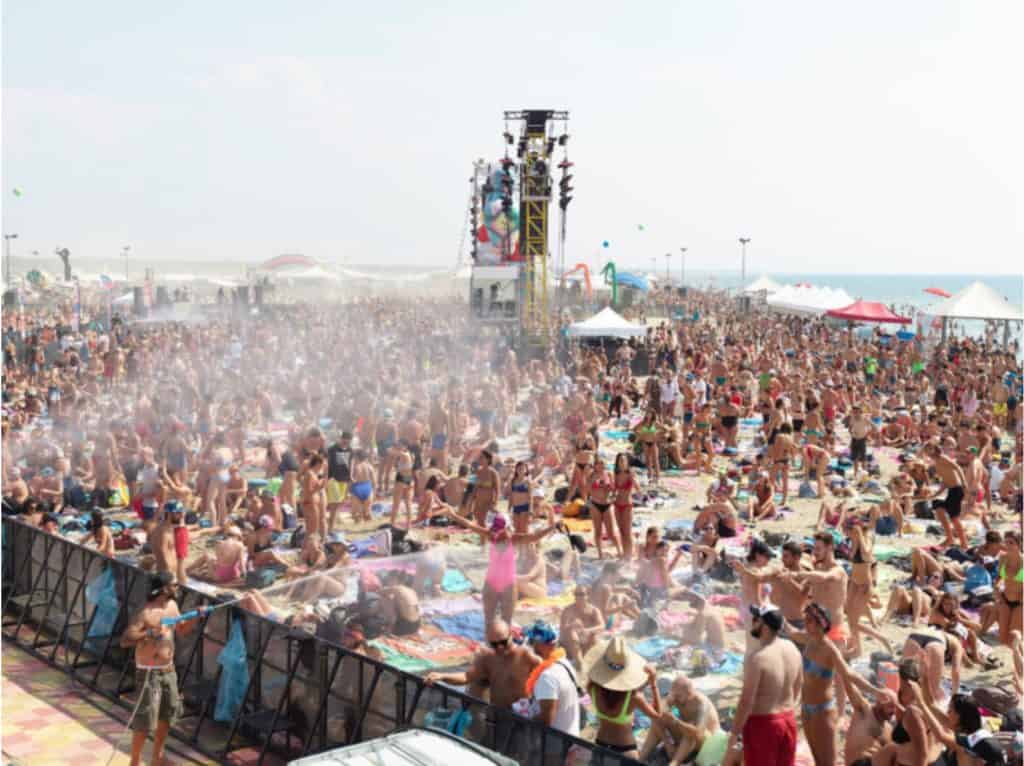 Italian photographer Massimo Vitali is best known for his large-scale, motionless and sharply suspended photographs of beaches and other vacation spots, panoramically illustrating the gamut of human interaction. Vitali was sceptical of documentary photography's abilities to demonstrate the intricacies of real-life human exchanges, and thus developed a more conceptual approach to his work, essentially depicting the behind the scenes of an alleged normality, not without a certain voyeurism. In Jova Beach Party, Vitali captured Italian singer Jovanotti's performance, during his last tour of 2019, immortalizing the collective experience with an astonishing, cinematographic-like precision.
Relevant sources to learn more
Ever wondered what it feels like to be a part of Spencer Tunick's mass nude photoshoots?
Discover the artists to keep an eye on in 2020
Read about Neon Art