Articles and Features
The Monochrome: A History of Simplicity in Painting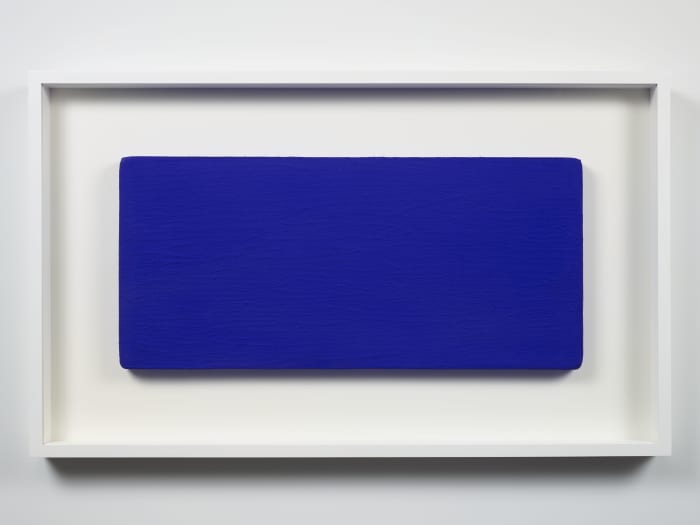 By Tori Campbell
What is a monochrome?
A monochrome or monochromatic painting is one created using only one colour or hue. It can use different shades of one color but by definition should contain only one base color. For more than a hundred years artists have used a single color as a vehicle for exploring both the potential and limitations of painting, using this reductive formula to experiment with formal concerns of composition and tonality, or to advance theories related to nature, the sublime and analogous spiritual concerns. Rendered with geometric precision or with the nuance of expressive brushstrokes, the monochrome is an enduring idiom of avant-garde modernism.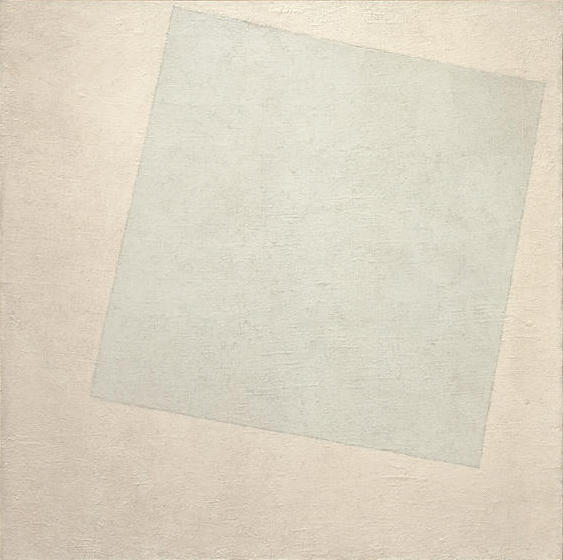 Fascinated with speed and its corresponding technology like airplanes and cars, Kiev-born artist Kazimir Malevich (1878-1935) joined composer Mikhail Matyushin, and writer Alexei Kruchenykh in 1913 to create a manifesto for the First Futurist Congress. Building upon his fascination with airplanes, Kazimir Malevich introduced his famed geometric abstraction Suprematist Composition: White on White at the 1915 show 0.10: The Last Futurist Exhibition, held in Petrograd. A white square laid atop a background of white, seemingly floating with no tether to our physical reality, Malevich's White on White sought to create the feeling of transcendence he associated with airplanes and aerial photography. The painting was radical for its day, and though the choice of white could be seen as impersonal or cold; the traces of the artist that can be seen within the texture of the paint, and his belief that the colour was associated with a realm of higher feeling lends a warmth and expansiveness to the work.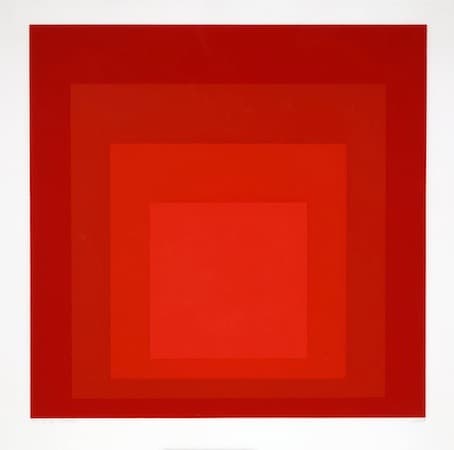 German-American artist Josef Albers (1888-1976) is thought of as one of the foremost leaders in monochrome and colour theory. After studying art at the famous Bauhaus school of art, design, and architecture; he became a professor there. When the school was closed by the Nazis in 1933, Albers and his fellow Bauhaus-artist wife Annie Albers moved to America. In America he became the head of Black Mountain College, a new art and design school in North Carolina that had absorbed the Bauhaus ideology and many instructors. During his time at Black Mountain College, Albers began to teach, create, and experiment with colour theory. In 1949, Albers left Black Mountain College to serve as the Head of the Design Department at Yale University, at the same time, he began his 25 year exploration of his series Homage to the Square.
"If one says 'red' (the name of a color) and there are 50 people listening, it can be expected that there will be 50 reds in their minds. And one can be sure that all these reds will be very different."

Josef Albers, Interaction of Color (1963)
Exceptionally simple in concept, but extraordinarily effective, Albers' Homage to the Square series is comprised of four superimposed oil-applied squares on a Masonite panel. Never painted, his pieces were applied from a palette knife directly onto the panel, and the technical details for the creation of these pieces was meticulously recorded onto the backs of each. A series created to explore the deceptiveness of colour, and the importance of visual perception, Albers' book Interaction of Color, published in 1963, can be seen as the culmination of this seminal exploration.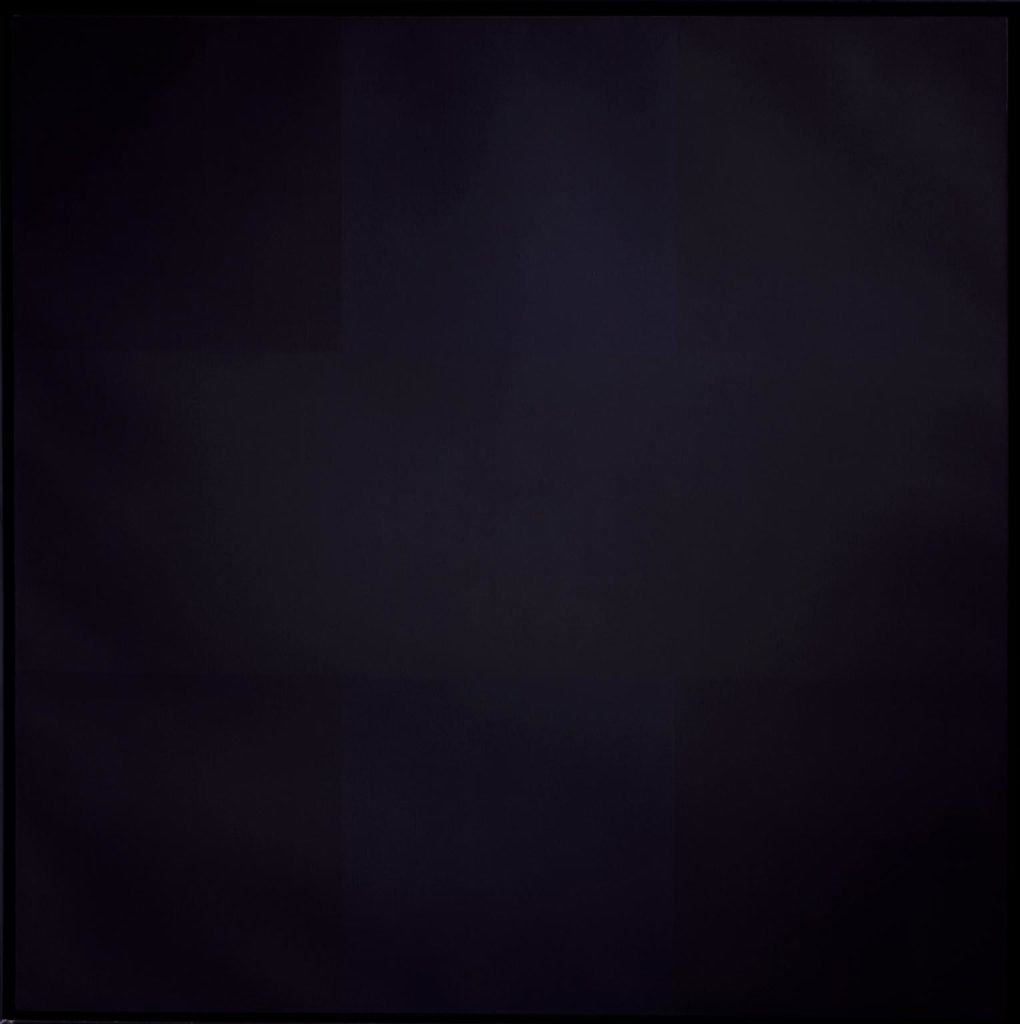 Adolph Frederick Reinhardt, most commonly known as Ad Reinhardt (1913-1967) was an abstract painter active in the New York arts scene from the 1930s to 1960s. Best known for shaping the face of the minimalist and monochrome painting movements, Reinhardt was a member of American Abstract Artists and was active in the abstract expressionism movement taking place at the Betty Parsons Gallery. Inspired by Kazimir Malevich's Black Square, Reinhardt produced his Black Paintings series from 1954-1967. A pioneering and concluding series at once, he proclaimed them "the last paintings one can make" as he believed the works to be the final evolution of Modernism. The series is comprised of muted black oil paintings on canvas, all expressing very subtle shifts in tone and shade which lends a contradictory complexity to its simplicity. Reinhardt was deeply philosophical and explained his Black Paintings:
"As an artist I would like to eliminate the symbolic pretty much, for black is interesting not as a color but as a non-color and as the absence of color."

Ad Reinhardt
A reflection of, and reaction to, the climate of Cold War America – Reinhardt's musings in the form of monochrome squares can be seen as his desire to create artworks that could overcome the terrors and struggles of antagonism and war.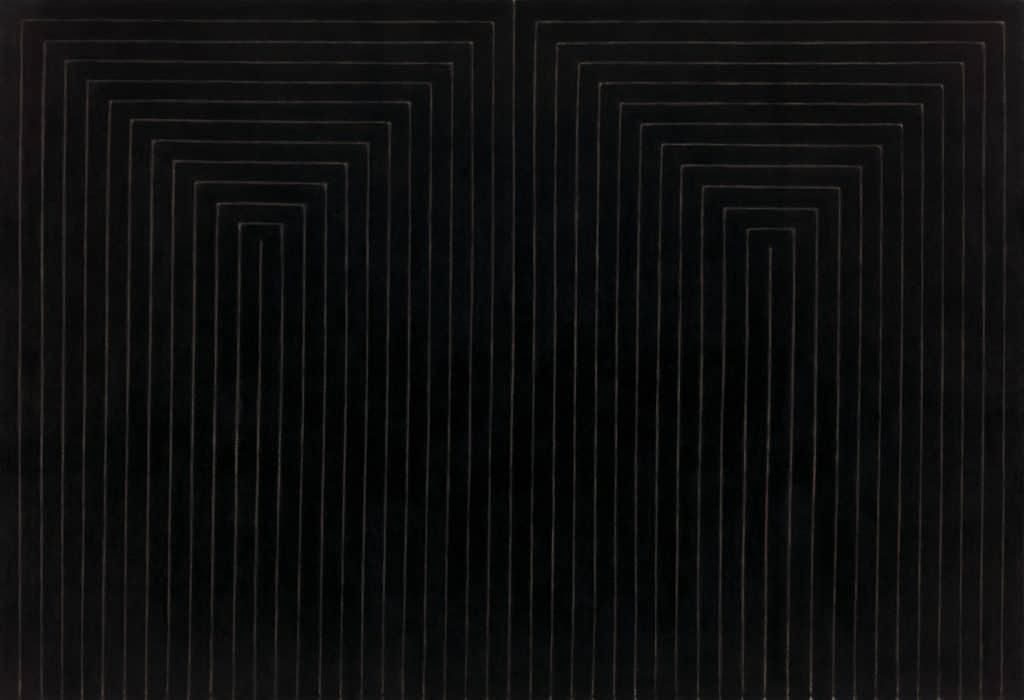 "What you see is what you see" Frank Stella (1936- ) famously explained in a 1964 radio interview about his Black Paintings series when he was only in his late 20s. With an education in history but a passion for art, Stella moved to New York City in 1958 and was inspired by Jasper Johns' stripes and rings of colours shown in his first solo exhibition. Only one year later, at the age of 23, four of Stella's paintings were included in the 16 Americans exhibition at the Museum of Modern Art in 1929. Those four paintings were the start of a series of 23 Black Paintings, as well as his reputation as a shocking and talented artist. Setting the stage for minimalist artists everywhere, Stella's Black Paintings sought to separate themselves from human experience and instead create a new visual literacy . A departure from the prevailing emotionality of Abstract Expressionism his works contained no ambiguity and a clear intention. Stella's Black Paintings of angled white lines against a painted black canvas created mesmerizing and occasionally dizzying patterns with no hidden meanings.
"My painting is based on the fact that only what can be seen there is there. It really is an object. . . All I want anyone to get out of my paintings, and all I ever get out of them, is the fact that you can see the whole idea without any confusion… What you see is what you see."

Frank Stella, 1964
Stella went on to become the youngest artist to exhibit a solo show at the Museum of Modern Art in New York, and has created hundreds of artworks since. However, his Black Paintings are to be noted in history for opening the door to the possibility of the creation of art exterior of human emotion and experience.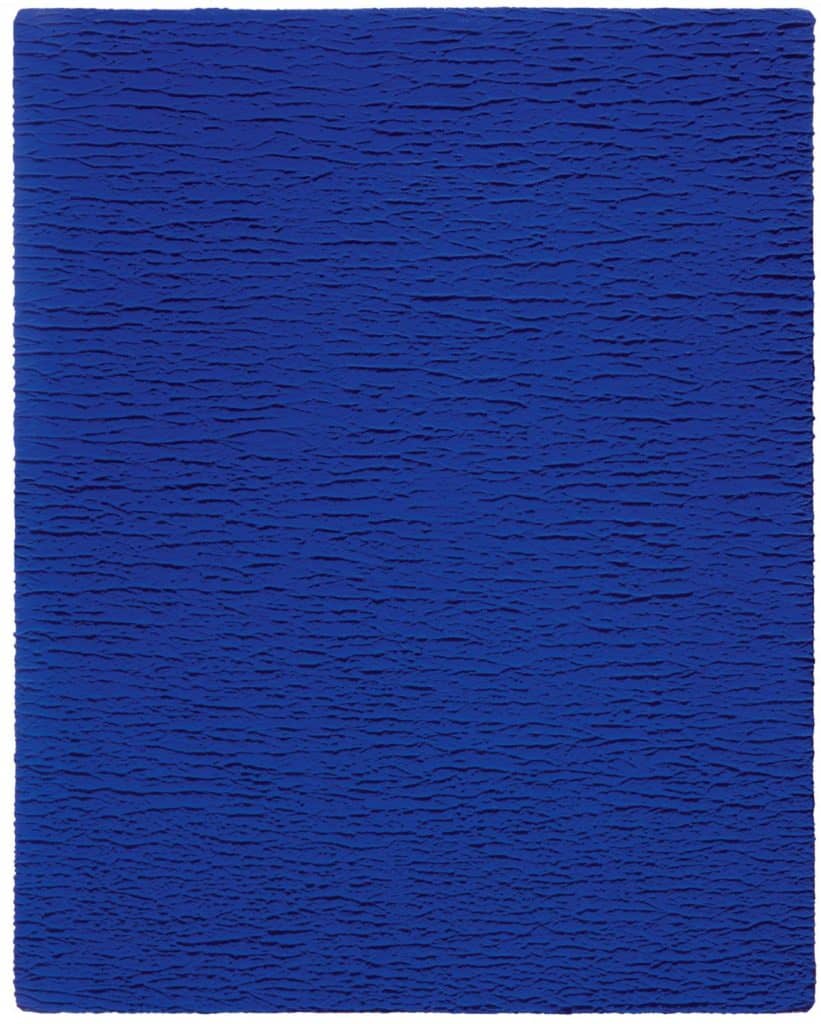 French artist Yves Klein (1928-1962) took a new step as an artist when he created a new colour: International Klein Blue. Developed in collaboration with Edouard Adam, a French paint supplier, the pigment uses a synthetic resin binder to suspend the colour and make the hue as intensely ultramarine as possible.
"What is blue? Blue is the invisible becoming visible. Blue has no dimensions, it is beyond the dimensions of which other colours partake,"

Yves Klein
Klein became associated with the colour the moment he famously declared the blue sky as his first artwork. From there, his International Klein Blue became a near-constant fixture in his works, utilising the paint to create monochrome abstractions that covered entire immense canvases. In one memorable instance, he even created a piece with just the pigment and women's bodies on canvas. Klein viewed monochrome painting as freedom, and proclaimed its usage as enabling him to be "immersed in the immeasurable existence of colour."
Yves Klein: How texture affects our perception of color in Blue Monochrome | AT THE MUSEUM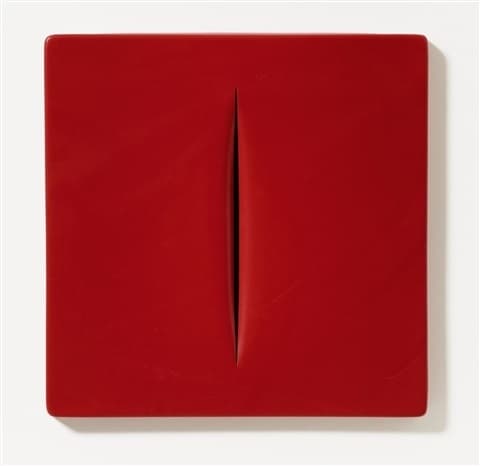 Known as the founder of Spatialism, Argentine-Italian artist Lucio Fontana (1899–1968) is best known for his integration of three-dimensionality into his paintings. His Concetto Spaziale (Spatial Concepts) series of monochrome paintings gain their third-dimension violently, with a cutting or puncturing of the canvas, that leaves gaping holes and slash-marks in the work. These pieces highlight the space behind the picture, alerting the audience to new spaces and forms. Interested in the pre-World War I proclamations of Futurists, Fontana sought to integrate his materials and works within space in new ways while creating a gestural language of expression through movement.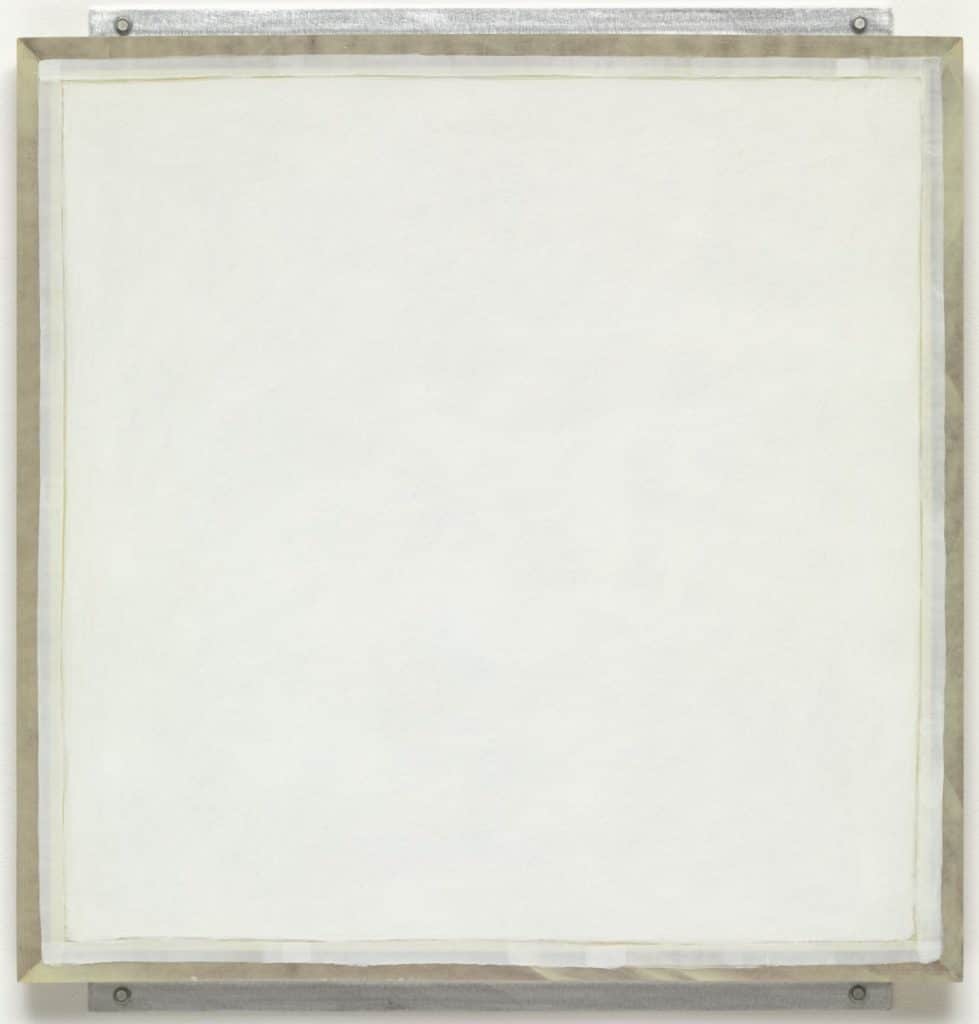 Best known for his minimalist and monochrome white on white paintings, American artist Robert Ryman (1930-2019) thought of himself first and foremost as a realist, explaining,
"I am not a picture painter. I work with real light and space, and since real light is an important aspect of the paintings, it always presents some problems."

Robert Ryman
Interested in presenting his materials in a simple and earnest way, Ryman's pieces feature white or off-white paint on a square materials. Utilising abstract expressionist-inspired brushwork, he enjoyed experimenting with his media, not limiting himself to traditional canvases but also incorporating linen, steel, wallpaper, featherboard, newsprint, burlap, and many other surfaces for the application of his monochrome works.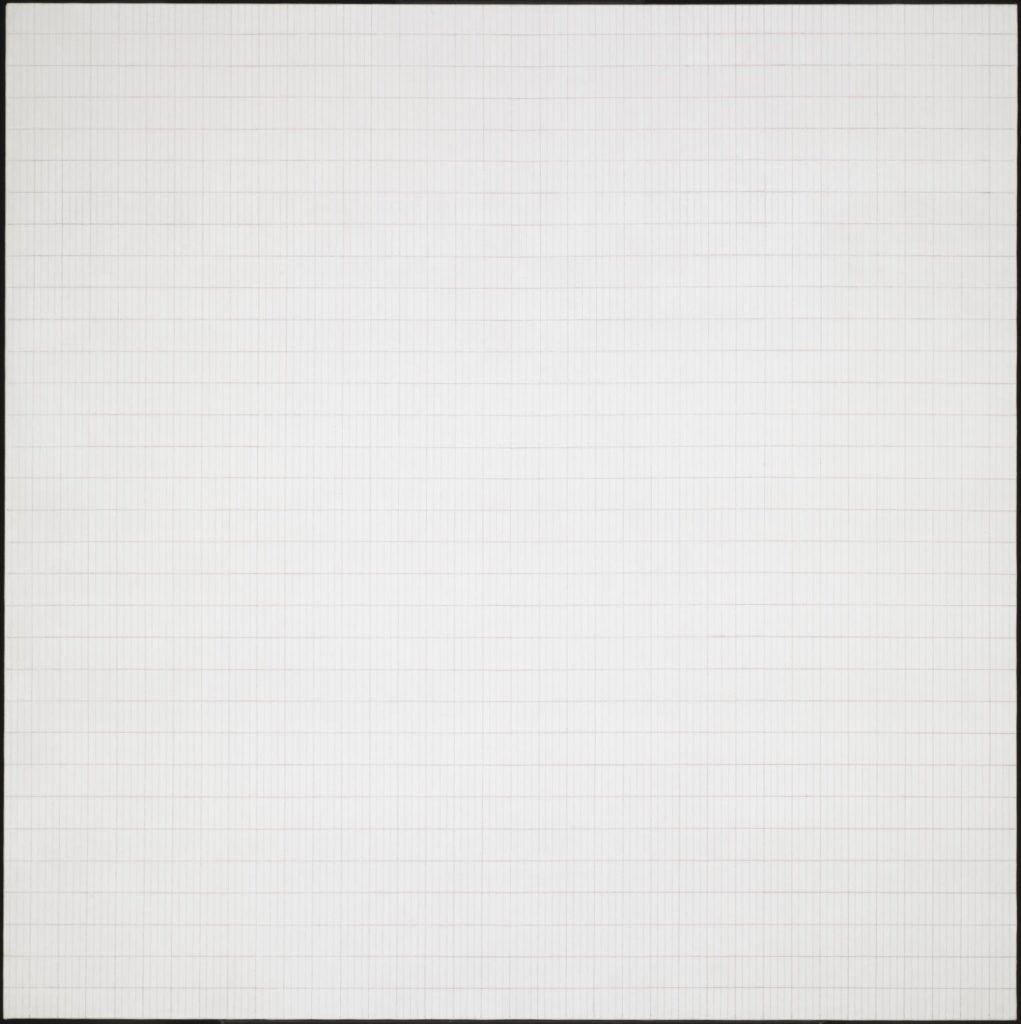 Canadian-American artist Agnes Martin's (1912-2004) abstract works inspired by nature are proof of her 1972 claim that "Anything can be painted without representation." Her signature pattern of a freehand grid provides a foundation for her monochromatic paintings of interlocking horizontal and vertical lines. Created nearly exclusively on six square feet of canvas, her loosely geometric paintings engage with the organic and natural.
Shifting in scale, colour, and rhythm in each work; her gridded paintings are only somewhat systematic – especially when compared to the work of other minimalist artists. Her use of pastels and soft colours, light graphite work, and the occasional dashing or dotting creates an environment for deep reflection and quiet contemplation: a moment of reverence between the work and its audience.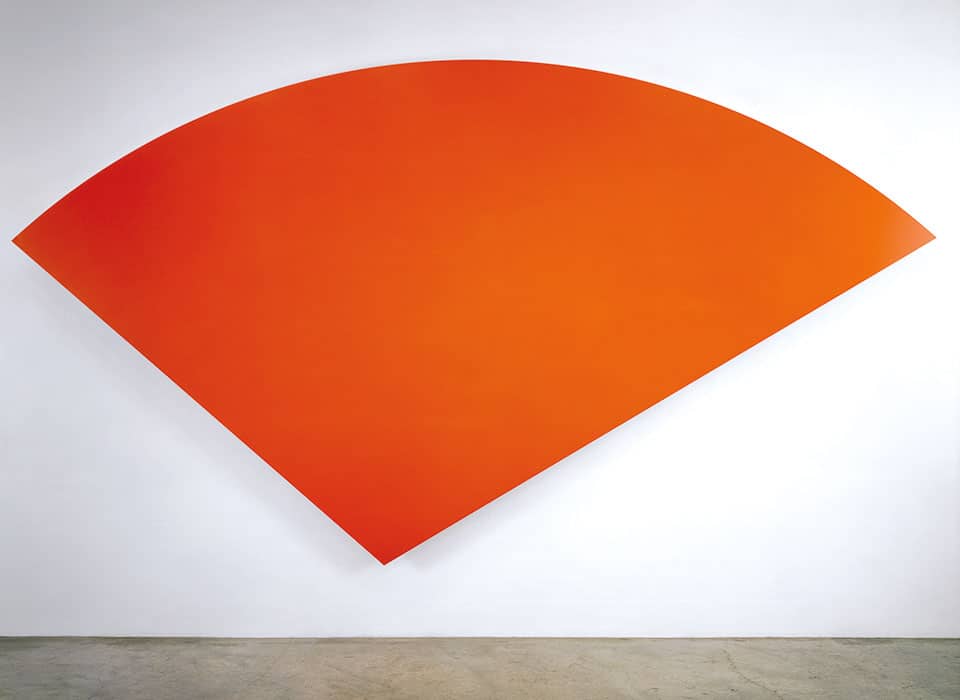 Though he may be best known for his employment and combination of vivid colours, approximately twenty percent of Ellsworth Kelly's (1923-2015) paintings were completed in black and white. The American painter, sculptor, and printmaker was always interested in the shapes that surrounded him in everyday life, and thus, he played with them in his art.
By working in monochrome, the distractions of colour and its corresponding meanings were removed, and Kelly was able to enjoy new freedoms to focus solely on form. Geometric and organic, his monochromatic pieces occasionally directly copied real-life forms, such as his famous Window, Museum of Modern Art, Paris created to match in appearance and dimensionality as that of a window he had encountered in the museum. His monochrome works vary widely in medium, from paintings to sculpture, but all remain striking meditations on form; devoid of the intrusion of the relationships between colours.
10. Olivier Mosset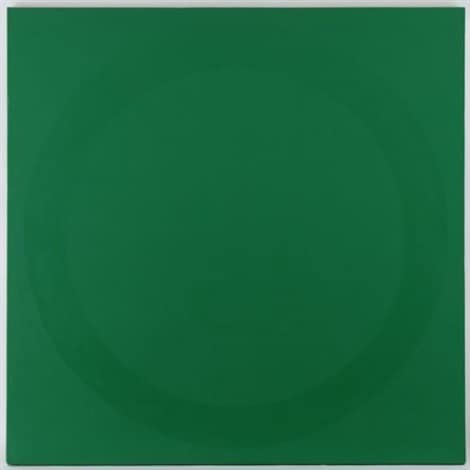 An integral member of the Parisian minimalist art group BMPT, Swiss artist Olivier Mosset (1944- ) is dedicated to exploring and eradicating fixed ideas of what it means to be an artist. Best known for his large scale monochromatic pieces, Mosset's art can be thought of as self-evident and devoid of metaphor.
Interested in repetitive patterns and an abolition of subjectivity, Mosset produced over 200 identical oil paintings of a small black circle in the center of a white square canvas from 1966-1974. This exploration was a challenge to preconceived notions of art creation, and all of his pieces are an extension of this conceptual abstraction. A representation purely of colour and shape, his work allows for endless interpretation and experience. In a moment of great contrast, German artist Gerhard Richter (1932- ) produced a series of monochrome, all-grey paintings, right after unveiling a set of vibrantly-coloured works. His explorations of grey have prompted him to explain his interest in the hue,
"Grey is the epitome of non-statement. It does not trigger off feelings or associations, it is actually neither visible nor invisible…Like no other colour it is suitable for illustrating 'nothing'."

Gerhard Richter
His flat, concrete-wall-like works of the 1970s explored his artistic abilities to create a lack of statement, emotion, and impression. However, more recently, at the turn of the century, Richter has explored the hue in tandem with reflectivity. By utilising the medium of glass in his newer monochrome collection Eight Grey, the reflective surface integrates the art viewer into the piece itself, emphasizing the reality of individual experience and perception.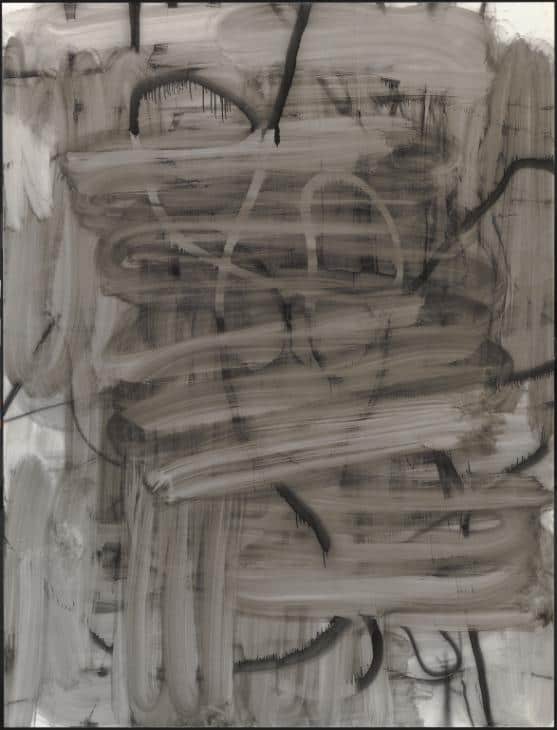 Inextricably linked to his use of monochrome including oil paintings of large black stenciled letters on a white canvas, American artist Christopher Wool's (1955- ) works explore the intersection and gaps between revealed and concealed.
Wool first screen prints monochrome elements that he has taken from photographs or images reproduced from his own paintings onto a canvas. He then applies layer upon layer of white paint to the works. This layering creates a smudging, erasing, and veiling effect, producing a feeling of ephemerality the ghost of his previous work. The resulting palimpsests can then be viewed equally for what they show, as well as what they hide.
Relevant sources to learn more
Learn more from the Tate
Explore colour theory from the Bauhaus here
Read about Dansaekhwa: The Meditative Korean Art of Monochrome Painting
Discover and Buy Paintings for Sale