Articles and Features
The Other Captain Beefheart – The Visual Art of Psychedelic Musical Pioneer Don Van Vliet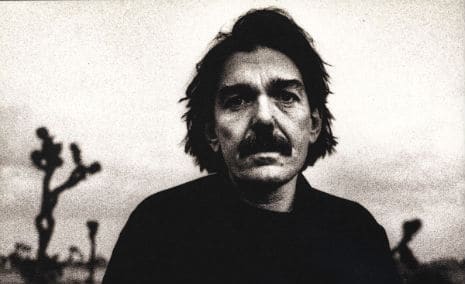 By Shira Wolfe
"People are just too far out. Do you know what I mean? Too far out — far away from nature." – Don Van Vliet
This article series explores the lesser-known artistic output of artists who became known for another medium or genre of art. Often, great artists wear many different hats, but break through and achieve acclaim because of their work in one specific medium. We aim to highlight the multifaceted nature of their talent by shining a light not on what they are best known for, but on the lesser-known side of their artistic production. In the previous edition, we spent time with the drawings of the visionary Joseph Beuys. This article devotes attention to the visual art practice of musician Don Van Vliet, best known by his stage name Captain Beefheart. Van Vliet abandoned his musical career in 1982 and devoted the last three decades of his life to painting.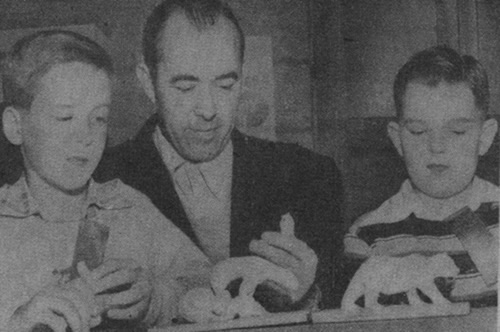 Don Van Vliet, a Young Sculptor Prodigy
Don Van Vliet was born as Don Glen Vliet in Glendale, California in 1941. He grew up in an average middle-class family, but from an early age proved he was quite different, in fact downright exceptional, standing out completely from his peers. At the age of five, as recounted in a 1970 Rolling Stone magazine feature on Van Vliet, he formed the opinion that civilised American life was a complete fraud, citing society's tyranny over nature. The young Don refused to go along with accepted social norms, declining to attend school regularly and refusing to come out of his room for dinner, instead spending hours sculpting all kinds of animals. His teachers considered him to be a prodigious artistic talent, but his parents discouraged him from it.
According to Rolling Stone, Van Vliet recalls one specific day of enlightenment as a child that would define the rest of his life philosophy and approach: "My mother, who I called 'Sue' rather than 'mother' because that was her real name, was walking me along a path to school — the first day of kindergarten. We came to an intersection and she walked right out into the way of a speeding car. I reached up with both hands and pulled her out of the way. She could have killed us both. It was then that I thought to myself, 'And she's taking me to school.'"
Van Vliet believed that he could reestablish ties to nature through the art of sculpture. He soon proved so talented that professional artists of the Los Angeles area began noticing him. One day, while visiting the Griffith Park Zoo, he met and befriended the famous Portuguese sculptor Augustonio Rodriguez, who took the young Van Vliet under his wing. They did a weekly television show together in which Van Vliet would sculpt the images of nature, mentored and observed by Rodriguez.
At the age of thirteen, Van Vliet won a scholarship to study art in Europe, but his parents disagreed with this path and actively stood in his way, moving him to the desert, first to Mojave, and later to Lancaster, California.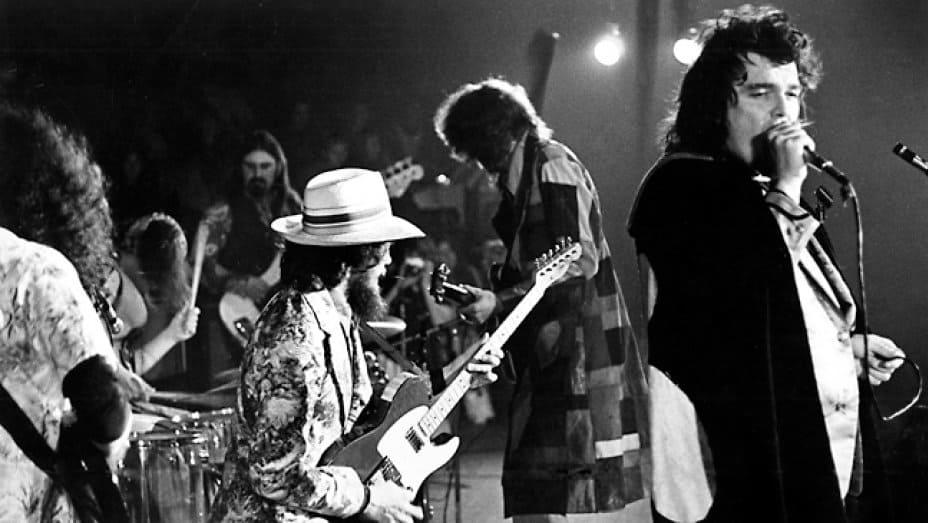 Don Van Vliet Becomes Captain Beefheart
Although his life as a sculptor seemed to have come to an end, Van Vliet didn't lose track of the artistic sensibilities which he had developed as a young boy. In the Rolling Stone feature, he is quoted as saying: "People are just too far out. Do you know what I mean? Too far out — far away from nature."
As a teenager, Van Vliet started developing an eclectic musical taste, listening intensively to Mississippi Delta Blues and the avant-garde jazz of John Coltrane, Ornette Coleman and Cecil Taylor. He befriended his peer Frank Zappa, who encouraged him to direct his attention towards making music. Zappa eventually helped him develop his stage persona, Captain Beefheart. Van Vliet began performing with his Captain Beefheart persona in 1964, joining the original line-up of the Magic Band that same year.
The Magic Band released their debut album Safe as Milk in 1967, and continued with the seminal 1969 album Trout Mask Replica, which would later rank 58th in Rolling Stone magazine's 2003 list of the 500 greatest albums of all time.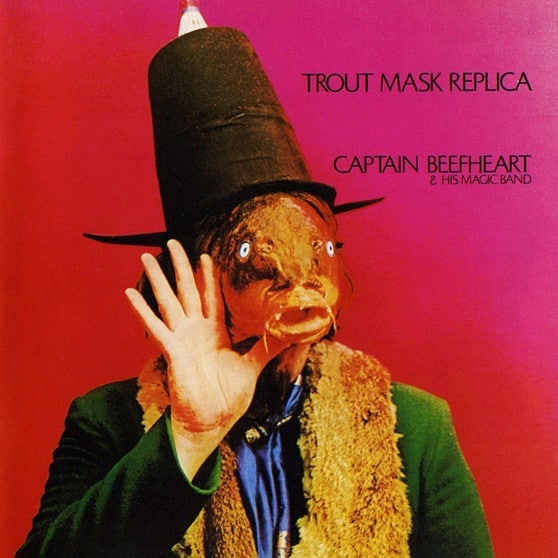 "We're dealing with a strange person, coming from a place of being a sculptor/painter, using music as his idiom. He was getting more into that part of who he was instead of this blues singer." – Bill Harkleroad, Magic Band
Successes, Setbacks and Disillusionment with the Music World
At many points, Van Vliet's musical career seemed about to really take off, but there were constant setbacks and problems. After his release album, he was dropped by two consecutive record labels and finally signed with Frank Zappa's Straight Records. Zappa gave him complete freedom to release an album exactly as he wanted to, without any restrictions, which led to the astonishingly avant-garde Trout Mask Replica. The story goes that once Van Vliet learned that he would have full creative freedom on this record and would not be forced to bend to any record label's wishes, he sat down at the piano (an instrument he had never played), and produced all 28 songs in 8 ½ hours. The album has its roots in avant-garde jazz and Delta Blues, yet Beefheart pushed it far beyond these influences into exciting new realms, producing one of the seminal masterpieces of the psychedelic era.
By 1982, Van Vliet had retired from music. He was frustrated by a lack of commercial success and had alienated the members of his band due to his abusive behaviour and an unpaid European tour, leading to them quit the band. He eventually formed a new Magic Band and released three final albums which were well received, but ultimately left behind the music world and a public life in favour of pursuing a career in visual art, in essence returning to his very first mode of creative expression. His former Magic Band guitarist Bill Harkleroad noted: "We're dealing with a strange person, coming from a place of being a sculptor/painter, using music as his idiom. He was getting more into that part of who he was instead of this blues singer."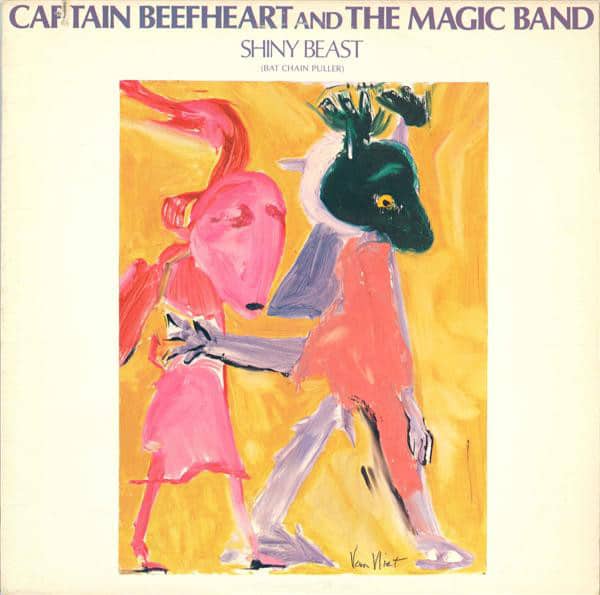 Don Van Vliet's Return to the Visual Arts
After retiring from music, Van Vliet rarely appeared in public. He lived near Trinidad, California with his wife Janet "Jan" Van Vliet, and focused on painting. Throughout his musical career, he had always remained interested in visual art, and he had used his paintings for several of his album covers.
Van Vliet's visual arts practice proved to be more financially secure than his music had ever been, and it was when Julian Schnabel purchased one of his paintings and he received his first solo exhibition at Mary Boone Gallery in New York in 1985 that his visual arts career really took off. Although many people initially saw him as just another rock musician trying his hand at art as a form of creative indulgence, his unique paintings soon received more serious attention. His works have been described as Expressionistic and Primitivistic, and as "outsider art", and have been compared to the work of Franz Kline, Mark Rothko, and Jackson Pollock.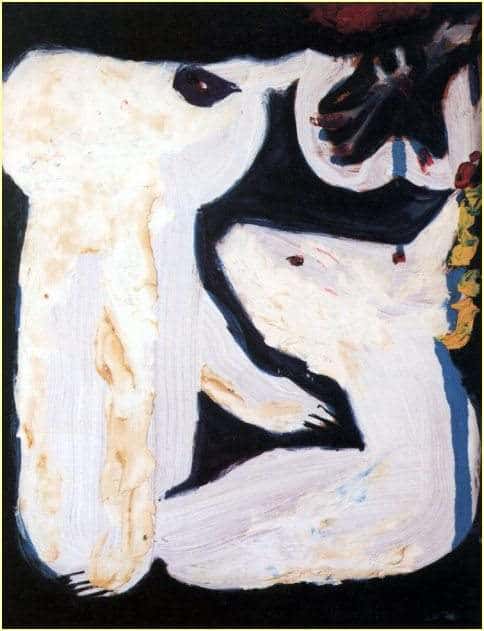 Of his own work, Van Vliet said: "I'm trying to turn myself inside out on the canvas. I'm trying to completely bare what I think at that moment." In response to a question about his artistic influences, Van Vliet stated there were none, saying: "I just paint like I paint and that's enough influence." Still, he mentioned admiring George Baselitz, Piet Mondrian, and Vincent van Gogh.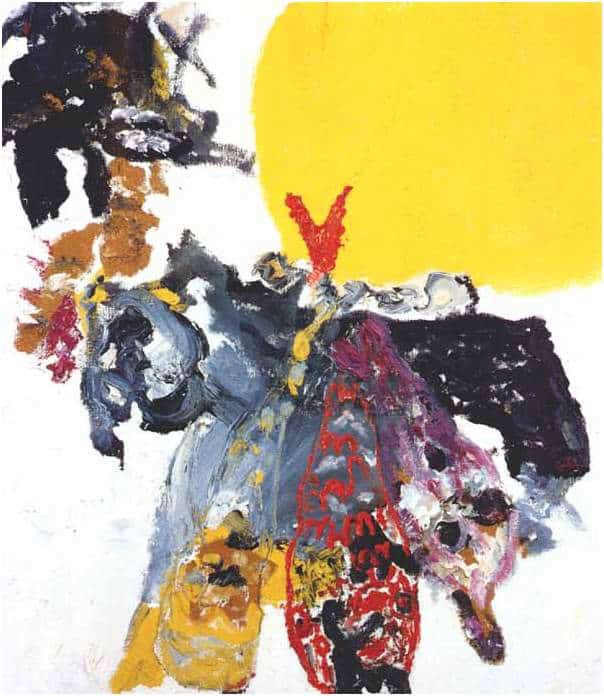 Van Vliet's paintings examine the (inner and outer) landscapes of the United States, in particular, his California desert surroundings. They communicate a primal connection to the subconscious, to the world seen through the eyes of Don Van Vliet, with wild, unexpected and unhinged elements. In his music, Van Vliet was always interested in locating the uncanny within the banal. The same goes for his visual art. Van Vliet frequently painted evocative solitary figures set against the backdrop of minimal palettes of colour and form.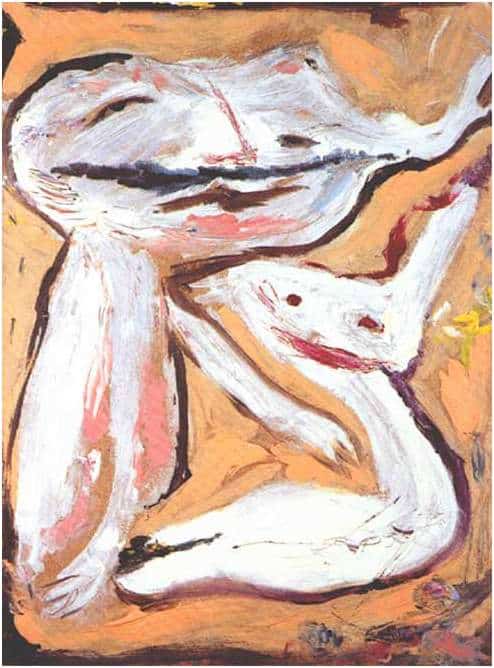 His early works, depictions of abstracted nature, were mostly executed in watercolour and gouache. Over the years, Van Vliet started favouring work with coloured pencils and worked in this manner until his death. The drawings are often even sparser than the paintings. According to Galerie Michael Werner, with whom Van Vliet established a relationship in the early '80s, "the late works clearly evoke a sense of primitive sound or language, eschewing the pictorial for pure and unfettered expression."
Death and Legacy
In conversations with Rolling Stone reporter Langdon Winner, Beefheart would often say: "You know, I'm not even here. I just stick around for my friends." He vibrated on a different frequency than most people, believing he had lived previous lives, including one in which he was a genius visual artist who could never manage to finish any painting, and was a close friend of Rembrandt's. He also had a prophetic streak to him, frequently announcing that he had to answer the phone when it hadn't even rung yet, or predicting the arrival of people at his house.
The eccentric and prophetic Van Vliet was the subject of notable solo shows at Michael Werner Gallery and Anton Kern Gallery in New York. In 2010, the year of his death, Van Vliet's paintings were selling for $40,000 apiece at Werner's New York space. Van Vliet also exhibited his art in galleries and museums across the United States and Europe, including P.S.1 Contemporary Art Center in New York, the San Francisco Museum of Modern Art, Bielefelder Kunstverein, Brighton Museum and Art Gallery and Cleveland Center for Contemporary Art.
One of Van Vliet's last public appearances was in the 1993 documentary Some Yo Yo Stuff by photographer and filmmaker Anton Corbijn. The film consists of approximately 13 minutes shot in black and white, showing a weakened and dysarthric Van Vliet at his home reading poetry and discussing his life, the environment, music and art. At this point, Van Vliet was already suffering from multiple sclerosis. Van Vliet died on December 17, 2010 from complications stemming from this disease. His gallery, Michael Werner Gallery, said in a statement: "Don Van Vliet was a complex and influential figure in the visual and performing arts. […] Like his music, Van Vliet's lush paintings are the product of a truly rare and unique vision."
Relevant sources to learn more
Read more about the pioneering artist and musician Don Van Vliet and browse his artworks here: