Auctions
Top Picks from Artland's Emerging and Contemporary Art Auction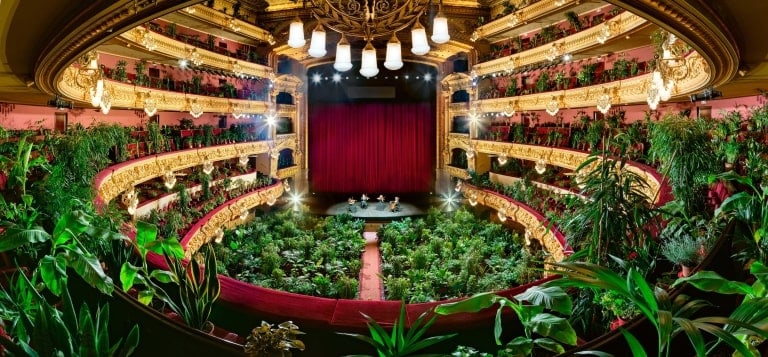 By Adam Hencz
​​Artland's Emerging and Contemporary Art Auction offers a unique opportunity to discover and acquire works by both established and promising up-and-coming artists on Artland's marketplace in 2022.
The auction features a diverse selection of artwork, from paintings all the way to installations. Bidding starts at 50% of the usual listing price with reserves set at 50% below the low estimate. Many items are available for immediate purchase through a 'BUY NOW' button, which enables bidders to trigger an immediate end to the auction and acquire items for well below the retail prices.
Whether you're a seasoned collector or you are just starting to build your art collection, this auction is not to be missed. It runs live online until February 2nd, 2023.
Read on for a curated selection of six works from some of the highly sought-after artists in the auction, offering a glimpse into the diverse works available for bidding or immediate purchase.
You can browse all works from Artland's Emerging and Contemporary Art Auction here.
Marco Godoy, In the service of vision (2021)
Marco Godoy is a Chilean artist and designer whose work often explores themes of social justice and political resistance. In the Service of Vision, his most recent series, is a powerful and thought-provoking look at the fight for human rights and equality in his home country, Chile.
The riot shields in the installation were designed to be used by "front line" protesters in a 2019 social outbreak in Chile. The shields were distributed to protesters to create a barrier and protect themselves from Chilean police brutality. The mirrored surfaces confronted aggressors with their own reflections and served as camouflage for the protesters, allowing them to blend in with their surroundings and evade violence.
Godoy's In the Service of Vision is a powerful statement on the ongoing struggle for human rights and a more equalitarian society. It is an opportunity for the viewer to reflect on the role of art in political resistance.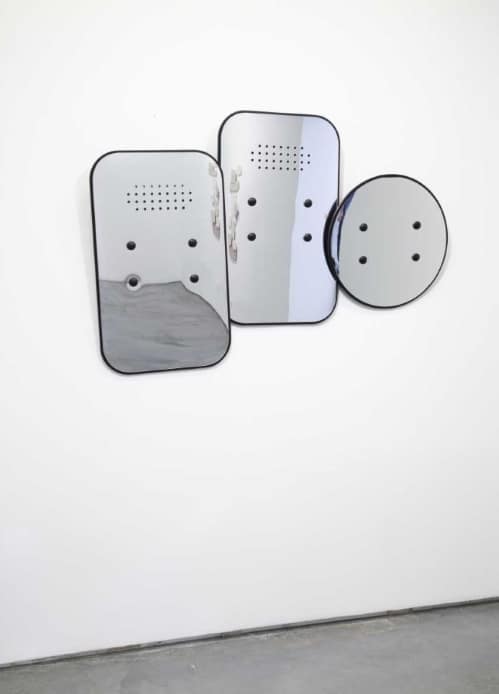 Mariona Espinet, Tierra (2022)
Tierra, an acrylic painting by Mariona Espinet, is a stunning example of the artist's ability to blend strictly geometric forms and deep emotions in her work. The painting features bold blocks of color that are layered and combined in a harmonious manner, creating a sense of depth, levitation and movement.
Espinet's use of color is particularly striking in Tierra, as the hues chosen are bold and evocative. The painting's title, 'Earth', is also reflected in the colors used in the piece to evoke a sense of the natural world and the connection between the viewer and their environment. Espinet is based in Barcelona and studied as an interior designer, graduating from Eina Design School in 2009.
Hussein Madi, Mazareh Shebaa Lubnaniya (2021)
Mazareh Shebaa Lubnaniya is a striking representation of Hussein Madi's unique style, which combines traditional Islamic symbols with a modernist aesthetic. The vibrant and dynamic composition of the pigmented giclée on canvas comprises recurrent and overlapping shapes and colors. The piece is given a spiritual charge using geometric and calligraphic elements, which evoke a feeling of motion and energy. The title of the piece, Mazareh Shebaa Lubnaniya (Lebanese Mazareh), alludes to the artist's native Lebanon as well as the focus on Egyptian and Lebanese cultural heritage that has been a recurring theme in his work.
Madi's works have been widely exhibited and collected by major international institutions, solidifying his position in contemporary art. Mazareh Shebaa Lubnaniya is a rare opportunity for collectors to acquire a piece from this artist. Its powerful composition and Madi's unique blend of traditional and modern elements make it a standout piece in any collection.
Yang Kailiang, Sommer Wender Tag Abend (2022)
Yang Kailiang is a Chinese artist born in Jinan, Shandong, who currently lives and works in Hamburg, Germany. He is known for his ethereal and serene urban landscapes, often rendered in dampened shades of grayish blue and silver pink. He has exhibited his work in various galleries worldwide, most recently at Tom Reichstein Contemporary for the group show titled 'Elb/Hängung'.
Part of the artist's latest works is the oil and acrylic painting titled Sommer Wender Tag Abend, which creates an atmosphere of eased and emblematic romanticism and lightened reality. The piece is a testament to Yang Kailiang's ability to create a sense of atmosphere and emotion through his use of color and composition.
Eglė Ulčickaitė, Jagger (2012)
Eglė Ulčickaitė (b. 1989) is a young artist born in Lithuania. Eglė participated in various art residency programs and several exhibitions and projects in Lithuania and abroad. In her 2012 artwork titled 'Jagger', Ulčickaitė continues to explore the themes of time and nostalgia through domestic and portrait motifs. Jagger is a fine example of the painter's ability to convey a sense of nostalgia through the image of a cultural icon.
The painting shows Mick Jagger sitting and holding an apple while wearing a striped shirt. It makes a subtle commentary about the rock star's lasting legacy and cultural importance. As a young artist, Ulčickaitė's fresh perspective on familiar themes adds a unique and compelling voice to the contemporary art world in Lithuania and beyond.
Eugenio Ampudia, Concert for the Biocene 7 (2020)
Eugenio Ampudia is a multidisciplinary artist from Melgar, Valladolid, Spain. His work often explores the critical role of the artist in today's society and the meaning and production of art pieces. Ampudia's work has been exhibited internationally at venues such as the ZKM in Karlsruhe, Germany. He currently lives and works in Madrid.
Concert for the Biocene 7 is a photography print on methacrylate, with an edition of 10. This piece of art comes from Ampudia's research on the need to rethink the present from a post-humanist and eco-social point of view. The artwork documents a performance created as a concert for plants: a symbolic action for a paradigm shift. A string quartet performed Giacomo Puccini's piece 'Crisantemi' for 2,292 plants filling the entire theater. The artwork resulted in a series of photographs and an art video.