Articles and Features
The Other E. E. Cummings: The Poet's Modernist Paintings
By Shira Wolfe
"The Artist is no other than he who unlearns what he has learned, in order to know himself."

E. E. Cummings
Often, great artists work in a variety of media but break through and achieve recognition because of their practice in one specific medium. The article series 'The Other' examines the lesser-known artistic endeavors of contemporary artists acclaimed for another medium or art form. By shining a light not on what they are best known for, but on the lesser-known side of their creative output, we aim to highlight the multifaceted quality of their talent.
In this edition, we explore the journey of E. E. Cummings, the famous 20th-century experimental poet known for inventing his own words and ignoring conventional punctuation and syntax, through modernist and abstract art.
E. E. Cummings, the poet
E. E. Cummings (also known as e. e. cummings and e e cummings) was born Edward Estlin Cummings in Cambridge, Massachusetts in 1894. He decided to become a poet when he was a child and wrote one poem every day from age eight to age 22. While he was at Harvard University in 1916, he became interested in modern poetry and started writing avant-garde poems. Experimenting greatly with syntax and punctuation, Cummings started to develop his own signature style of poetry, also favoring a distinctively visual approach to the poems and how he arranged them on the page. He published his first book, The Enormous Room, in 1922, which was a fictionalized account of his captivity in France during the First World War. In 1923, he published his first collection of poetry, Tulips and Chimneys, followed by XLI Poems in 1925 and Is 5 in 1926. Cummings was a proponent of poetry being a process, not a product. These collections cemented his status as an important avant-garde poet, approaching poetry and the perception of life with a unique sense of wonder and clarity.
"Why do you paint? For exactly the same reason I breathe."

E. E. Cummings
E. E. Cummings, the painter
For Cummings, painting and poetry were his twin obsession: they supported each other as part of his daily routine and were both necessary for him to express himself. After he graduated from Harvard University, Cummings moved to New York, where he started doing portraits for Dial Magazine and exhibiting paintings, for example at the Society of Independent Artists. After seeing the exhibition "The Forum" in New York, showing 17 leading artists of the time, Cummings became inspired to create more radical and abstract art. Tendencies such as Post-Impressionism and Fauvism were prevalent in his art. As his poetry became more and more popular, Cummings eventually withdrew from the art scene in the early 1930s and resumed his painting activity privately. He would continue to paint all throughout his life, but his later work became more realistic and conservative, losing touch with the visual experimentation of his earlier years.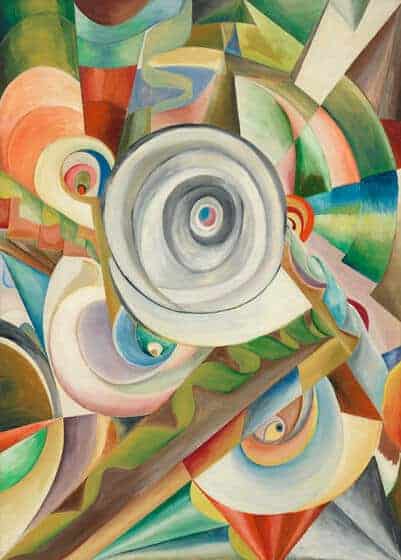 At the Dawn of a New Age: a celebration of Cummings' painting at the Whitney
The current exhibition "At the Dawn of a New Age: Early Twentieth-Century American Modernism" at the Whitney Museum of Modern Art shows works by modernist artists, both well-known and under the radar, which were created between 1900 and 1930. Many historically overlooked artists are included, among whom is E. E. Cummings with his abstract oil painting Noise Number 13 from 1925, a painting he created in response to his return to New York City after being in Paris. His work is shown alongside that of artists such as Henrietta Shore, Yun Gee, Isamu Noguchi, Georgia O'Keeffe, and Agnes Pelton. The exhibition offers a broader perspective on American modernism and shines a light on many previously ignored artists who are reclaiming their place as important contributors to 20th-century modernism.
Relevant sources to learn more
Explore previous editions of our series "The Other":
The Other David Lynch
The Other Alejandro Jodorowsky
The Other Patti Smith
The Other Miles Davis
Keep reading in Artland Magazine
If you like E. E. Cummings poems, you might also enjoy the Dada poems by Hugo Ball
Other relevant sources:
Read more about Dawn of a New Age at the Whitney
Read poems by E. E. Cummings
Wondering where to start?