Articles and Features
Lost (and Found) Artist Series: Lynne Drexler
By Sara Marín
"I've always felt deeply within myself I was a damn good artist, though the world didn't recognize me as such. I wasn't about to play their game."

Lynne Mapp Drexler
These last years have been crucial for readdressing the gender imbalance in art history, unveiling powerful and inspiring stories of female artists. Today's edition of Artland's Lost (and Found) Artist series, which unveils the stories of artists who were once omitted from the mainstream art canon or who were largely unseen for most of their careers, explores the renaissance of Abstract Expressionist painter Lynne Mapp Drexler (1928-1999). Probably overshadowed by her husband (also a painter) and her male contemporaries, she experienced the vibrant and tumultuous New York art scene of the mid-20th century but overwhelmed by it, and struggling with her career, left for the peaceful Monhegan Island, off the coast of Maine. As is often the case, after her death in 1999 and especially in recent years, Drexler is eventually gaining the attention she would have merited, and (as some had anticipated) her paintings are now being sold for millions.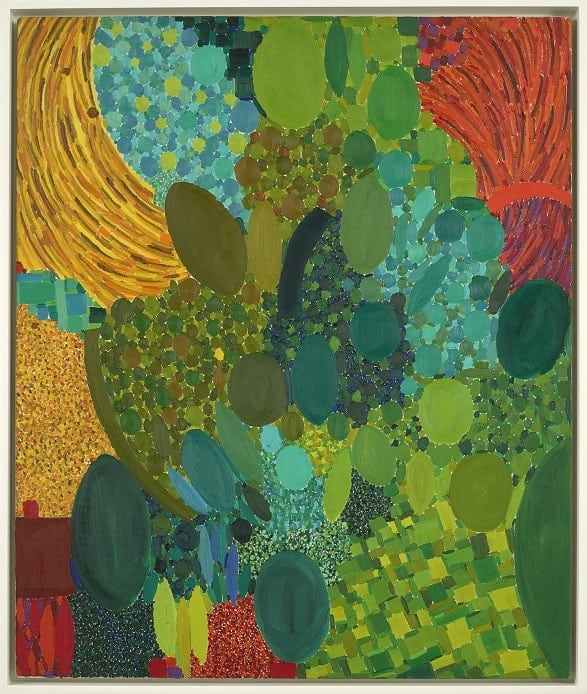 A Promising Art Career
Lynne Drexler was born in the bosom of a good family near Newport News in Virginia, United States. Encouraged by her parents to follow her creative interests, she began painting as a child and took art lessons. After training at various art institutions in Virginia between the late 1940s and the early 1950s, motivated by some mentors Drexler moved to the buzzing creative hub that was New York City in 1955. There, she studied with Hans Hofmann – like Abstract Expressionist painter Lee Krasner had done years before – enrolling in 1956 in both his School of Fine Arts and his Provincetown summer school, and then with Robert Motherwell at Hunter College. Both Abstract Expressionist artists were decisive for Drexler's career as a painter in terms of encouragement and technique. Profoundly influenced by her artist-teachers, the first works she exhibited in 1959 and 1960, in Provincetown and Virginia respectively, were fully abstract: her canvases were a free emergence of colors through geometric forms.
Little by little, Lynne Drexler became a modernist painter with an innovative style, immersed in the artistic atmosphere of post-war New York. She was part of the Greenwich Village bohemian culture and a regular member of gathering points such as Cedar Tavern and the Eight Street Artist Club, where groundbreaking artists such as Jackson Pollock, Grace Hartigan, and Willem de Kooning used to mingle. Drexler's first solo exhibition in NY was in 1961 at Tanager Gallery. That same year, she met the painter John Hultberg (1922-2005), who she would marry in 1962. The newlyweds spent their honeymoon in Monhegan Island, where he had had a house bought by his art dealer Martha Jackson to get away from the hectic New York life. That stay would turn out to be the beginning of a love story between Drexler and the island.
During the mid-1960s, the couple experienced an itinerant phase, traveling and exhibiting across the US – Los Angeles, Portland, San Francisco – and Mexico, but always coming back to Monhegan Island in the summers. By that time, Lynne Drexler was considered a talented young artist with relative commercial success. In 1967, back in New York, she and Hultberg moved to the Chelsea Hotel, known to be the home of several prominent artists throughout the decades. However, Drexler felt alienated from the NY art scene and could not enjoy living in the city anymore. She suffered from intense depression that led her to attempt suicide. After her recovery in 1971, Drexler and Hultberg started spending more time on Monhegan, dividing their time between the island and a loft in NY Soho. It was not until 1983 that the couple settled permanently on Monhegan Island – even though only Drexler remained until she died, as Hultberg found it too isolating and soon left.
"There is no isolation in a place like this–but solitude is respected."

Lynne Drexler
Monhegan Island
Beloved by artists since the 1850s – Edward Hopper among others – the rocky Monhegan Island became the setting of the most serene and romantic season in Lynne Drexler's life.
Since she discovered that magical place in 1962 as a summer getaway from the city, she could not stop dreaming about it, ultimately moving there to spend the rest of her existence. When living in New York got overwhelming and alienating, Drexler found in that remote spot the calm and refuge she had been seeking for years. There, she could freely paint without the pressure and constricted demands of the New York art market. Despite her struggles, Drexler had always been a persistent painter and found in Monhegan the perfect environment to keep creating.
It was a period of changes: from the anguish she felt in the city, Lynne Drexler embraced the warmth of the loving community of Monhegan. As for her style, she could not be immune to the beauty of the island. Although Drexler did not paint that much outdoors, the air she breathed and the scenery she contemplated radically changed the way she painted. She started filling her canvases with natural motifs and introducing figurative elements – yet staying loyal to abstraction. Off the radar of the art market, it was in Monhegan that Drexler began to gain recognition at a local level with solo shows in Portland and Monhegan. She died in 1999 on the island she adored.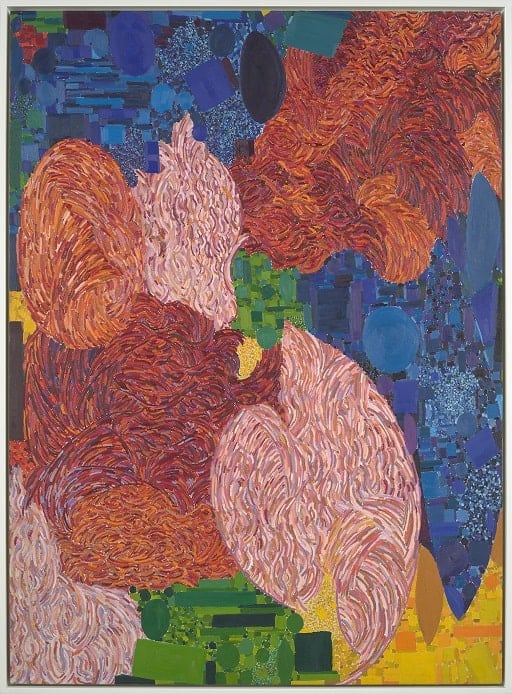 Art Style & Influences
Since her early painting practice in the late 1950s, Lynne Drexler has been considered a second-generation Abstract Expressionist artist of the New York School, such as artists of the likes of Robert Rauschenberg, Joan Mitchell, and Grace Hartigan. Though Abstract Expressionism had almost run its course, she was an unafraid painter who cultivated abstraction when Pop Art was the trend; who didn't hesitate to shift toward figuration in her later years; who embraced multiple sources of inspiration, looking both inside and outside, from nature to the opera. But Drexler's paintings are first and foremost, about color and its force.
Lynne Drexler's first influences were the two Abstract Expressionist artist-teachers she had when she moved to NY in the mid-1950s: the German Hans Hofmann and the American Robert Motherwell. From Hofmann, she absorbed the idea he called "push and pull", a theory that consisted in creating interdependent relationships between color, form, and space. Motherwell, on the other hand, encouraged her to prioritize the creative process. Both figures prompted her to make a living as an artist. At the end of the decade, she had developed the unique signature style for which she is known: large canvases built up with contrasting vibrant tones followed by geometric forms such as swatch patches in a purely abstract style.
Drexler's joyous and uplifting kaleidoscopic canvases are inspired by and imbued with her multifaceted interests. During her Chelsea Hotel period in NY, she used to attend the opera, drawing sketches – not literal depictions, but abstract forms – about what the music and performance made her feel. Then she arrived home and created paintings from music. Drexler also loved embroidering, another artistic pursuit that influenced her work as her colorful patches almost look like they pop up from the background, recalling Gustav Klimt's mosaic forms and William Morris's textiles. But what Drexler probably liked the most was nature, especially her Monhegan Island surroundings. During her stays before settling in Monhegan permanently, she made sketches and took snapshots of her favorite place to get inspired in the city. Drexler'style became more figurative by the 1980s, introducing physically recognizable elements to her paintings that are reminiscent of Henri Matisse's and Van Gogh's work. Critics have also drawn a comparison between Drexler's art and many avant-garde movements like Pointillism, Impressionism, and Fauvism for its distinctive color palette.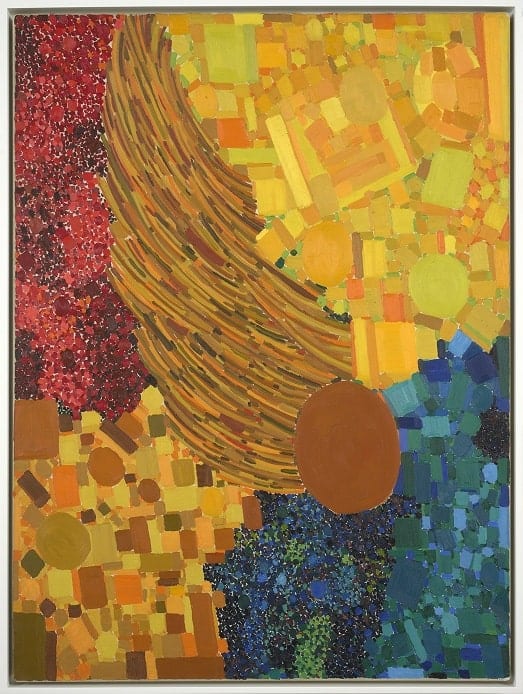 Auction Records & Recognition
Initially praised by her contemporaries, artists and critics alike, Lynne Drexler was, eventually, forgotten. Throughout the last two decades, however, her name and work have been drawing the attention and acknowledgement she lacked during her lifetime. Why now, one may ask. At a time when once-overlooked female artists, past and present, are finally gaining recognition and value, the empowering story of a resolute woman who painted until her final days simply for the pleasure of it couldn't not go unnoticed. What is more, her dashing, joyful paintings come as a breath of fresh air amid the challenges of the present.
The interest in Lynne Drexler's work comes together with skyrocketing prices – quite ironic if one thinks that for some time the artist had to paint seascapes for tourists for a living. Last December, more than twenty years after she died in 1999, one of her colorful canvases sold for almost $5,3 million at a Christie's auction – and it is not the first time that a work by Drexler sold for more than expected (check out Christie's estimates and final prices of Drexler's paintings this year).
Over the last two decades, numerous solo and collective exhibitions have been held to honor Lynne Drexler's work, and her paintings have been hung in various prestigious museums in the US. Another example of her recent fame is a joint exhibition at Mnuchin Gallery and Berry Campbell Gallery, which also represents the estate of the artist. The exhibition presented artworks from Drexler's first years in NY, all realized between 1959 and 1969. Run from October 27 to December 17, 2022, Lynne Drexler: The First Decade has brought to light Lynne Drexler as the essential figure she was for American Abstract Expressionism, thus redefining her place in contemporary art.
This article is based on the catalog essay written by art historian Gail Levin for "Lynne Drexler: The First Decade" at Berry Campbell Gallery and Mnuchin Gallery, and on the work of Lynne Drexler's biographer Lisa Peters.
Relevant sources to learn more
Read other articles from the Lost (and Found) Artist series
Lee Krasner
Ron Gorchov
Judy Rifka
Tehching Hsieh
Read more about Abstract Expressionism
The Abstract Expressionism movement
The shows that made contemporary art history: the Ninth Street show
Ninth Street women: rethinking Abstract Expressionism
Other relevant sources
Find out more about the artist at The Estate of Lynne Mapp Drexler
Last exhibition about Lynne Drexler: The First Decade (1965-1969) at Berry Campbell Gallery in NY
Lynne Drexler: The First Decade (1959-1964) at Mnuchin Gallery in NY
Wondering where to start?