Articles and Features
Artistic Collaborations: Senga Nengudi & Maren Hassinger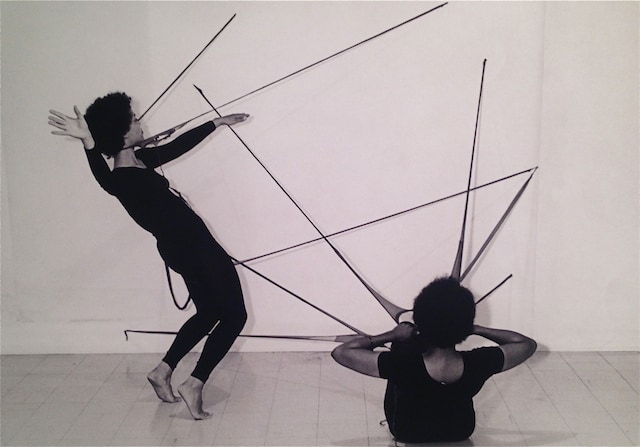 By Shira Wolfe
"We made our own beautiful world, even though the art establishment was not recognising us particularly at the moment. Because LA is very multicultural, we were able to work as people of colour, in our own special way, the way we wanted to. We were able to enjoy our culture, be our culture, experience our culture in new ways together, which the establishment didn't have time for."

Senga Nengudi
Artland's "Artistic Collaborations" series offers an insight into some of the art world's most inspiring and unique artistic collaborations. This week, we will examine the boundary-breaking work in sculpture, dance and performance by Senga Nengudi and Maren Hassinger. The two artists lived and worked in Los Angeles during the 1970s, and were involved with the loose artist collective Studio Z as part of a rich artist community where people would go to work in their own studios, and then come together to share and exchange their work. Nengudi and Hassinger both initially wanted to be dancers, and ended up as sculptors who created performances in an utterly original combination of arts. In their artistic collaboration, they were able to explore the dance that was so much a part of both of them.

Senga Nengudi and Maren Hassinger – Studio Z
In 1970s LA, a community of black artists formed the loose artist collective Studio Z.
They came together in the studio of artist David Hammond, which occupied a former dancehall. Hammond offered Nengudi to share the studio with him, and it soon became a place where various artists came together to collaborate on performance ideas and practice. Among the artists involved with Studio Z were David Hammond, Senga Nengudi, Maren Hassinger, Barbara McCullough, and John Outterbridge. As Nengudi explains: "We made our own beautiful world, even though the art establishment was not recognising us particularly at the moment. Because LA is very multicultural, we were able to work as people of colour, in our own special way, the way we wanted to. We were able to enjoy our culture, be our culture, experience our culture in new ways together, which the establishment didn't have time for… We each had our own careers but our time together provided communal support when there was little support to be had outside of ourselves." The artists would each work on their own projects, and then come together to exchange with each other, and experiment with their work.
These meetings also led to natural collaborations, and Nengudi and Hassinger found in each other long-term collaborating partners. Hassinger's practice includes sculptures, videos and performances, merging her background in fibre arts, sculpture and dance. Nengudi also works with a wide range of media, with a focus on sculptures that combine natural and synthetic materials to explore connections between the body, the spirit, visual arts and dance. Together, they explored their shared interest in movement and performance.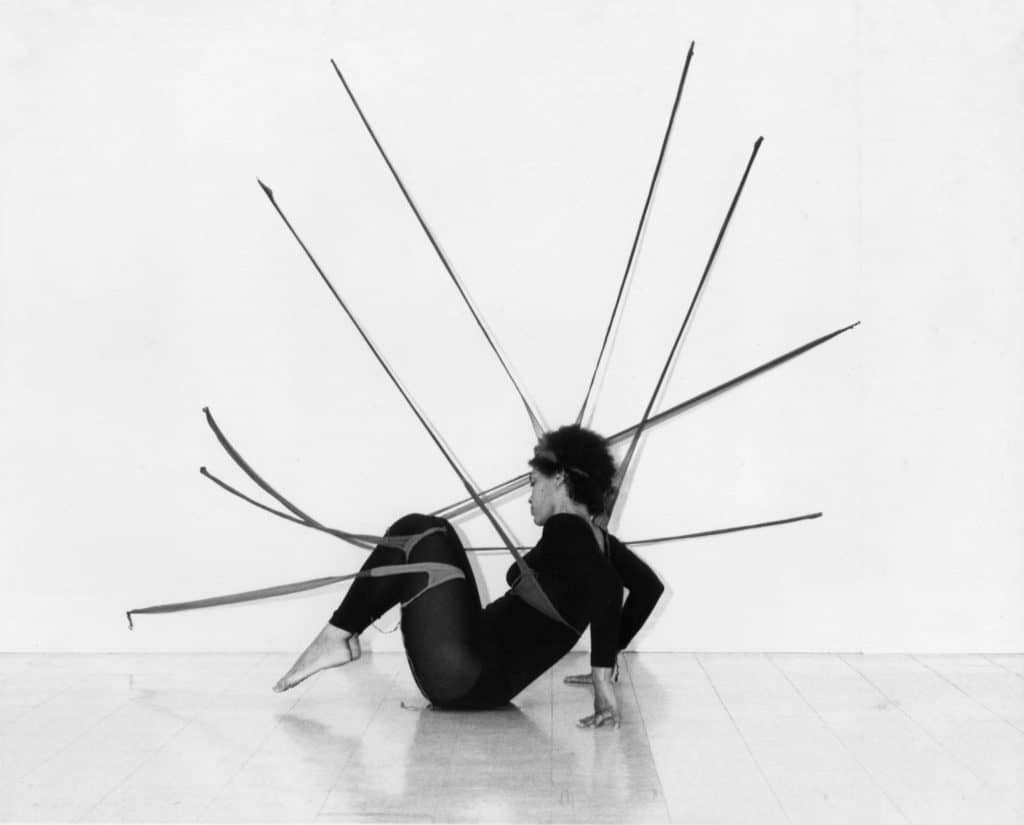 Senga Nengudi and Maren Hassinger – R.S.V.P.
In 1977, Nengudi and Hassinger did their first public performance collaboration together, connected to Nengudi's sculptural work R.S.V.P. (repondez s'il vous plait), initially created in response to the physiological changes in Nengudi's body following the birth of her child. Nengudi's sculptural work is characterised by her love of one material in particular: nylon pantyhose. She stretches the pantyhose, ties them, fills them with sand, and suspends them in space, creating "performance objects".
The pieces are haunting, sensual and tactile, and recall the complexity, vulnerability and strength of the human body. The elements Nengudi works with are elasticity and resilience, seemingly containing all of life's issues. In more recent iterations, she examines the emotional changes we experience as we age through these works.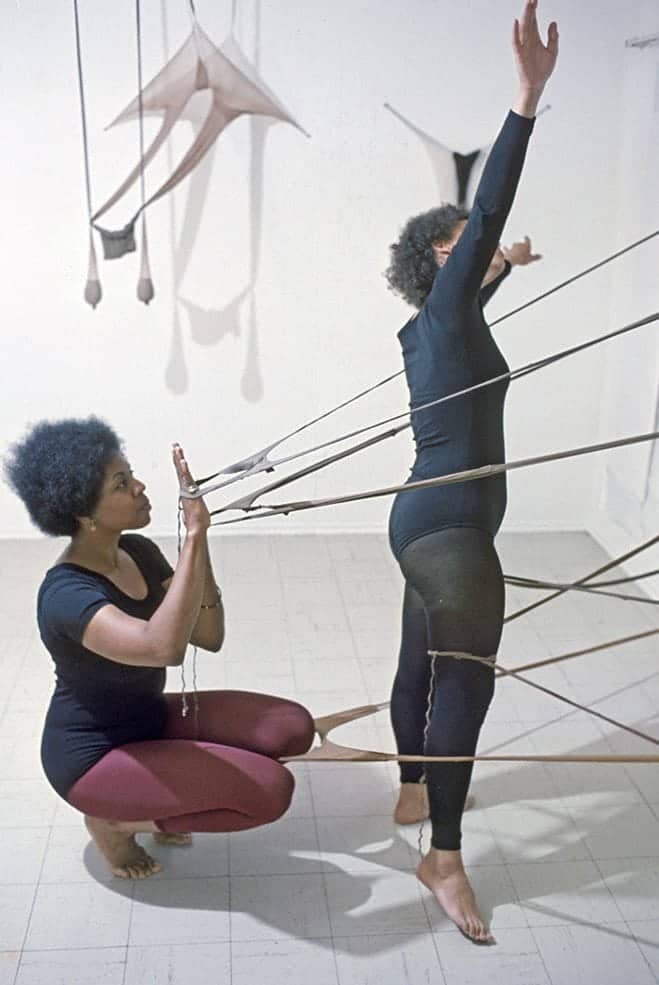 Nengudi called the piece R.S.V.P. because she wanted people to respond to it, to activate the work. This is exactly what Hassinger did during the performance, becoming a part of the piece, and moving back and forth with it, as though she and the nylon were partners in a dance. Smoothly weaving and contorting her body through the nylon web, Hassinger created a moving dialogue with Nengudi and her performance object. At times, Nengudi and Hassinger would work according to a plan, but often, they would improvise in preparation of the actual performance.
They also performed together, two sculptors who had wanted to be dancers found themselves dancing with a sculpture.
"The things we did were more like visionary ideas as opposed to downright political realities. Putting on that yellow cape, becoming somebody else, dancing under a freeway. I call that visionary."

Maren Hassinger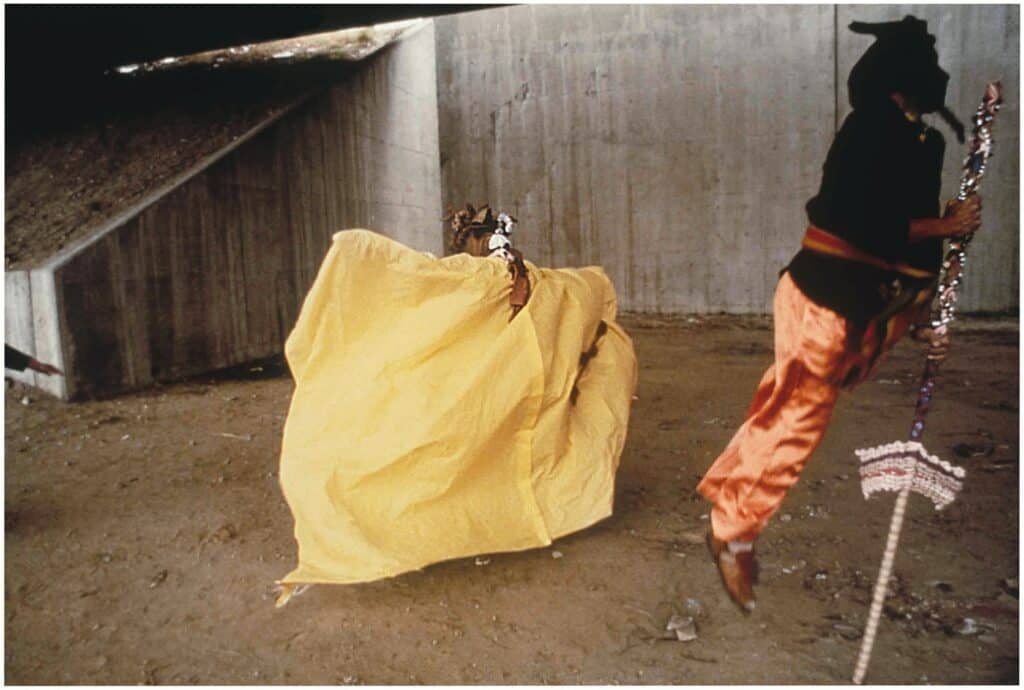 Ceremony for Freeway Fets
In 1978, Nengudi and members of Studio Z, including Maren Hassinger, Kenneth Severin, Roho, Joe Ray, Franklin Parker and David Hammons, performed Ceremony for Freeway Fets under a freeway overpass in Los Angeles. Nengudi created a public artwork, costumes, masks and headdresses made out of pantyhose for the performers, and all the performers improvised music during the performance. This piece brought together many things that influenced Nengudi, such as Kabuki theatre, Yoruba rituals and jazz.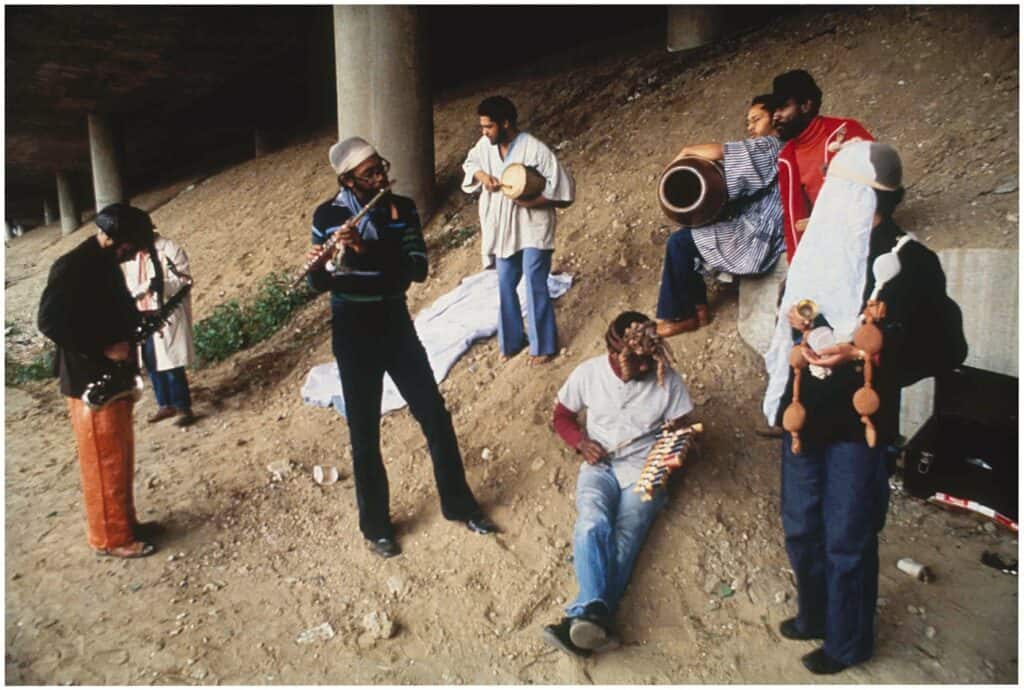 Hammons and Hassinger performed the roles of male and female spirits, and Nengudi performed as a spirit to unite the genders. This was an important piece for Nengudi as she hadn't worked with masks before. She describes the experience of wearing the mask as becoming another entity, giving her the sense of being a medium. Through this experience, she accessed a deeper understanding of those ritual forms.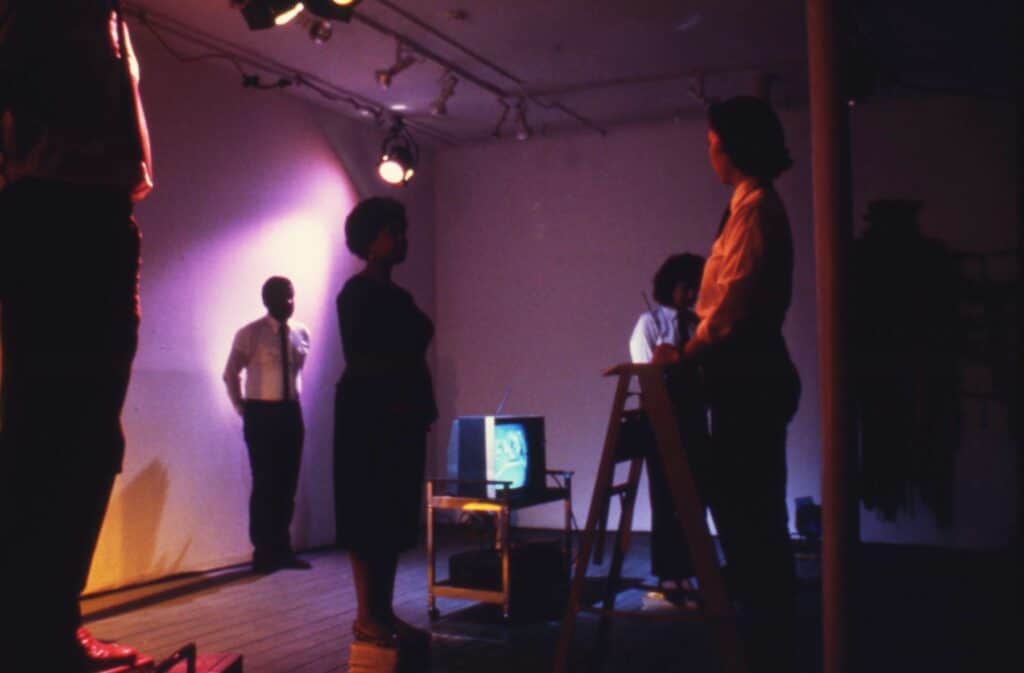 Voices
Voices was first performed in 1984. Maren Hassinger created and directed the piece, and invited Nengudi, Ulysses Jenkins, Dee McMillin, Cindy Kahn, Mary Abrams, Chris Troy and May Sun to participate. Each person had a sentence to say and would make motions accompanying the words, all working together in concert, yet remaining separate from each other. At the end of the piece, the performers formed a maypole-type dance around a glowing television set. The performance included video works edited by Ulysses Jenkins and quotations from Walker Percy's novels. According to Hassinger, Voices articulated a "concern for the role of nature in an increasingly technological society."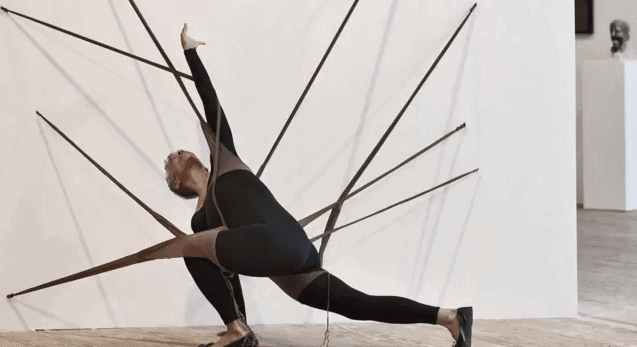 Senga Nengudi and Maren Hassinger – After LA
Both Nengudi and Hassinger left LA in the '80s. Hassinger moved to New York, where she was invited to be the artist-in-residence at the Studio Museum, while Nengudi moved to Colorado. However, the artists always remained close. Both agree that what they worked on together in the '70s informed whatever they have worked on since.
When they first moved away from LA, they would keep in touch and support each other by speaking on the phone frequently and exchanging ideas for new work once a month. The artists still come together from time to time to reperform old pieces, like when they reperformed R.S.V.P. in 2014, accompanied by a cellist and Nengudi herself directing the gallery visitors with their collectively created sound of sand shakers, while Hassinger snaked her body through the nylon sculptural piece once again.
Relevant sources to learn more
On Art and Collaboration: Artist Talk with Maren Hassinger and Senga Nengudi – Hirshhorn Museum
Walker Museum
Art Forum
Read some of our previous Artistic Collaborations articles:
Artistic Collaborations: Martha Graham & Isamu Noguchi
Artistic Collaborations: Elsa Schiaparelli & the Early 20th Century Avant-garde
Artistic Collaborations: Pablo Picasso & Gjon Mili