Articles and Features
10 Things You Might Not Know about Fernando Botero
By Shira Wolfe
The iconic Colombian painter and sculptor Fernando Botero passed away on September 15, 2023. The artist leaves behind an incredibly rich artistic legacy in his signature style—large, voluminous figures accentuating the sensuality of form—which came to be known as "Boterismo." We dedicate this article to Botero's great spirit and his contribution to art, by examining 10 facts about the artist.
1. Fernando Botero was born in Medellín, Colombia
Botero was born in 1932 in Medellín, a city in the valley of the Andes mountain range in Colombia. His father was a salesman who died of a heart attack when Botero was four, and his mother had to work as a seamstress to support the family. Though there was not much art surrounding him as a child, Botero was influenced by the Baroque style of the churches in Medellín.
2. Botero was destined to become a matador
When he was twelve years old, Botero's uncle sent him to an apprentice matador school for two years, but after his first bullfight, when he was flung painfully on the ground by a bull weighing 1,100 pounds, he decided then and there to become an artist. However, the theme of the bullfight would continue to resurface in his paintings throughout his career.
3. He sold his first paintings at the young age of 15
Botero's artistic career started early at age 15, when he would sell his watercolors outside the Plaza de Toros ticket office to earn money for his tickets to see the bullfights. When he was 16 years old, he published his first drawings in the newspaper El Colombiano. By the time he was 18, Botero left Medellín for Bogotá, determined to pursue his artistic career more seriously.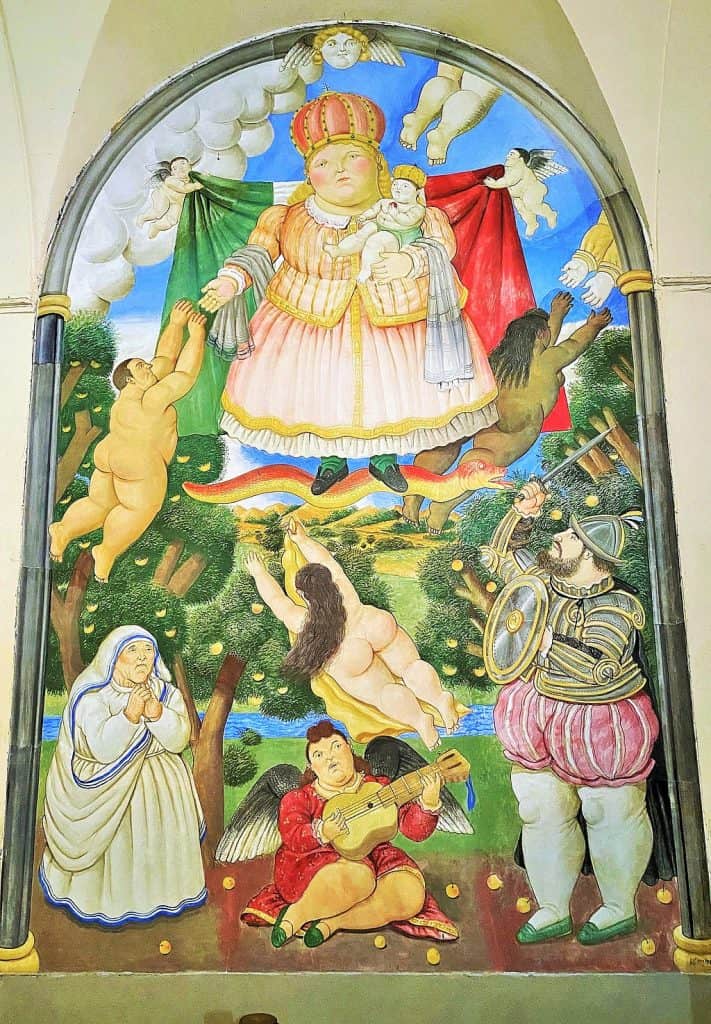 4. He developed his iconic style while living in Mexico
After having traveled a great deal in Europe, studying and attempting to reproduce the paintings of the Old Masters, Botero moved to Mexico City in the mid-1950s. It is here that he developed his iconic style. Encountering Mexican art allowed him to return to his roots and stories, and to truly find himself within the nostalgia for Latin American culture. Blending the style he had learned from studying the Old Masters with his exaggerated volumes and shapes, he started painting characters and scenes from his childhood in Medellín.
5. He is known for his Boterismo versions of paintings by the Old Masters
Following his European trip and practicing making copies of Old Masters paintings, Botero started creating his own versions of classic paintings in the Boterismo style. He made paintings copying artists including Leonardo da Vinci (his voluptuous, round-faced Mona Lisa is a real treat), Peter Paul Rubens, Diego Velázquez, Jan van Eyck, and many more.
6. He started making sculptures in the same voluptuous style in the 1960s
Botero started exploring sculptural work around 1964 and exhibited his bronze sculptures for the first time in 1977 at the Grand Palais in Paris. Today, his monumental sculptures can be found in public spaces around the world, for example in Medellín, New York, Barcelona, Madrid, Yerevan, Bamberg, Singapore, London, Seattle, and Jerusalem.
7. Botero's style was not en vogue in the 1960s, yet he managed to gain acclaim in that period
Botero spent much of the '60s in New York, where the dominant art style had been Abstract Expressionism, which was passing on the torch to Pop Art. And though Botero's figurative works were anything but the fashion of the time, a chance meeting with then-curator at the MoMA Dorothy Miller gained him a spot in the art world. Miller saw his artworks and almost immediately bought Botero's Mona Lisa, Age Twelve (1959) for the MoMA's collection. He was later introduced to the people running Marlborough Gallery, who gave him his first solo show in 1972.
8. Though he believed art should be an oasis, he did at times paint very heavy, violent themes
Botero believed that art should function as an oasis and as a refuge from life's difficulties. However, he was known to make an exception when he found it truly important. In the 1990s, he painted a series that focused on drug violence in Colombia. His painting Death of Pablo Escobar (1999) shows the Colombian drug baron being gunned down, bullets flying all around. He felt the drug crimes in Colombia were so dramatic that he had to paint the violence resulting from it. In 2005, Botero created his Abu Ghraib series, based on the terrible abuses of prisoners at Abu Ghraib prison by United States forces during the Iraq War. Botero created over 85 paintings and 100 drawings exploring this theme.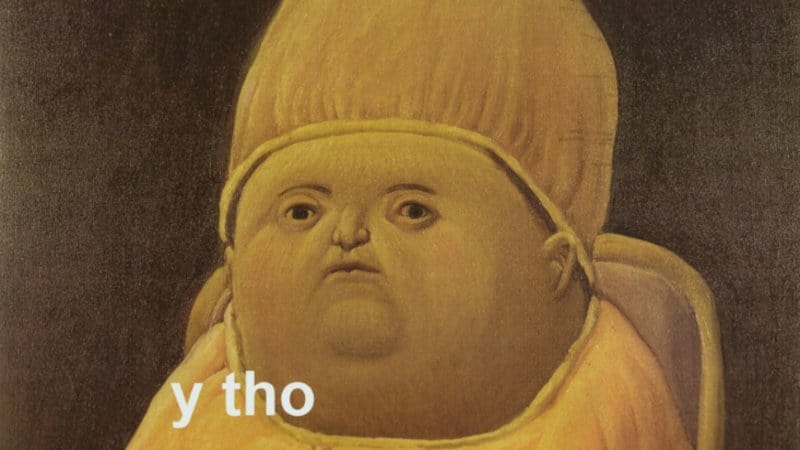 9. One of Botero's paintings has become a popular internet meme
The 1964 painting Pope Leo X (after Raphael) became a sensation as an internet meme. The large, unimpressed-looking pope is depicted with the caption "y tho," and the meme is mostly used as a response to a statement that the person finds senseless.
10. He is his own brand, creating a thriving secondary market
Due to his universally recognizable style and his prolific artistic production, Botero is in incredibly high demand at auction. At a recent auction at Christie's in New York, his painting Card Players (1986) sold for over $2 million, making his work the highest-selling lot of the Latin American art sale. His highest-selling works have gone for prices between $2 and $3 million.
Relevant sources to learn more
Read more articles from Artland Magazine
Decolonizing Identity through Latin American Visual Art
Female Iconoclasts: Olga de Amaral. Unapologetically Against the Prescribed Narrative
The Most Famous Basquiat Paintings Everyone Should Know
The Most Famous Van Gogh Paintings Everyone Should Know
Other relevant sources:
Discover works for sale by Fernando Botero on the Artland Marketplace
Wondering where to start?