Articles and Features
The Year in Review: The Major Moments that Shaped the Art World in 2022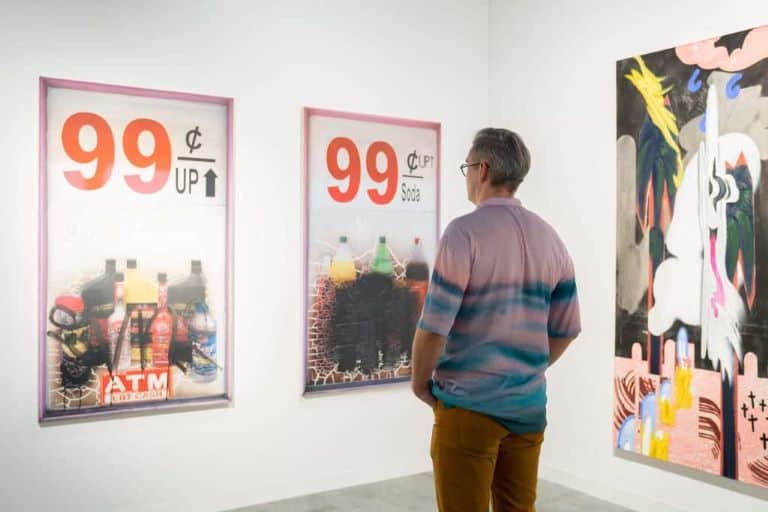 By Adam Hencz
In 2022, the art world was rocked by several major events and controversies that left a mark on the industry. From the rise and fall of NFTs through climate protests all the way to anti-Semitism controversies, the year was marked by both triumphs and challenges for artists and collectors alike. In this article, we will review the most significant events that shook the art world in 2022.
Global art market recovers despite slowdown
Despite the growing global recession in 2022, the art market is set to achieve new heights. The art world is recovering strongly, as are the prices that wealthy collectors are willing to pay. Spending on art is on track to more than double in 2022, according to this year's Art Basel and UBS Report, a survey of more than 2,700 collectors worldwide.
The findings that came out in early November 2022 also revealed that the median expenditure on art was predicted to rise from $164,000 in 2021 to $372,000 by the end of 2022. Surely, climate emergency was still a hot topic in the art world, however, despite concerns over the environmental impact of travel, 77% of collectors surveyed said they plan to travel more for events in 2022.
The art world responds to the war in Ukraine
Russia's invasion of Ukraine has spurred the art world into action, with street artists creating murals and taking up their brushes and spray paints to show their opposition to the war. In the meantime, many artists and curators have also fled Russia, with Georgia becoming a major refuge for those who oppose the war. To support Ukraine, various initiatives have raised funds for Ukrainian cultural projects, such as the Getty Trust's million-dollar donation to preserve the country's museums and monuments. Foreign governments have also imposed sanctions on Russian billionaires, who previously dominated the art market, causing them to reduce their business with major auction houses where they had once acquired their masterpieces.
AI is changing the art world
In 2022, AI made a big impact on the art world, and highly advanced yet user-friendly tools like DALL·E 2 were leading the charge. When DALL·E 2 was officially released to the public in late September, demand was overwhelming. 2022 also saw tech giants announce and demo new generative art tools, with Google Brain unveiling Imagen and Parti, Meta launching Make-A-Scene, Nvidia releasing demos of AI projects, and Microsoft planning to include DALL·E 2 in its designer app. These new tools are set to revolutionize how art is created, allowing artists to overcome creative blocks and generate original, never-before-seen works of art in collaboration with machines.
Mona Lisa, Van Gogh, and Monet hit by climate protesters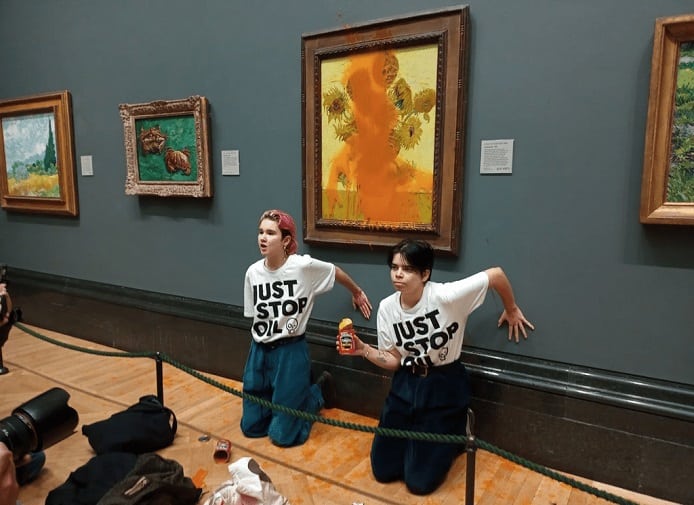 This year, climate activists made an undeniable statement in the art world by targeting iconic artworks at major museums around the globe. These acts of protest brought the issue of climate change to the forefront of the art world once again. It all began in May when the Mona Lisa at the Louvre was smeared with cake. Mashed potatoes were then thrown at a Monet painting in Potsdam, Germany, while tomato soup was splashed on one of Van Gogh's Sunflower paintings at the National Gallery in London. In July, environmental activists glued themselves to the glass shielding Sandro Botticelli's Primavera, while Just Stop Oil activists targeted a copy of Leonardo da Vinci's The Last Supper in London's Royal Academy.
Fortunately, no permanent damage was done to any of the artworks since many of them were protected and covered by glass. Protesters said they picked the works based on their significance (and the use of a protective glass) in an effort to persuade the media to put more focus on the long-term effects of the climate crisis.
Record-breaking $1.5 billion for Paul G. Allen's collection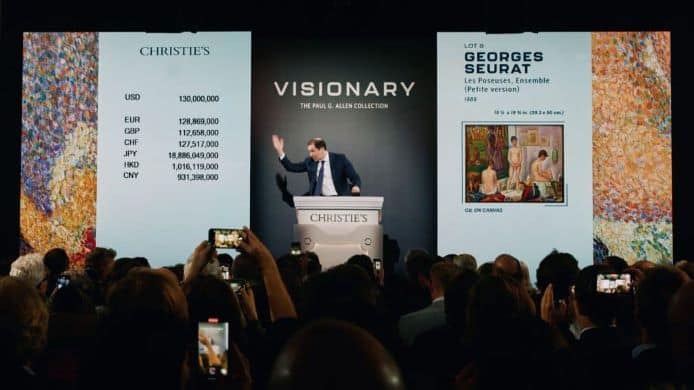 In November 2022, Christie's sold off the collection of Paul G. Allen, the late co-founder of Microsoft, for $1.5 billion, making it the biggest sale in auction history. Twenty artists' auction records were broken, and five paintings sold for over $100 million – including works by Georges Seurat, Gustav Klimt, and Paul Cézanne – which is very rare for a single sale. The auction spanning over 500 years of art history, had been highly anticipated by collectors worldwide because of the high estimated prices and the variety of blue-chip pieces included in Allen's collection. The auction was dominated by figurative pieces like David Hockney's The Conversation and Édouard Manet's Le Grand Canal à Venise. The money raised during the auction was given to charity as per Allen's wishes before his death in 2018.
NFTs: From flying high to the brink of collapse
While the art world continues to figure out its relationship to NFTs, the past year has seen both triumphs and challenges for the technology. In 2021, the NFT market boomed with record-breaking auctions, establishing itself as a major player in the world of contemporary art. However, the crypto winter was just around the corner, and the price of Bitcoin and other major cryptocurrencies began to plummet in November 2021. When Russia attacked Ukraine in February 2022, the global financial landscape shifted, and the appetite for risky investments dwindled. The NFT market has lost much of its volume in the time since.
The NFT art market became even more volatile as major sales like Sotheby's CryptoPunk auction were canceled. The Sotheby's sale was expected to establish a new benchmark for NFT prices but was canceled when the seller withdrew his lot with a Twitter post. By September 2022, NFT trading volumes had imploded by a staggering 97% from their January 2022 peaks, according to a Bloomberg report. What is more, due to the collapse of the crypto exchange called FTX in November – which wiped off over $150 billion in market value in a matter of days, – the NFT market is suffering even heavier losses. However, NFTs are far from gone, as collectors and creators are pushing for new collaborations despite the crash.
Future of documenta in question after controversy
The goal of this year's documenta was to encourage collaborations between the Global North and South. Instead, an anti-Semitism controversy shook the once prestigious contemporary art exhibition. A large-scale banner depicting frightening anti-Semitic caricatures along with Palestinian propaganda videos were among the exhibited artworks that sparked public controversy for their anti-Semitic content.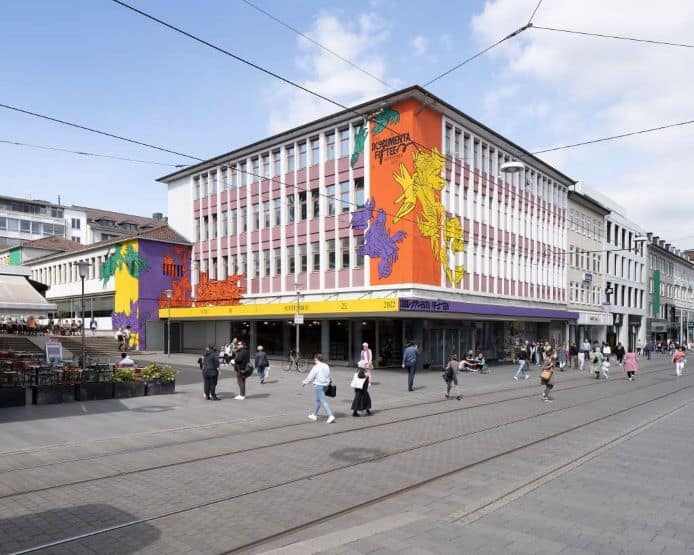 While German officials looked askance at documenta and this year's curators – the art collective called ruangrupa – the event went ahead as scheduled. The exhibition's initial concept of a mutually beneficial art community, independent of the market, was lost in the controversy, which heavily affected all artists that took part in it. The aftermath was devastating for documenta's reputation. In light of this year's scandal, documenta may never be the same again, especially due to calls from German lawmakers to reduce government financing for future editions of the art festival.
Wondering where to start?