Articles and Features
A Legacy of Dots and Daubs
Georges Seurat: The Post-Impressionist Artist Who Pioneered Pointillism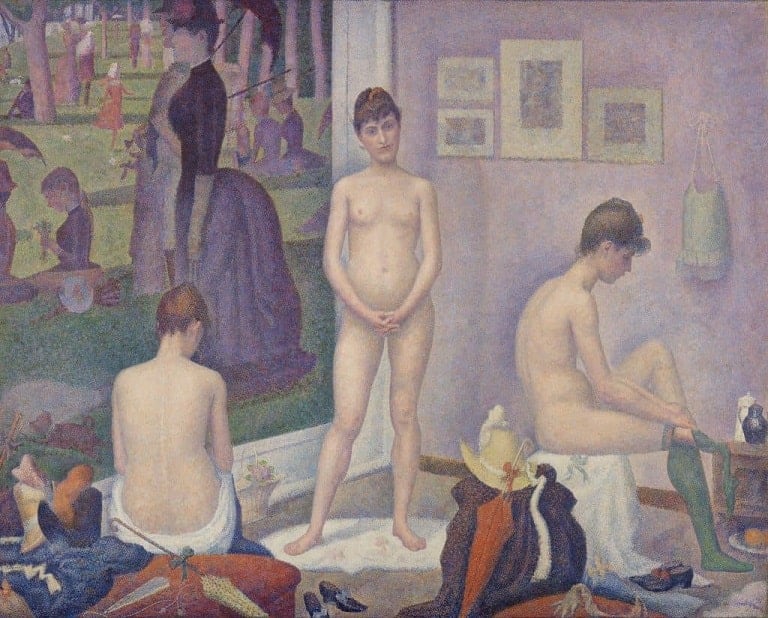 By Alice Godwin
The French Post-Impressionist Georges Seurat is credited as the inventor of an extraordinary new manner of painting, which left art lovers (literally) seeing spots. Seurat's dots of pure paint captured life in nineteenth-century France, from ladies strolling along the banks of the River Seine to performers on the gaslight stages of Paris. Seurat conjured these shimmering fabrics of color using a technique that was dubbed "Pointillism," so called for its touches or "points" of paint, like atomic particles, which reflected a radical new way of seeing the world.
But who was the man behind the spots?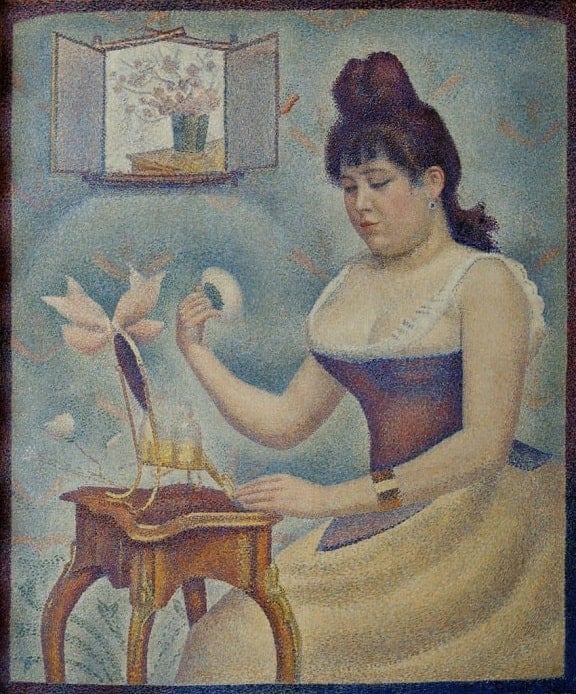 Georges Seurat: Biography
Georges Pierre Seurat was born in 1859 to a prosperous family in Paris, at a time when the architect Georges-Eugène Haussmann was reshaping the city along the frontiers of grand new boulevards. Shy and intelligent, Seurat trained at the École Municipale de Sculpture et Dessin and the École des Beaux-Arts, and spent his formative years copying the casts of classical sculptures and Old Master artworks in the Musée du Louvre. Seurat spent his military service in Brest sketching the beaches, boats, and sea, before setting up a studio near to the Moulin Rouge upon his return to Paris.
Though Seurat's life was cut tragically short at the age of thirty-one, his influence on western art history has been profound. Ardent followers of Seurat have included Camille Pissarro, Théo van Rysselberghe, Hippolyte Petitjean, Henri-Edmond Cross, and his most notable disciple, Paul Signac. Even in the world of contemporary art, artists like Chuck Close have paid homage to Georges Seurat.
Seurat's magnificent Les Poseuses, Ensemble (Petite version) (1888) broke records for the artist when it was sold at Christie's New York in November 2022 as part of the estate of Paul Allen, co-founder of Microsoft, for just over $149.2 million (including fees).
Neo-Impressionism
It was the art critic Félix Fénéon who coined the term "Neo-Impressionism" to describe a new artistic movement led by Seurat. In contrast to the spontaneity of Impressionism and the fleeting effects of light and color over haystacks and water lilies that had captivated Claude Monet, Seurat developed an analytical style, which viewed color as a mathematical problem to solve.
Seurat harnessed the broad brushstrokes and radiant palette of the Impressionists, but did not paint in one fell swoop outdoors. Rather, he relied upon careful planning and studies of his subject. Seurat's practice was indebted to the scientific writings of chemist Michel Eugène Chevreul and physicist Ogden Rood. He was particularly fascinated by their thoughts on color theory, and the suggestion that pure pigments when placed alongside one another could possess a greater intensity than when they are mixed together.
Seurat's artworks were also deeply influenced by classical art, inspired perhaps by his academic training. He explained: "I want to make modern people, in their essential traits, move about as they do on those [classical] friezes, and place them on canvases organized by harmonies of color."
Pointillism
The term "Pointillism" was initially used by critics to poke fun at Seurat's systematic use of color. Seurat himself referred to his tapestry of contrasting and harmonious hues as "Divisionism." Seen from a distance, these spots vibrate and dissolve into one another to conjure luminous forms.
Artworks by Georges Seurat
Though Seurat is chiefly remembered for his Pointillist paintings, he was also a master draughtsman. Here is a breakdown of some of Seurat's most celebrated artworks.
Iconic Paintings
During his brief, yet sensational career, Seurat created seven large-scale paintings, which he referred to as his "canvases of combat."
Bathers at Asnières (1884)
Seurat's first major painting was Bathers at Asnières, now in the collection of The National Gallery in London. In this miraculous work, a veil of heat and bright sunshine hangs over a scene of leisure by the River Seine. A young man, with his bowler hat, clothes, and boots discarded, lowers his feet into the cool water, while others lie lethargically on the grass. They are remarkably still, as if too hot to move. The smoking chimneys in the background suggest that these are the workers of a local factory taking their break.
Seurat pictures the working and middle classes at play on the same dramatic scale as the mythological and historical subjects on the walls of the Louvre. Painted when he was not yet twenty-five, Bathers at Asnières shook the foundations of the establishment and was refused by the Salon. Instead, the painting was shown at the rival Salon des Indépendants, established by Seurat and a handful of other avant-garde figures of modern art at the time.
A Sunday on La Grande Jatte — 1884 (1884/86)
A Sunday Afternoon on the Island of La Grande Jatte by Georges Seurat, in The Art Institute of Chicago, is often viewed as a counterpoint to the Bathers at Asnières — the upper classes on La Grande Jatte facing the workers in the suburb of Asnières on the opposite side of the river. Paul Signac described A Sunday Afternoon on the Island of La Grande Jatte as a "manifesto painting," as it epitomized Seurat's Pointillist technique. On a quiet Sunday afternoon, Seurat depicts corseted women with their parasols and gentlemen with top hats and canes enjoying their leisure time. Curiously, Seurat later added a border of spots around the painting to form a barrier between the picture and its frame, like a lens.
Drawings
Signac once famously said that Seurat's artworks on paper were "the most beautiful painter's drawings in existence." In many ways, Seurat's drawings in conté crayon, on the textured surface of Michallet paper, offer an insight into his exploration of light and dark, of volume and space, through translucent veils and velvety layers of black. They reveal the changing world of Paris at the turn of the century and the process behind some of Seurat's greatest masterpieces.
Relevant sources to learn more
More from Artland Magazine
Read about Post-Impressionism
Learn about Pointillism

Read about other Post-Impressionist artists
Vincent van Gogh
Henri de Toulouse-Lautrec
Other relevant sources
Discover available artworks for sale by Georges Seurat on Artland
Discover and Buy Paintings for Sale