Articles and Features
Photographers Who Used Color in Innovative Ways
By Adam Hencz
While today we all witness the dominant form of photography bathed in vibrant hues, it was not until the 1960s and 1970s that color photography began to be widely accepted as a legitimate art form thanks to a younger generation of audacious artists.
In this article, we spotlight the groundbreaking work of some of the most famous photographers who have elevated color photography to unprecedented heights with their unique styles and innovative approaches.
We delve into the meticulous approach of Mona Kuhn, who uses carefully chosen color palettes to evoke deep emotions in her photographs. Joel Meyerowitz, a pioneer in color photography, brought a fresh perspective to photography from the streets of 1960s New York, challenging the black-and-white norms of that time. We also explore the works of other influential photographers with unique styles, including Saul Leiter, Alex and Rebecca Norris Webb, and Andreas Gursky.
Let's delve into the vibrant world of colorful photography, where every shot is a celebration of color, emotion, and unspoken poetry.
Emotionally Charged Color Palettes in Mona Kuhn's Photography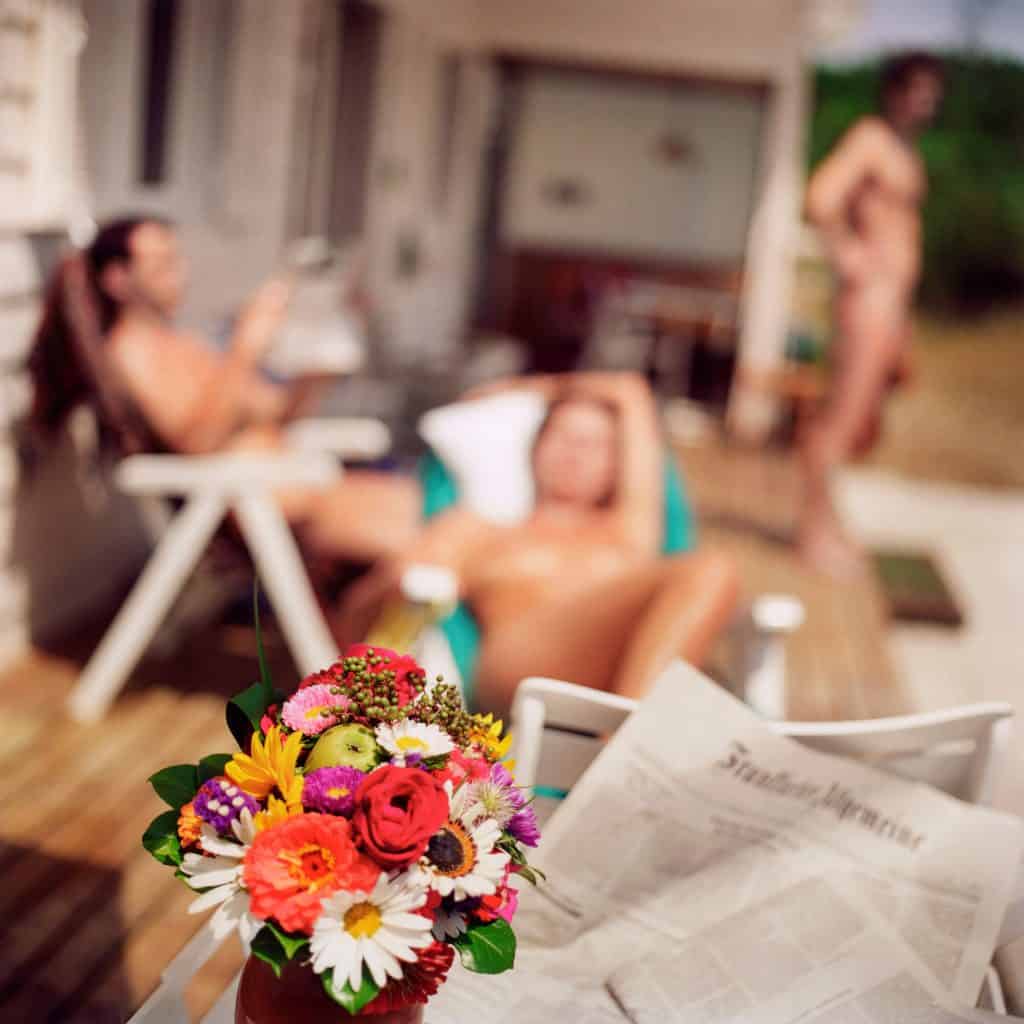 Mona Kuhn's meticulous approach to color allows her to shoot photographs that are rich in depth and emotion, with colors playing a central role in conveying the abstract and intimate qualities that have become synonymous with her name. She also frequently uses selective focus, which involves blurring out certain parts while keeping others sharp, resulting in dreamy and delicate photographs.
Kuhn begins each series with a specific color palette in mind that not only dictates the emotional undertone of her work but also guides the choice of location and subjects for the narratives she creates. For example, her Native series from 2009, as Shelley Rice described it, is a vivid poem rendered in green and gold, amplified with accents of pink, evoking a feeling of timelessness. Through her innovative use of color, Kuhn bridges the gap between memory and record, offering a fresh perspective on portrait and landscape photography that is hopeful and deeply human, reflecting a longing for human connection and solidarity.
More than two decades of Kuhn's work have been collected into a retrospective book published in 2021, titled Mona Kuhn: Works, where Thames & Hudson hailed her as "one of the most respected contemporary photographers of our time." The book features a rich array of portraits, landscapes, and architectural photographs that offer a glimpse into Kuhn's humanistic and introspective perspective on the world, characterized by deep empathy and a unique vision. Through her close relationships with her subjects, Kuhn has crafted a portfolio that stands as a beacon of intimacy and spiritual connection, establishing her as a household name in the field of contemporary photography.
Joel Meyerowitz: Shooting in Color from the First Roll
Emerging from the bustling streets of 1960s New York, a young photographer arose with a vision that would challenge the monochromatic norms and usher in a new era of vibrant, full-spectrum photography. Initially trained in classical painting and a graphic designer for advertisements, Joel Meyerowitz saw beyond the prevailing black-and-white photography landscape. In 1962, he began photographing the world through a lens that described a richer palette, recognizing the untapped potential and unique pictorial quality that this approach could bring to photography. Reflecting on his early days in an interview for AnOther Magazine, Meyerowitz recalled, "When I first started shooting, I shot in color. A year later, I started shooting in black and white because I couldn't print color in 1962." Despite the technical limitations of the time, his early work in color photography marked the contemporary beginning of a dynamic and powerful form of art that was yet to be fully discovered and embraced.
Meyerowitz's most celebrated works are the vivid documentation of the streets of New York City and the urban landscapes of America, capturing fleeting and sometimes peculiar moments from the stream of everyday happenings. His lens brought to life the hues of the American landscape, guiding viewers through a tapestry of surprising and contemplative moments. In the summer of 1976, Meyerowitz transitioned from shooting 35mm pictures on the streets of Manhattan to taking a large-format camera up the East Coast to the seaside resort of Cape Cod. Through the subtleties of the early morning rays and the last light, before the cloak of night descends, he created images with a rich palette of hues, offering viewers a glimpse into the delicate balance between day and night, light and shadow. This exploration period culminated in his first book, Cape Light, published in 1979, where he showcased these luminous works.
Building on this celebrated body of work, Meyerowitz's early color and his series of color and black and white comparison prints from 1962 to 1980, plus some of his work from Ground Zero, will soon be showcased in a dedicated exhibition at the Tate Modern, opening on November 20th, 2023. This retrospective describes his argument for color, which was an underappreciated medium back then, and promises to immerse visitors in Meyerowitz's dynamic world, illustrating a transformative era in photography. His legacy encourages both photographers and enthusiasts to perceive and depict the world in its full spectrum of colors, offering a rich and nuanced perspective on everyday life.
Saul Leiter: Capturing the Mystique of Color
Venturing down a less trodden path, the multi-faceted artist Saul Leiter found no sanctuary in boundaries. His vivid exploration of color photography originated from a rich foundation in painting and a penchant for the everyday tapestries of life. Born in Pittsburgh in 1923, Leiter nurtured a talent for painting and a fascination for photography from an early age. Although initial exhibitions showcased his innate talent for painting, he pivoted fervently towards photography after moving to New York in 1946. This industrious endeavor met with substantial recognition in the late 1950s as he commenced a lauded twenty-year stint with fashion magazines such as Harper's Bazaar and Esquire. Despite his soaring commercial success, Leiter maintained a deep affection for the streets of downtown Manhattan, capturing their soul through his photographic sojourns.
Encouraged by Abstract Expressionist painter Richard Pousette-Dart to earn a living with his camera, Leiter harnessed his background in painting to pioneer a unique photographic language characterized by dreamy and ethereal hues. Through this intimate approach to color photography, Leiter transformed the ordinary streets of downtown Manhattan into extraordinary vignettes brimming with life. His images were not mere photographs but atmospheres rich with reflections, ambient light, and whispering shadows, illustrating his masterful grasp of color to craft depth, intimacy, and mystery.
Leiter's transformative vision gained mainstream recognition with the 2006 release of Early Color by Steidl, officially marking him a master of color photography with works dating back to the late 1940s. Although Leiter passed away in New York in 2013, his legacy has not only endured but amplified, gaining burgeoning recognition and admiration worldwide, facilitated by numerous museum exhibitions and book releases. The devoted stewardship of the Saul Leiter Foundation under the firm guidance of Margit Erb and Michael Parillo has played a pivotal role in this resurgence. Through their efforts, a treasure trove of unseen works, predominantly from the 1950s and 1960s, has been revealed, most notably in last year's publication, The Unseen Saul Leiter. The forthcoming release of Saul Leiter: The Centennial Retrospective by Thames & Hudson promises to be the most comprehensive collection of Leiter's work, timed to commemorate what would have been his 100th birthday on December 3rd, 2023.
In Color and Verse: The Photographic Journeys of Alex and Rebecca Norris Webb
Alex Webb and Rebecca Norris Webb, both internationally acclaimed color photographers, bring together street photography and poetic stills in their collaborative works. They have authored influential books, including individual masterpieces such as Alex's The Suffering of Light and Rebecca's Night Calls, as well as joint ventures like Brooklyn and Waves. Alex, a photojournalist and street photographer, is celebrated for his vivid color palettes and the ability to seize decisive moments with a hard-edged reality, often portraying locations brimming with life, color, and rich cultural narratives. Meanwhile, Rebecca crafts her photographs with a deep sense of intimacy with her subjects, a skill honed from her poetic background.
Born in San Francisco but raised in New England, Alex Webb picked up photography as a teenager in the 1960s. He started off as a black-and-white photographer, and it wasn't until the late 1970s that he turned to color several years after his first trips to Haiti and Mexico. As he told Magnum Photos, he found that black-and-white was far too restrictive to capture the emotional vibrancy and intensity of these cultures. He has never turned back. This newfound obsession with shooting in color would lead Webb to other parts of the world, places like Granada, Puerto Rico, Istanbul, India, and Africa.
Rebecca Norris Webb, a poet and photographer, seamlessly blends text and imagery to narrate heartfelt stories. Her books illustrate her deep connection with her roots and her personal journey, with My Dakota serving as a poignant elegy to her late brother. The journey continued with Night Calls, where she retraced the paths of her centenarian father, a country doctor, through the rural landscapes they both called home. Her collaborative spirit shone brightly yet again in Waves, a pandemic logbook co-created with Alex, chronicling their experiences in Cape Cod during the early days of 2022, a testament to their unbroken bond and shared creative vision.
Andreas Gursky: From Rhine II to Modern Urban Landscapes
Emerging from the prestigious Düsseldorf School in the late 1980s, Andreas Gursky quickly cemented himself as a pioneer in contemporary color photography, pushing the boundaries of scale and ambition. He carved out a distinct niche in the world of contemporary photography, wielding digital manipulation to create works that are vast, detailed, and fully immersive. His fascination with the throbbing veins of consumer culture and the relentless busyness of contemporary life found an outlet in works that are larger than life, yet meticulously crafted.
Gursky works on the fine line between representation and abstraction with masterful elegance. The iconic Rhine II not only shattered records at the auction house, fetching a staggering $4.3 million and setting a new benchmark for photographic art, but also presented a riveting dialogue between the real and the abstract. Through the lens of Gursky, the Rhine River transformed, shedding its surrounding realities—a power station, a pedestrian path—to emerge in a state of minimalist purity, a minimalist stretch of water bordered by lush green fields, almost inviting viewers to a realm of surreal tranquility amidst the chaos of the contemporary world.
Gursky's prowess extends beyond landscapes; he leverages his panoramic gaze to encapsulate the pulsating energy of events and the silent stories etched in urban architecture. Bahrain I immerses viewers in the electrifying atmosphere of the Bahrain Formula One Grand Prix, while Pyongyang III opens a rare window into the heart of the North Korean capital, revealing a city of symmetrical grandeur and ordered serenity. Exhibited in global art institutions such as the Museum of Modern Art and the Tate Modern, Gursky's photographs continually draw viewers into vivid tales crafted with a harmonious blend of artistry and technical skill.
Wondering where to start?