Articles and Features
Thomas Hirschhorn and Our Life in Ruins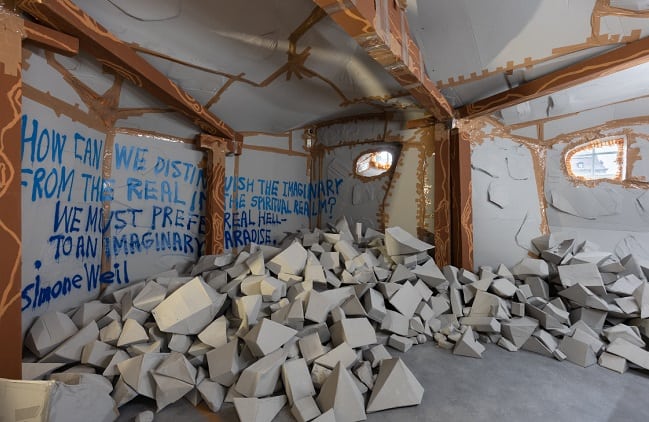 ---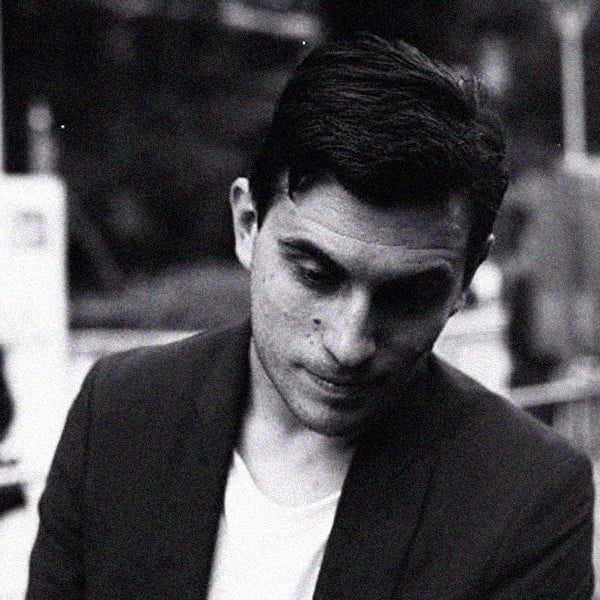 William Pym, Standards & Practices, Volume 13
Comedian Dave Chappelle has a bit in a recent standup special where he talks about being called to the Standards and Practices department of his cable network and being told to do things differently. He's not too bothered about what the network thinks. There's a vulgar, uproarious punchline. I like the idea of standards and practices. It makes for a good joke. The enforcer of arbitrary rules and norms, a person whose job it is to frame what's right, right now. For how can you tame a moment? In the international art world, where I have worked since 2002, I grew to become very familiar with a world of amorality, grandiosity and arrogance. I watched pre-2008 hypercapitalism change everyone's style, and watched money get darker. Now the art world is being rebuilt, like everything else, in the image of a new generation. And one thing is true now as it was then — the art world is a place of porous standards, and practice takes many forms. I am still here, somehow, and I am the Standards and Practices department.

---
Swiss installation artist Thomas Hirschhorn's Community of Fragments may or may not currently be open at GL Strand, the hefty canalside townhouse kunsthalle in downtown Copenhagen. It was supposed to open a few days ago, but Danish regulations on cultural institutions hang in the balance, it seems, as they do in the UK. 'Opening as soon as possible' reads a helpful banner on the exhibition poster. The show has undoubtedly been installed, since it has been photographed — flattened and teased in tantalizing detail. There's a standard wild pandemic poetry here. Hirschhorn, an artist who has put presence and materiality first over 30 years of ecstatically overwhelming installations, is locked behind heavy doors.
From what one can tell, Community of Fragments seems like a classic Hirschhorn space, a maze and nest of fully built-out environments in materials anyone can get anywhere. It contains the noise of absurdism and surrealism, with sofas wrapped in packing tape, the homespun construction of children's play or a no-budget monster movie, and the frenzy of the automatic. It is chaotic, crammed, and thrown-together. It is total. Most characteristically of all for Hirschhorn, perhaps, Community of Fragments is a ruin.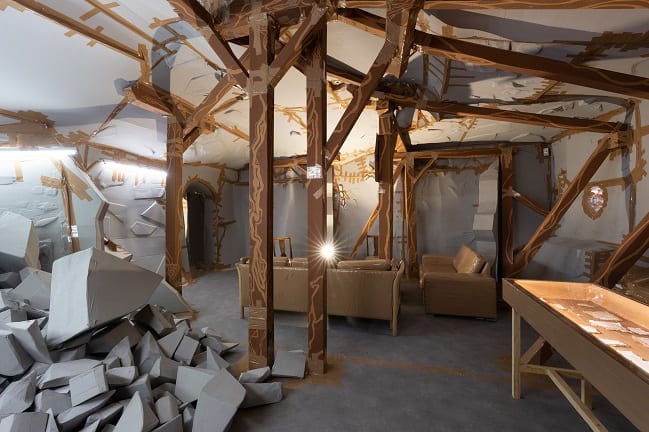 The ruin is a deliciously fertile metaphor because it contains evidence of a past, and it promises a future, but it offers no guide on bridging the two. The fuzzy place you're at, in a ruin, is called the present. This is a sweet spot for Hirschhorn, for it is a place that does not allow a viewer to become comfortable. For as long as you are in one of the artist's ruins, the atrophy of the past will haunt you, and the future will call you to rebuild.
Inside the Community of Fragments, Hirschhorn builds laboratories and workshops for cooperative negotiation. Space is cleared among the taped-cardboard stones between the straining faux beams, and a meeting-room table is erected, complete with an oversized notepad for brainstorming sessions. A long table on many trestles, surrounded by chiseled flakes, is for sculpture. There's even a quaint breakout area, with sofas. Literature everywhere, lots of philosophy. Hirschhorn is a student of the radical thinkers of history, and — as with many of his exhibitions — a spray-painted slogan forms an unofficial mantra for the display. "We must prefer real hell to an imaginary paradise," he writes, quoting the French philosopher-activist Simone Weil. Thomas Hirschhorn's art is about working in the real world: creating a space that invites confrontation with reality, then makes room for progress.
Many years ago, in the quiet Chelsea fall of 2002, Hirschhorn built Cavemanman, a warren of caves and grottoes at Barbara Gladstone Gallery. The environment of brown cardboard and brown cellulose tape sucked you in from the street. Books everywhere, just like now. It was a space at once pagan and punk, full of revolution, and safe, the womb of a dorm room — literally so, with the pictures of Tupac and Pamela Anderson on the walls. It was a show about living in chaos, the chaos of the post-9/11 era that arguably continues to this day, and a show about getting through. Graffiti all over the insides of the cave said "1 Man = 1 Man", both a choice chunk of gnomic pacifist mathematics and an assertion of fact at a time of looming global instability. Cavemanman felt like a place for survivalists. This time the ruin was outside the walls of the cave, working its way in.
2015's In-Between, constructed for the South London Gallery's dramatically top-lit Victorian grand hall, presented as a building collapsing in on itself. Struts were wedged up against walls and ropes were pulled tight, but it was definitely caving in. The tumbling landscape here had a curious beauty, the lost-arcadia stillness harkening to classicism, the blunt elegance of its prop-like objects conjuring the theatre. Across the open ceiling Hirschhorn stretched a black sheet punctured with holes, creating a constellation. Part of the sheet was gashed open and hanging down, sending a shaft of light into the space. The torn fabric firmament, a tear in the simulation, was an abrupt twist that snapped the viewer back into reality. In-Between was a captivating illusion, but the performance gave out, and the calling of the ruin revealed itself once more. Hirschhorn catalyzes viewers — his installations do it every time.
Hirschhorn is a central player in American critic-academic Hal Foster's instant classic Bad New Days, a gloomy 2015 essay collection that anticipated the entirety of Trumpism. Foster saw Hirschhorn as a definitive artist of a time of constant, extreme emergency — an archivist, wrangling the stuff of what Hirschhorn calls the 'capitalist garbage bucket', making worlds that are escape hatches, or bunkers, or tunnels, or dream spaces. Places apart from the mania of modern life, made from the mania of modern life.
For this is the stuff at hand, this is what we have to work with and what we must work through. Hirschhorn's caves, mines and crumbling castles tell the story of transformation, the moment where exploration and immediacy combine. It is a trigger, the moment we recognize as art, and it is a force that has less to do with beauty, and more to do with action. Hirschhorn's ruins of our time are not resigned, not idle, growing moss. They are protean, ready for the future, and one may well advocate for this sort of energy in 2021. Imagine what we can do when the museums are open.